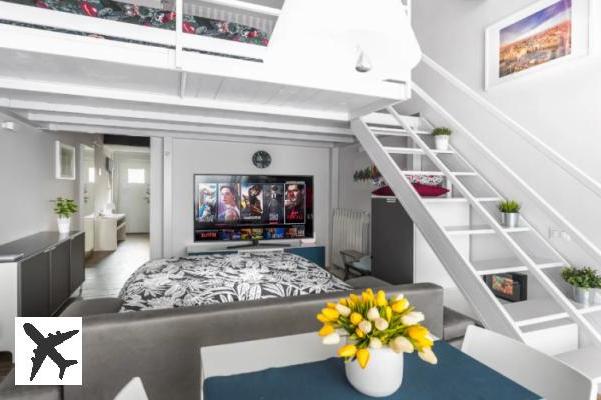 Summary
Former dairy transformed into a contemporary loft
Green Harbour Porta Venezia
Loft at the dream "fishermen's" place
Superb apartment in the centre of Milan
Charming penthouse
Apartment in trendy area
Design studio
Apartment with courtyard
Studio with terrace
Micro house in the Crescenzago district
Are you looking for accommodation in Milan off the beaten track? Airbnb offers you a wide choice of apartments carefully arranged by their owners!
It's not always easy to find accommodation in Milan. The Airbnb platform represents an interesting alternative. There is a wide choice of accommodation, each with its own special character. It's also a great opportunity to get in touch with locals, to learn more about the city and the must-sees to visit.
Chances are that your host will give you his best tips on how to make the most of the cathedral, the Duomo or the church of Santa Maria delle Grazie and the painting of the Last Supper. No doubt that La Scala, the "Sistine Chapel of Milan" or the Sforza Castle will also be among the places you will enjoy discovering. You can choose to stay in an Airbnb apartment close to one of these monuments or, on the contrary, you can choose to get away from the hustle and bustle of life to find a haven of peace.
The platform for putting individuals in touch with each other offers you many tools to help you refine your choice. To help you, here is our selection of the 10 best Airbnb apartments in Milan.
Also read :
The 14 must-do things to do in Milan
The 11 most romantic hotels in Milan
The 12 must-do things to do in Lombardy
Former dairy transformed into a contemporary loft
You're looking for an Airbnb in Milan, but out of town? Then choose to reside in the Cimiano district, in the north-east of Milan. Very well served by public transport and with all the necessary services, this area is close to the Naviglio Martesana Park. The apartment, a former dairy, has been completely furnished by Michele, a photographer and frequent traveller. Moreover, it is his experience that has allowed him to select all the facilities that make for a successful stay.
Green Harbour Porta Venezia
Costanza has turned this apartment into a real garden. Furnished in contemporary style, this loft is particularly neat and comfortable. It is classified Airbnb Plus, indicating that it has undergone quality control. You will be close to the Green Lung of Milan: the Montanelli public garden. Also nearby you can visit the Milanese Modern Art Gallery or Villa Necchi Campiglio.
Loft at the dream "fishermen's" place
Massimo was inspired by his surroundings, the seaway and the canals of Milan, to decorate his loft, in which he warmly welcomes up to three travellers. He is happy to share it with you, leaving the premises freely available. Very attentive, he takes care of every detail, right down to the breakfast ingredients, including a delicious Italian coffee. This apartment in Milan is ideal for a meal and a real cocoon, immersing you in the atmosphere of the Nivigli district and its many canals.
Superb apartment in the centre of Milan
It is rare to stay in a Milan apartment, located in the centre and in a quiet environment. This beautiful and tastefully furnished apartment offers you this. Light tones, sober decoration, impeccable cleanliness and equipped with all the facilities for a very pleasant stay, this studio is just a few steps from the Duomo. Your host will be happy to help you discover his adopted city, whose secrets he knows all the secrets.
Charming penthouse
How about taking an Airbnb in Milan, staying under the rooftops? This apartment on the roof of a building is equipped with a terrace, where you can have your meals. With its two bedrooms, it can accommodate up to six passengers. The owner loves to find unusual objects, which he stages with great taste, especially by introducing large letters in different materials and shapes. It is located in a building of character in the north of Milan and is well served by public transport.
Apartment in trendy area
Do you like fashion and nightlife? This functional apartment is located in the recently renovated Navigli canal district. You will be in the heart of the fashion district, close to the Dorsena, the promenade area of the city centre, and within walking distance from the Duomo. You will find many restaurants on site and will be able to join the Milanese, who love to chat over an aperitif. Moreover, the host lives nearby and is very available.
Design studio
Are you looking for an Airbnb in Milan that is perfect for your family? This 45 m² studio, with a bedroom and a sofa bed in the living room is also suitable for young children (BB bed, high chair...). Located not far from the centre, it is in an area where you will not have to pay the traffic tax. The host will give you a booklet with all the good addresses in the area.
Apartment with courtyard
Very close to the famous Napoleonic avenue Corso Sempione, this bright apartment can welcome you and your pet. Moreover, you will even be able to let your pet get some fresh air in one of the two courtyards, which are part of this old building. You will take the opportunity to chat with your neighbours, who are as welcoming as your host.
Studio with terrace
Do you like to have breakfast on the terrace on a beautiful summer day? This is what this pretty studio, tastefully furnished with charming touches of colour, has to offer. A soft atmosphere diffused by lamps placed here and there, will not fail to seduce you. The same for the calm of the district, the subway and the tramway, located at 2 minutes on foot. You are therefore 10 minutes by transport from the city centre and 20 minutes from the Duomo.
Micro house in the Crescenzago district
You like to keep your privacy? This small house with one bedroom is independent and is equipped with everything you need for a weekend or a long stay. Equipped kitchen, washing machine, Wifi connection or television, everything is there. The neighborhood is slightly off-center. Nevertheless, it is close to a metro station. You will find many shops nearby and you can go for a walk in the park or along the canal not far from there.
There you have it, you now know where to find the best Airbnb in Milan! Take advantage of these unique places to discover one of the most beautiful cities in Italy. Buon viaggio!