Planning your trip to Thailand? Discover what the experience of staying at the COMO Metropolitan Hotel is like.
Bangkok it is a fascinating metropolis with over ten million inhabitants. Temples and skyscraper buildings blend together to form the unique landscape of capital of thailand. In the heart of the city is the Como Metropolitan hotel – an excellent option for those seeking where to stay in bangkok.
When I decided to meet Thailand I knew that my first stop would be Bangkok, but I had no idea how big the city was. I did a lot of research on what to do and where to stay to make the most of my stay. I stayed two nights in Metropolitan by Como Hotels and I decided to share with you my experience through this post.
Perfect for those who want a sophisticated stay in a strategic location, the Hotel Como Metropolitan Bangkok surprised me from the moment of check-in. The property, which is in the middle of the financial and commercial district, opened in 2003 and is part of the As a Group – a world-renowned luxury hospitality chain.
The hotel has a contemporary style with influences from both the East and the West. I learned that mixtures are part of the thai culture. From the food to the decoration I saw unlikely combinations that harmoniously work very well. There, the interior architect is responsible for the urban, sophisticated, clean and modern design and look. Katryn Kng who also signed projects for other big brands such as Christian Dior e Four Seasons.
Have you already purchased your travel insurance?
Save on the best plans with the coupon FORTRAVELOVERS.
Click here and check it out!
Check In, Lobby e Staff
First impression remains?! Not always, but in this case everything was great from start to finish. I arrived at the hotel a little before check-in time (14 pm) and was greeted with a lot of cordiality and smiles. A cold towel and a delicious drink are also part of the welcome that takes place in a large, well-conditioned and flowery lobby on the ground floor of the building. In the central part of the area is the reception desk, but you don't have to get up from your chair to check in. An employee attends to you personally while you are resting sitting admiring the place. I thought it was really cool that the hotel manager (Mr. Kevin) always walks around the lobby and makes a point of greeting anyone who arrives. I was pleased to receive your welcome. #attendance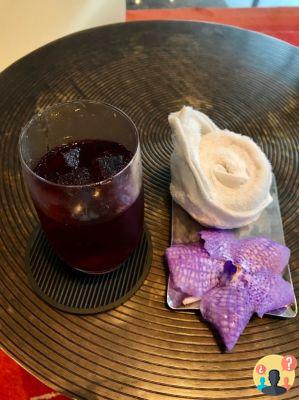 For those who enjoy and/or work with fashion like me, you will like not only the friendliness of the staff but also the elegance. They dress in black with pressed clothes of correct proportions. The parts are from Like boys and the shoes of Calvin Klein. I found it chic!
rooms
In total there are 169 rooms, including four penthouses and me-ga as a suite, which has no less than 240m2.
I stayed in the main category of accommodation, the rooms are called Metropolitan Rooms and they have everything we could want as: space – they are approximately 50m2; a delicious king bed covered with Egyptian cotton sheets, sockets with several types of input and USB, a delicious sofa to watch TV (I confess I tried to put it on the local channel, but I gave up after 3 minutes) with silk pillows; minibar, work desk, Nespresso coffee machine, as well as a yoga mat, a meditation chair, among other details.
The bathroom is great and has a bathtub, two shower options, a huge sink and the fragrant products. LIKE Shambala (sister brand that promotes well-being and healthy experiences through therapies, detox programs, spa and lodging-retreat. The most famous is the award-winning LIKE Shambhala Estate Bali I really want to meet…#Indonesiacalling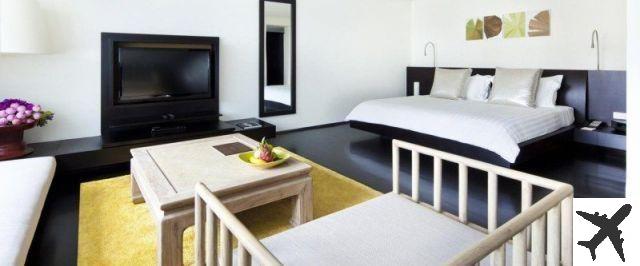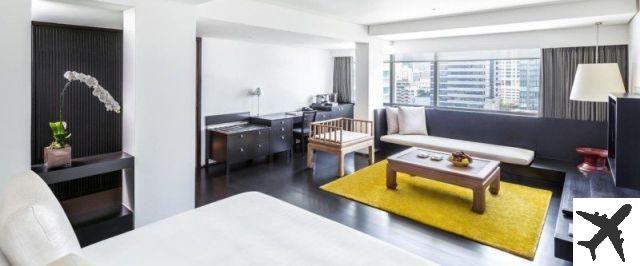 How about an Urban Space? (Facilities)
O AS Metropolitan Bangkok created a health and wellness center at the hotel. O LIKE Shambala Urban Escape was created to complement the hotel guest's experience. There are several options for relaxing and exercising. Outside is the swimming pool and inside are the SPA with various treatments, a beauty salon with manicure and pedicure, a boutique with interesting products, a jacuzzi space with sauna for men and another for women, in addition to a good gym and studio. of Yoga.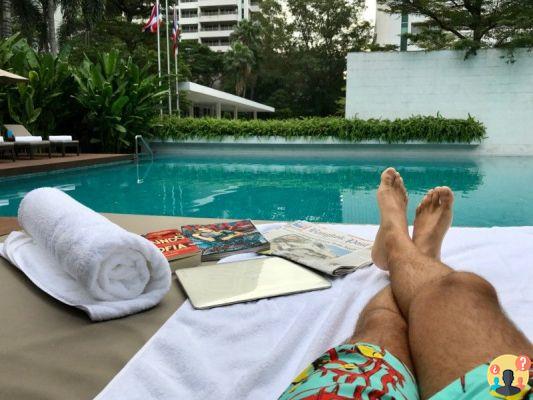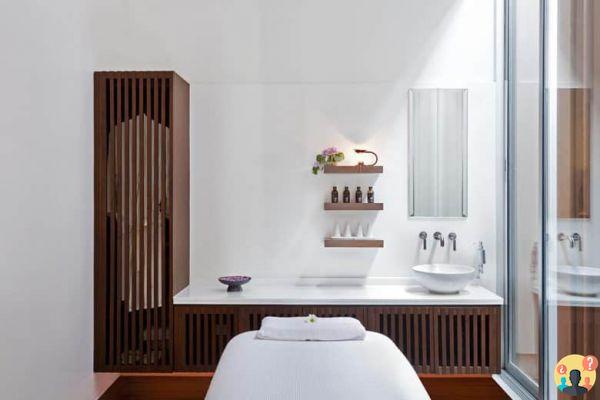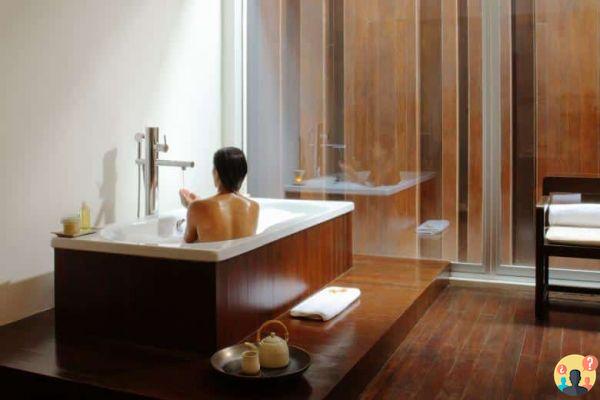 I took a yoga class and loved it. Despite having some difficulty with some movements, it was a great way to start the morning. To close the day, the perfect combination is the double pool-space jacuzzi. Very good!
Breakfast
Delight. Breakfast takes place at the glow every day from 6am to 11am. At the buffet we find light, organic and healthy options – reinforcing the philosophy LIKE SHAMABALA, in addition to the classic continental breakfasts. Typical French menu items such as pain au chocolate, croissant and éclair are also offered. It is also possible to order a la carte. Highlight: the coconut pancakes with banana, strawberry and maple syrup to eat praying and the coconut water bottles – the best I've ever had in my life!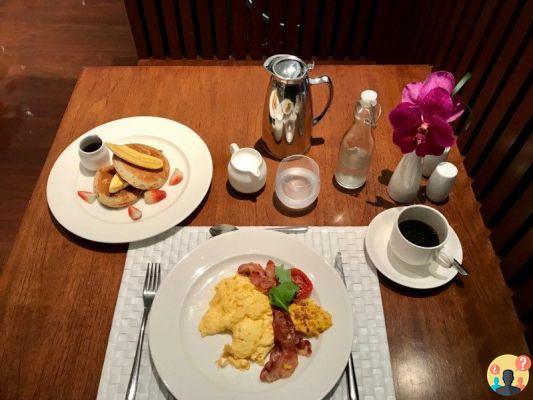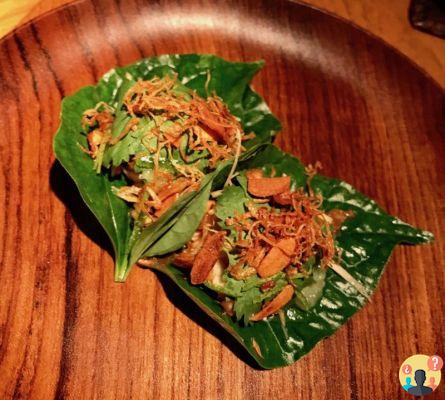 Lunch is also served daily at glow, but the best option is to have lunch at the trendy nahm. I will explain why.
Lunch and Starry Dinner
The hotel has one of the best restaurants in Asia, or rather the world. For them gastronomy is a key element for a complete amazing experience and I agree in number, gender and degree. O chef david thompson, the first Thai food chef to receive a Michelin star in Europe, in took Londres, signs the lunch and dinner menus of the Took Bangkok, opened in 2010 facing the hotel's swimming pool.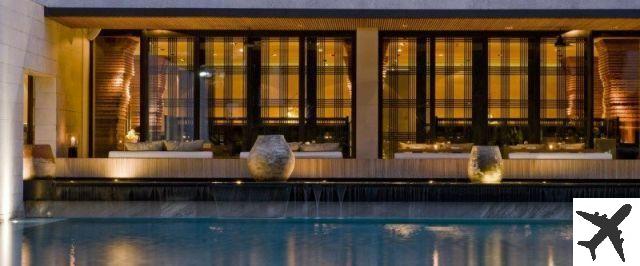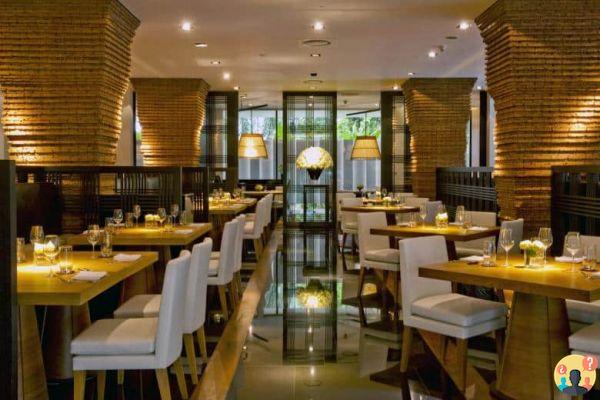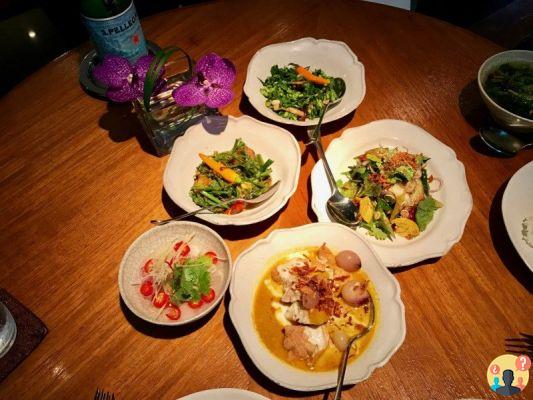 The products are fresh and the dishes, in addition to being tasty, are aesthetically beautiful. I had lunch at a tasting suggested by the chef, which included several starters, salad, soup, chicken curry, as well as a pork dish, a chicken-based dish and a vegetable-based dish, in addition to desserts. It's a potpourri of flavors for the mouth and eyes.
O took it was already voted the number 1 restaurant in Asia in 2014 and is always at the top of the lists of the best restaurants on the planet. if you are going to Bangkok enjoy and make your reservation now because the tables at took they are one of the busiest in the country and it is often necessary to book several weeks in advance.
The hotel offers a combined accommodation + dining experience. One more reason for you looking for where to stay in Bangkok choose the as metropolitan.
>> Learn more about Cooking Class in Bangkok – Tips on what to do in Thailand
Room Price
Rates vary by period and accommodation category. Average price:
City Room – 4.080 TBH
Studio Room – 4.590 TBH
Metropolitan Room – 5.185 THB
Terrace Room – 6.030 THB
Executive Room – 7.060 THB
Penthouse – 10.715 THB
As a Suite – 27.885 THB
Cost benefit: When I traveled through Thailand (December 16/January 2017) 1.000 BATH corresponded to approximately 100 reais.
What to do in Bangkok
Take a guided tour of the Grand Palace and Wat Pho
Visitar a The Jim Thompson House
Enjoy the Khao San Road
Discover Pak Khlong Talat – Early morning flower market
Get a Thai Massage
>> Learn more about What to Do in Thailand – 15 Amazing Experiences
Location

I walked a lot around the city and also used the Sky train and the subway a lot, which are very close to the hotel.
Distance between Key Locations
Suvarnabhumi International Airport – 35 km
Grand Palace – 8 km
Khao San Road – 7 km
Lumphini park – 2 km
Jim Thompson House – 4 km
Railway Station (trains to other cities in Thailand) – 4 km
Other Services and Facilities
Met Bar (open daily in London style and capacity for up to 150 people)
24 hour concierge
24-hour room service
Travel and excursion assistance
Babysitting
Valet parking
Exchange
Personal shopping assistance
Deposit boxes / safes
Business center for meetings
secretarial service
Galeria Club 21 (shop-gallery with art and decorative objects)
Laundry, dry cleaning and ironing service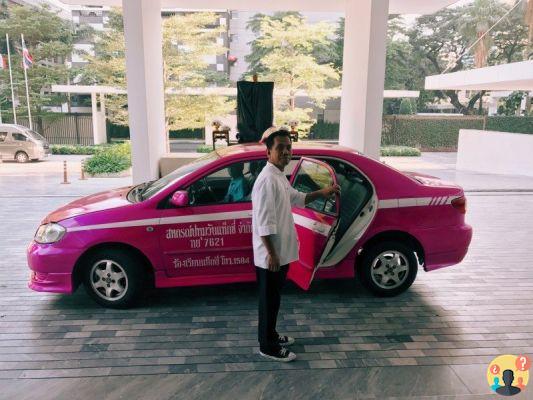 Contact us
Address: AS Metropolitan Bangkok
27 South Sathorn Road Tungmahamek, Sathorn – Bangkok 10120, Thailand
Phone Number: +66 (0) 2 625 33 00
Email: [email protected]
Website
Instagram: @comohotels
Facebook: /COMOHotels
And now ? You know where to stay in bangkok ?
Luis Felipe Di Mare stayed at Como Metropolitan Bangkok at the invitation of the hotel and TL Portfolio.
Why is it worth taking out travel insurance for Thailand?
You don't want to risk any mishap that could spoil your entire trip planning! You can check out the stories of our columnists who tell why it is worth taking out travel insurance. In any case, the ideal in a Travel Insurance is REDUCING RISKS that can happen on a trip. The "extras" you can choose according to the insurance company's offer: which can cover even lost luggage, theft and theft and even the trip of a family in case of an emergency.
To find good travel insurance deals, we recommend the website Promo insurance. It compares the prices and coverage of the main insurance companies in the world, such as SulAmerica, Assist Card, GTA, Affinity, among others. There, you can check the policies that most have to do with your trip and hire the one you think is best.
As we really like this tool, we got a 5% discount on Seguros Promo for our readers! Just use the coupon FORTRAVELOVERS on the website by clicking here.
Read More
Thailand Tips – 15 Indispensable Experiences
Elephant Ride in Thailand – How to Choose?
What to Do in Thailand – Cooking Class in Bangkok
Where to Stay in Bangkok – W Hotel
Where to Stay on Koh Lanta – Pimalai Resort & Spa
Cultural Festival in Phuket – Festival of the 9 Emperor Gods
What to Do in Myanmar or Burma – The Curious "Ghost" Capital
What to Do in the Philippines – 20 Tips for Setting Up Your Itinerary
16 Philippine Beaches – Which are the Best Islands to Visit
Where to stay in Hoi An, Vietnam – Palm Garden Resort
Things to do in Singapore – Itinerary from 1 to 5 days
Sights in Singapore – Top 8 to Include on Your Itinerary
Where to stay in Singapore – Mandarin Oriental Singapore
What to do in Myanmar – Tourism in the Curiosa Capital "Ghost"
Interchange Travel Insurance – How It Works and Which is Best
Plan your trip:
Get started now by booking your hotel in Thailand on Booking.com
Save time and money searching for the best Travel Insurance with the Seguros Promo comparator! Extra 5% off with coupon: FORTRAVELOVERS
Compare the best prices to rent a car from over 100 rental companies with Rentcars! (Pay in up to 12X! Pay in reais, without IOF)
Leave España with Unlimited 4G Internet!