Most travelers prefer to travel in summer. What they most want to think about is a warm, sunny holiday in some of the hottest destinations in the world, where they can soak up the glorious sunshine amid pristine nature, without wearing layers of clothing. It's no secret that around here we prefer autumn, cooler days and landscapes in warm colors, but today we bring you tips on the best summer destinations around the world.Places to spend your holidays
summer time enjoying the sun.Here is our list of the best cities to spend the summer around the world: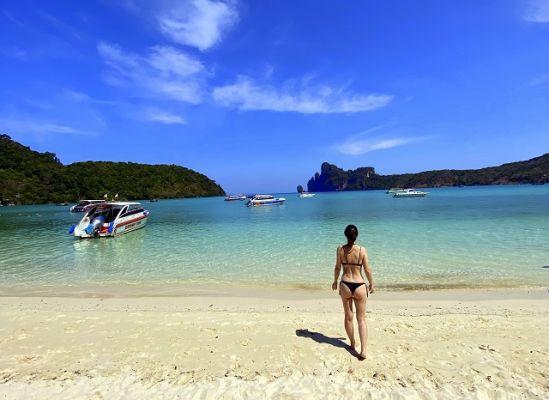 Cape Town, South Africa
The beautiful combination of culture, cuisine and exotic landscapes is what you can expect in Cape Town. This South African port city has several reasons to make it one of the most attractive destinations for summer lovers. The city's main attraction includes the enchanting Table Mountain, which can be explored by cable car or walking along its beautiful trails. You can take a side trip to South Africa's wine country or, if you're passionate about wildlife, extend your trip to include a wildlife safari adventure.
Bora Bora, French Polynesia
Bora Bora is one of those dream destinations that travelers hope to explore at least once in their lifetime. This charming little island in the South Pacific has long been synonymous with its romantic overwater bungalows. The island undoubtedly offers one of the most photographed landscapes, attracting travelers from all over the world. You can also enjoy some of the best diving in the world in Bora Bora.
Playa Del Carmen, Mexico
With year-round sunshine, Playa Del Carmen is perfect for anyone looking for a sunny destination. This is a coastal town in Mexico between Tulum and Cancun on the Yucatan Peninsula. Although the city is mainly known for its beautiful palm-fringed beaches and coral reefs, you can also admire incredible Mayan ruins such as Chichen Itza, Tulum or Coba.
sydney, australia
Surrounded by some spectacular beaches and harbours, Sydney offers a great respite for anyone looking for a warm holiday. A leisurely stroll along the fascinating coastal cliffs from Bondi Beach to Sydney's Bronte is one of the best experiences one can have in a lifetime and it's even better when you have someone to share it with. Enjoying views of the city's iconic Harbor Bridge and Opera House is definitely a captivating experience.
San Diego, California
San Diego, California's oldest city, draws visitors with its enchanting natural beauty and year-round pleasant climate. It is one of the most sought-after vacation destinations because of its quintessential laid-back culture, beautiful beaches, surfing communities and exquisite Mexican cuisine. Visit the Gaslamp Quarter National Historic District for a taste of the city's artsy side.
Phuket, Thailand
Phuket, a mountainous island in the Andaman Sea, has some of the most popular beaches in Thailand. This beautiful destination can be considered one of the most famous destinations for those who love the beach, with its moderate tropical climate. Phuket is known for some exciting places like Phi Phi Islands and Phang Nga Bay which are not to be missed. The mesmerizing sunset from Phromthep Cape is sure to be a surreal experience that should not be missed at any cost.
Maldives
Known for its fine sandy beaches, blue lagoons and sprawling coral reefs, the Maldives is a tropical paradise in the Indian Ocean. Consisting of 26 atolls covering 1.190 different islands. The Maldives offer a wide range of activities including snorkeling, island hopping, water sports and fishing. The Maldives are particularly popular with divers due to the abundance of opulent marine life around this region.
Costa Rica, Central America
Costa Rica is known for its attractive tropical beaches on both the Pacific and Caribbean coasts. With its impressive array of beaches such as Tamarindo, Manuel Antonio, Santa Teresa, Puerto Viejo to name a few, beach seekers have plenty to explore here. In addition to beaches, Costa Rica also offers lush forests, wildlife reserves and one of the most developed parks, Manuel Antonio National Park. Named one of the most beautiful parks in the country by Forbes magazine in 2011, this park is a must-see attraction in Costa Rica.