If you come to Lisbon by car or if you rent one, it is important to know where to park and the traffic rules in Lisbon.
If you stay in Lisbon for more than 3 days, it can be interesting to have a car on site, as public transport becomes limited to access some of the tourist (and less tourist) sites around Lisbon, the best beaches, etc....
If you come to visit Lisbon with your own car, or if you rent a car in the capital of Portugal for a few days, one essential question arises: Where can I park the car? Where can I find car parks in Lisbon?
Parking in Lisbon: parking on the street for a fee
Almost the entire city centre is equipped with parking meters on the street. Be careful about where you park your car in Lisbon, making sure you find the nearest parking meter or time clock, which will give you information on timetables, prices, etc. This varies from one area of the city to another: in the old town there are red zones, where the maximum allowed parking time is 2 hours. In other zones (yellow and green) you can stay up to 4 hours, then you have to put some coins back in the machine and replace the ticket on the dashboard.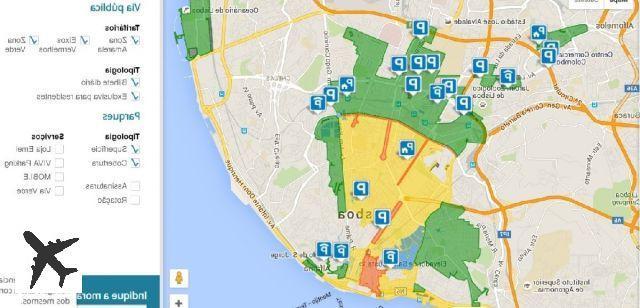 Usually, parking is charged from Monday to Friday, between 08:00 and 20:00; and on Saturday from 08:00 to 18:00. Parking is therefore free on Sundays.
On this map (click here) you can find all the parking areas in Lisbon, indicated in green, yellow or red.
Parking in Lisbon: park on the street for free
If you don't want to pay for parking in Lisbon, another option is to park outside the paid parking areas and then take public transport to the city centre. For example, you can park on the street for free near the Olaias metro stop, which is located outside the paid parking areas, and then you can take the metro to the centre.
To park close enough to the old town without having to pay, try to leave your car in the street near the Santa Apolónia station where you can either walk to the centre or take the train and metro.
Parking in an indoor car park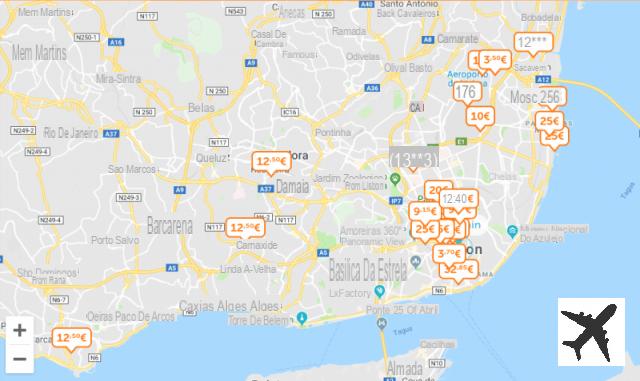 There are many covered car parks in Lisbon. Usually, their rate varies between 20€ and 30€ for a full day.
One of the cheapest car parks in the old town is the Praça dos Restauradores, which costs 20€ per day.
Another option is to book in advance your car park as close as possible to your hotel or other drop-off point in Lisbon. The advantage is that you don't have to worry about the availability of a space or the safety of your car. Moreover, by booking online, cancellation is free, arrival time is flexible, parking is covered and secure and parking space is guaranteed with unlimited entry/exit.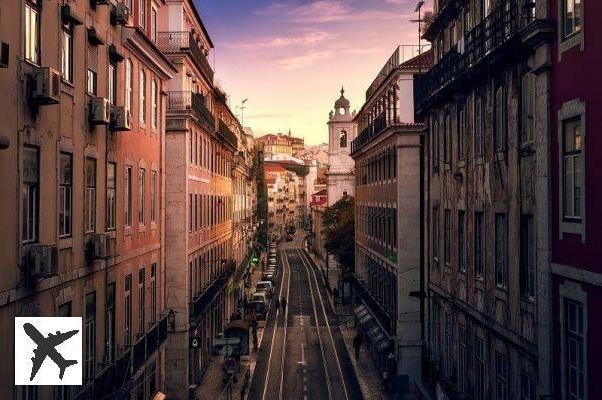 Reserving your parking space online will cost you less than if you do it on the day of your arrival. It's also and above all less hassle when you arrive in a city you don't know!
Parking in an outside car park
The cheapest car parks in Lisbon are the outdoor ones. There are some near the centre, such as the one in Doca do Jardim do Tabaco, which costs only €8 per day.
There are 9 other outdoor car parks managed by Emel, the company that manages Lisbon's parking meters, which cost only 3€ per day. Here's where to find them:
- Alameda (Rua Jorge Castilho)
- Avenida Brasília - Avenida Brasília
- Avenida do Colégio Militar (Quinta da Luz)
- Avenida Lusíada - Avenida Lusíada
- Entrecampos (Rua Sanches Coelho)
- Parque das Nações (Zona Sul)
- Rua de Campolide - Rua de Campolide
- Rua Marquês da Fronteira (Palácio da Justiça) - Rua Marquês da Fronteira (Palácio da Justiça)
- Sete Rios
On this map of the Emel site, if you uncheck all the options, leaving only the "Bilhete Diário" option selected, you will see in grey colour these car parks where you can park for around 3€ per day.