Welcome to the American Riviera: Santa Barbara. Its beautiful beaches with giant coconut trees make for a young, relaxed destination with a culture full of colors.
Among the mountains of California, Santa Barbara is one of the most iconic cities in the state. Two hours from Los Angeles and more than 500 km from San Francisco, the city was our final destination of our road trip on Highway 1. Here we tell you about our stay at the B&B Cheshire Cat Inn.
We started our trip in San Francisco, passed Sausalito, San Luis Obispo and Carmel and finally Santa Bárbara. The city is full of sights: the famous Stearns Wharf – a pier by the sea with a beautiful view of the beach and mountains in the background, with great options for restaurants and shops. the tower of Santa Barbara Courthouse also worth the visit. In addition, the charming city is home to the Natural History Museumthe Botanical Garden and more attractions.
Have you already purchased your travel insurance?
Save on the best plans with the coupon FORTRAVELOVERS.
Click here and check it out!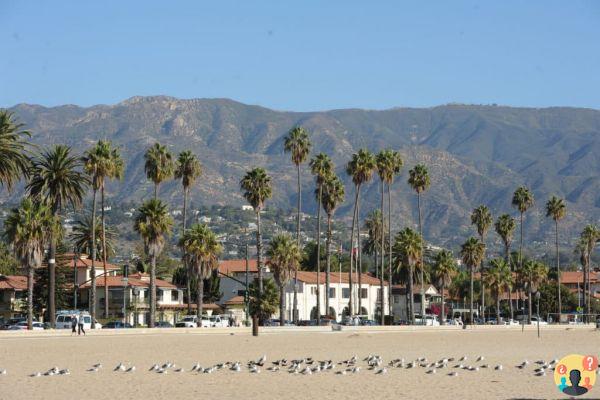 Where to stay in Santa Barbara – Cheshire Cat Inn
We stayed at the Cheshire Cat Inn, an excellent bed and breakfast. The accommodation caught our attention for being super well rated, with a score of 9,3 on Booking, great location and value for money.
The Cheshire Cat or Laughing Cat is one of the characters in the famous movie "Alice in Wonderland". The decor is all based on the movie and each room is named after one of the characters. There are two cottage-style houses, the accommodation is super familiar and cozy. With beautifully manicured flower gardens, the atmosphere is calm and welcoming. Breakfast is served outdoors, a delight!
The Cheshire Cat Inn also offers Wi-Fi and free parking. Most rooms are on the second floor and the hotel does not have an elevator. It's worth keeping an eye out if you have any difficulties or are carrying a lot of suitcases. Another detail, which was no problem for us, is that the rooms are super bright in the morning. Bring a mask if you don't like waking up to the Californian sun.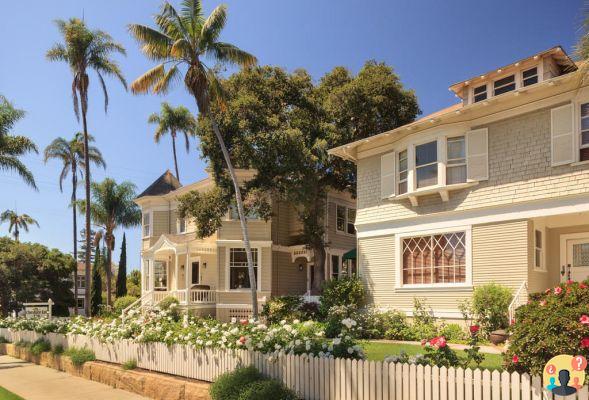 Location
The Cheshire Cat Inn is conveniently located 1,5 km from downtown Santa Barbara and a 10-minute drive from Stearns Wharf. Right next to the hotel there is an Ihop – an American restaurant chain with great lunch or dinner options. It's worth a tip, as the restaurant has a super affordable price, in times of high dollar.
Check in
The Cheshire Cat Inn does not have a reception. Upon arrival we were greeted by the hotel manager. She provided us with an access password (keep that password very well!) that allows you to access the hotel at any time. Be aware if your check-in is after 19:XNUMX. It is best to inform the hotel in advance so they can prepare for your arrival.
rooms
The hotel is boutique, with just 18 classically decorated rooms. As we said, the entire design is based on the theme of the movie "Alice in Wonderland". Each room is named after one of the characters from the film (The Mad Hatter, The Mock Turtle, The Lady of Hearts and so on). We stayed in the room that is also named after the hotel – Cheshire Cat.
The decor is cozy, with lots of cushions, armchairs and always with a beautiful vase of flowers, kindly chosen in the hotel's garden. All rooms have air conditioning, bathrobe, flat screen TV and Molton Brown amenities. Some of the rooms are larger and have a spa bath, balcony and fireplace. Very romantic!
Cheshire Cat Inn Room – Photo: publicity

Cheshire Cat Inn Room – Photo: publicity

Cheshire Cat Inn – Duchess Bedroom – Photo: publicity

Cheshire Cat Inn – Photo: publicity

Cheshire Cat Inn – Mock Turtle Room- Photo: publicity

Cheshire Cat Inn – Mad Hatter Room – Photo: publicity

Cheshire Cat Inn – Photo: publicity

Cheshire Cat Inn – Photo: publicity




Cheshire Cat Inn – Honeymoon Suite – Photo: publicity
Tip for families
The Cheshire Cat Inn even has accommodation for families: The Cottages. They are houses that accommodate up to 4 people, with 2 bedrooms, living area with fireplace, full kitchen and private balcony.
Country house for family – Photo: publicity

Living area with fireplace – Photo: publicity

Full kitchen – Photo: publicity

Single room – Photo: publicity

Bathroom – Photo: publicity

Double bedroom – Photo: publicity
Breakfast
Breakfast was the highlight! It is served in the outdoor area next to the garden, so you can enjoy the beautiful view of the flowers and lawn, with the mountains in the background. The continental style breakfast is very complete: cold cuts, breads, milk, fruits, eggs, yogurt with honey and homemade granola, juices and Nutella (which I can never miss) and the famous quiche with different flavors every day. All fresh and made on time!
And even in the late afternoon (from 17:00 to 18:00 h) the hotel offers a happy hour. The accommodation offers wines from the region, snacks, cheeses and jams.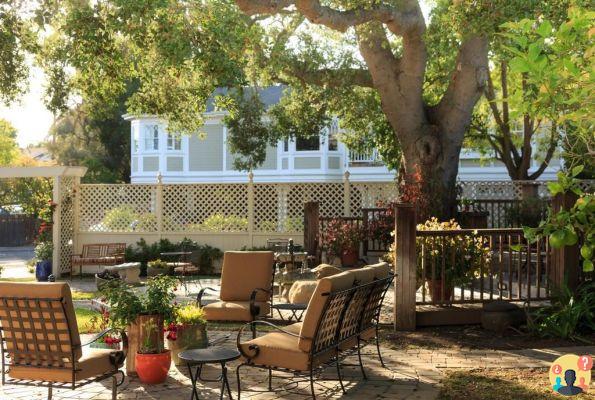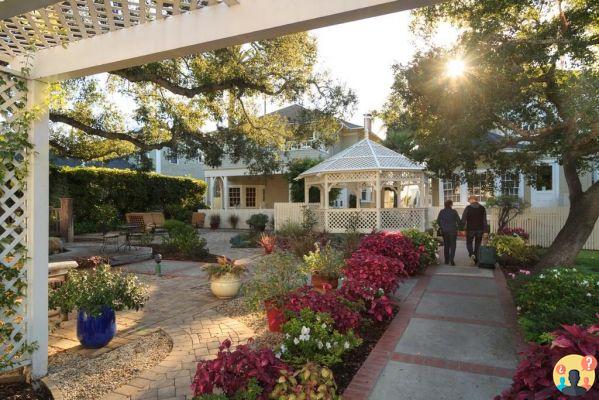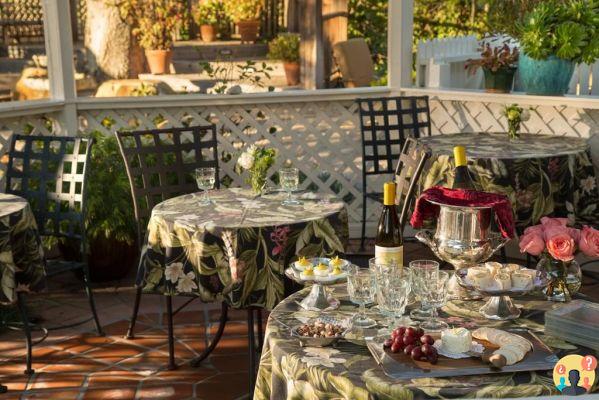 Write it down:
Address: 36 West Valerio Street – Santa Barbara, CA 93101
Phone: +1 (805) 569-1610
Facebook: @Cheshire Cat Inn
MAKE YOUR RESERVATION OR LEARN MORE ABOUT THE HOTEL HERE
If you liked the hotel, see below the video that was narrated by the owner Christine Dunstan, that friendly Englishwoman.
***We stayed at the invitation of the Cheshire Cat Inn hotel***
Did you like our tips? Tell us about your trip to Santa Bárbara here!
See more discount hotels in Santa Barbara, California
California travel insurance
Buying travel insurance for California is an excellent way to ensure a smooth trip and avoid worries. Having the assistance of insurance gives you the peace you need to enjoy your destination and know that you have support if you need it. Also enjoy our Insurance Promo discount coupon. - SEE PRICES
Receive a SIM card at your home in España and use unlimited Internet in Santa Bárbara and across the US

Are you also tired of only being able to use your cell phone at points that you find Wi-Fi free during the trip? And having to pay per day to be able to use a GPS in the rental car on the trip?
We couldn't take it anymore, especially because we wanted to post real-time photos of our trip on social media. In addition, Google is a great ally to find what we need while on vacation, such as information and places, and you can't just use it where you have Wi-Fi.
So we discovered one of the best solutions to end this problem, that you will no longer have to spend hours of travel in phone stores in the country, speaking an unknown language to get a SIM card. This is one of the tips we love to give our readers: America Chip.
Write it down: The company sends an international Chip to your home in Spain. When you're on the plane, just change your Brazilian SIM card for this international one. You will arrive in the United States with unlimited internet, using your cell phone at will, as you use in España.
Arriving in the United States, you can use it all day, anywhere. You'll save on GPS rentals, Skype credits, and you'll still be able to use social networks, Google, or search for anything on the internet all day. In addition, you can still call your home to send travel news as many times as you want via WhatsApp or Facetime.
Read More
San Francisco Complete Guide – Everything You Need to Know
Things to do in San Francisco – 22 Must-See Attractions
Golden Gate Bridge – Where to Take the Best Photos
Car Rental San Francisco – How to Get Discounts
Travel Insurance in San Francisco – Is It Worth It?
Where to Eat in San Francisco
Where to Stay in San Francisco
Hilton San Francisco Union Square – Our Review
Hotel San Remo – Where to Stay in San Francisco
Apple Farm Inn Hotel – Where to Stay in San Luis Obispo
Auberge Carmel – Relais & Chateaux
Hotel Cavallo Point – Hotel em Sausalito
Hotel Santa Barbara Inn – Where to Stay in Santa Barbara
Where to Shop in San Francisco
Museums in San Francisco – 6 Attractions You Can't Miss
Sports and Games in San Francisco – Everything You Need to Know
International Travel Insurance – Check the Step-by-Step on How to Hire
Travel Insurance for the United States – Is it mandatory?
Plan your trip:
Get started now by booking your hotel on Booking.com
Save time and money searching for the best Travel Insurance with the Seguros Promo comparator! Extra 5% off with coupon: FORTRAVELOVERS
Compare the best prices to rent a car from over 100 rental companies with Rentcars! (Pay in up to 12X! Pay in reais, without IOF)
Leave España with Unlimited 4G Internet!