The combination of sophisticated accommodations overlooking Biscayne Bay with a cool, young, stylish and sustainable vibe makes EAST an ideal stay for those looking to stay in one of the best, newest and most conveniently located hotels in Miami.
Forget old Art Deco Miami or the swanky, swanky lodgings of South Beach. Miami has reinvented itself in the last decade and has been gaining ground as a true cosmopolitan American city that goes far beyond beaches and malls.
The city of Florida is home to a vibrant art scene that pulses in new neighborhoods like Wynwood and the Art District, bustling rooftops, premier restaurants and state-of-the-art museums in Brickell and Downtown.
O EAST Miami took advantage of this injection of innovation and opened its doors in 2016, bringing the sophisticated stay experience of the Beijing and Hong Kong units to converse with the new Miami lifestyle: technological, cool, young and sustainable. In addition, it chose to be located in an extremely convenient location: a building connected to the Brickell City Center, with easy access to the best attractions in the city.
The hotel's success extends beyond the sought-after rooms surrounded by huge glass windows and terraces with panoramic views of the bay, Downtown and South Miami Beach. Sugar, an Asian-inspired bar and garden on the hotel's rooftop, is considered one of the best in town. The property also hosts several corporate events that turn and move occupy and stir the Uruguayan restaurant El Quinto and the hotel's very cool swimming pool.
I stayed for one night at EAST in January 2022 and I tell you what the experience is like below:
Have you already taken out your travel insurance?
use the coupon FORTRAVELOVERS and pay in boleto to take off 10% discount in the best insurers.
Click here and check it out!
Location
Check-in and Check-out
rooms
Dining
What else does EAST offer
Sustainability and Design
Is it worth staying at the hotel?
Values ​​and Reservations
What is the experience of staying at EAST Miami like
Location and access to EAST
There isn't a cool Miami attraction that's more than a 15-minute drive from EAST. The hotel is in the heart of the city, in a neighborhood called Brickell. Here is Downtown Miami, home to global companies such as KPMG and Bank of America, as well as being next to very interesting attractions such as the Phillip & Patricia Foster Science Museum, Perez Museum and Bayside Market.
From Miami International Airport, it is just 11 minutes by car to reach the hotel. Still on the mainland, 10 minutes north of EAST, are the city's great art scenes: Wynwood, Miami Design District and the new futuristic Superblue museum. Coral Gables, an iconic neighborhood for its Mediterranean architecture, is 15 minutes south of the hotel.
Miami Beach, the island opposite the city of Miami, famous for being home to the bustling beaches of South Beach, Ocean Drive, Lincoln Road and the Art Deco District is just a bridge away (15 minutes). Key Biscayne, where the beautiful lighthouse of Bills Bag State Park is located, is also 15 minutes away.
>> Also read a complete itinerary of what to do in Miami and find out which are the best attractions, neighborhoods and shops in the city.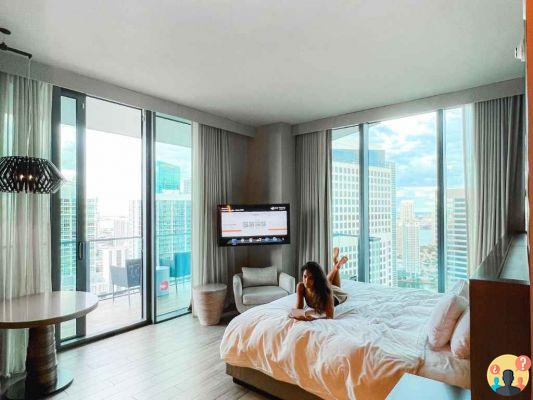 Already know what to do in Miami?
Check out the best tours in the region and book your tickets in advance on GetYourGuide.
Is it worth renting a car to stay at EAST?
Before renting a car, it is necessary to know that the daily/night value at the hotel valet is around USD 50, with the right to leave and return from the hotel as many times as you need that day. There are other parking lots in the region that charge USD 20 per day (but without the right to leave and return).
That is, it is important to put your itinerary at the tip of the pencil to understand if it is worth renting a car to stay at EAST. Because it is conveniently located, many of the attractions can be visited by bike (provided by the hotel), on foot, by electric scooters (Lime app) or Uber – and you save on attraction parking as well, which is around USD 20-30 .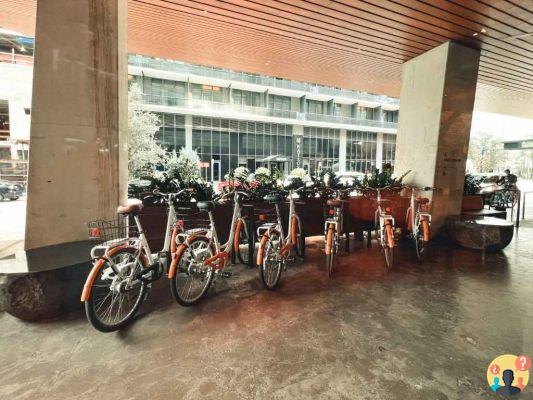 Find cheap flights to Miami!
Discounts of up to 35% on flights to Miami every day in Promo Tickets.
Check-in e Check-Out
The check-in and check-out experience is convenient and quick.
Check-in is at 15:16. When I arrived (XNUMX pm), my room was still not available and I was invited to wait at the Domain, cafe and bar, in the lobby with a delicious complimentary drink. First class service that knows how to work around situations that happen, but they may not be favorable to the most demanding guest.
Check-out is fast and can be done until 12:XNUMX. EAST has a look at the sustainability and future of our planet (story below). Therefore, the check-in and check-out experience is completely digital, without the use of unnecessary paper.
>> Check out all the details of your stay in East Miami, as well as your reservation, through Booking.com by clicking here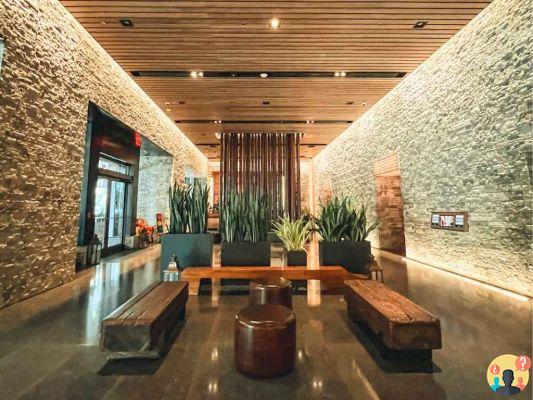 rooms do EAST Miami
The property has 352 rooms, including eight suites and 89 residential suites ranging in size from 28 to 167 m².
I stayed in the Bay King category, a simply fantastic accommodation. Spacious and bright, with an integrated bedroom and bathroom, surrounded by floor-to-ceiling windows and a panoramic balcony with 180º views of Biscayne Bay, South Beach, Fraser Island and Downtown Miami. I slept in a very comfortable king-size bed, watching the full moon light up the bay of Miami and woke up to dawn rising on the horizon.
The highlight of the room definitely goes to a spa bath positioned next to a huge window for this look. In addition, it offers a great shower (those that come out of the ceiling) and quality amenities (shampoo, conditioner, moisturizing lotion, soap and hygiene kit). The accommodation provides great towels, hairdryer, iron and bathrobes (I missed slippers or slippers).
The hotel's Wi-Fi is free and works very well.
For those looking to travel as a family or for long stays, EAST also offers one, two and three bedroom residential suites with fully equipped kitchens and laundry facilities, as well as access to all hotel amenities and services.
>> Learn all about how it works and how much it costs to rent a car in our full post Car rental in Miami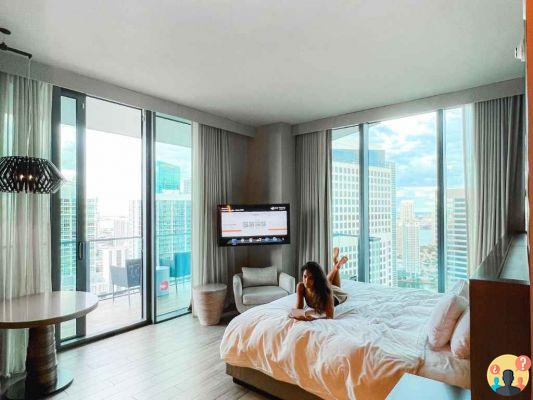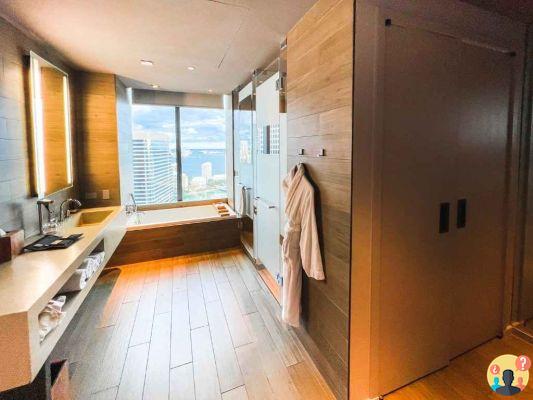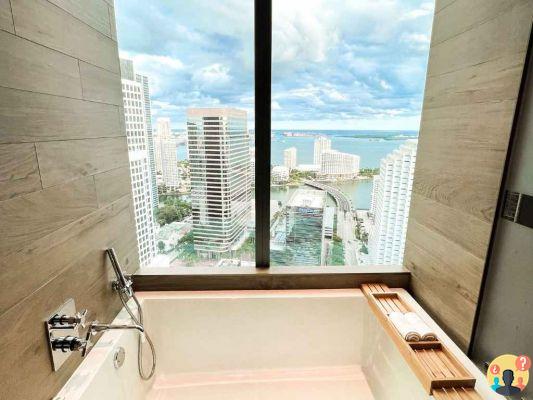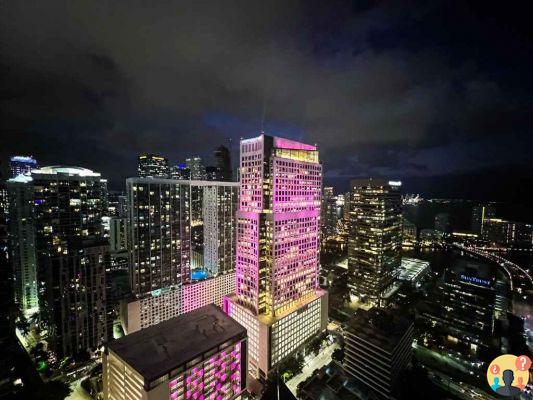 Stay connected throughout your trip!
buy it here your internet chip to Miami with 10% discount from America Chip.
Dining
Breakfast
Breakfast is included in some room categories, not all. It is served buffet style from 7 am to 11 am in the El Quinto La Huella restaurant.
With first-rate ingredients, it offers healthy options (a differentiator for the US), with delicious seasonal fruits, artisanal granolas, yogurt, scrambled eggs, whole-grain breads, in addition to offering traditional American breakfast options with tasty pancakes and waffles. .
Sugar & Tea Room
Considered one of the best rooftop bars in the United States by Big 7 Travel's, visiting Sugar is a sure thing to do, even for non-guests. On the 40th floor of the hotel, the bar occupies a well-kept garden with Asian inspirations and has several well-spread tables perfect for sharing snacks and enjoying great drinks at sunset and prolonging conversation under the stars.
Also on the same floor is the Tea Room, a sophisticated cocktail lounge inspired by Hong Kong, which offers a careful selection of classic drinks combined with a selected tasting menu.
>> Click here and make your reservation right now at East Miami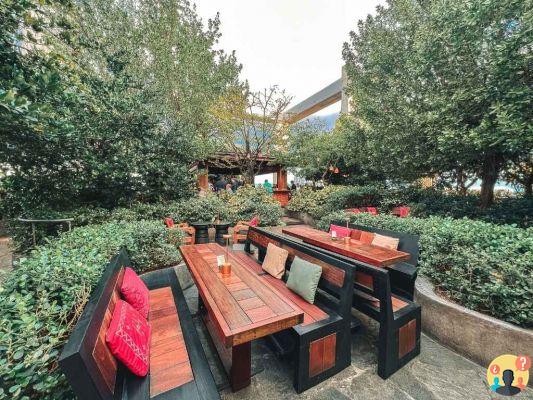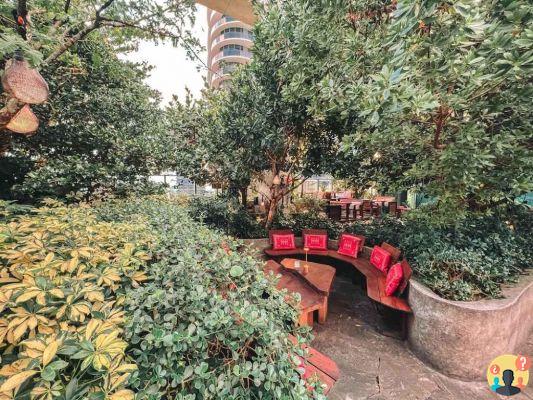 The Fifth Footprint
Going down to the 5th floor is the Uruguayan restaurant Quinto La Huella, the first expansion of the Parador La Huella in Uruguay. It has classic cooking methods from the Hispanic country, such as the famous parrilleira, barbecue in the center of the kitchen.
Spread over 900 square meters, it has indoor tables in a sophisticated environment and outdoor tables distributed in a beautiful outdoor garden and also by the pool.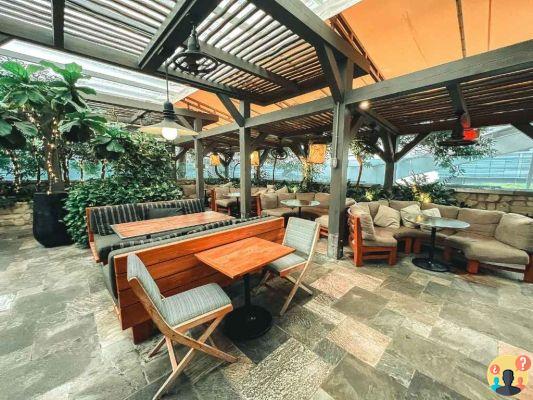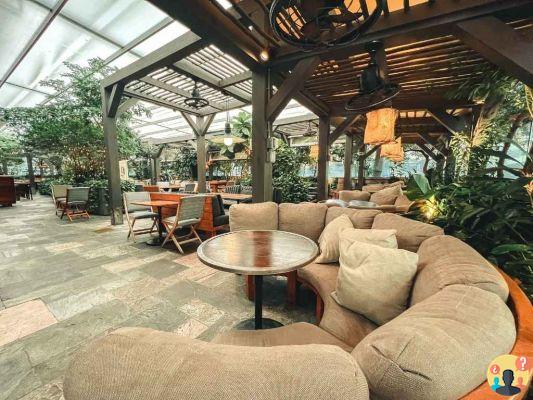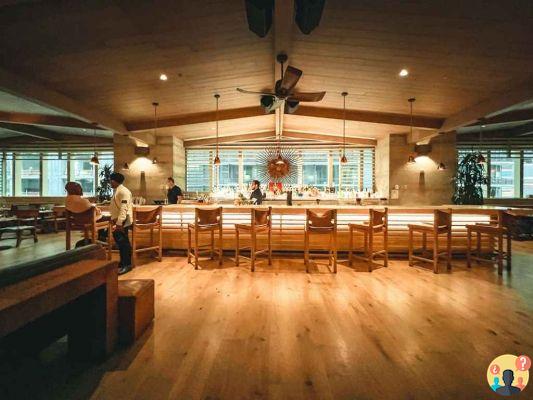 Domain Cafe & Bar
In the lobby of the hotel is the Domain Café & Bar, a funky space that serves as a co-working space for several young people who settle in with their laptops and enjoy freshly brewed Lavazza coffee, light snacks and a variety of wines and spirits.
>> Click here and make your reservation right now at East Miami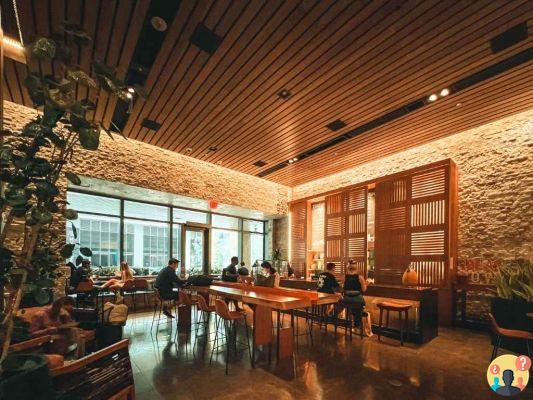 What else can you find at EAST Miami
Swimming pool
Enjoying the lifestyle and cool atmosphere of the four pools at EAST is to feel that you are living the best of Miami. The area with more than 900 square meters features an Olympic-sized pool, another heated, a cold plunge and a hot tub.
>> Click here and make your reservation right now at East Miami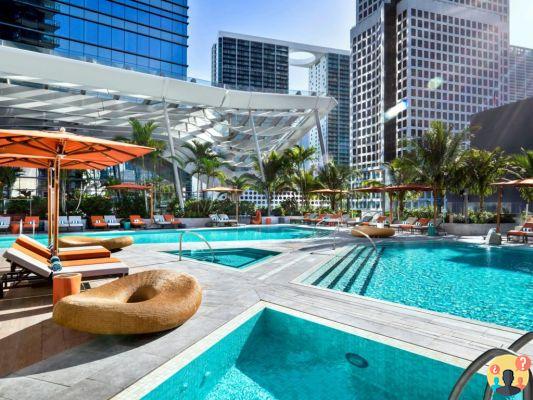 Academia
The hotel's gym, BEAST (Body by EAST), features the latest Technogym® equipment and is accessible 24 hours a day. There are free weights and resistance machines, plus mats and plenty of room to stretch. Guests can download the EAST, Miami app to check their monthly wellness schedule calendar.
>> Click here and make your reservation right now at East Miami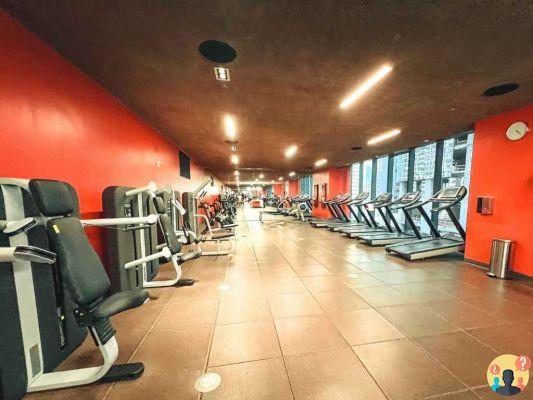 Connection to Brickell City Center
EAST is still interconnected with the Brickell City Center mall. The shopping center brings together the best brands and stores: Apple, Channel, Saks Fifth Avenue, Toms, Victoria Secrets, in addition to several restaurants and cafes.
I needed to go to Apple and it was super practical. I went down from my room, took the futuristic and funky hotel elevator and went inside the mall.
>> Click here and make your reservation right now at East Miami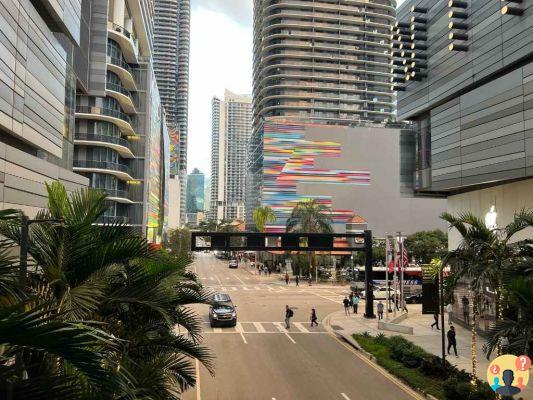 East Miami Hotel Events Area
EAST Miami features nearly 2.000 square meters of event space and outdoor spaces. Among them, located on the 2th floor, is EAST's 39 m² ballroom known as The Crush, with 307-degree views of Biscayne Bay and the Miami skyline.
The 38th floor houses two event spaces, the 148 m² Rise and Set, as well as a 2 m² meeting room, the High Noon. Four workshops located on the 79th floor are ideal for intimate gatherings and gatherings ranging in size from 2 to 6 m60.
All event spaces feature floor-to-ceiling windows, Wi-Fi access included, state-of-the-art audiovisual equipment and technical support. Customizable menus and canapés are available, from small snacks to family-style dinners, as the hotel's special events team customizes each event experience based on the guest's needs.
>> Click here and make your reservation right now at East Miami

Sustainability and Design
The hotel's design and architecture blends the contemporary and modern with an art curation that includes sculptures, paintings and photographs that showcase the Miami color palettes of local and national artists.
One of the highlights is the hotel's sustainable vision. The property is not only an architectural masterpiece that draws attention to the streets of the Brickell, but works to capture the ocean's natural wind currents, to naturally cool the property and provide shade for the shops and terraces directly exposed to strong sunlight. , eliminating the need for air conditioning and thus reducing energy usage and reducing the property's carbon footprint.
The hotel also has a mechanism for capturing and diverting rainwater, which is later used for the sanitary plants and foliage of the property.
Such commitment to the energy efficiency of the property led EAST to earn certification (Leadership in Energy and Environmental Design). LEED (in Portuguese: Leadership in Energy and Environmental Design) is a certification for sustainable buildings, conceived and awarded by the non-governmental organization United States Green Building Council (USGBC).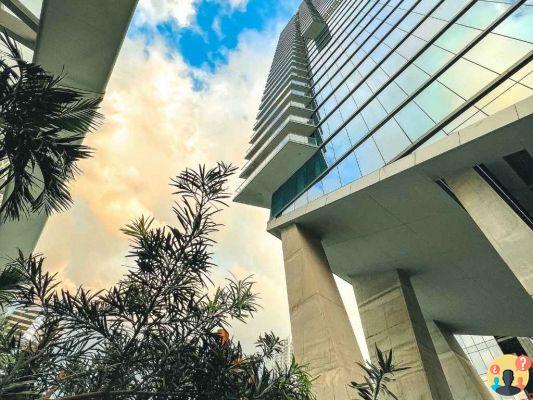 Is it worth staying not EAST Miami?
Combining innovation, sustainability and sophistication has been one of the great pursuits of luxury hotels. Several traditional hotel chains that were shaped in the provision of service and infrastructure excellence, but left aside the look for the impact they have. Therefore, currently, many properties struggle to adapt to the public's demand, increasingly aware of the demand for hotel practices that aim at the well-being of guests and also the planet.
Combining this conscious look to the future with a relaxed, light atmosphere, taking advantage of cutting-edge technology to provide excellent services is a combination for few, but one that EAST Miami has rooted in its young essence and brings exquisitely to the public in Miami.
I recommend the stay with your eyes closed, especially for those looking to experience the newest, most modern and convenient in the vibrant city of Florida.
Plan your trip:
Get started now by booking your US hotel on Booking.com
Want to find cheap tickets? Find flights with discounts of up to 35% every day at Passages Promo!
Save time and money searching for the best Travel Insurance with the Seguros Promo comparator! Extra 5% off with coupon: FORTRAVELOVERS
Compare the best prices to rent a car from over 100 rental companies with Rentcars! (Pay in up to 12X! Pay in reais, without IOF)
Leave España with Unlimited 4G Internet!
Values ​​and Reservations
Hotel rates may vary according to seasonality. Rates start from $259 in low season and $549 in high season, depending on availability and packages. You can make your reservation here.
Is that you? Did you enjoy discovering EAST Miami? Leave your comment here!
>> Click here and make your reservation right now at East Miami
Miami Travel Insurance
Taking out travel insurance for Miami is an excellent way to ensure a smooth trip and avoid worries. Having the assistance of insurance gives you the peace you need to enjoy your destination and know that you have support if you need it. Also enjoy our Insurance Promo discount coupon. - SEE PRICES
Read More
What to do in Miami – Complete Guide
Where to Stay in Miami – Best Neighborhoods and Tips
Miami Car Rental – How Does It Work and How Much Does It Cost?
Where to Stay in Miami – Eden Roc Miami Beach Hotel
Hotels in Miami Beach – We've Selected the Most Charming
America Chip – How the International Travel Chip Works
Miami Travel Insurance – Is It Worth It? Know EVERYTHING Here
International Travel Insurance for Miami – Everything You Need to Know
Baby Trousseau in the USA – Best Stores and What to Buy
Things to do in Orlando – Beyond Disney Tour
Where to Stay in Orlando – Magic Village Resort
Orlando Car Rental – Learn How It Works
Adventure Coast – Ecological Adventure Route in Florida
St Petersburg Florida and Clearwater – Know What to Do and Where to Stay
Car Hire in Fort Lauderdale – Discounts and Best Deals
Sebring Tour – Guide to What to Do, Where to Eat and Where to Stay
Complete Guide to Daytona Beach – When to Go, What to Do and Where to Stay
Symphony of the Seas – Largest Cruise Ship in the World