Visiting the Empire State Building, the famous 102-story skyscraper in the Big Apple, is more than just a tour or a mandatory stop on a trip, it is an unforgettable experience in one of the best views of New York.
For those who like cinema, just remember (if you are over 30, of course) legendary scenes, as in the movie King Kong when the huge eight-meter gorilla climbed to the top of the Empire State Building, holding and protecting his "lover". Remembering this scene when you are up there is something really exciting.
For those who prefer romantic movies, who doesn't remember Meg Ryan, in Tune of Love, who can't resist love and falls into the arms of Tom Hanks there. In addition to enjoying one of the best views of new york, you can use your imagination to enjoy it even more there.
#ParaNãoForget: Have you bought your travel insurance yet?
Get your discounted plan using the coupon FORTRAVELOVERS (5% off).
Click here and enjoy!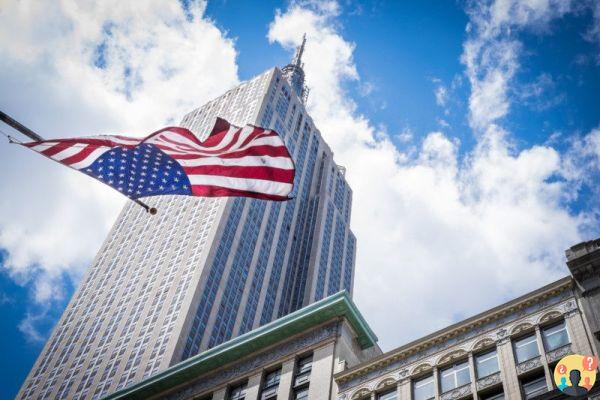 The building is, without a doubt, a great tourist attraction of the city, however it is important to mention that its "real" function is to house offices, that is, it is a commercial building.
My suggestion is to go up close to sunset time, try to go as early as possible because this idea crosses almost everyone's mind. I arrived 1 hour early, which helped me to choose a good spot and admire the city both day and night.
This is a program that I recommend for all ages, families, couples, children, that is, it caters for all tastes.
One more detail, at the Empire there are no restaurants, so the attraction is really the location and enjoying one of the best views of new york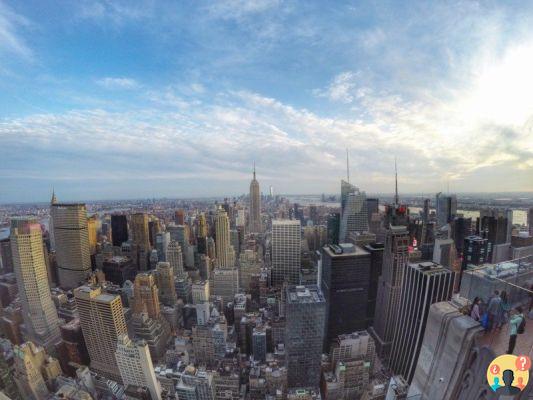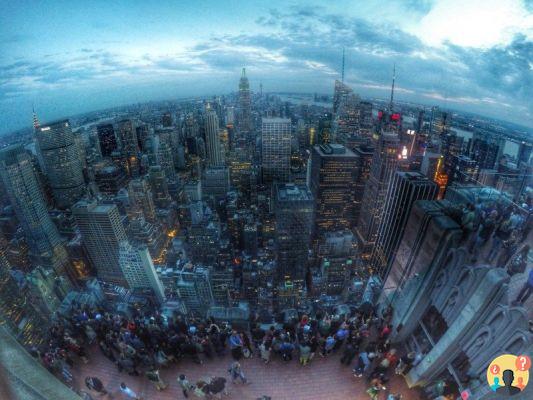 Facts about the Empire State
the lighting of Empire State Building changes on holidays or special events such as St. Patrick's Day and Christmas. After the attack on the World Trade Center, the colors red, white and blue (colors of the American flag) remained for several months.
In December 2007, the building turned yellow to promote the movie "The Simpsons". The following year, the "lights" were turned off to save energy at Earth Hour.
On June 24, 2011, the building turned red, orange, yellow, green, blue and violet after same-sex marriage was approved.
On clear days, up to five US states can be seen from the top of the building.
In the 1960s, the Empire received escalators and the old, manually operated high-speed elevators were replaced by automatic models.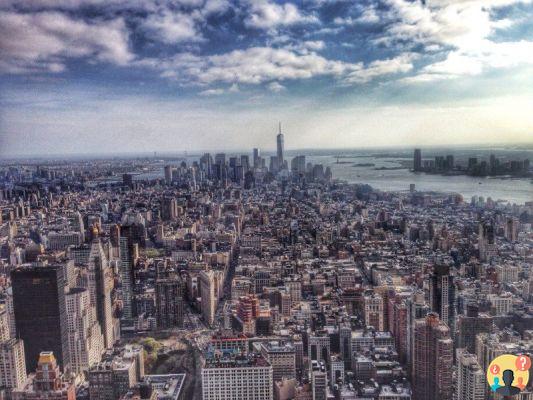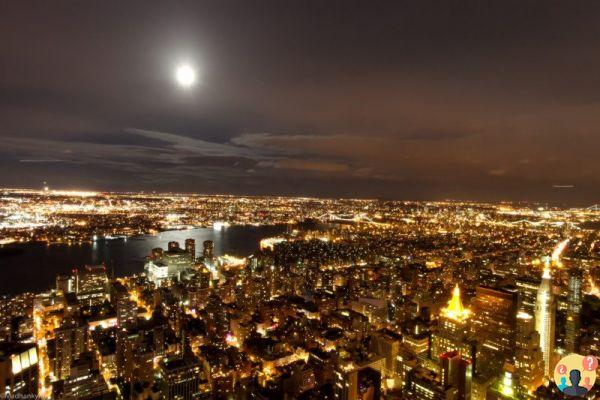 Flickr: Madhan Karthikeyan – Vista noturna de New York do Empire State
was felled by Commission for the Preservation of Historic Places of the city in 1981.
Price
Buying directly from the Empire State website or through the official website, you have the following options:
1) Main Platform (86th Floor) – Standard Pass
Adult admission: $32 (R$ 107,81)
Child admission: $26 (R$ 87,59)
Seniors Admission: $29 (R$ 97,70)
There is a "skip-the-line" option called – VIP Express Pass
Single Price: $65 (R$ 218,98)
2) Main and Upper Platform (Floor 86 and 102) – Standard Pass
Adult admission: $52 (R$ 175,18)
Child admission: $46 (R$ 154,97)
Seniors Admission: $49 (R$ 165,08)
There is also the option – VIP Express Pass
Single Price: $85 (R$ 286,36)
*** Quote made on 08/06/2016
Now, if you intend to visit more than one New York attraction, my suggestion is the New York CityPass. You'll save over 80 dollars and still have the right to skip the lines at many attractions.
New York CityPass
How it works?
After purchasing your CityPass online or at one of the attractions/accredited stores around the city, you will receive a voucher with 9 attractions, from which you can choose 6 of them. Are they:
Empire State Building
Metropolitan Museum of Art
American Museum of Natural History
Top of the Rock or Guggenheim Museum
9/11 Memorial & Museum ou Intrepid Sea, Air & Space Museum
Statue of Liberty (including a stop at Ellis Island) or Circle Line cruise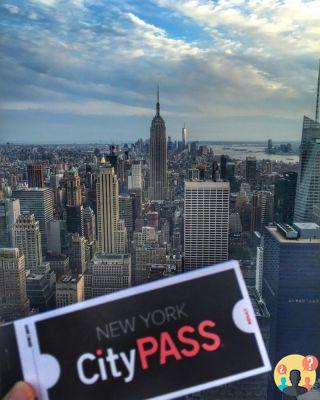 Shelf life
O Citypass is valid for 9 days and entitles you to use a special line at almost all attractions (except for the 9/11 Memorial & Museum), which makes a huge difference in the high season period (July and August – summer holidays in USA / December and January – even with the cold, the city is crowded).
Price
It costs 116 dollars (R$ 390,32 – quotation of 08/06/2016) and represents a savings of almost 80 dollars, considering the amount you would pay individually in the 6 chosen attractions.
Address:
It is located at 350 5th Ave, New York, NY 10118 – less than 500 meters from Metro Penn Station.
Bruno tried the New York Citypass at the invitation of NYC & Company, more details about the city ​​pass here
New York Travel Insurance
Buying New York travel insurance is an excellent tip to ensure a smooth trip and avoid worries. Even without being mandatory, having the assistance of insurance gives you the peace you need to enjoy the destination and know that you have support, if necessary. Also enjoy our Insurance Promo discount coupon. - SEE PRICES
Read More
What to do in New York – Complete Guide
1-Day New York Itinerary – How to Make the Most of it
What to Do at Night in New York – Discover the Best Rooftops
Car Rental in the USA – How to Hire
Where to Stay in New York – Best Options in Each Region
Asiate Restaurant in New York – Know everything about this place
5 Restaurants in New York – Best Nominations
5 Museums in New York – Cultural Tour
National 11/XNUMX Memorial and Museum – How it works
5 Art Programs – Get Off the Obvious Script in New York
New Year's Eve in the Big Apple – How to Spend New Year's Eve in New York
Aladdin on Broadway – How to Get Discount Tickets
The Lion King Broadway – All About the Musical and Ticket Purchase
Things to do in Brooklyn – Williamsburg and Dumbo Day Tour
Travel Insurance in New York – How to Buy
Plan your trip:
Get started now by booking your New York hotel on Booking.com
Save time and money searching for the best Travel Insurance with the Seguros Promo comparator! Extra 5% off with coupon: FORTRAVELOVERS
Want to find cheap tickets? Find flights to New York with discounts of up to 35% every day at Promo Tickets!
Compare the best prices to rent a car from over 100 rental companies with Rentcars! (Pay in up to 12X! Pay in reais, without IOF)
Leave España with America Chip Unlimited 4G Internet