Fraser Island in Australia it is extremely wild and does not offer hotels and restaurants, a preserved place with camping areas, and picnic spots. There are rules to be respected regarding preservation, animals, camping areas, etc.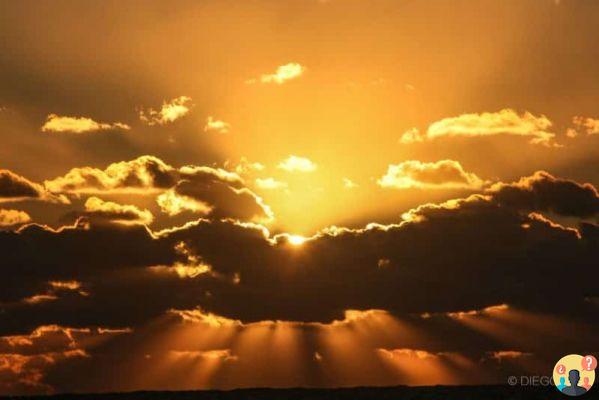 I consider this, perhaps, my favorite place in the whole world, this is also due to the way in which you decide to visit it, here I will share with you the funniest way and the one that I recommend the most of my three visits that I made. !
#ParaNãoForget: Have you bought your travel insurance yet?
Get your discounted plan using the coupon FORTRAVELOVERS (5% off).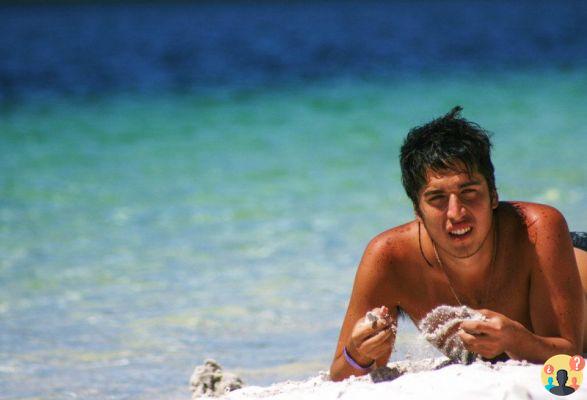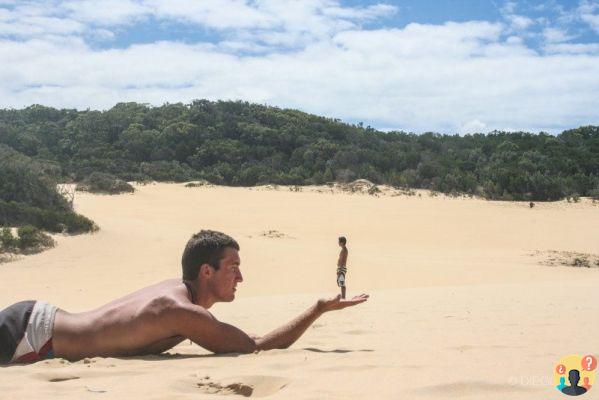 Fraser Island It is very popular and the right destination for almost everyone. Backpacker traveling along the east coast of Australia. A prerequisite for those who choose to visit the island without hiring an agency is to have a 4×4 car.
Without a four-wheel drive car you can't get around the island, but sometimes it pays off financially if you already have yours, so you would only need to pay a visit and ferry fee to the island, and also your food while be there.
What to do?
To get to Fraser, there are two popular exit points, Hervey Bay and Rainbow Beach. I recommend the famous Koala Backpackers that today turned Nomads Backpackers, they are the organizers of this Fraser Island Camping Tour.
The tour that I highly recommend and would like everyone in the world to have the opportunity to experience! Especially those with a slightly more adventurous spirit!
Basically the tour works as follows, they mix you into a group that totals 12 people, usually backpackers passing through. They are groups of two or three, sometimes more or less, of course, but the idea is to put you in a group with other strangers, in the same situation as you, from different parts of the world.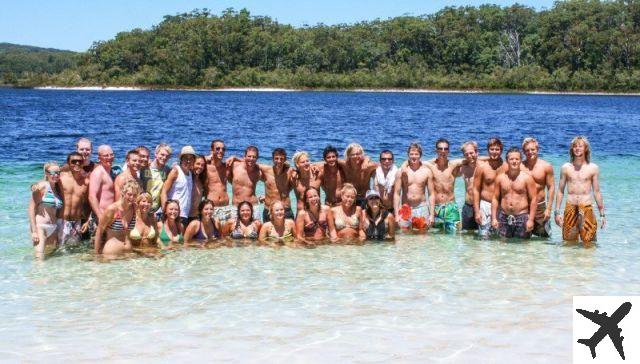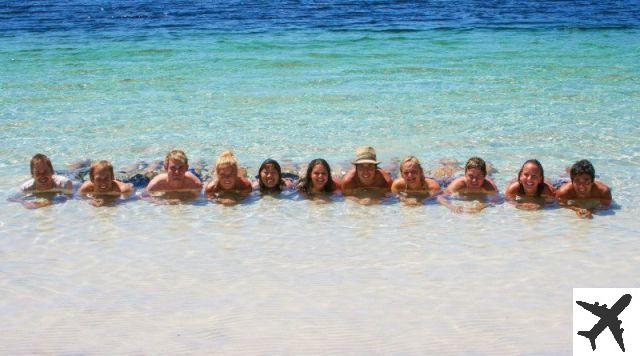 This is the group with whom you will go through this experience of exploring the island during the three days. You and your group will choose a driver, and the company will provide you with a map, camping material, food and a LandRover 4×4 with capacity for everyone.
There is no guide or rule, no one from the company travels with you and that makes the Adventure more independent and fun! And, of course, much more prone to perrengues and accidents on the way!
You and your group decide the steps and points to visit, the place to set up camp and how you will divide up the tasks if necessary.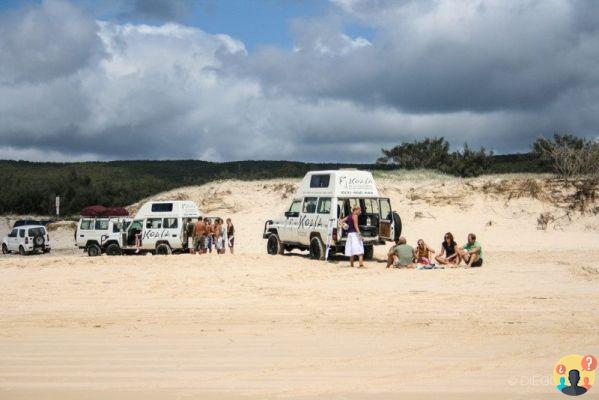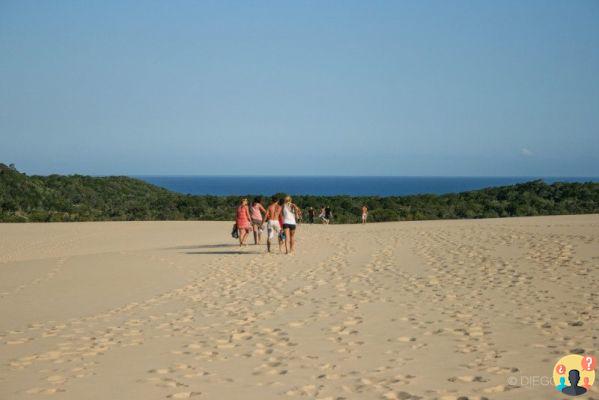 Sometimes it happens that groups get together at camp time for an even bigger party in the open air, and what a heaven! For photography lovers, the stars are a bucket full for those who like it!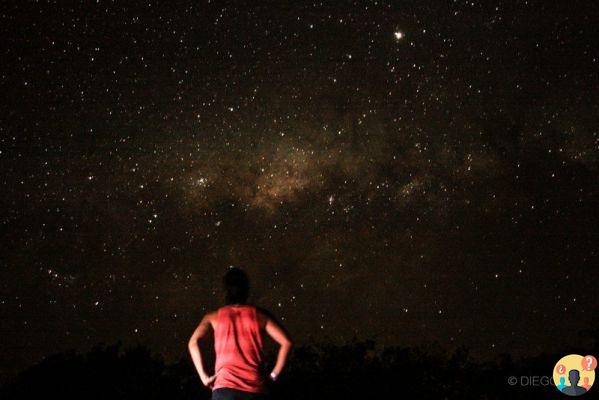 An important thing to mention is that on the island there are dingoes, which are wild dogs that will scare you in your camp at night, so no leaving food loose or dirty dishes, you don't want a wild dog ripping your tent in the bite to try and grab something that's inside like a girl from mine did group!
Another super important thing is that in the kit that the company offers, there is a shovel that is used for natural needs.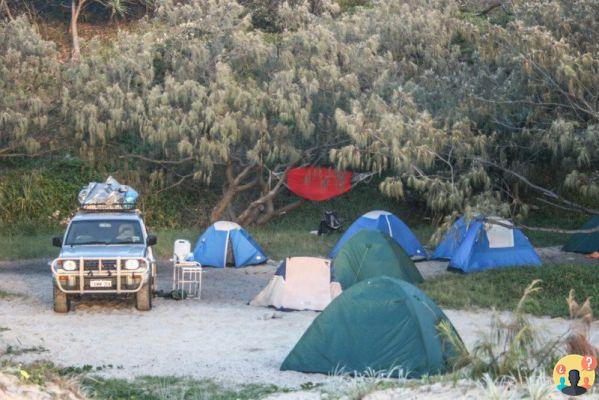 I think it is worth mentioning 3 points on the island that cannot be missed, the first and most famous is the Lake Mackenzie: a lake of pure water and incredible beauty.
The second is the Lake Wabbi: a lake with more difficult access and with a different beauty than the first. It has a green color and to get there you will need to walk, if I'm not mistaken, about 2km through sand dunes. The payoff is incredible. Many stop going out of laziness, but that option should not exist! Take plenty of water, sneakers and sun protection, the rest is wonderful.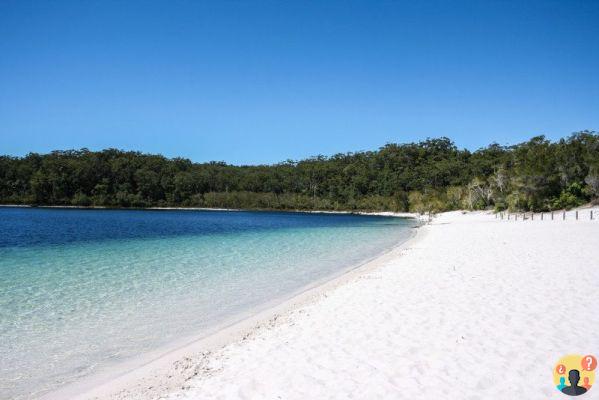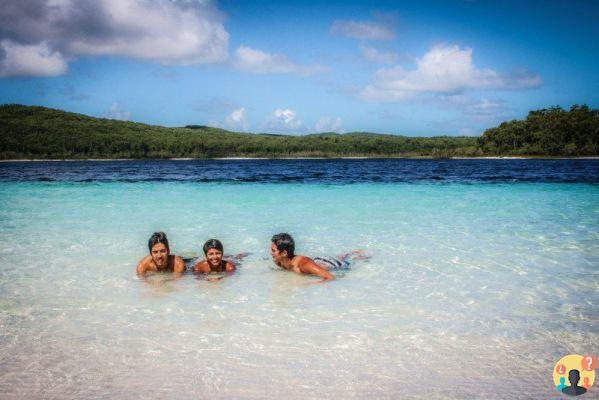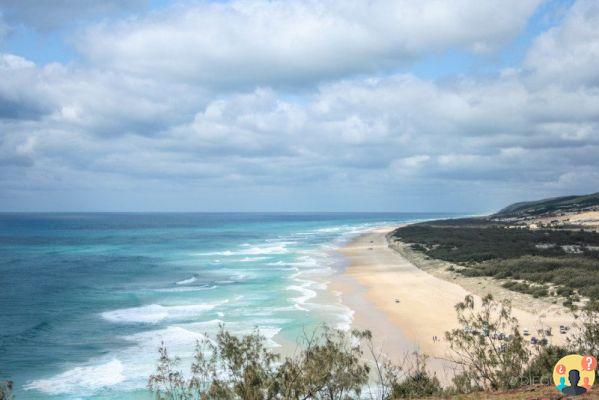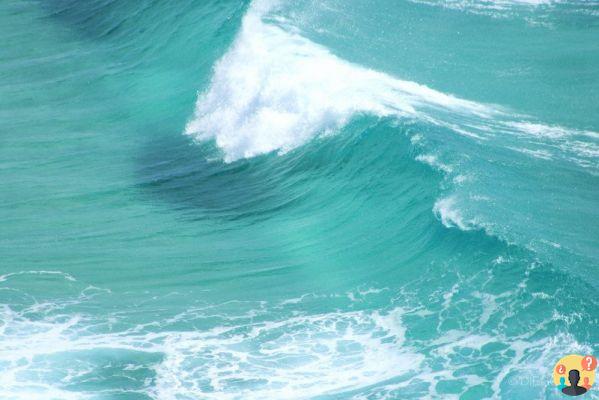 The third is the Maheno shipwreck, another attraction along with the hike to the top of Indian Head, where you have incredible views of the island.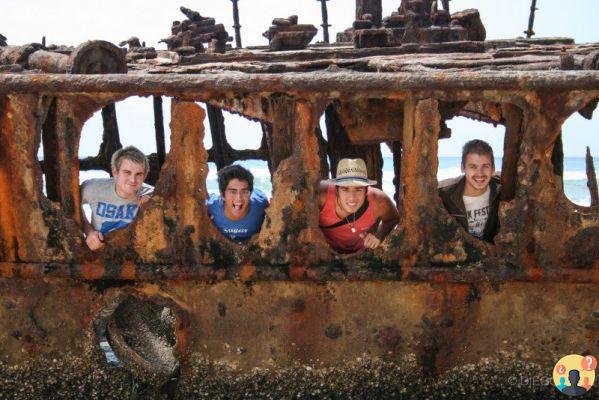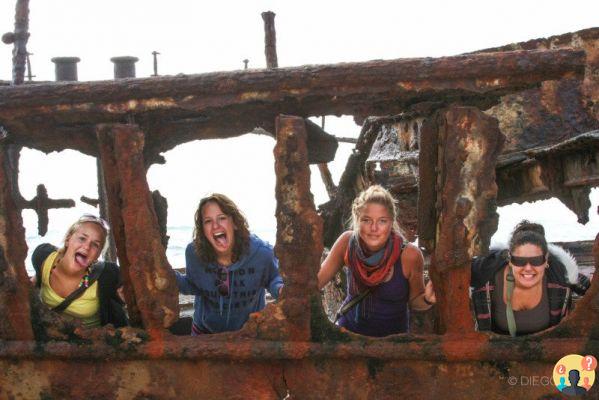 So incarnate your Adventure spirit and get ready to make lifelong friends from different parts of the world in a unique experience!
Australia Travel Insurance
Taking out travel insurance for Australia is an excellent way to ensure a smooth trip and avoid worries. Having the assistance of insurance gives you the peace you need to enjoy your destination and know that you have support if you need it. Also enjoy our Insurance Promo discount coupon. - SEE PRICES
Receive a SIM card at your home in España and use unlimited Internet throughout Australia

Are you also tired of only being able to use your cell phone at points that you find Wi-Fi free during the trip? And having to pay per day to be able to use a GPS in the rental car on the trip?
We couldn't take it anymore, especially because we wanted to post real-time photos of our trip on social media. In addition, Google is a great ally to find what we need while on vacation, such as information and places, and you can't just use it where you have Wi-Fi.
So we discovered one of the best solutions to end this problem, that you will no longer have to spend hours of travel in phone stores in the country, speaking an unknown language to get a SIM card. This is one of the tips we love to give our readers: a America Chip.
Write it down: The company sends an international Chip to your home in Spain. When you're on the plane, just change your Brazilian SIM card for this international one. You will arrive in the United States om unlimited internet, using your cell phone at will, as you use in España.
Arriving in Australia, you can use it all day, anywhere. You'll save on GPS rentals, Skype credits, and you'll still be able to use social networks, Google, or search for anything on the internet all day. In addition, you can still call your home to send travel news as many times as you want via WhatsApp or Facetime.
Plan your trip:
Get started now by booking your hotel in Australia on Booking.com
Save time and money searching for the best Travel Insurance with the Seguros Promo comparator! Extra 5% off with coupon: FORTRAVELOVERS
Compare the best prices to rent a car from over 100 rental companies with Rentcars! (Pay in up to 12X! Pay in reais, without IOF)
Leave España with Unlimited 4G Internet!