Summary
What is Google Flights?
How does it work?
Google Flights: Advantages and Disadvantages
- Benefits
- Disadvantages
Google Flights: Editor's note
Reviews on Google Flights - flight comparator
Going on holiday abroad is what one in three French people do every year. When it comes to buying your plane ticket online, the choice can be quite difficult. Indeed, between schedules, companies, fares and all the possible options, how to find your way around? And if you want to organise a road trip from one country to another, things get even more complicated.
For a few years now, flight comparators have been more and more numerous and are constantly fighting for their place on the podium. Their objective is to help the Internet user to find the best flight ticket at the best price, according to his requirements. Among them is Google Flights. The number one search engine in the world is developing in all fields, and it is therefore quite natural that it is launching into this new adventure.
If you don't know Google Flights yet, now is the time to let you discover it. How it works, advantages, disadvantages, opinions and tests, we explain everything in detail to help you organise your next holiday.
What is Google Flights?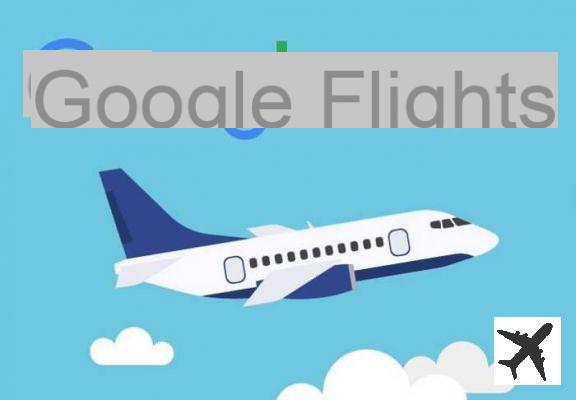 The giant of the net is still growing and offers us this time Google Flights, a comparator of flights and hotels that does not really make the happiness of its competitors. The service was first launched in 2011 in the United States, then in 2013 in France. The basic principle is the same as Kayak, Skyscanner Opodo or Lilligo. These search tools are popular with Internet users looking for the best air ticket.
There is necessarily among your entourage, a person who always manages to go abroad for cheap. Admit it, it's annoying! But how does she do it? Quite simply, by using a flight comparator, like Google Flights for example.
The goal of Google Flights is to make your life easier by quickly finding a plane ticket adapted to your needs, because sometimes it's a difficult mission. The offer is getting bigger and bigger, and our needs are becoming more and more precise. No more stress, loss of time and money! Today, you are sure to make the right choice by selecting all your criteria: dates, place, price, stopover, travel time, etc. And all this, free of charge and in just a few clicks!
In 2018, Google Flights has been revamped to perfectly meet the demand. Our opinion and test confirms it. What's more, this comparator is really complete, since it offers you travel guides, with tourist attractions, restaurants, program suggestions, and much more.
Recently, the service also includes a hotel comparator.
How does it work?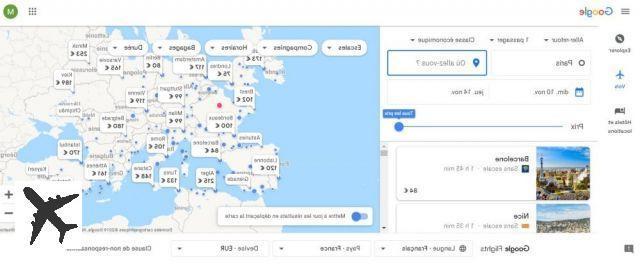 Looking for plane tickets? There are two possible scenarios:
You have more or less precise dates, a defined budget, you know which country you want to go to, etc. All you have to do is choose the perfect flight.
You have no idea where or when, but you want to go abroad at a reduced price. Google Flights will adapt to your request and offers you a whole range of destinations that may be suitable for you.
To get only the results you want, you can filter the search by stopovers, companies, prices, timetables, luggage, etc. Once the proposals are displayed, all you have to do is select the flight you are interested in. Google Flights then invites you to click on the booking option, i.e. the appropriate airline or partner. You will then be redirected to the partner's page. After checking the information, you can book your ticket.
For better visibility, you also have access to the flight calendar and a price graph to compare tickets on other dates. Don't hesitate to follow the price evolution as well. An email or a notification on your mobile is sent to you, and tells you the best time to book a flight.
The travel guide section is a good way to find out more about a destination. It gives you information about activities to do, good addresses and hotels nearby.
Google Flights : Advantages and Disadvantages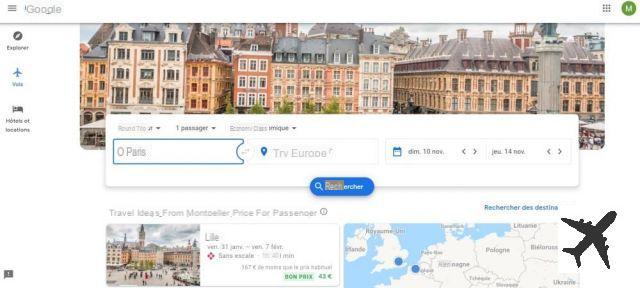 Benefits
Easy to use
Free
Search with many filters
Visibility throughout the month
Ability to be alerted when prices change
Practical Travel Guide
No unwanted advertising
Uses artificial intelligence to predict flight delays
Disadvantages
Prices may be different at the time of booking.
Not all flights may be listed
Google Flights: Editor's note
With its many tools, Google is once again establishing its reputation on the web. Those who swear by the search engine will therefore use Google Flights when the time comes. The interface is simple and gives you fairly accurate results based on your previous searches. Moreover, it is at the cutting edge of technology by using artificial intelligence recently. Being able to predict flight delays even before the official announcement of the airlines is incredible.
However, we sometimes had bad surprises when selecting flights. Google Flights gives us a price and it increases on the partner's booking page. Probably due to hidden fees or updates not done.
To conclude this Google Flights review and test, we are satisfied with the simplicity and speed of search, with an absence of advertising pages. Nevertheless, if you don't find an interesting flight ticket, it is better to consult a second flight comparator.