Heading to the only city located on two continents? Want a prime location and the convenience of a boutique hotel? Still don't know where to stay in Istanbul? Discover the Boutique Saint Sophia Hotel.
Istanbul is the largest city in Turkey and one of the most sought after destinations in the world. In 2015 alone, more than 36 million people visited this metropolis that for many years has been the seat of Constantinople and the capital of the Byzantine and Ottoman empires.
Most of the tourist attractions are in the old part of the city, in the district called Sultanahmet. So, if you want to discover the most iconic palaces and buildings, it's worth staying there.
The Boutique Saint Sophia Hotel is an excellent option for those looking for where to stay in istanbul. For those who want comfort, discretion and a sophisticated stay without bling bling, this is the right choice. I stayed for three nights and now we've secured the #fortravelovers seal of approval.
Hotel
Built in an Ottoman maison with over 150 years of history, the hotel is an alternative to modern accommodation right in the old centre. Forget the heavy, multicolored, gilded decor of the Ottomans. There, the minimal-contemporary is what shines. There are 26 rooms in total, as well as a reception with an indoor lounge, outdoor patio, bar and restaurant.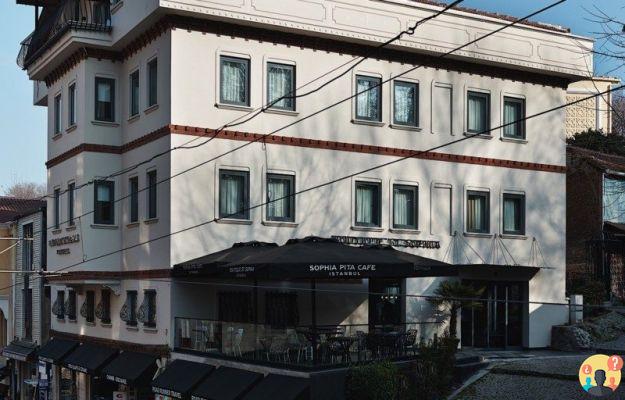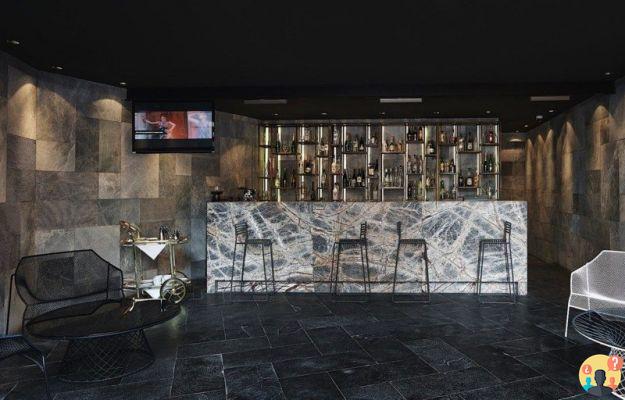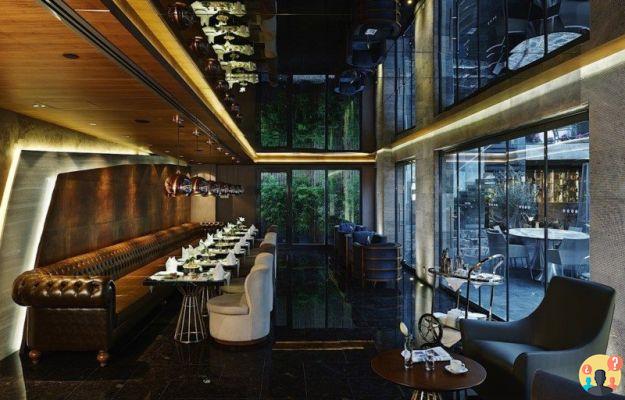 rooms
All rooms have a minibar, coffee machine, hairdryer, iron, safe, station for connecting Iphone, air conditioning system and automatic heater (which, despite adjusting the temperature automatically, can be readjusted).
Highlighted:
The pillow list/menu
The TO-DO bathroom in white Carrara marble – this is an example of Ottoman architecture. A luxury!
On view from Hagia Sophia
The products (soap, shampoo, conditioner) from BVLGARI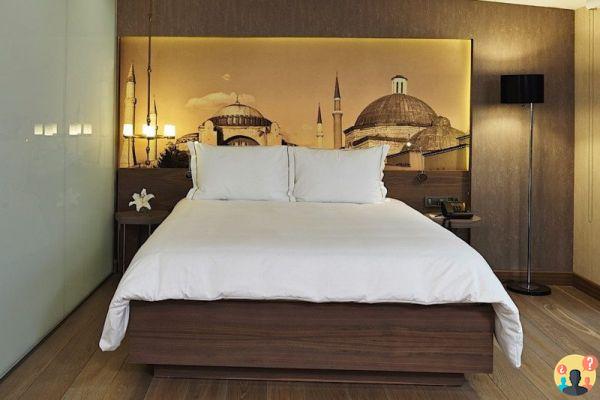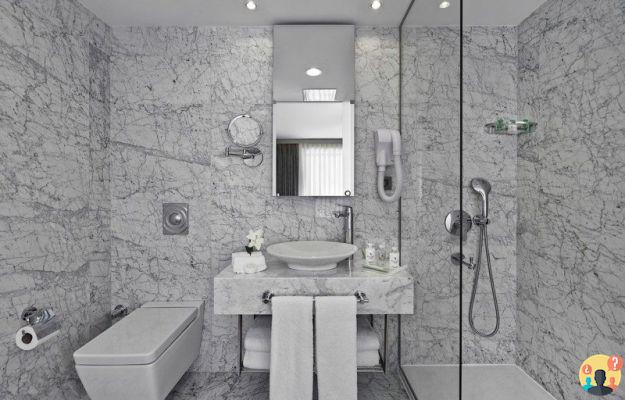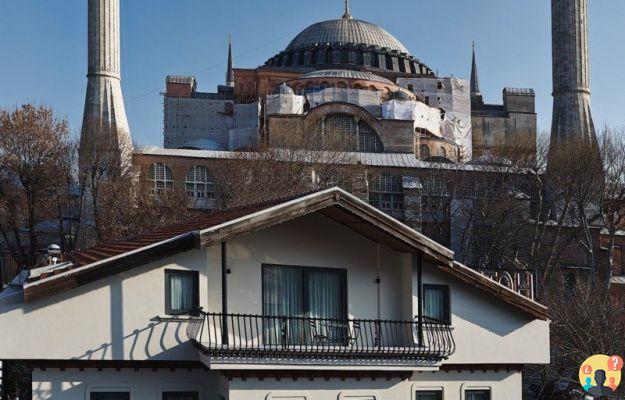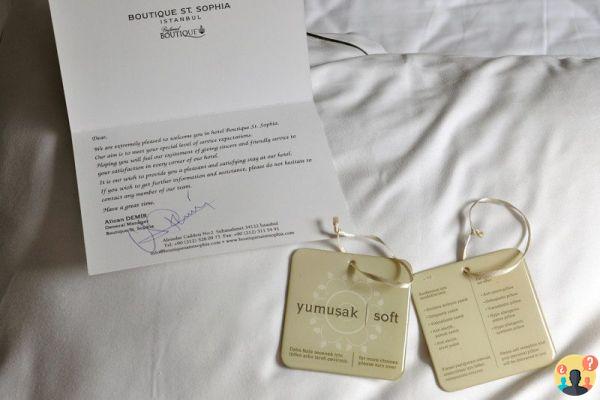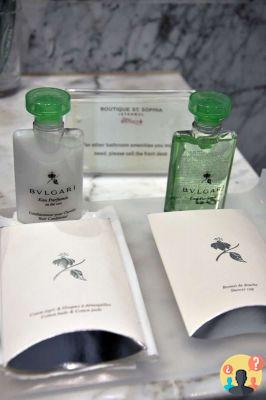 Location
The hotel is situated between several of the city's main attractions such as Blue Mosque, Tankthe Topkapi Palace and Hagia Sophia.
From the hotel it is also possible to walk to the Grand Bazaar (approximately 10 minutes) and explore other areas of the city by tram. There is a public transport station right in front of the Boutique Saint Sophia.
The distance from airports
Gokcen Airport – 47 km and approximately 50 minutes by car – no traffic.
Ataturk Airport – it's 21 km and approximately 30 minutes, if you're lucky and don't get stuck in traffic.
The Hotel offers a transfer service. They picked me up and took me to the airport at the agreed time. Negotiate and ask about this service at the time of your reservation. Make a reservation here.
Observation
Pay attention to traffic and always leave with lots of advance. City traffic is chaotic! By car or bus you can take more than 3 hours from one side (east) to the other (west) of Istanbul.
After spending a few days in Cappadocia, I returned to Istanbul for a stopover with a change of plane. I had more than 3 hours to go from ataturk airport ao Gökcen. I found out the night before that this was not enough time during rush hour, not even by car.
Who saved me was Simone from Kleos Tourism, a Turkish agency specialized in the country and led by a Brazilian. She warned me that I would probably miss the second flight and she was a sweetheart. She checked all the transfer options, explained everything to me. And the best part: I found a magical place on an internal flight, which cost me cheaper than taxis (approximately 70 euros) for the journey from one airport to the other. Thanks Simone!!!!
Anyone who needs a personalized itinerary, guided tours, cars and etc can write to her by email [email protected] #FICAADICA
Breakfast and Restaurant:
a delicious Breakfast it is served inside and outside the hotel every day. Normally between 07:00 and 10:00 on weekdays and from 07:00 until 10:30 on Saturdays and Sundays.
Natural juices and various types of breads and cold cuts are served at the table along with cereals, yogurt, fruits and other turkish specialties (such as tomatoes, cheeses and mushrooms). You can still choose hot drinks (espresso, Turkish coffee, cappuccino, chocolate, etc) and eggs (omelet, poached, scrambled) as you wish.
For those who like room service, the hotel offers a continental breakfast in the room (just let them know until 02 am on the same day).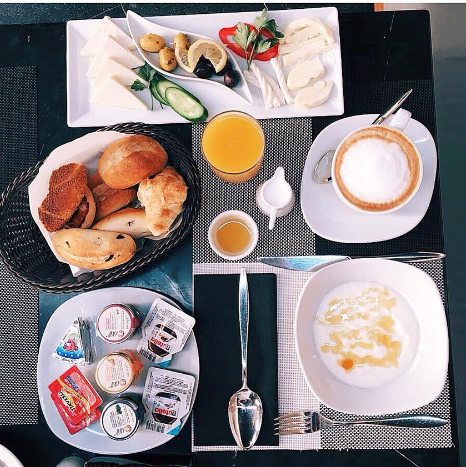 LOVED: eating with the wonderful sound of the harp. During the weekends, a harpist makes breakfast even more special and delicious. Is it or is it not the perfect place for those seeking where to stay in istanbul?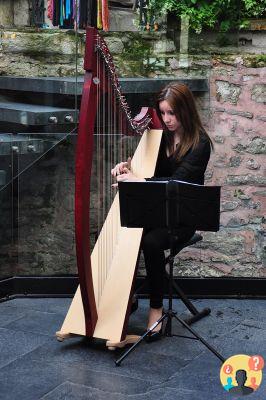 No SophiaPita Restaurant & Tapas they serve turkish and spanish snacks, drinks and drinks during the day until the night (around 22pm), even for those who are not staying at the hotel. If you're close by, it's worth making a pit stop between one museum and another. I myself returned to the hotel several times in the same day. Super convenient.
Customer service
The warm and friendly spirit of the Turks is very well represented by the hotel staff. The team is small, but everyone is smiling and willing to help. The boutique hotel philosophy is confirmed in the concierge department.
I thought it was great that in addition to calling taxis, the reception staff gave directions on our route in Turkish straight to the taxi driver (most of them don't speak English). I also loved the restaurant tips like Mikla and Nicole. # stayadica2
Pricing
The values ​​vary greatly according to the period of the year and the room category (there are 4 - superior, deluxe, grand deluxe and courtryard suite). The lowest rates are in the range of 95 euros per night in a double room. Excellent value for money.
So, now you know where to stay in istanbul?
Contact Us
Address: Alemdar Mah., Alemdar Cd. No:2, 34122, Istanbul
Phone Number: +90 212 528 0973
Website: Hotel Boutique St. Sophia
Facebook: Hotel Boutique St. Sophia
Instagram: @boutiquestsophia
Luis Di Mare stayed at the invitation of the Hotel Boutique St. Sophia.
Istanbul travel insurance
hire a Istanbul travel insurance it's a great way to ensure a smooth trip and avoid worries. Having the assistance of insurance gives you the peace you need to enjoy your destination and know that you have support if you need it. Also enjoy our Insurance Promo discount coupon. - SEE PRICES
hotels in istanbul
If you're still not sure where to make your reservation, check out a selection of the best hotels in Istanbul. The options are highly rated by guests and guarantee complete and comfortable stays in the destination.
DISCOUNT TRAVEL INSURANCE!
5% ON COUPON FORTRAVELOVERS AND ANOTHER 5% ON THE BILL
do not leave the TRAVEL INSURANCE for the last minute! He is mandatory on trips to Europe and recommended for most trips abroad.
ECONOMIZE when comparing prices from the best insurers.
You can pay up to 12x on the card or have discount on ticket.
CLICK HERE TO REDEEM THE COUPON: FORTRAVELOVERS
Read More
Istanbul Tour – Where to Stay and What to Eat
Where to Stay in Istanbul – Shangri-La Bosphorus Hotel
Where to stay in Istanbul – Basileus Hotel
Hotels in Istanbul – 16 fantastic options for your trip
Guide in Istanbul – Tourist Guide in English
Traveling around Turkey – Bus or Plane
Cappadocia Balloon Flight – Everything You Need to Know
Where to Stay in Cappadocia – Museum Hotel
Hotels in Cappadocia – 15 refined alternatives in the region
Itinerary Pamukkale – All about the Cotton Castle in Turkey
Öludeniz – Blue Lagoon Tour
Things to do in Öludeniz – Paraglider Flight
Things to do in Öludeniz – Boat Tour
Things to do in Fethiye – Scuba Dive
What to Do in Bodrum – Why Include in Your Turkey Trip
Where to Stay in Bodrum – Mandarin Oriental Hotel
What to do in Bursa – Complete Itinerary
Travel Insurance Europe – Complete Guide on How to Hire
How and Where to Compare Travel Insurance – Learn Step by Step
Documents for Entering Europe in 2019, 2020 and Post 2021
Plan your trip:
Get started now by booking your hotel in Turkey on Booking.com
Save time and money searching for the best Travel Insurance with the Seguros Promo comparator! Extra 5% off with coupon: FORTRAVELOVERS
Compare the best prices to rent a car from over 100 rental companies with Rentcars! (Pay in up to 12X! Pay in reais, without IOF)
Leave España with Unlimited 4G Internet!