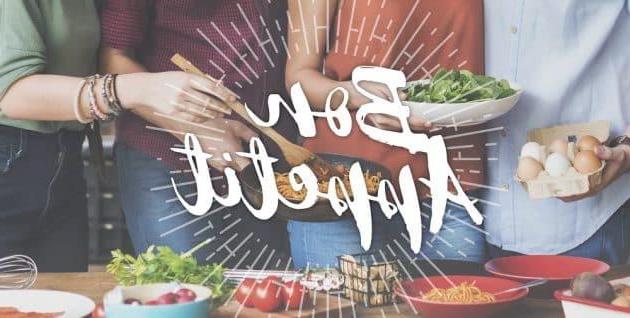 If you happen to go to eat at foreign friends' homes, do them the honour of wishing them a "Bon Appétit" in their own language. How "Bon Appétit" in all languages!
Afrikaans: "Smaaklike eet" or "Lekker eet"
Albanians: "T'boftë mire"
German: "Guten Appetit" or "Mahlzeit"
Amharic: "Melkam Megeb."
English: "Tuck in" or "Get stuck in" or "Enjoy your meal" or "Happy eating."
Arabic: "Bil-hanā' wa ash-shifā' " or "Bil hana wish shifa' " (Egyptian)
Armenian: "Bari akh.orzh.ak"
Aromanian: "Oraxi bunã" or "S-vã facã ghini"
Azeri: "Nush olsun"
Basque: "On egin"
Belarusian: "Smachna yesci"
Breton: "Kalon digor" or "Debrit ervat" or "Debrit a galon"
Bulgarian: "Dobãr apetit" or "Dobãr apetit"
Catalan: "Good profit"
Chamorro: "Buen prubechu"
Chinese: "Sihk faahn" or "Mànmàn chī"
Celtic: "Omlowen dha bos."
Korean: "Jal meokkesseumnida" (before the meal) and "Jal meogeosseumnida" (after)
Haitian Creole: "Good apeti"
Croatian: "Dobar tek"
Danish: "Velbekomme"
Spanish: "Buen provecho" or "Buen apetito".
Esperanto: "Bonan apetiton."
Estonian: "Jätku leiba" and "Head isu"
Faroese: "Vælgagnist"
Finnish: "Hyvää ruokahalua"
English: "Bon appétit"
Friulian: "Good pitìc"
Welsh: " Mwynhewch eich bwyd "
Genoa: "Good pro' "
Georgian: "Gaamoth" or "Gaamos" or "Gemrielad miirthvith" or "Gemrielad miirthvi"
Greek: "Kalí óreksi"
Hawaiian: "E ʻai ka-ua" (singular) or "E ʻai ka-kou" (plural)
Hebrew: " B'tayavon "
Hindi: " Svādiṣṭ khānā "
Hungarian: "Jó étvágyat"
Icelanders: " Verði þér að góðu "
Indonesian: " Selamat makan "
Inuktitat: " Atii niriliqta "
Italian: "Buon appetito."
Japanese: "Itadakimasu" (before the meal) and "Gochisōsama" (after) or "Douzo meshiagare" (after).
Jersiais: "Bouan appetite"
Kazak: "As bolsın"
Klingon: 'yISop' (singular) 'peSop' (plural)
Latin: "Bonum appetitionem"
Latvian: " Labu apetiti "
Lithuanian: "Gero apetito" or "Skanaus".
Lojban: " A'o.e'o lo sanmi cu xamgu ko "
Luxembourger: "Gudden Appetit"
Macedonian: " Priyatno yadenye "
Malaysian: "Selamat menjamu selera" or "Jemput makan" or "Makan makan".
Maltese: "L-ikla t-tajba"
Marathi: "Ruckar jevaṇ"
Mongolian: "Saihan hoollooroi"
Dutch: "Smakelijk eten" or "Eet Smakelijk"
Norwegian: "Vær så god" or "Vel bekomme".
Occitan: "Good apetís"
Urdou : " Maze karein "
Uzbek: "Yoqimli ishtaha"
Persia: "Befarma'id" or "Nooshe jan"...
Polish: "Smacz'nego"
Portuguese: "Bom apetite"
Romanian: " Poftă bună "
Russian: "Prijatnogo appetita."
Sabethir: " Endiaré'hysil "
Serbian: "Prijatno"
Slovak: "Dobrú chuť"
Slovenian: "Dober tek"
Swedish: "Smaklig måltid" (Smaklig måltid)
Swahili: "Ufurahie chakula chako" (singular) or "Msifurahie chakula chenu" (plural)
Tagalog: "Tayo'y magsikain" or "Kainan na".
Tajik: " Ishtihoii Sof "
Czech: "Dobrou chuť "
Thai: "Koh hai cha-roen ar-harn."
Tigrinya: " blaˋ "
Turkish: "Afiyet olsun"
Ukrainian: " Smačnoho "
Vietnamese: " Ăn ngon nhé " or " Chúc ngon miệng "
Xhosa: " Ukonwabele ukutya kwakho "
Yiddish: "Es gezunterheyt."
Yorùbá: "Ounjẹ ajẹye o" or "Yoo gba ibi re".
Zulu: " Thokoleza ukudla "