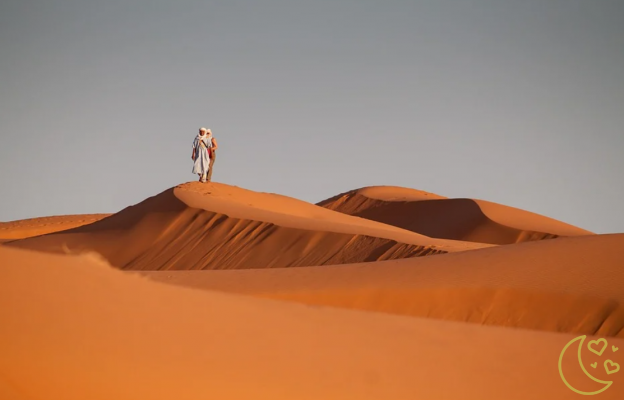 Sand dunes, marvellous palaces, mosques and exotic landscapes that look like something out of The Thousand and One Nights. All this can be found in Morocco, where you will surely want to go to celebrate your new life together. At Moonmiel we are going to give you ideas for a honeymoon in Morocco.
In just a few hours by plane you can reach Morocco, an exotic and romantic country full of magic that you will fall in love with. Because the truth is that Morocco, also called the pearl of the Maghreb, is the ideal destination for an unforgettable honeymoon and that's why at MoonMiel we want to help you in your planning .
5 most romantic hotels in Morocco for your honeymoon
The spirituality of Morocco turns this paradise into a peaceful destination where you can breathe the smell of spices and exotic aromas of the markets. It is undoubtedly an aphrodisiac oasis that you will not want to leave. But to make your honeymoon a unique and unrepeatable experience we are going to give you some ideas for a honeymoon in Morocco about the most romantic hotels there.
With a wide variety of hotels scattered throughout the country, here we offer you 5 of the best romantic hotels inMorocco located in the main city Marrakech, Fez, Essaouira and Ouialda. They are hotels that dazzle with their architecture, textiles, colours and transmit the millenary essence of the country to perfection.
Heure Bleue Palais (Essaouira)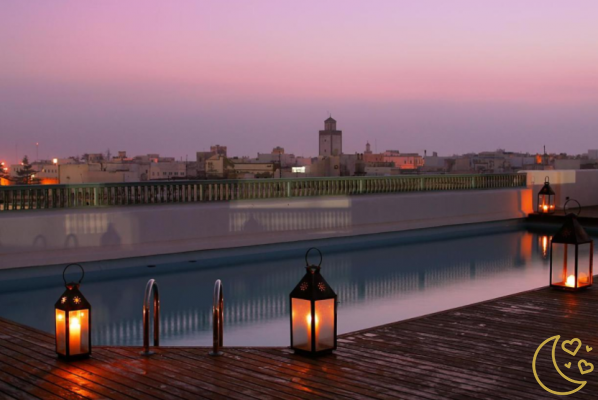 What was an inn in the 19th century is now a luxury hotel offering rooms and suites surrounding the main courtyard. With an elegant traditional Moroccan decor, the hotel is only a 6-minute walk from the beach. Breakfast, spa, bar and 2 restaurants are among the amenities on offer, so if you're looking to relax, this hotel is the perfect choice!
Why is it a good hotel for your honeymoon?
Terrace offering a panoramic view of the medina and the sea.
It has a spa and heated swimming pools with views.
Practical Info
Where is it? 2 Rue Ibn Batouta, Essaouira 44000, Morocco.
Category: 4 stars.
Dar Rhizlane (Marrakech)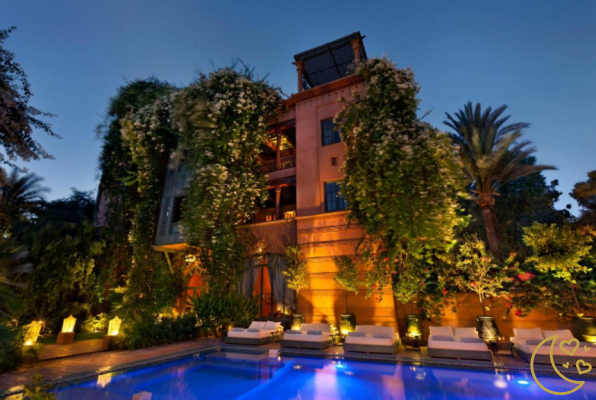 The Dar Rhizlane riad-style hotel, the traditional Moroccan house, is a luxurious little oasis perfect for enjoying your honeymoon in Morocco. Go for a stroll in the garden at night, as the candlelight and chandeliers turn the luxurious hotel into a magical and cosy setting.
Why is it a good hotel for your honeymoon?
It has a spa and offers facials and massages.
It has a pool bar.
The night lighting.
Practical Information
Where is the hotel? Avenu Jnane El Harti - Quartier de l'Hivernage, Rue Ibn Oudari, Marrakech 40000, Morocco.
Category: 5 stars.
Karawan Riad (Fez)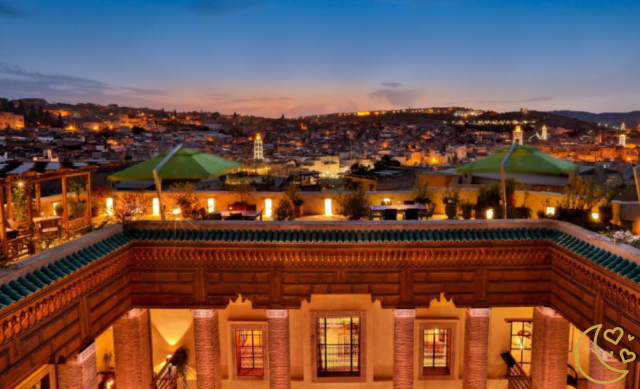 The Karawan Riad is one of the most beloved hotels for tourists visiting the medina of Fez, as it is located within the medina itself. The delicate hotel stands in what in the 17th century was a famous harem of a palace complex. And when you enter you can still breathe this magical atmosphere full of sensuality.
Complete your experience by relaxing in the best possible way: in the Hammam, the Turkish baths offered by the hotel. Stay in this wonderful hotel in Fez for a spectacular honeymoon.
Why is it a good hotel for your honeymoon?
The location.
Service to the airport.
It has a spa.
Practical information
Where is it? 21 Derb Ourbia Makhfiya, Fes 30000, Morocco.
Category: 5 stars.
Palais Faraj Suites & Spa (Fez)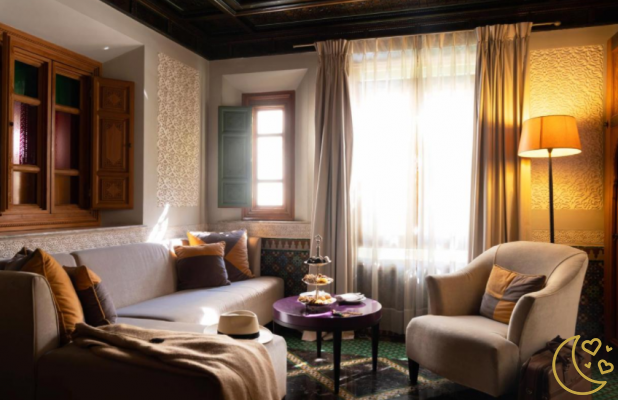 Another romantic hotel in Morocco and perfect for your honeymoon in Fes is the Palais Faraj Suites & Spa. The former 19th century palace was renovated and converted into a luxurious hotel where sensuality and hedonism reign.
In addition, the rooms stand out for their elegant decoration that boasts mosaics and custom-designed furniture. A true oriental jewel where relaxation comes alone.
Why is it a good hotel for your honeymoon?
It has a bar and restaurant.
It has a spa.
Practical information
Where is the hotel? Derb Ziat, Fes, Morocco.
Category: 5 stars.
The Sultana of Oualidia (Oualidia)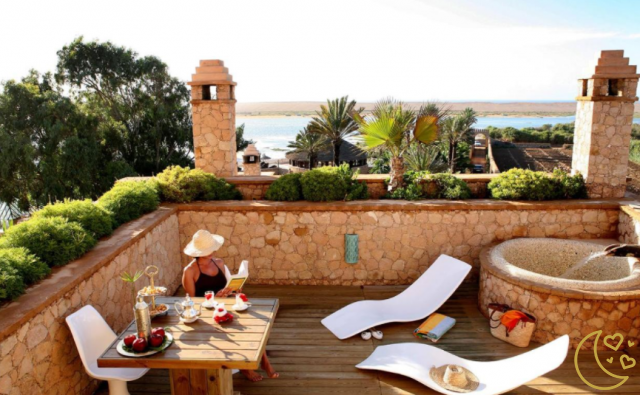 Looking for something more discreet? Then this 5-star hotel is the ideal place for an unforgettable spectacular honeymoon. With only 17 rooms, it is a romantic place where you can enjoy intimacy and privacy for a very special trip.
Located next to the beach, it will only take you 25 minutes to walk to Jemaa el Fna, the central square of Marrakech.
Why is it a good hotel for your honeymoon?
Access to private beach.
Perfect location.
Intimate and cosy hotel.
Practical information
Where is the hotel? Parc à huîtres n° 3, Oualidia 24252, Morocco.
Category: 5 stars.
Romantic activities in Morocco that you can't miss out on
Morocco is a big country and it's normal that you don't know exactly what to do or where to go. Don't worry, because at Moonmiel we are going to give you some ideas for a honeymoon in Morocco with activities and excursions that will turn your trip into an odyssey full of magic and sensations.
Visit Fez and Casablanca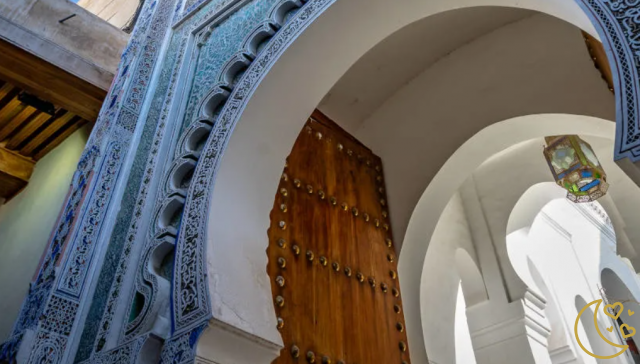 What better way to start your trip than visiting these two emblematic cities of Morocco. Fez, the oldest capital of Morocco , considered a World Heritage Site by UNESCO; and the commercial centre of Casablanca, the city that inspired the romantic film of the same name (Casablanca, 1942).
Visit the medinas of these cities, not forgetting the widely recognized medina of Fez, where you can wander through its labyrinthine alleys!
Relaxing on the beach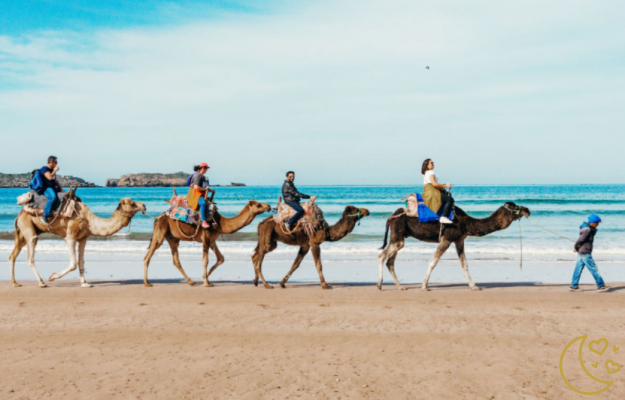 One of the best ideas for a honeymoon in Morocco are the beaches of Essaouira. In this fishing village you will have the option of surfing and a variety of water sports. And if you're left wanting more, Agadir is another city overlooking the Atlantic Ocean where you can relax on the golden sand of its spectacular beaches.
Sleeping in the Sahara Desert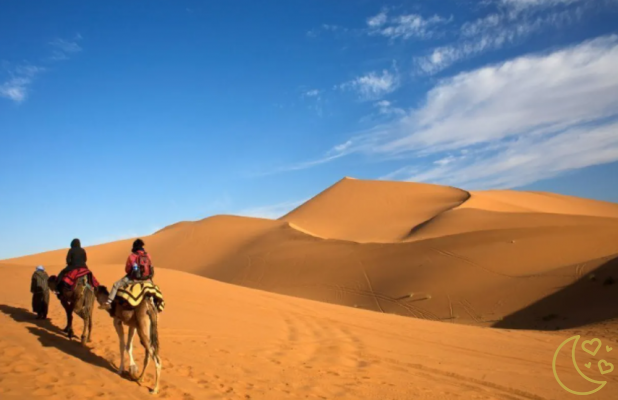 Without a doubt, sleeping among the dunes under the starry sky is a must that you can't skip. Watching the sunset and sunrise has never been so romantic. You have the opportunity to live a unique and unforgettable experience under a Berber tent, their typical camps.
In addition, the dunes of Erg Chebbi offer many different tours and excursions on the back of a camel or on quads to enjoy unparalleled views.
Getting lost in the Ouzoud waterfalls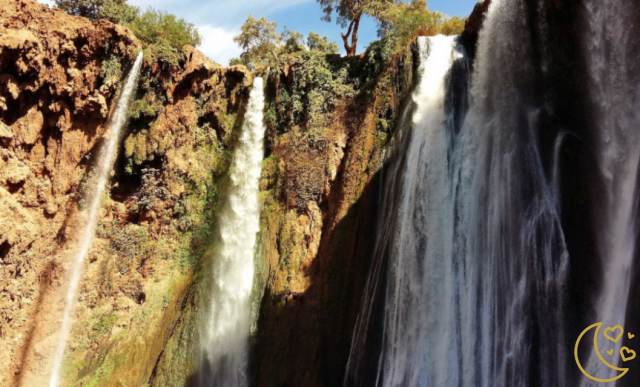 These waterfalls in the Atlas Mountains, located 150 km from the city of Marrakech, are the highest in Morocco and the most spectacular: it is a magical natural setting that will take your breath away.
But not only that, enjoy the journey to reach the waterfalls accompanied by the wild monkeys that live there. And don't hesitate to swim in the river to complete this experience.
Exploring Chefchaouen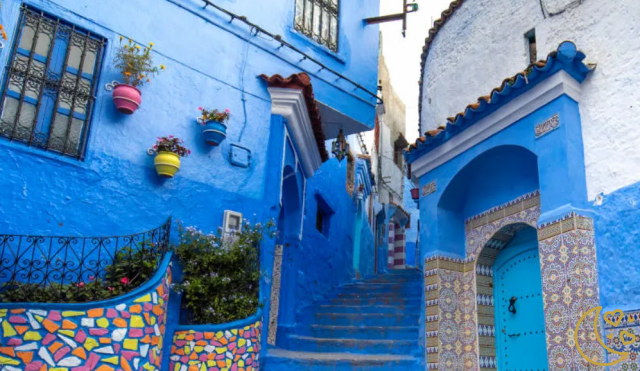 To finish the list with some ideas for an unbeatable honeymoon in Morocco, we leave you with Chefchaouen. Better known as the blue city, it is a dreamy place that you can't miss. It is definitely one of the most beautiful cities in Morocco that attracts tourists for its unparalleled beauty with its blue tones.
Delve into the corners of the quiet streets of the city, and photograph the city from a viewpoint, because the contrast of the green mountain with the blue buildings is an explosion of colors that will make you fall in love.