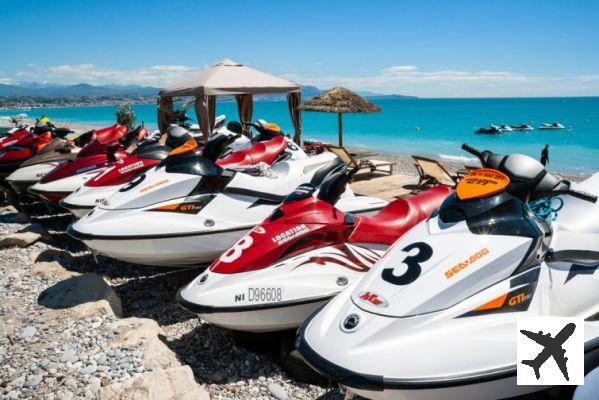 Summary
What type of jet ski to rent in Nice? The different types of sessions
What is the price of a jet ski rental in Nice?
How to rent a jet ski in Nice ?
Do I need a permit to jet ski in Nice ?
Our tips to jet ski in Nice
When is the best time to jet ski in Nice?
Ideas for jet ski tours in Nice
On holiday in the Côte d'Azur capital? To fill up with thrills during your trip, why not rent a jet ski in Nice?
Prefecture of the Alpes-Maritimes, Nice is a real economic and cultural pole of the territory. It has in particular the advantage of being situated between the sea and the mountains, and of taking advantage of the particularities of its unique relief. Seaside resort, tourist epicentre, regional historic heart, the capital of the Riviera has many assets. It also has an extraordinary cultural identity.
Nevertheless, it is mainly its environmental heritage that gives it its special charm. Along the famous Baie des Anges, it has indeed splendid maritime landscapes. Between its fine sandy beaches and its turquoise waters, you can only be seduced by this enchanting setting. So, to better discover this splendid coastline, you could choose to rent a jet ski in Nice!
Also read :
Boat rental in Nice : ideas for catamaran or sailboat itineraries
The 10 must-do things to do in Nice
Jet ski rental in Cannes: how and where?
Jet ski rental in Saint-Raphaël: how and where?
10 places to paddle on the French Riviera
What type of jet ski to rent in Nice? The different types of sessions
If you wish to rent a jet ski in Nice, there are different types of rides.
For novices, it is possible to opt for a half-hour or an hour session. Accompanied by a state-qualified instructor, you will be able to ride the waves and learn how to drive a personal watercraft. These introductory sessions are designed to allow you to experience the thrill of riding while exploring the coastline. Boat license holders can also choose this type of short excursions to enjoy this water leisure activity.
But jet ski rental in Nice can also be done in the form of excursions. This type of session usually lasts several hours and invites you to discover the Mediterranean landscape. In particular, you can opt for a half-day ride, taking you to the most beautiful areas of the bay. You will then be guided by an instructor, who will show you all the environmental richness of the French Riviera.
What is the price of a jet ski rental in Nice?
Against all expectations, renting a jet ski in Nice is not a particularly expensive activity. In fact, for a half-hour session, you should expect to pay an average of 80€. Of course, the price can vary according to the service providers and the duration of your trip. If you choose a one-hour outing, for example, it will cost you between 130 and 160€. The price is the same for boat licence holders as for novices.
However, jet ski rental in Nice is a little more expensive for long excursions. The price for a two-hour excursion varies between 210 and 240€. For half-day sessions, on the other hand, the price is 350€ on average. Also, some companies offer special rates if you want to try another activity.
How to rent a jet ski in Nice?
Jet ski hire in Nice is a particularly popular leisure activity during the summer season. With the influx of tourists, most service providers advise you to book your trip in advance. You can do this online or by phone. In addition, organising your PWC ride is particularly recommended if you want to do it in a group.
Once you have booked your jet ski hire in Nice, all you have to do is go there. You will be able to pay for your excursion, and enjoy this fun water leisure activity. Before leaving, your instructor will explain the rules of driving at sea and how the jet ski works. You will then be equipped with all the safety equipment. All you will have to do is start, follow the guide, and enjoy the thrills!
Do I need a permit to jet ski in Nice?
Renting a jet ski in Nice is not only reserved for boat licence holders. It is therefore possible to practice this activity even if you are not an expert in driving at sea. Nevertheless, you won't be able to drive seadoos as powerful as those with a licence type.
Our tips for jet skiing in Nice
Renting a jet ski in Nice is possible for anyone from 16 years old. The only condition is to provide a valid ID. Minors who want to try this leisure activity will however need parental authorisation.
For jet ski rental in Nice with a boat licence, you will have to provide a deposit. Since you will be leaving freely with a personal watercraft, you must indeed give an insurance to the provider. For outings without a licence, the deposit is not always necessary. This is one of the reasons why we recommend that you book your session. This will allow you to have all the essential information for this activity before going on site.
When you rent a jet ski in Nice, all the safety equipment will be lent to you. However, as this is a water leisure activity, we advise you to wear a jersey or wetsuit. This will allow you to be comfortable if you fall during your ride, or wish to swim.
Similarly, it is preferable to wear water shoes or sneakers. This way, you won't risk slipping on the seadoo, and will be more comfortable to drive.
When is the best time to jet ski in Nice?
Renting a jet ski in Nice is more pleasant in the summer. Indeed, this water leisure is ideal during the high season. With the heat of summer, you will be able to better enjoy riding the waves and exploring the coastline.
However, to avoid the tourist rush, you could opt for a jet ski rental in Nice during the low season. Before the school holidays or at the beginning of autumn, you will be able to ride in complete peace of mind!
Ideas for jet ski tours to do in Nice
Nissa la bella is one of the most beautiful cities on the magnificent French Riviera. Renting a jet ski in Nice will invite you to discover its fabulous coastline. We therefore recommend that you opt for a hike in the splendid Baie des Anges. From the Maeterlinck Palace to Saint-Jean-Cap-Ferrat, your session promises to be unforgettable!