Orlando is a multicultural and cosmopolitan city that has grown far beyond the traditional parks! Mochilando shows you in this post the tips of what to do in the city.
Orlando is evolving and developing far beyond the Disney parks, Universal and SeaWorld. Still little known and explored by Brazilian tourists, Downtown Orlando offers many entertainment options for those who want to escape the obvious or have fun in a different way. International Drive, known as the shopping route, also has many attractions worth visiting.
Buy your travel insurance at a discount!
Get 10% off with coupon FORTRAVELOVERS + payment by check.
Click here and enjoy!
Read More
Orlando car rental – Find out how it works
Orlando Travel Insurance – Which is Best? Tips and How It Works
Disney shows details of what the Star Wars park in Orlando will be like
Where to stay in Orlando – Loews Sapphire Falls Resort
Tips for Universal Orlando Parks
SeaWorld Orlando – Complete Park Guide
Magic Village Resort – the ideal place to stay in Orlando that we recommend
Orlando restaurants
Dr. Phillips Center
The Doctor. Phillips Center for the Performing Arts is a huge space to host the most diverse shows of theater, ballet, comedy, Broadway plays, rock concerts, jazz, classical music, festivals, outdoor events and arts education programs.
Currently, the space has The Walt Disney Theater, a 2.700-seat auditorium and the 300-seat Alexis & Jim Pugh Theater, in addition to other rooms available for various types of events such as corporate meetings, weddings, family gatherings, etc. A third acoustic auditorium for 1.700 is under construction and is planned to open in 2018.
We had the opportunity to watch the show Broadway The Illusionists Live From Broadway, an incredible show that mixes magic, illusionism and a good dose of humor. The schedule is diverse and it is worth checking the website to see what will be on display during your trip. The schedules are also varied, with presentations during the day and at night. Also take the opportunity to combine the tour with a delicious dinner at one of the restaurants in Downtown.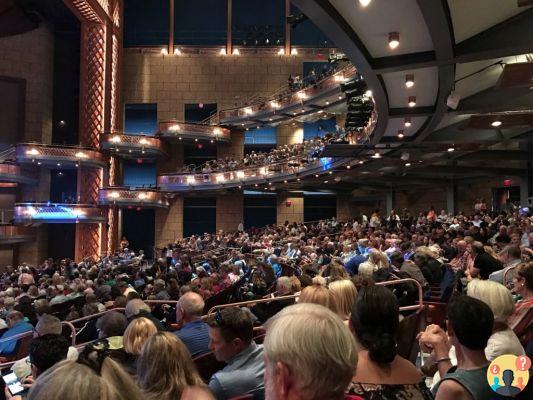 I-Drive 360º
I-Drive360º is an entertainment center opened in 2015 and located on International Drive, which has restaurants, clubs, shops and attractions, including the iconic The Coca-Cola Orlando Eye, the world-famous Madame Tussauds museum, the Sea Life aquarium and the unusual Skeletons: Animals Unveiled museum all in one place.
The complex opens daily at 10:00 am and closes at 02:00 am, with hours that may vary depending on the establishment, and offers ample and free parking. See here a little more about each of the main attractions.
The Coca-Cola Orlando Eye
The iconic Ferris wheel is already seen from the plane window when arriving in the city and stands out in several points on the Orlando skyline. THE Coca-Cola Orlando Eye it is sister to the famous London Eye, in London, England, and offers a 360º view of the city. On clear days you can even see Cape Canaveral.
Over 120 meters high, it has 30 glass cabins with a capacity for up to 14 people and the complete tour takes around 23 minutes. The space can also be used for private events. It's an excellent tour, worth checking out, but only if the weather is cooperating. On very cloudy or rainy days it can either disrupt the view of the city or run the risk of closing due to strong winds or lightning.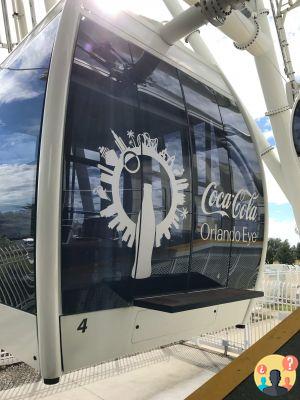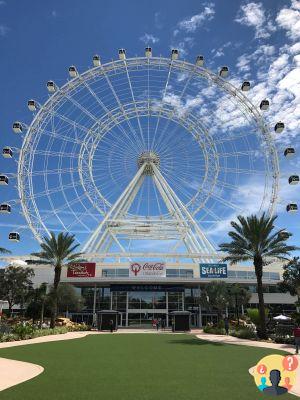 Madame Tussauds
The most famous wax museum in the world, with more than 250 years of existence, Madame Tussauds is based in London and is present in more than 20 cities around the world. The museum is famous for displaying life-size and near-life statues of famous artists, celebrities from the worlds of sports, music, film, as well as historical figures past and present and other world-renowned personalities.
The Orlando branch, at I-Drive 360º is the most recent, opened in 2015, it is a great tour that yields many fun and unusual photos. If you already know any other branch of the museum and think that everything is the same, know that many statues are the same, but each one has a unique themed section and it is worth visiting them all.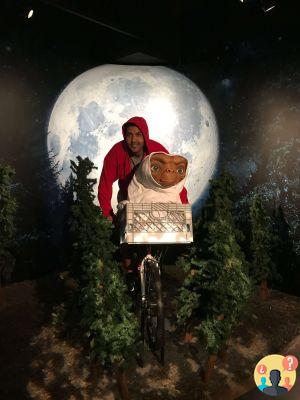 Sea Life Aquarium
With more than five thousand marine species, the Sea Life Aquarium It's much more than an aquarium, it's a true underwater experience. The highlight is the 360º submerged tunnel where visitors look like they are in an aquarium, while admiring sharks, sea turtles, among other species. Many of the aquarium's animals are endangered species that were rescued and cannot be returned to the wild or were born in captivity as part of a Sea Life conservation project.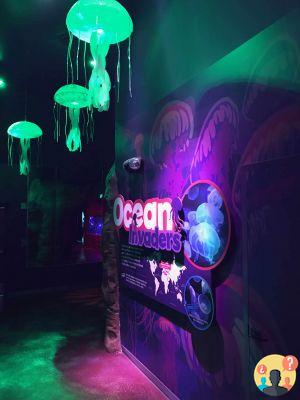 Suitable for all ages, the tour lasts between an hour and 90 minutes, but you can take as long as you need, with no rush, to admire all the animals.
Skeletons: Museum of Osteology
This is an attraction, shall we say, unusual. A museum with a private collection of more than 500 skeletons of animals of all types, formed from real bones and assembled in a way corresponding to the body of each one. All the animals died of natural causes and were donated to the collector to exhibit at the museum. In fact, not only animals but humans as well. It is an interesting and different tour, worth visiting.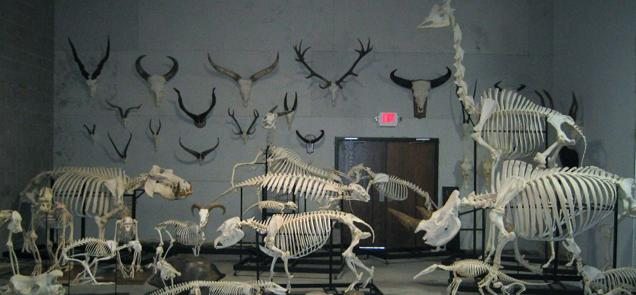 Tickets for attractions can be purchased online or directly on site. There is a combo option for the Orlando Eye, Madame Tussauds and Sea Life Aquarium, where you have a discount when purchasing tickets for more than one attraction.
For more information, check out the links below:
Dr. Phillips Center For The Performing Arts
Address: 445 S Magnolia Ave, Orlando, FL 32801
I-Drive 360º
Address: 8375 International Dr., Orlando, FL 32819
*We watched the play and went to the attractions of I-Drive 360º at the invitation of Visit Orlando.
Orlando hotels
As a tourist city, there are several hotels in Orlando for all tastes and budgets. Accommodations are many, whether cheap or luxurious, houses and apartments for rent, 5-star resorts and much more.
Orlando Travel Insurance
Buying travel insurance for Orlando is an excellent way to ensure a smooth trip and avoid worries. Having the assistance of insurance gives you the peace you need to enjoy your destination and know that you have support if you need it. Also enjoy our Insurance Promo discount coupon. - SEE PRICES