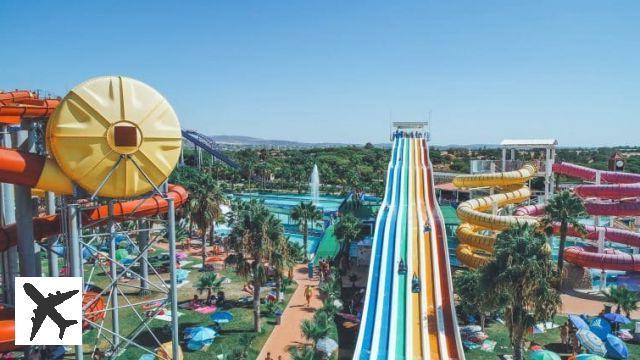 Summary
1. Magikland
2. Aquashow Park
3. Slide & Splash
4. Pena Aventura Park
5. Dino Parque Lourinha
6. Perlim
7. Vila Natal
8. Biopark
9. Lugar dos Afetos
10. KidZania
Are you discovering Portugal and want to have fun with family or friends? Discover the best amusement parks in Portugal!
Portugal is a privileged destination for its gentle way of life and does not stop at its medieval cities, its landscapes and its beaches. To have fun and have a good time, amusement parks are also legion. What's on the agenda? A sensational day and guaranteed memories!
In addition to the big rides, Portugal's amusement parks have many theme and water parks. This is the case in the south of the country, which, due to its mild climate and warmth, also offers a wide range of refreshing experiences. Bolder and more daring attractions, breathtaking water slides and constantly renewed offers to amuse young and old alike.
So for those of you planning a holiday in the area: fasten your seatbelts and head for the 10 best amusement parks in Portugal!
Also read :
The 14 best amusement parks to do in France
The 24 most beautiful places to visit in Portugal
1. Magikland
This family amusement park is essentially reserved for the youngest children from 4 to 12 years old. For the anecdote, it is one of the only real amusement parks in Portugal. At Magikland, no less than twenty rides and activities await you on 7 hectares of leisure. After a ride on the merry-go-round, families are used to meeting up in the various outdoor swimming pools and large slides.
With few people and a reasonable expectation, Magikland is an excellent compromise to spend a good day with the family.
2. Aquashow Park
If this park is associated with a hotel, it is quite unique. With its big sensational rides, gigantic slides, multiple pools and beautiful shows, Aquashow Park is a magical reference among the amusement parks in Portugal.
Come and test the power of the Watercoaster, the stunning Top Swing merry-go-round or the Shark Slide to hurtle down on a buoy. At Aquashow Park, you'll understand that you're testing your limits! In fact, finish your trip in the pool, which is none other than the largest wave pool in Portugal!
3. Slide & Splash
Since its creation in 1986, the Slide & Splash water park has stood out from other amusement parks in Portugal. At the aquatic level in any case, it is a reference in the country and in Europe. Only a few kilometres from Albufeira, a multitude of attractions await visitors on 7 hectares. Between the vertiginous slides, the multiple pools and the numerous water games, it will be difficult to choose...
The originality of this amusement park also lies in its animal shows. The program includes demonstrations of falcons, parrots and reptiles.
4. Pena Aventura Park
Amateurs of thrills will love this park in the middle of nature. Pena Aventura Park offers many outdoor activities. You can practise tree climbing, paint ball, tobogganing, trampoline, hiking, horseback riding or 4 x 4. The highlight is the giant zip line. It takes you from one mountain to another at a speed of 130 km/h.
Pena Aventura Park is the only amusement park in Portugal to offer you the sensation of flying down a distance of 1.5 km. A new experience!
5. Dino Parque Lourinha
As its name suggests, Dino Parque Lourinha is a park dedicated to dinosaurs. Inaugurated only in 2018, it is above all fun with its various spaces organized by prehistoric eras.
Several visits are possible on the site, whichever one you choose, count about 2 hours to go around the park. For the youngest, workshops of excavations and fossil discoveries are regularly organized (possibility to do it in French). The most of the park? The shady area in which it is installed: very appreciable in hot weather!
6. Perlim
Every year at the time of the end of year celebrations, the castle of Santa Maria da Feira becomes a big Christmas village. For its part, Perlim represents the magic of Christmas!
Unlike the more classic amusement parks in Portugal, this park offers a wide range of shows. Some small rides are also there, as well as outdoor games. Generally speaking, the magic of the setting reflects the 1000 years of history of the castle dating back to the Middle Ages.
7. Vila Natal
Situated on the outskirts of the medieval village of Obido with its beautiful little cobbled streets, Vila Natal is a small amusement park. In this picturesque setting, an entrance fee is required for all visitors, who can then enjoy some very nice shows. Moreover, the latter have a good reputation, bringing together many people every year. Mainly aimed at children, the shows are on a medieval theme with superb costumes.
Most of the small attractions around, such as the little train or the ice rink, are also dedicated to young children. Please note that they are offered in addition.
8. Biopark
Nature lovers will be able to combine several activities at Bioparque. Between the hikes, the adventure park and its zip lines or the large swimming pool and its slides, there is something for everyone! Don't forget hiking boots and above all a swimsuit, it would be a shame to forget the main equipment!
The place is one of the addresses of amusement parks in Portugal with one of the most beautiful scenery. And for good reason, Bioparque is nestled in the middle of the mountains, in a truly magnificent setting.
9. Lugar dos Afetos
Lugar dos Afetos can be discovered in all its originality. Indeed, it is a theme park classified as being of public interest and dedicated to... emotions. Inspired by the books and educational games of Graça Gonçalves, Lugar dos Afetos offers different activities in fantastic houses located in the middle of nature.
Between writing, yoga, dance or music workshops, it is a fascinating experience.
10. KidZania
This is a new kind of amusement park. Reserved for children, KidZania is the first theme park in Europe built as an interactive city. Between realistic role-playing games and activities, little ones don't have time to get bored! In KidZania, they practice a profession, go to the bank, go to the dentist, discover the theatre school, go to the police station, to the magic studio...
This fun and educational experience is a different visit from other amusement parks in Portugal. Reserved for children from 3 to 15 years old, KidZania is located in Amadora, not far from Lisbon.