A complete guide to plan your trip to Santiago. Write down the tips and enjoy a lot!
The city of Santiago is much more than a stopover on a flight or the simple capital of the country. Surrounded by snow-dotted mountains, the metropolitan city is young and full of attractions for all ages.
Whether staying for just a few days or as the starting point for longer trips including neighboring cities like Valle Nevado, Valparaíso and Viña del Mar, Santiago will surprise you and leave you wanting more.
See why below:
In this post you will see:
Things to Do in Santiago
Where to stay in Santiago
Where to eat in Santiago
Internet chip not Chile
Santiago travel insurance
Car rental in Chile
Flights to Santiago
Read all our Santiago tips and posts
Things to Do in Santiago
Attractions in Santiago involve museums, parks, vineyards, skiing and much more. It's hard to choose which activity to go first.
Rich in history, the National Museum of Fine Arts is an icon of Santiago and a 'must see' for any traveler in the city. As well as the changing of the guard that takes place in the mornings at La Moneda Palace, downtown Santiago.
Another tourist spot is Cerro San Cristóbal which is located inside the Metropolitan Park with a beautiful panoramic view of the city and beautiful historical points spread between the cable car stations to photograph.
And there is, of course, the Sky Costanera building. Considered the tallest tower in Latin America, with 360º windows, it is ideal for watching the sunset over the Cordillera.
Read all our tips:
Things to do in Santiago – Everything you need to know
Best Places to Shop in Santiago
Valle Nevado – All Tips to Enjoy
What to do in Valle Nevado – 9 Must-See Attractions
Book all Santiago tickets and tours in advance and skip the lines with GetYourGuide
Where to stay in Santiago
The city of Santiago has from luxurious hotels to the cheapest, whether in the center or in famous neighborhoods, such as barrio Itália. Our tip is to choose a hotel closer to the city center, preferably close to the subway station – since it is possible to cover most of the tourist attractions on foot or by subway.
And if your trip includes Valle Nevado, be sure to check out our recommendations of the best hotels and resorts for you and your family to enjoy.
Read all our tips:
Where to stay in Santiago – Best Hotels
Hotels in Valle Nevado – Which is the Best Ski Resort
Find the best accommodation in Santiago on Booking.com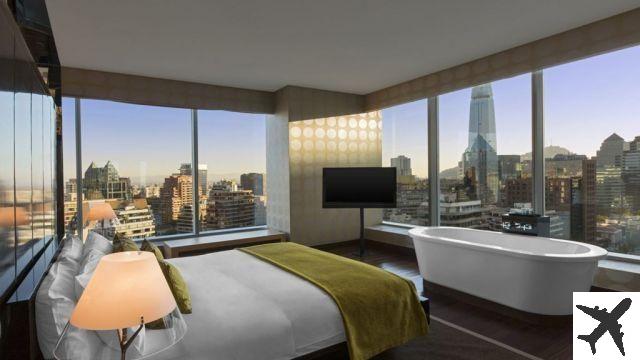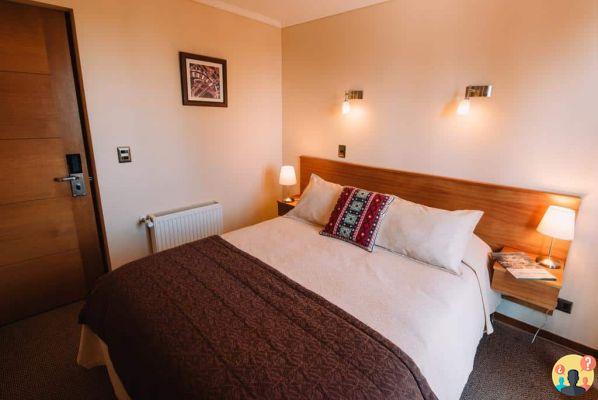 Where to eat in Santiago
Chilean cuisine ranges from delicious empanadas to renowned seafood dishes. That's why it's worth joining a true gastronomic experience with some award-winning Chilean wine.
Especially if you're walking through the Lastarria neighborhood or, who knows, book a table for two at the revolving restaurant overlooking the mountains.
See more tips on where to go:
Where to eat in Santiago – 4 Restaurants and Bars Options
Valle Nevado Restaurant – 12 Options to Discover
Internet chip not Chile
It's getting easier and cheaper to have unlimited internet throughout your trip in Santiago. Nowadays you can buy an international cell phone chip online while you're still here in España. We always use and love it!
You receive the sim card at your address and then just insert it into your cell phone to reach your destination with unlimited 4G internet working.
Also read more chip tips:
International Cell Phone Chip – Which is the Best and How Much Does It Cost?
America Chip Discount Coupon – 10% OFF on Travel Chip
Want to have unlimited internet throughout your trip?
Compare prices and buy your international travel chip in advance at America Chip.
Santiago travel insurance
hire a Santiago travel insurance it's a great way to ensure a smooth trip and avoid worries. Having the assistance of insurance gives you the peace you need to enjoy your destination and know that you have support if you need it. Also enjoy our Insurance Promo discount coupon. - SEE PRICES
Read all about travel insurance:
Is Santiago travel insurance mandatory? Discover everything here
What is the Cheapest Travel Insurance – Tips on How to Save
How to Get Travel Insurance – 5 Easy Steps [DISCOUNT]
Which Travel Insurance to Choose – 3 Infallible Tips to Help
International Travel Insurance – Step-by-step How to Hire
Car rental in Chile
Renting a car in Chile is a great idea. In addition to optimizing your time a lot, you will be able to enjoy it more without having to depend on public transport.
We really like Rent Cars to find the cars we use on our travels. It is the only one in Spain that compares the best rental companies in the world, but lets you pay in reais, without IOF. In addition, it is also the only one that lets you pay in 12 interest-free installments. It is worth it!
Flights to Santiago
Looking for a good deal and flight prices? When buying tickets to Santiago, it is worth taking a look at the website Promo Tickets.
It is quite common to find cheaper and better flight options than on other sites. We always use and is it worth it?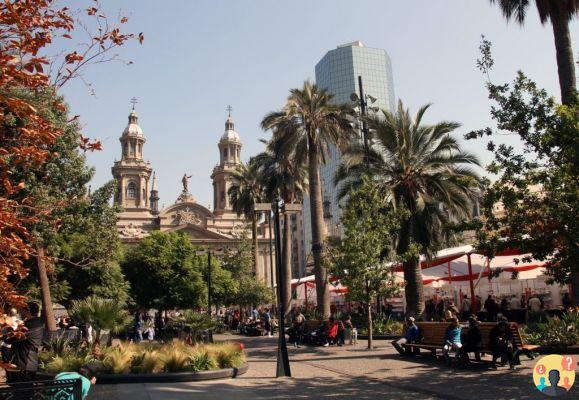 Read all our Santiago tips and posts
Torres del Paine in Chile – Travel Guide
Chilean Patagonia – Tour through Chaitén, Futaleufú and Palena
Chile – Travel guide and main destinations
What to do in Valle Nevado Chile – 9 tips on how to enjoy it
Where to stay in Valle Nevado to enjoy the best of skiing in Chile
Where to eat in Valle Nevado – 12 best options
Santiago – Complete travel guide
Sights of Santiago – 10 Unique Places
Is Santiago travel insurance mandatory? Discover everything here
Chile travel insurance – Check if it is mandatory and the best