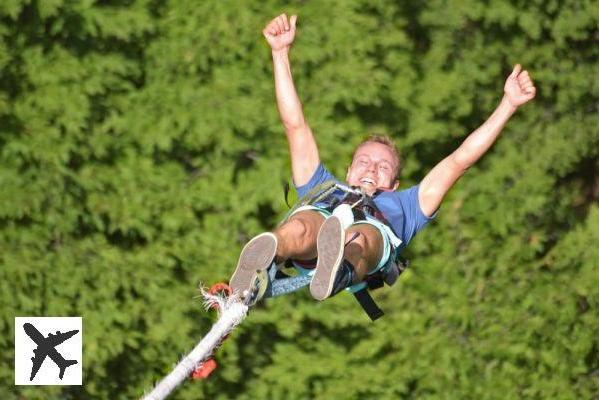 Are you a thrill seeker? Discover the 4 best bungee jumping spots near Lyon. Follow the guide!
The Auvergne Rhône-Alpes region is a heterogeneous group of urban and mountainous landscapes. It abounds in architectural and natural richness, artistic and cultural masterpieces, but also small paradisiacal corners almost cut off from the world.
Exploring this region allows you to discover Lyon and its typical traffic jams, Clermont-Ferrand and its Notre-Dame-de-l'Assomption Cathedral, Valence and its Museum of Art and Archaeology, Grenoble and its Bastille, le Puy-en-Velay and its volcanic landscapes. In short, a cultural melting pot creating an atypical regional identity.
In this hilly region, we offer an original activity for those who want to get off the beaten track and above all test their limits. We propose you to come and test an extreme activity: bungee jumping! For thrill-seekers, this is one of the most adrenalin- and emotion-packed activities. While there are many jumping options available, bridges and viaducts are particularly popular with professionals and other tourists looking for an unusual activity.
Ready to throw yourself into the void? Here are the 4 best bungee jumping spots near Lyon.
Also to be read :
12 bridges where to bungee jump in France
Where to skydive around Lyon?
The Pelussin Viaduct
If you are a freefall enthusiast, come and discover the pleasure of jumping into the void from the Pelussin Viaduct (located between Saint-Etienne and Lyon). With a height of 65 meters, this bungee jump will take your breath away. Located in the heart of the village of Pelussin, on the eastern side of the Pîlat massif, you will have the opportunity to contemplate the magnificent Rhone valley.
Harnessed to your bungee cord, you will throw yourself off the bridge and feel like you are touching the ground. This moment will remain engraved in your memory, and for good reason, this jump is unique!
We recommend that you book this activity in spring or summer. Indeed, your photos and videos will be even more beautiful.
The Gorges du Tarn : the Cirque des Baumes
You won't forget that bungee jump! From a 107-metre cliff, you will throw yourself into the void in the middle of a sublime landscape. Indeed, the natural setting is magnificent: between the surrounding greenery, the Gorges and the river, you won't know where to start.
After this good dose of adrenaline, you can continue your day by lounging by the river. If you are not exhausted by the sensations experienced, go on an adventure canoeing and kayaking trip to explore the Gorges du Tarn.
Near Annecy : Saint Jean de Sixt
Is bungee jumping too mundane for you? If so, why don't you try the world's first bungee jumping springboard? With a height of 24 meters, the springboard serves as a ramp to dive into 40 meters of empty space!
By bike, on foot, on sledge or on wheels, all means are good to hurtle down this springboard! Moreover, you have the right to try acrobatic tricks, so take full advantage and try the quadruple backward salto. We love the freedom this innovation offers while staying in the bungee field.
The best part of the activity: at the end of your jump, you zip down to the ground.
The Ponsonnas Bridge
Thrills in perspective! The Pont de Ponsonnas, located between Grenoble (45min) and Lyon (1h45), is 103 meters high. If you are afraid of heights, don't go there. Moreover, this bridge is well known in the world of bungee jumping, especially thanks to the jumps that can be done there.
It is one of the best bungee jumping sites in Europe, so hang on! Pleasure and thrills are guaranteed, thanks in particular to the uniqueness of the natural setting surrounding the bridge. Clinging to a bungee, we don't know if you will have time to enjoy it, but the souvenir video will allow you to admire this natural wonder again and again.
Don't forget your cameras and take an outfit you are comfortable in.
Are you used to bungee jumping? Share your experiences in comments.