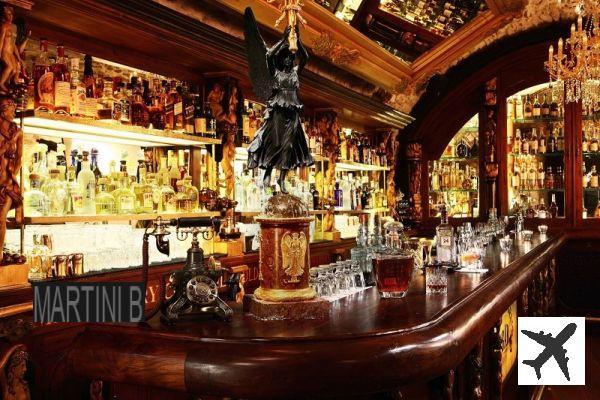 Summary
1. Hemingway Bar: one of the best cocktail bars in Prague
2. Cash Only: a cocktail in a modern setting
3. L'Fleur: the most chic and trendy
4. Bugsy's bar: to combine cigar and cocktail
5. Bonvivant's: the greediest one
6. Black Angel's: the most famous
There is nothing better than going for a cocktail in Prague to really feel on holiday: discover the 6 best cocktail bars in Prague!
Prague is known for its festive spirit: people drink good beer, eat well and party all night long. And even though Czechs are great beer lovers, that doesn't mean they don't make good cocktails! Bartenders know how to carefully concoct and decorate delicious cocktails, often in places with a fantastic atmosphere.
Where to go for a cocktail in Prague? Here's the answer with this list of the best cocktail bars in Prague, from the most unmissable to the most chic to the most atypical!
1. Hemingway Bar: one of the best cocktail bars in Prague
The Hemingway Bar is without a doubt the number one cocktail bar in Prague - a place to visit for cocktail lovers. The entrance does not look like much, but once inside, you enter another world: a hushed, subdued atmosphere, with the most helpful staff and delicious new cocktails. The barmen don't hesitate to make your favourite cocktails on demand!
Address: Karoliny Světlé 26, 110 00 Staré Město
2. Cash Only: a cocktail in a modern setting
It is the second must-see place to drink a cocktail in Prague: the Cash Only bar. Smaller and more modern, also designed in a more minimalist spirit, this Prague cocktail bar offers a menu and service as fantastic and talented as the first one on the list. Situated on a busy street, it can be a stop on a night out: the pub atmosphere is perfect for a stopover. Of course, you will have to pay in cash only.
Address: Liliová 218/3, 110 00 Staré Město
3. L'Fleur: the most chic and trendy
The L'Fleur bar is probably the largest and most luxurious cocktail bar in Prague. Designed in a French Belle Époque style with a little something Czech, it offers a simple and minimalist menu with exquisite cocktails. The bartenders regularly win prizes for their talents. Come and drink a cocktail in this luxurious bar where brown wood predominates and cocktails intoxicate you with sweetness!
Address: V Kolkovně 920/5, 110 00 Staré Město
4. Bugsy's bar: to combine cigar and cocktail
Drinking a cocktail in Prague while enjoying a cigar: yes, it's possible, let's go to Bugsy's bar to indulge this little pleasure! This cocktail bar in Prague offers a wide selection of (Cuban) cigars, for amateurs and novices alike, as well as cocktails made with talent.
Address: Pařížská 1068/10, 110 00 Staré Město
5. Bonvivant's: the greediest one
A stone's throw from the National Theatre is Bonvivant's bar, an excellent cocktail bar in Prague, recommended by the bartenders of the other bars on this list. In addition to drinking a delicious cocktail, you can have some tapas in the evening or enjoy the daily menu at lunchtime.
Address: Bartolomějská 3, 110 00 Staré Město
6. Black Angel's: the most famous
To close this list of Prague's best cocktail bars, nothing better than the Black Angel's: this bar is very popular with tourists and locals alike and has become an attraction over the years. Everything is charming about this cocktail bar in Prague: its Prohibition style, its location in the cellar of the U Prince Hotel and its captivating decoration. The cocktails are of course delicious, made by talented bartenders, awarded several times! Watch out for the crowd, the bar is often crowded.
Address: Staroměstské námesti 29, 110 00 Staré Město