A Moroccan palace close to almost all the city's attractions: La Sultana. The only hotel with the Small Luxury Hotel of the World seal in Marrakech is an excellent boutique hotel for those who want an intimate experience within the medina, a UNESCO heritage site.
I've already told you here on the site and also on social media – those who follow @fortravelovers and @lfmare on Instagram have seen – that Morocco is fascinating and Marrakech is a key destination, a kind of obligatory stop for anyone traveling to the country.
The ancient city, called Medina It is listed as a Cultural Heritage of Humanity. There are several souks, museums, good restaurants between tiny alleys that together were a kind of labyrinth, great and easy to get lost.
O contrast is visible in almost every corner, especially for us Brazilians who live in a very different culture. I had already visited the city for over 7 years, but I insisted on returning for the second time and I still want to go again.
Want to know all the tips? Read more our post by columnist Cau Pelegrini Marrakech Morocco – your complete guide to what to see in the city
Have you already purchased travel insurance?
Don't go abroad without the security of insurance! Hire yours and be calm during the tour. Click here and check prices.
For those who want to explore the city to the fullest,– especially the Medina and do everything on foot, staying in the old part is a good option.The. I stayed two days with my family in The Sultana and I recommend this boutique hotel to anyone looking where to stay in Marrakech. I will tell you more about my experience in this post.
The 28-room hotel and five stars is a small refuge in the midst of the super-cool madness of downtown Marrakech. It is located in the Kasbah, or golden triangle, as that area is called – there you can also find the Saadian tombs, one of the city's attractions – which you can see from the hotel's rooftop…
Much more than a hotel, La Sultana Marrakech carries many stories within its walls and facilities, as well as an excellent spa (with great prices), a delicious restaurant and even a mini shop.
Are we going in parts to facilitate reading?
Check in
I arrived a few minutes before the scheduled time (14 pm) and after the reception procedure (passports, booking confirmation and such) we were accommodated in a lounge on the hotel's terrace. Water and towel to refresh and of course, a delicious welcome #typical mint tea. I calmly waited for the room to be ready, while enjoying the tea, enjoying the view of the Atlas Mountains and relaxing in space.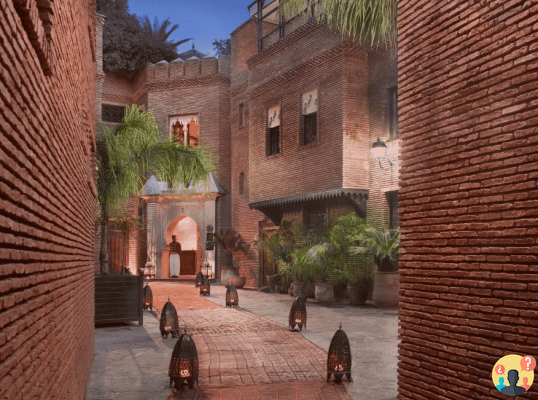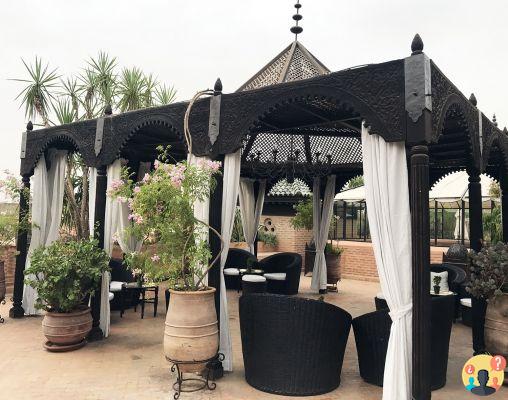 A short time later I was escorted to the room and on the way I learned a little more about the building's curiosities – riads (traditional Moroccan houses).
In the room fruits, chestnuts, dates, pistachios and some delicious typical sweets as welcome treats….Next point:
Accommodation
La Sultana Marrakech offers accommodation in various types of suites located in separate riads. Each one with very different decor and details, which I find super interesting. I love hotels where every corner has something different and unique.
A riad is a traditional Moroccan house with a central courtyard, all the windows look inside the house (not the outside). This serves to keep the cold inside during the hot summer days, as well as enhancing privacy.
I stayed in a junior suite, very comfortable and pleasant. The most interesting thing is the Moroccan essence and decoration itself. I really felt like I was in a local (luxury) home.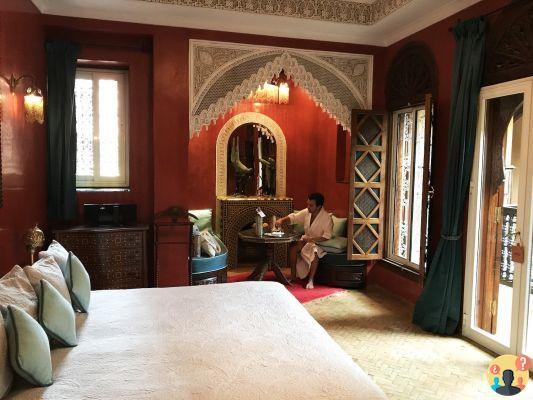 The accommodations are distinct from each other, but Moroccan symbols, mixing references from Berber and Arab culture, are everywhere.
The bed is comfortable and the space has an automated light, curtains and sound system. The bathroom has a shower, bathtub and exclusive, refreshing and fragrant amenities created by the renowned Nectarome – Moroccan company that produces all soaps, creams and other products with local ingredients combining ancient herbal medicine* techniques with aromatherapy.
Safe, closet, a kind of table and living room, TV and mini bar available. I looked for the ironing board and iron and couldn't find it and so before getting dressed to go out I called reception asking for the equipment for a do-it-yourself ticket. They didn't have irons available for the rooms as they use those heavy iron irons of old.
They explained it to me with a smile on their face and cordially made themselves available to give me the look of the day. I prefer when the equipment is available in the room, but I confess that the service made up for it… and of course, instead of complaining, I thanked him. #attendance
Facilities and common areas
There are several environments that integrate the multiple riads. Lounges with tables, sofas and cushions and pieces of art were the patios. To sit, admire, relax and enjoy the time passing by. It's all very quiet, confidential and pleasant.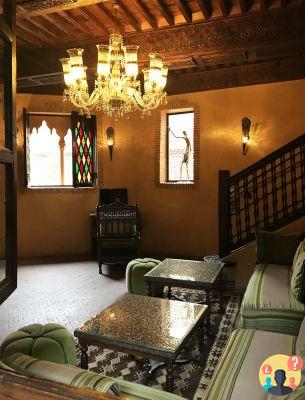 On the ground floor is the main pool, with delicious sun loungers, as well as tables for serving the bar and restaurant and the entrance to the SPA.
I loved the hats personalized with the hotel's name.
Without a doubt, what I enjoyed the most besides a swimming pool – with a thermal inversion system. That is, good in any temperature and season of the year, was the terrace. There, in addition to the restaurant, breakfast space…. a panoramic view of the Atlas Mountains and the Medina.. it has a swimming pool with solarium… You know that thing about sunbathing on the slab… just that -> only in the five-star luxury version. J'adore.
During the night the terrace turns into a restaurant and welcomes customers from other hotels as well. Some nights of the week there is live traditional music. We were lucky enough to have a bite to eat and have drinks with a privé show there on the hotel's rooftop.
More:
Concierge Service
Lavanderia e dry cleaning
Selection of newspapers
cooking classes
Gym room
Private tours and tours
SPA
La Sultana Marrakech offers different types of massages, baths and wellness treatments in its spa. In my opinion who is going to Morocco must try the traditional Hammam – also known as the Marrakech bath or the traditional body scrub. #have to do
It's not the talk of those who enjoy spa a lot… the Hammam is part of the local culture. Moroccans do it at least once every 15 days.
What is it ? Roughly speaking, it is a total exfoliation of your skin with black soap and other products. It starts with a general cleaning of the body with soap followed by a kind of sauna in the marble to detoxify and open the pores and then a delicious bath with a glove that will clean you all over. You don't do anything alone. They will rub you all over and with that they will clean and relax your body. It's very good!
The Spa also caters to those who are not staying at the hotel. The place is beautiful – you feel like a prince in a palace – and the prices (for being inside a luxury hotel – are very affordable). The price for a 45-minute Royal Hammam experience is 400MAD / approximately 40 euros. bad…
Breakfast
Delight. Breakfast with Moroccan options (they love to eat cheese and typical sweets with chestnuts and other types of nuts), the typical French petit déjuner (pain au chocolate, croissant,) and tables with options of breads, jams, cold cuts, cereals… in addition to a good selection of natural juices, including detox options and other very healthy ones.
In addition to the buffet, of course there is an à la carte menu. You can choose your hot drink, other juices, as well as special dishes and eggs as you like. I ordered an omelet one day and eggs benedict the next. both good.
I loved the daily newspaper customized according to the nationality of the client. As I have an Italian passport, at breakfast I received a kind of newspaper-feuilleton with relevant news from Italy…. my parents received from Portugal. It could have been from España, as they checked in with a Brazilian passport. It was a technical failure… but even so, the idea and action are good.
History
the building of The Sultana it has memories and is local heritage. At the time of the Almohads, in the twelfth century, in its current location, there was a brick granary belonging to the royal family of the Caliph Yacoub El Mansour. This was the caliph who finished the work of Koutoubia and started to build, the royal Kasbah, located south of the Medina.
The direct inheritance of this dynasty, the brick, the great material of this period, is very present in the The Sultana. The brickwork alludes to and keeps this culture alive today.
Centuries later, after the XNUMXth century and during the reign of Mohamed, son of Caid Boujemaa, the royal family decided to restore some of the riads, including Riad Shéhérazade (which is part of La Sultana). Marrakech he was experiencing the beginning of the boom in contact with the French and his relations with other countries were increasing... guess what? In these spaces where hotel guests circulate today, many receptions and events of the more affluent class of yore took place.
Curiosities
All spaces have been rigorously restored by master craftsmen with centuries-old know-how in partnership with Association of Historic Monuments. Proud of this legacy, the The Sultana made and shows us efforts to integrate and glorify the history of past dynasties for us guests today. Traveling is culture!
The hotel has the Green Key 2016 Awards seal of recognition. The Green Key award is a certificate of recognition of excellence in the field of environmental responsibility and sustainable operation in the tourism sector. It is recognized by the World Tourism Organization (WTO) and the United Nations Environment Program (UNEP). Bacchanissimo!
The hotel La Sultana Marrakech has a sister, La Sultana Oualidia, which is located on the waters of Oualidia – a region on the coast of the country. It seems to be a perfect place to relax and be alone at the dolce far niente. Who knows on my next trip to Morocco…
Want to get to know the hotel more closely? Check out this exclusive video I made there?
Pricing
Daily rates, as in almost all hotels, vary according to the period, category, channel and booking date. Rates and other special conditions can be checked directly with the hotel, but you can also get a quote and book here on the website with Booking.com.
They have a base reference table – so here's the list to give you an idea of ​​prices:
Category / low season price / high season price
Prestige Deluxe Room 3400MAD / 4700MAD
Suite Exclusive Appartment 8100 / 11500MAD
Junior Suite 4300MAD / 6600MAD
Suite 5800MAD / 8500MAD
Junior Suite Deluxe 5000MAD / 7600MAD
Suite Deluxe 6600MAD / 9700MAD
Airport-hotel transfer 480MAD along the way
* the price of MAD against the euro is approx. 10x less. That is, 3.400MAD is approx. equal to 340EUR.
You know where to stay in Marrakech and now you want to know what to do during your stay?
Five recommendations:
• Visit the famous Marjorelle Garden and the Berbere Museum; #fashion
• Explore Djemaa el Fna and the wheels of the medina
• Shopping at Ensemble Artisanal, a complex of shops and workshops in which all artisans are accredited and the prices are more honest and transparent, without that madness of negotiation. Still, it's worth negotiating a little;
• Discover and buy clothes, accessories and home items embroidered and handmade by the wonderful women of Alnour – a social enterprise formed by Moroccan women with some physical disability; #social entrepreneurship https://www.alnour-textiles.com/
• Visit Ben Youssef Madrasa, (school / Islamic study center) with beautiful architecture and a lot of history.
Location
The hotel is located on rue de la Kasbah. It is approximately a 10-minute walk to Djemaa el Fna and a few minutes to Palais El Baddi and other attractions in the old town.
Contact us
Address: 403 rue de la Kasbah, Marrakech
Phone Number: + +212 5 24 38 80 08
So, do you already know where to stay in Marrakech?
Luis Felipe Di Mare stayed at the invitation of La Sultana Hotels.
Morocco travel insurance
Buying travel insurance for Morocco is an excellent way to ensure a smooth trip and avoid worries. Having the assistance of insurance gives you the peace you need to enjoy your destination and know that you have support if you need it. Also enjoy our Insurance Promo discount coupon. - SEE PRICES
Read More
Morocco Tour – 6 Places to Visit
Complete Guide to Marrakech, Morocco – Everything You Need to Know
Why Visit Marrakech – 7 Reasons to Visit
Where to Stay in Marrakech – Mandarin Oriental Marrakech
Things to do in Ouarzazate – Discover the Hollywood of Morocco!
Rabat Tour – What to do and where to stay
What it's like to fly Royal Air Maroc
Casablanca Tour – Everything you need to know
International Travel Insurance – Is it worth it?
How and Where to Buy Travel Insurance – Learn Step by Step
Plan your trip:
Get started now by booking your hotel in Morocco on Booking.com
Save time and money searching for the best Travel Insurance with the Seguros Promo comparator! Extra 5% off with coupon: FORTRAVELOVERS
Compare the best prices to rent a car from over 100 rental companies with Rentcars! (Pay in up to 12X! Pay in reais, without IOF)
Leave España with Unlimited 4G Internet!