A complete guide to plan your trip to Praia do Toque. Write down the tips and enjoy a lot!
One of the greenest and crystalline sea regions in Alagoas, Praia do Toque steals the show in the city of São Miguel dos Milagres. If you are planning to visit the coast of Alagoas, and intend to make this area on the outskirts of São Miguel your destination, you also need to include Praia do Toque in your itinerary.
The sea water is the highlight of this beach, which also allows you to observe the corals of the natural pools that form at low tide, a very common phenomenon on the beaches of Alagoas. Check out more about this heavenly place below, in this complete guide.
In this post you will see:
Things to do in Praia do Toque
Where to stay in Praia do Toque

Airbnb in Praia do Toque
Hotels in Praia do Toque
Pousadas in Praia do Toque

Where to eat in Praia do Toque
national travel insurance
Car hire in Alagoas
Flights to Alagoas
Read all our tips and posts from Alagoas
Things to do in Praia do Toque
The beaches of Alagoas depend a lot on the volume of the tide for the trips to the natural pools that form when the water goes down. This is also the case at Praia do Toque: with the green and crystalline sea, one of the main attractions is to take a raft ride to get to know this phenomenon up close.
Take the opportunity to take your diving mask, as snorkeling in the natural pools of this beach is practically mandatory. In fact, the fish are so varied, and the water so transparent, that it is possible to observe them even from above the water – but of course the snorkel makes the experience special. If you want, you can even hire professional dives.
It is worth checking the tide table – or getting information from locals and jangadeiros in the region – to find out exactly how to take this tour, what is the best time to enjoy it, and any other questions you may have. There, it is very easy to find out about it, in addition to the fact that many inns combine with the guests themselves and offer this activity.
Praia do Toque is somewhat restricted, as it does not allow access by car, maintaining an atmosphere of tranquility along the shore. You can walk there, starting from nearby beaches such as Porto da Rua or São Miguel. The beach is highly recommended for those who prefer a quiet and empty place, with a paradisiacal setting framed by coconut trees.
Read all our tips:
Main attractions in São Miguel dos Milagres
Book in advance all tickets and tours to Alagoas and skip the lines with GetYourGuide
Where to stay in Praia do Toque
It is possible to stay in beachfront accommodations in Praia do Toque, to enjoy the best possible way of this green and crystalline sea. It is even a good recommendation for those who want to see the natural pools, which are considered among the most beautiful in Alagoas. Staying there, you can wake up early and stay longer on the tour.
A useful tip for those who want to stay close to the beach is to be careful with their luggage, since the surrounding streets are all sandy, and this fact does not help those who tend to take care of the weight of the suitcase when traveling. As you will have to carry everything to your inn on the sand, try to take only the essentials to facilitate the displacement.
If you prefer a region with more options for restaurants and entertainment at night, in addition to greater infrastructure within walking distance, choose to stay in the center of São Miguel dos Milagres. In the city there are also excellent accommodations to choose from.
Airbnb in Praia do Toque
Have you already defined your hosting? Searching for a stay can be challenging, depending on the location and/or time of year. That's why we recommend renting an airbnb on your trip. There are different houses, apartments, lofts or rooms for rent throughout Spain, including airbnb at Praia do Toque, in Alagoas. It's safe, reliable and cost-effective. An experience that is worth it!
See the best Airbnb accommodations in Praia do Toque
Hotels in Praia do Toque
Check out the best hotels in Praia do Toque
Pousadas in Praia do Toque
Check out the best inns in Praia do Toque
Read all our tips:
Best Hotels in Sao Miguel dos Milagres
Find the best accommodation in Praia do Toque on Booking.com or Airbnb.com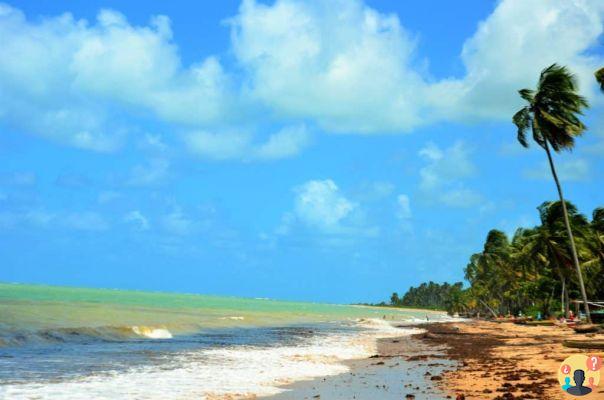 Where to eat in Praia do Toque
The cuisine in vogue at Praia do Toque is full of seafood options, in fresh and very tasty dishes to enjoy during your time there. Most of the restaurants are part of inns located on the seafront, making it easier for those who are already staying there.
Enjoy the Wassu Restaurant, with incredible dishes and a beautiful atmosphere, close to the sea and with a swimming pool; enjoy the fish at the Origami restaurant, which is also highly recommended; and the restaurant at Pousada da Amendoeira is another good choice for where to eat, with a very varied menu.
national travel insurance
Unforeseen events happen! If you do not have health insurance or if your medical and hospital coverage does not cover this region, taking out national travel insurance may be a good idea. It's super cheap – from R$4 per day – and with it you travel peacefully, avoiding unplanned expenses. LEARN MORE HERE.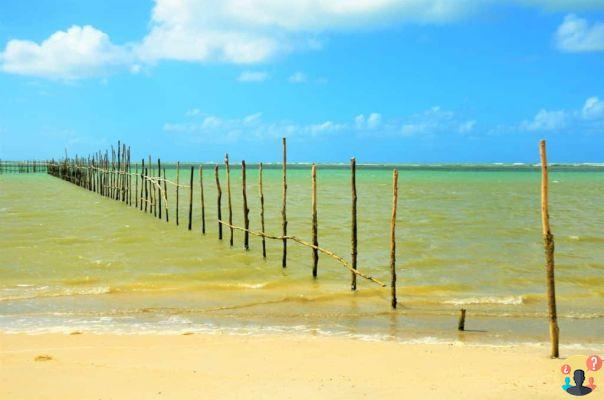 Car hire in Alagoas
Renting a car in Alagoas is a great idea. In addition to optimizing your time a lot, you will be able to enjoy it more without having to depend on public transport.
We really like Rent Cars to find the cars we use on our travels. It is the only one in Spain that compares the best rental companies in the world, but lets you pay in reais, without IOF. In addition, it is also the only one that lets you pay in 12 interest-free installments. It is worth it!
Haven't rented a car for your trip yet?
Guarantee the best price, without IOF, and pay in up to 12 interest-free installments at RentCars.
Flights to Alagoas
Looking for a good deal and flight prices? When buying tickets to Alagoas, it is worth taking a look at the website Promo Tickets.
It is quite common to find cheaper and better flight options than on other sites. We always use and is it worth it?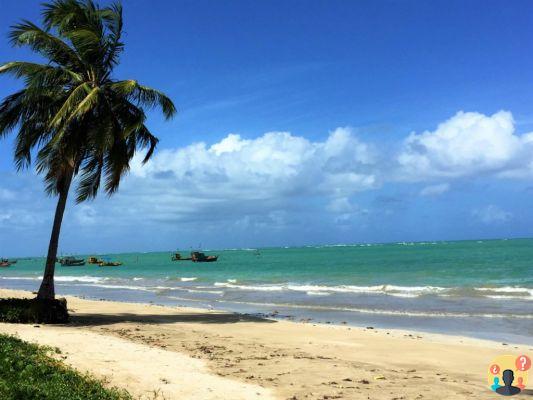 Read all our tips and posts from Alagoas
Hostels for New Year's Eve in Alagoas – The 13 best rated
Resorts in Maceió – 6 best and best rated
Resorts in Alagoas – The 10 best and best rated
Barra de São Miguel – Learn all about paradise in Alagoas
Japaratinga – Learn all about this paradise destination
Maceió – Know everything about the capital of Alagoas
Maragogi – Super tips to have the best days in the destination
Resorts in Maragogi – 3 best and best rated
Ecological Route in Alagoas – Travel Guide
Best beaches in the Northeast