Discover one of the most beautiful and famous castles in England – Alnwick Castle, which is also known and visited by tourists from all over the world for being the "Harry Potter castle". It is the 2nd largest uninhabited castle in the entire United Kingdom, and its legacy and history blend with that of the Percy family (the Dukes of Northumberland), owner of the site "only" since 1309!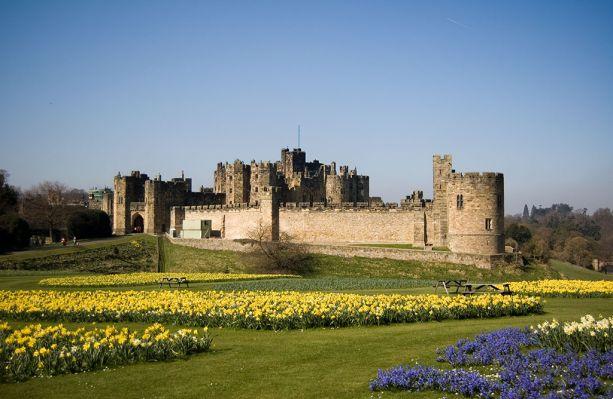 Alnwick Castle: Harry Potter's castle in the English countryside
Of course, such grandeur would not go unnoticed by the film industry! In addition to incorporating Hogwarts in 2 Harry Potter films, Transformers: The Last Knight, a special episode of the Downton Abbey series and Robin Hood, Prince of Thieves, with Kevin Costner, were filmed at Alnwick Castle.
There is so much to see and do at Alnwick Castle! For those who like photographs, it's a full plate, and for those who like to visit palaces and castles in Europe, it's a perfect tour! The entrance portal is very imposing and beautiful, as well as the clock tower.
For those with children, there will be no shortage of recreational activities, mainly because the team focused on little visitors has several (paid) games with a Harry Potter theme! It was pretty full on the day of our visit!

We recommend at least half a day to visit everything calmly, both inside the castle and outside. In our case, we came from Edinburgh, Scotland, and we also visited other places, we stayed around 2:30h in total but it was rushed!
With so many centuries of history, Alnwick Castle was once an important military post, college, refuge and of course, home to the Percys. The rooms will impress, especially the Great Hall and the Library, a super luxurious library with more than 15 thousand books.
Alnwick Castle: Cannons and Countryside England
After going all around the castle, photographing the walls, towers and cannons, you will certainly notice the stunning scenery of the castle surroundings, with the bucolic landscape typical of the English countryside! It even had a frame for visitors to observe nature…and didn't it really look like a painting?
Landscape around Alnwick Castle: it looks like a painting!
Alnwick originally thrived as a medieval trading town and still retains many cobbled streets and narrow alleys as it once did. If you have more time to explore beyond the castle, it's worth walking around town and visiting Alnwick Garden.
To find out about visiting times and ticket prices for Alnwick Castle, check the official website!