O Myanmar and tourism has a relatively new relationship. Due to its political situation, the country received its first million tourists only in 2012. Meanwhile, in the same period, the laos, its neighbor, had a flow three times higher and the Thailand more than twenty million visitors.
Os top destinations in Myanmar, also known as Burma, are the cities of Bagan, Mandalay and Yangon. At pagoda towers everywhere, the people are still very curious about tourists and the simple routine of unexplored places make the trip through these cities an unforgettable experience. As I had time to see a little more, I decided to go to the new capital of Myanmar, touring the curious Naypyitaw.
Won't forget about travel insurance, huh?
Get the best discounted plans using the coupon FORTRAVELOVERS (5% off).
Click here and enjoy!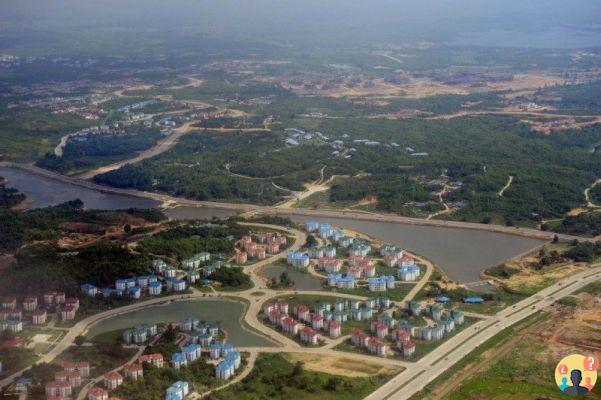 Myanmar's new capital: tourism in a city full of mysteries
Capital of the country since 2005, Naypyidaw (or Naypyitaw) construction began in 2002 in an area where there was nothing before. Building a city from scratch is nothing new, we know that well. If you don't find the place strange, at least the way the occupation started is curious. I'll tell you.
The country's ministries began to be transferred from the former capital, Yangon, on November 6, 2005, at exactly 6:37. Five days later, on November 11, another convoy left at eleven in the morning with 1.100 trucks carrying eleven army battalions and eleven ministries. Someone definitely likes numbers in this government, especially eleven.
The city still lacked schools and other basic services, so families in general were left in Yangon. Tourists were not allowed in the new capital and vendors were only allowed to establish themselves in a specific area of ​​the city.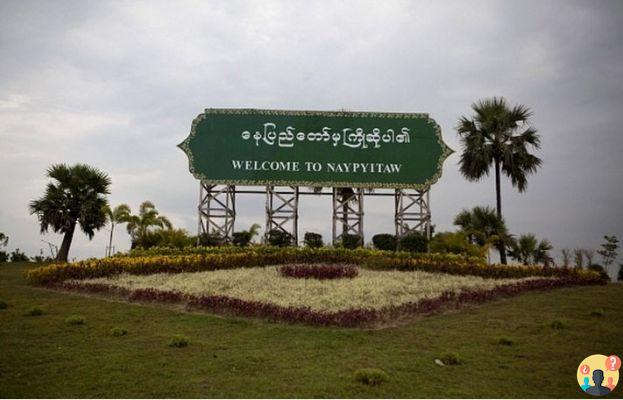 What you need to know before visiting Naypyidaw
I didn't see much of Naypyidaw on arrival, the bus stopped at the hotel entrance. The road ahead was immaculate – maybe because there aren't any cars there – and everything around it seemed stationary. As everything has been planned, there is an area just for hotels in the city, and when I say an area just for hotels I mean literally this: there is nothing but hotels in this region. If you want to go to a supermarket or restaurant you have to take a taxi.
Public transport is not an option, so you can pay a taxi or rent a scooter for a much higher price than anywhere else in Myanmar. I was traveling with a Swedish woman I met in Yangon, so we decided to share a taxi to see the city. The price was 50 reais per person for 5 hours, which is not bad compared to the Spain but overall expensive for Southeast Asia.
Driving through the streets is already a strange experience. I didn't see any with less than four lanes and an asphalt that wasn't impeccable. Despite April being a very dry month and the landscape throughout the country being yellowish, in Naypyidaw everything is green and full of flowers. The staff who take care of the gardens and cleaning are the only people you will see on the streets. The others are inside the few cars and motorcycles that move there.
I was impressed with how much space and few cars. Even so, our taxi driver still managed to find moments to honk at other drivers. It must be to stave off boredom, because if each of them chose a track, there would be room for everyone.
What to visit in Myanmar's capital
Our first stop was the parliament, a sumptuous building that has a huge bridge to enter and another of the same size to exit. Tourists can only observe from afar. As almost no one goes to the Myanmar capital for tourism, the police who are in charge of the parliament's security were curious and came to ask where we were from. Then there was that little conversation "España", "Neymar etc. But nothing to release the entry.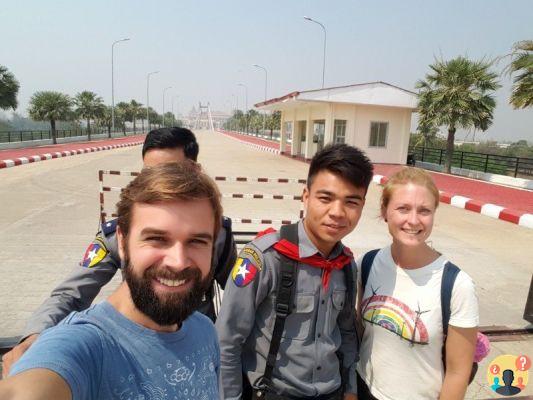 Perhaps this area of ​​parliament is the best representation of the city. The absurdly luxurious building on one side, surrounded by empty land. The entrance and exit are practically without movement and in front of a road with eleven lanes that sees at most a couple of cars every minute.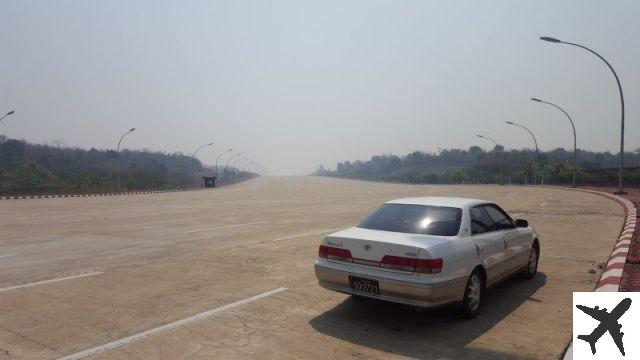 The second destination was pagoda uppatasanti. This building is a replica of Yangon's 99-meter pagoda, a kind of backup. In truth "Uppatasanti", means something like "protection in case of calamity", suddenly it's really a backup. There were maybe 15 more people visiting the place, but we were definitely the only foreigners at the moment.
Outside you can see some white elephants (something I didn't even know actually existed). As you can imagine, in a place like this, they weren't happy walking around in the fields.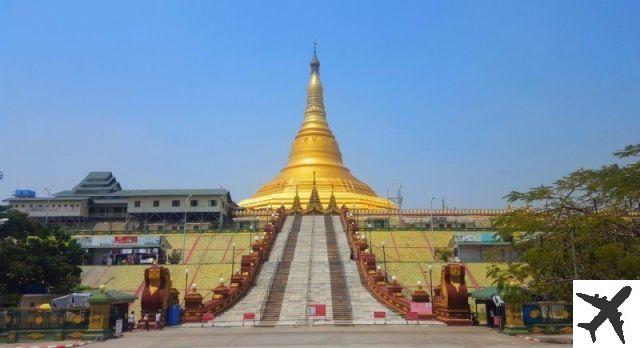 Another common attraction is the garden with fountains, which is in the middle of the city. However, we heard that someone went there and there was no water in the fountains (!!!), so we skipped that part. Other than lunch, there weren't many other options. As our train was leaving in the middle of the afternoon this was no problem.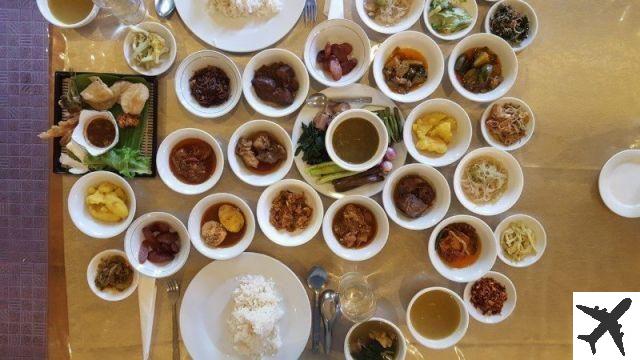 Watching the city from inside the car was also interesting. As I said before, everything was planned. THE hotel zone there are only hotels, there is an area for embassies where each country has two hectares reserved (only Bangladesh has been interested so far).
The residential zone is carefully organized according to the status of the residents. In addition, the roofs are classified by color: blue roof for those who work in the ministry of health, green for those who work in agriculture, etc. For the mansions Big Shots are available. The weather in the city reminded me a lot of North Korea with that weird vibe.
What you see just doesn't make sense, Naypyidaw has an area four times larger than the city of New York and (theoretically) nearly a million inhabitants, but it looks like a hauntingly well-maintained ghost town. You don't see people on the sidewalks, cars on the street are scarce and several buildings are empty.
Want to know if it's worth visiting? If you like The Walking Dead and want to feel in the series, go there, but take your own zombie, because you won't even find that on the streets of this strange capital.
Read More
Thailand Tips – 15 Indispensable Experiences
Elephant Ride in Thailand – How to Choose?
What to Do in Thailand – Cooking Class in Bangkok
Where to Stay in Bangkok – W Hotel
Where to Stay in Bangkok – Hotel COMO Metropolitan
Where to Stay on Koh Lanta – Pimalai Resort & Spa
Cultural Festival in Phuket – Festival of the 9 Emperor Gods
What to Do in the Philippines – 20 Tips for Setting Up Your Itinerary
16 Philippine Beaches – Which are the Best Islands to Visit
International Travel Insurance – Step-by-Step How to Hire
Plan your trip:
Get started now by booking your hotel in Laos on Booking.com
Save time and money searching for the best Travel Insurance with the Seguros Promo comparator! Extra 5% off with coupon: FORTRAVELOVERS
Compare the best prices to rent a car from over 100 rental companies with Rentcars! (Pay in up to 12X! Pay in reais, without IOF)
Leave España with Unlimited 4G Internet!