There are way more interesting places to visit than there is a lifetime to see them all, so if you say you want to go to North Korea you will hear things like "From the North?!! Why?", "I didn't even know I could get in there" or some joke like "Are you going to get Kim Jong Un's haircut?"
The fact is that North Korea is the most closed country in the world and spending time there is definitely a unique experience. And like every unique experience, it's not cheap. You can't just take a flight there and walk the streets. You will always be accompanied by at least two government guides, this service will be organized by a tourist agency and you can choose to go with a group or take an individual tour.
Have you already purchased your travel insurance?
Get your discounted plan using the coupon FORTRAVELOVERS (5% off).
Click here and enjoy!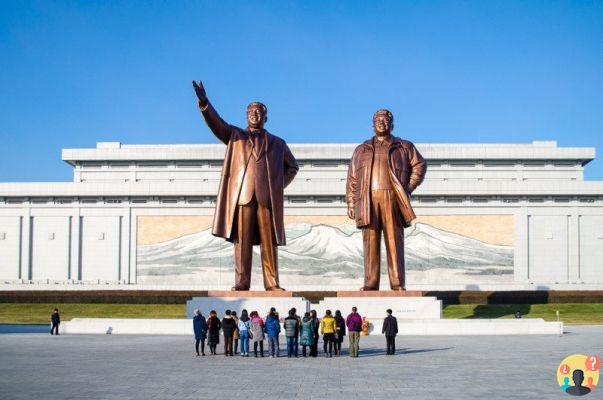 Statues of Kim Il-sung and Kim Jong-il​ in the capital Pyongyang
Is it difficult to enter North Korea?
Unless you are a South Korean citizen, no. Even Americans do not usually have difficulties entering the country, the failure rate is very low, there is usually no interview and usually your agency will organize everything for you. The visa is a blue paper that you must carry with you and will be held when you leave the country, as your passport is not stamped (unless you apply for a visa at an embassy) you must take a photo if you want to keep a souvenir of your Prohibited.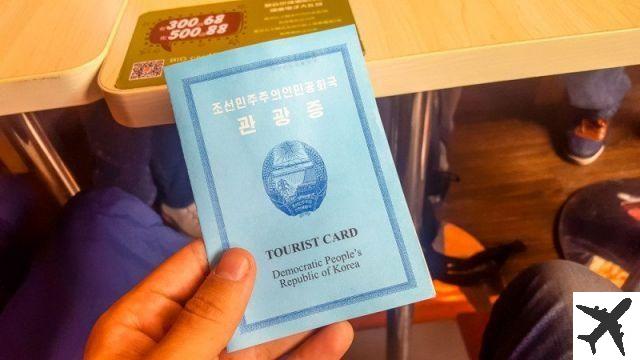 During the visit your passport will be under the responsibility of your guide. It's standard procedure and you'll get it back on checkout, don't worry.
Is it safe to walk around North Korea?
It's probably one of places safest in the world unless you want to protest the government, or decide to do something absurd like beat up a guard. Behave yourself and you won't have any kind of problem!
Despite being a bit (kind of?) crazy place, it is unlikely, in the current scenario, that Korea will get involved in any international conflict that could bring danger to tourists.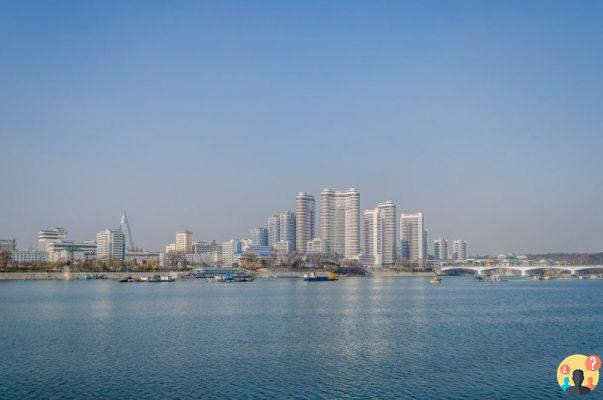 Pyongyang: The capital of North Korea has some apparently developed areas.
What to do in North Korea?
It's such an atypical place that simply riding the subway, watching the streets from your hotel window or having lunch are experiences you won't forget. But depending on your tour, there are many interesting things that generally involve government propaganda.
You will see statues and mosaics of Kim Il Sung e Kim Jong Il everywhere and will have to bow (not optional). Visit an imposing library with a music study room made up of tape decks with CD players and televisions with VHS. You will walk through the third largest public square in the world and you will be able to see from anywhere in the city the imposing 105-storey hotel that began to be built almost 20 years ago and is only complete on the outside.
You can also go to the DMZ – the demilitarized zone between the two koreas that are not demilitarized at all – and ride a subway with modern stations (for the country) and old trains.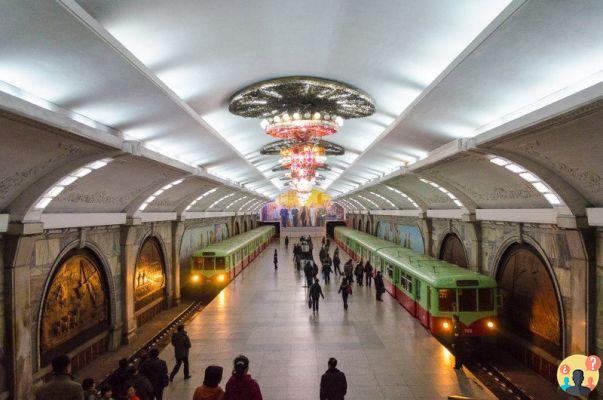 Metro station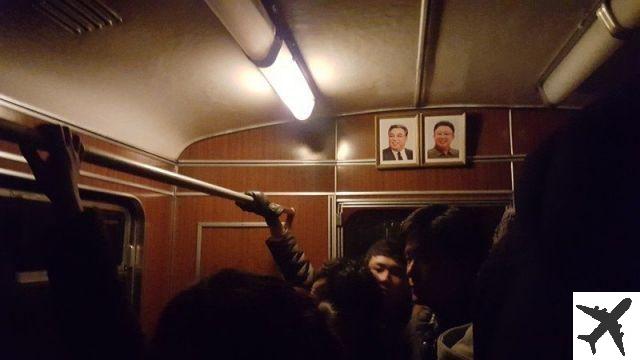 The subway without power is part of the fun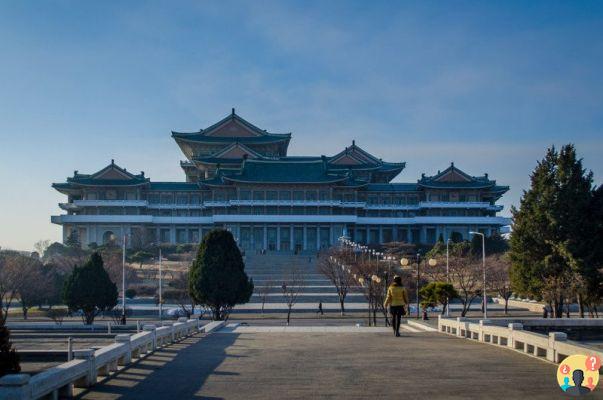 Biblioteca da Capital Pyongyang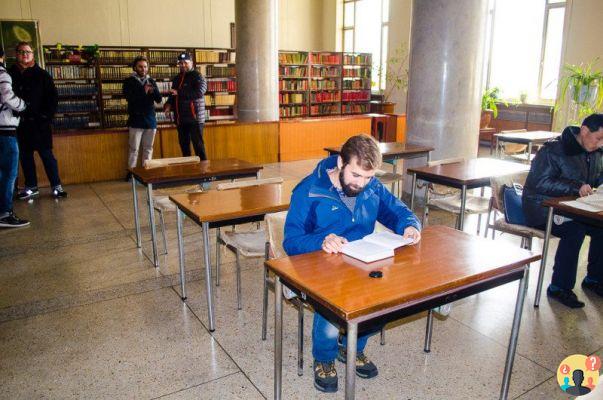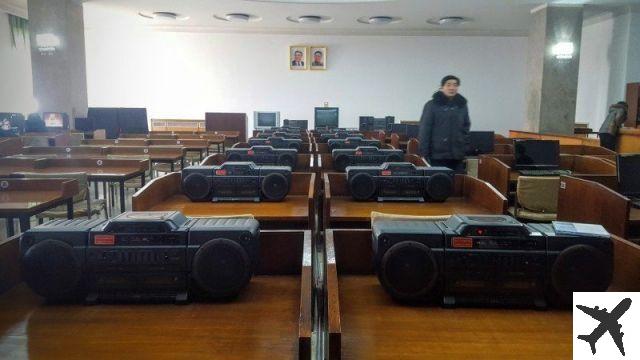 Cd Player Room
Depending on how much time you have, you can visit factories, hike in the mountains and visit schools. There are several different tours and usually the days are full of activities with a break for lunch.
What are the limitations for tourists in North Korea?
You may not enter pornography, guides or books about North Korea and, of course, any film that shows the country in a negative light. Cameras, laptops and cell phones are allowed, but not cameras with GPS (although they don't mind smartphones), large lenses (250mm or more) and large tripods.
Religious books (Bible, Quran, etc.) are even allowed, but you better not forget them there and don't even think about spreading the religion to the locals (so it's better to leave them at home if you can).
Upon arrival they will check some of your items. They only looked at my camera that had nothing but the truth is that no item will cause serious problems, if they find something they will have it deleted or withheld. You can take pictures of just about anything! The main exceptions are: military, buildings and the interior of some museums, although you can take a hidden photo of almost everything and on our tour I noticed that the guide even saw it and didn't pay attention.
Full body photographs of the statues only and if you want to take pictures of the people on the street ask first. In general (with the exception of the statues) these are quite sensible rules, anyway you can have your photos checked on the way out and they can ask to delete what they think is inappropriate (they didn't check anything of mine on the way out).
You cannot leave your hotel alone, if you are on the street your guides have to be with you. The hotel will be prepared for this and will have bars, restaurants, bowling, karaoke, snooker, ping pong, shops and even a casino. On the street, the guides keep an eye on the group at all times and they won't let you out of their sight, although it's not a tense atmosphere. There is no internet and the TV only has the local channel and maybe BBC.
You can make (expensive) international calls from your hotel, but this is the only possible form of communication. In general, you can chat with locals unless your guide says otherwise, but it's not common to find someone who speaks English, so your chats will probably only be with the hotel's guides and staff.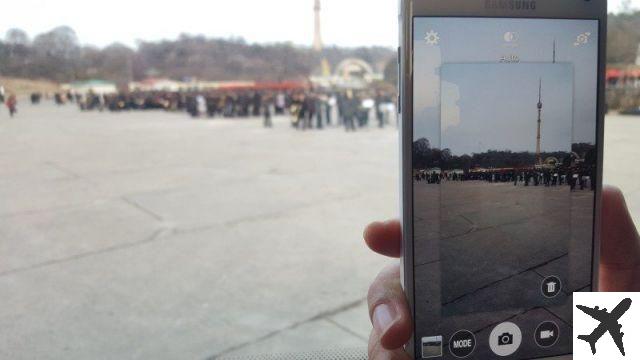 How much does it cost and how do I go to North Korea?
There are several packages and prices for a group tour and a private tour vary dramatically. An approximate value is 300 to 400 euros per night for a group stay. In general, transportation, meals, accommodation, visa and entrance fees are included. You can find some specific packages with slightly lower prices on specific dates but it won't be much less than that.
I used Young Pioneers and couldn't be happier. Everything was very well organized, the guides are fun and very attentive and the group (about 15 people) was composed mostly of young people between 20 and 30 years old. Another well-regarded company is Koryo Tours which already has 20 years of experience and an excellent reputation. Many other companies offer a similar service, but it is advisable to research since despite everything it is North Korea and you don't want any company helping you there.
Read More
Huanglong and Jiuzhaigou – Green Destinations in China
Traveling by Train in China – Everything you need to know
What to do in Taiwan – 4 days itinerary
Traveling to Japan – 7 Important Tips
Train Travel in Japan – Train Suite Shiki-Shima
Things to do in Tokyo – 5 Indispensable Neighborhoods
International Travel Insurance – How to Buy
Exchange Travel Insurance – How It Works
Plan your trip:
Get started now by booking your hotel in North Korea on Booking.com
Save time and money searching for the best Travel Insurance with the Seguros Promo comparator! Extra 5% off with coupon: FORTRAVELOVERS
Compare the best prices to rent a car from over 100 rental companies with Rentcars! (Pay in up to 12X! Pay in reais, without IOF)
Leave España with Unlimited 4G Internet!