Between Scotland, Norway and Iceland, the beautiful Lake Sørvágsvatn in the north of Vágar Island in the Faroe Islands offers an impressive optical illusion.
Lake Sørvágsvatn (or Leitisvatn), the largest lake in the Faroe Islands, is 3.4 km² in size and offers a panoramic view of the Atlantic Ocean. The lake appears to be more than 100 metres above the ocean from the cliff side, but in reality it is only 30 metres above the ocean. The position of the camera and the angle chosen gives a beautiful perspective to the picture, which however proves to be totally false.
As proof, a video using Google Earth demonstrates the deception:
A photograph taken from another angle turns out to be much less spectacular.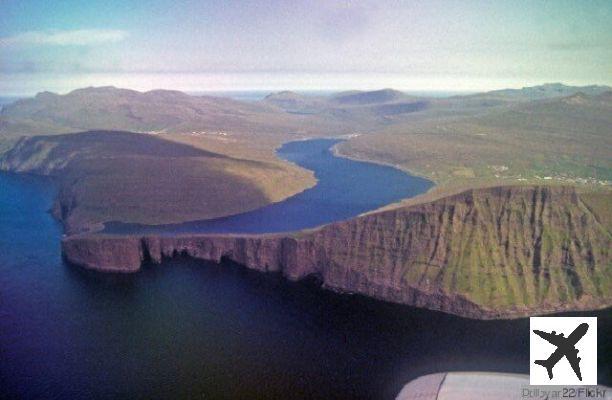 The fjords, "nature's works of art."
In addition to this disillusionment, the fjords, listed as a UNESCO World Heritage Site, are the emblem of the region, of which there are more than a thousand in Norway. Similar to tranquil blue lakes, these saltwater inlets are actually deep and framed by towering cliffs. Magnificent waterfalls tumble down the glaciers and guarantee a total change of scenery.
"Their exceptional natural beauty comes from the crystalline, narrow and steep walls that rise up to 1400 m above the Norwegian Sea and plunge 500 m below. The steep fjord walls are home to numerous waterfalls while wild rivers flow through deciduous and coniferous forests to glacial lakes, glaciers and steep mountains," explains UNESCO.
Populated by a rich fauna, the lakes are home to seals and porpoises. Accessible to large ships, it is therefore possible to observe the animals and the fabulous landscapes of the region.