Israel is a destination with a thousand faces, ideal for all types of travelers and for all tastes, but before you buy your tickets and pack your bags, see everything you need to know about traveling to Israel.
If you want an intense nightlife in a cosmopolitan city, you will fall in love with Tel Aviv. If you seek spirituality knowing the birthplace of many religions, then Jerusalem it's the place for you. If you are a nature and trail lover, get ready not to want to leave the desert Negev. Israel has something for everyone!
The options are many, however, before buying your tickets and packing your bags, here is everything you need to know to travel to Israel.
Buy travel insurance at a discount!
Nothing beats paying little to travel peacefully. use the coupon FORTRAVELOVERS and save when purchasing your plan. Click here!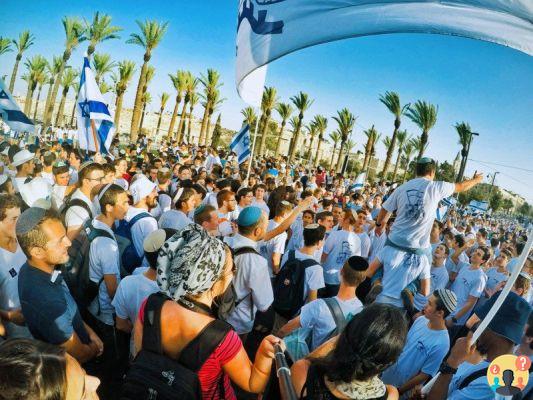 Passport, visa and customs
Until recently, the first concern of those traveling to Israel was that this could cause problems for the entry of other countries in the future. The good news is that this problem no longer exists.
O israeli visa for Brazilians and for most nationalities it is issued free of charge when entering the country. But contrary to what is usual, the visa comes in the form of a card that is presented separately, leaving no stamp or trace of its visit to Israel in the passport. A little sad for those who love to collect stamps, like me, but without a doubt it's for a good cause.
At the entrance to Ben-Gurion airport, em Tel Aviv, it's pretty quiet, but I can't say the same about the exit, which has one of the toughest security services I've ever been through (and I've been in a war zone).
To avoid inconvenience, it is extremely important to respect the 3 hours prior to boarding that is suggested on international flights, and I recommend that you prepare an extra dose of patience to have your hand luggage thoroughly inspected. #Tip: take as little as possible in your hand because they look at absolutely EVERYTHING!.
In addition to the inspection, you'll be asked a never-ending series of questions of all sorts of relevance (I swear all that was left was to ask what color my underwear was or if I had a bomb hidden in my kidneys).
As much as we understand that this whole procedure is essential for our own safety, it is very easy to lose patience, so if you want to get out of there quickly, I suggest that you answer all questions seriously, no matter how irrelevant they may sound.
Remember that, as with all international travel, your passport must be valid for at least six months.
Tip: If you have a new passport, it comes with a chip that will make the whole process easier and avoid unnecessary wear and tear in the long lines at customs. Once there, just go to the special machine for issuing the card/visa and do it on your own. If you have any questions, be sure to ask an employee, because that's how I found out about the machine and saved a lot of time.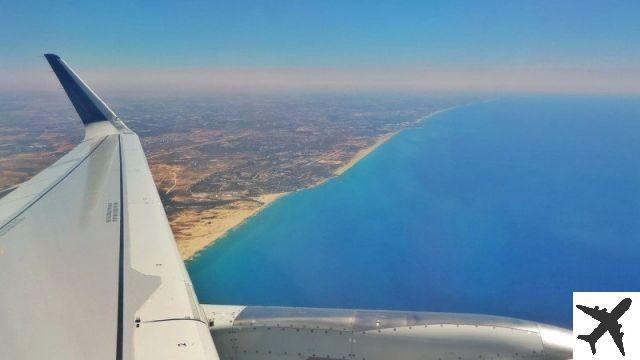 Currency
The currency used in Israel is the New Israeli Shekel (there they only say "Shekels"). Unlike in most countries, the exchange rate varies very little between the airport and city exchange offices, so you don't have to be afraid to change a slightly larger amount at the airport because the rates there are usually honest.
Além disso, Israel It's a very safe country and you hardly hear about robberies or robberies (of course you don't have to drop your wallet on the table to test it, basic care is always good), so you can rest easy walking with only cash. So you can do yourself a favor by avoiding the abusive fees for using an international credit card. I only used cash for the entire trip, but it's nice to have a card for emergencies or specific cases.
If you prefer to use credit card or VTM (Visa TravelMoney) for safety, almost all flags are widely accepted. Remember to let your bank know about the trip to avoid blockages and be sure of any additional fees, especially for international withdrawals if you're not familiar with these fees, so you don't get a nasty surprise when your bill arrives.
Languages
Israel It has two official languages: Hebrew and Arabic.
Even though English is not a national language, I had no problem finding any native speakers who spoke English or at least managed to communicate reasonably well. Israelis are very kind, intelligent and love to help, so even if you depend on good old-fashioned mimicry, communication isn't a big issue there.
Many Israelis also speak or understand Spanish and sometimes even risk a little Portuguese, interestingly because Latin telenovelas are extremely popular in Israel and are displayed in the original language with Hebrew subtitles.
A funny and cute fact is that Israelis have a very specific accent when speaking English, which strangely sounds like…… French! Three chic! ?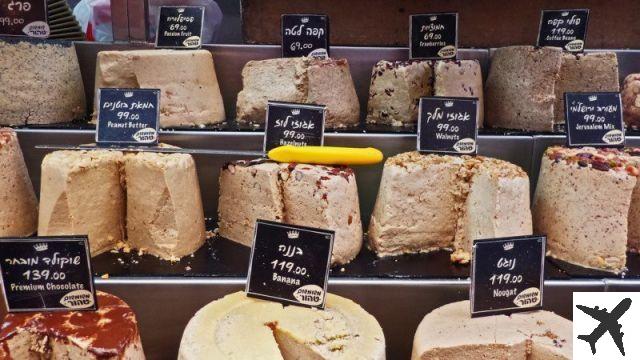 Shabbats and Holidays
Before trying to think of an itinerary and deciding how you are going to get around the country, it is very important to keep in mind that the routine in Israel It's totally different from ours. This is mainly because of the weekly day of rest in Judaism and what that means for them.
O Shabbat, or "Sabbath" in Portuguese, is where the word Sabbath comes from, which in Hebrew refers to cessation, rest and inactivity – this is also where the word "sabbatical" comes from.
It could be what Sunday means to us, but in the Jewish religion, this implies abstaining from work activities much more rigorously. For us tourists, this implies a big headache if you need to take public transport, buy food or use other types of service.
To give you an idea, the ultra-Orthodox Jews take this so literally that, during the Shabbat, they don't even turn on the lights in their homes or flush the toilet because that would be considered work – and of course, sexual activities are totally out of the question.
O Shabbat starts from sunset on Friday and goes until sunset on Saturday, and obviously this varies depending on the time of year and where you are, as it varies according to the time of sunset. Although they follow this principle, it is very common for people to stop working on Friday after lunch, so be aware of this.
As a Tel Aviv is a cosmopolitan city, many bars and restaurants open normally during the Shabbat, but there is no means of transport other than private taxis (which usually have Arab drivers) throughout the country. In the other cities, the Shabbat it is more traditional and hardly anyone works. This same rule also applies to any religious holiday.
I already knew a little about the Shabbat and I thought it was interesting, but the problem was that I didn't think about it when booking my tickets, or maybe I didn't pay attention because I didn't think it was that strict.
I learned my lesson about Shabbat when I struggled a bit to ride back from Mitzpe Ramon to Tel Aviv (it's about 2h30 trip) because I had to be in Tel Aviv the next morning.
Getting back to Tel Aviv during Shabbat was pure luck and my return flight departed from there the next day: Sunday. Theoretically, there would be no transport problems, since Shabbat was already over, but the bad luck was that this Sunday fell right on a religious holiday. Absolutely no means of transport was working and the result was the most expensive taxi of my entire life (about R$100 for less than 15 minutes of ride) leaving the center of Tel Aviv to the airport.
Of course, prices are usually not that expensive, but during a rest day it is impossible to negotiate a better value when there is no other option available.
Some tips:
If you are not planning to rent a car to get around, try to make your arrival and departure in the country any day of the week other than between Friday and Saturday.
My case was atypical and I was really unlucky, but it doesn't hurt to research possible holidays during your stay.
Be Shabbat or holiday, try to schedule your trip so that you don't have to travel on these dates and try to do other activities, so it won't be a hassle and you won't miss a precious day in Israel.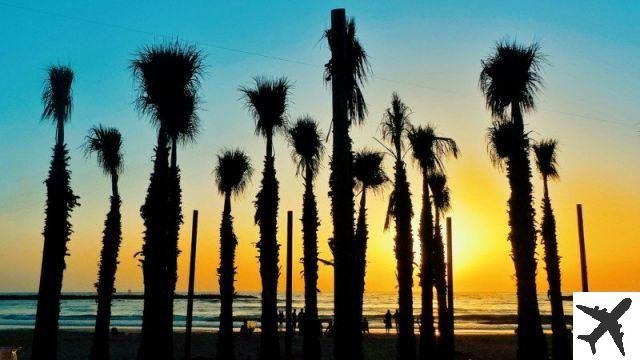 Security
I am a person who is not at all comfortable with the presence of firearms, but I think that even if you don't mind, it is impossible for this detail to go unnoticed in Israel. I'm bringing this to you so you won't be shocked when you get there and see more weapons than you ever thought you'd see in your life.
The reason for so much weaponry is as curious as it is sad: because the country is part of a region of constant conflict, EVERY young Israeli, whether male or female, is required to do military service upon turning 18. The only exceptions are ultra-Orthodox Jews, Arab citizens or married women.
After leaving the army, these people are still on leave and can carry weapons. The result of this is a rather frightening amount of heavily armed people walking naturally through the streets, malls, trains, buses, markets… it's really commonplace.
But do not worry! Contrary to what is natural for us to think, this brings much more security to the country and not the opposite – after a while you even get used to it and start to think it's normal. In addition, the most tourist cities in israel they haven't had conflicts for a long time and the risk territory is very well demarcated and considerably far from the places you will visit – believe me, tourists are not targets in political, geographic and religious conflicts.
One of the times I asked about it, a local gave me a simple but pertinent answer: "they don't give a damn about you!" hehe
It is obvious that it is good to seek information and be aware of the current situation, after all, it is a somewhat delicate region, but I guarantee that you will feel much safer there than in the big cities of Spain, For example.
Tip: During the trip, whenever you have any questions or concerns, ask the locals as they are the ones who can help you the most and will also make you feel much more relaxed. ?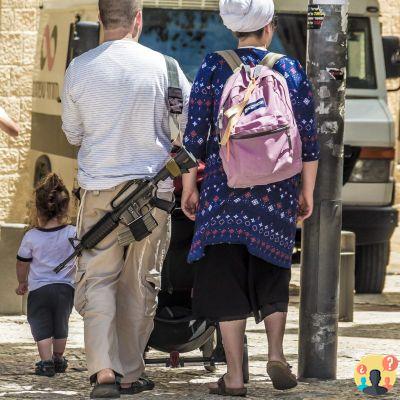 How to dress
These tips are specifically intended for your stay in Jerusalem or if you want to visit Palestine, and are more relevant to women.
In general, Israel it is a very open country and very close to european culture in behavior and way of dressing without any restrictions, but here we are talking about the religious part of the country and, not only that, we are talking about the cradle of many religions and one of the most sacred places of the world.
I don't have any religion and you might not either, but it's important to remember that you will be visiting Holly Land and having respect for the multiple religions present there is fundamental, regardless of their beliefs.
While strolling through the ancient city of Jerusalem, you can walk with the clothes you prefer, remembering that common sense never hurts and it's nice to dress modestly, but keep in mind that you will only be able to enter some sacred places, such as the Church of the Holy Sepulcher or the Wall of Lamentations, if it meets the imposed standards.
The "dresscode" is very simple!
For women: covered shoulders, without big cleavage, "loose" pants or skirt below the knee.
A few places may require a woman to cover her elbows and wear a skirt instead of pants, following traditional dress at the Judaism. If the woman covers her head with a scarf, that is also good manners, although the headdress is mandatory only among married Jewish women.
For men: covered shoulders, covered head and preferably long pants, although they are more flexible in this regard. Some places offer a "Quipa", that little hat that Jews wear, but any kind of hat or headdress will also do.
Out of ancient city of jerusalem, freedom is another and everything is allowed!
However, place yourself on the city map before stomping around so you don't run the risk of mistakenly entering one of the ultra-Orthodox Jewish neighborhoods. You'll probably notice if this happens because, all of a sudden, all the men will be wearing a dark suit and a big black hat even if it's under 40 degrees.
If this happens and you (woman) aren't wearing traditional clothing (skirt below the knee and covered elbows), it's better to hurry up and sneak out of there if you don't want to get tomatoes, spit on or egg beatings on your head! Sounds funny, but no, I'm not kidding!
I confess that I was very curious to know the neighborhoods, but I didn't have 100% adequate clothes so I preferred not to risk it and continue living without the tomato experience in my head, hehe.
Tip: If your visit is during the summer, take a pair of scarves with you or even a sarong if you have to improvise. The heat is usually very strong so this is an alternative so you can wear cooler clothes and cover your legs or shoulders when necessary. I always carried two handkerchiefs just in case.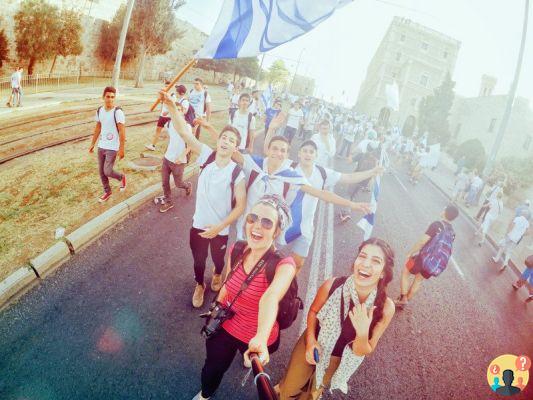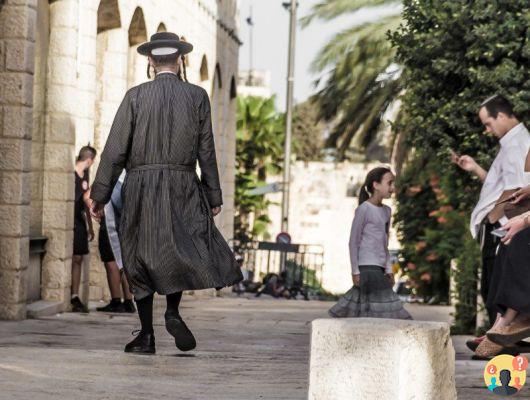 Day Trip to Jordan
Despite not being a Israel, I decided to include this information because the vast majority of people who travel to Israel also take the opportunity to stretch out to their neighbor Jordania, or at least it used to be that way until early 2016, when this scenario changed a bit.
>> See more in our post Exploring Jordan: how to visit Petra
For our unhappiness, it became mandatory to have a visa to cross to the Jordania and this goes for any nationality, which makes the "day trip" that until then was quite popular in Israel go there.
The visa needs to be obtained in the country of origin before the trip, otherwise there is also the option of purchasing a day pass that has a very high price:
US$99 for 1 day Jordan visit
$106 for 2 days
$113 for 3 days
Prices include entry to Petra, which is normally priced separately for the visit. For more detailed information, visit the official website.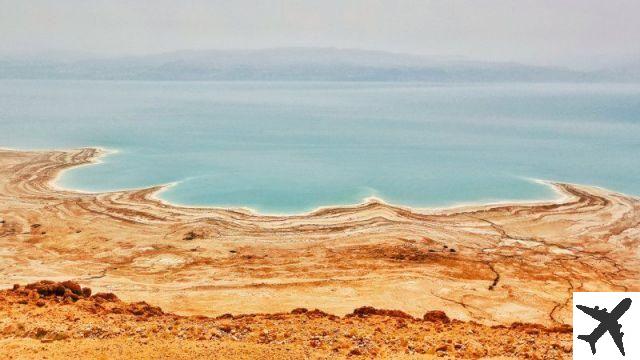 Where to stay in Israel
Often, staying in the right place and finding nice and generous people to help you plan your days there makes all the difference in the travel experience as a whole. That was my case with Israel so I will recommend here the places where I stayed because I had an excellent experience with all of them.
Jerusalem: The Post Hostel
Located in the modern part of the city and a few meters from one of the entrances to ancient Jerusalem, the The Post It's one of the best hostels I've ever stayed in in all aspects: comfort, modern and fun design, exceptional breakfast (I was seriously addicted to this breakfast, hehe), great location, exemplary service, several complementary activities… everything really perfect , an incredible environment that needs no comments!
One thing that caught my attention there was the diversity of guests, from young backpackers to elderly people with walkers or wheelchairs, a very interesting detail that could not go unnoticed as I have never seen such diversity in a hostel.
When you are there, be sure to abuse a little girl who works in the morning, especially helping guests to enjoy the city in the best way with wonderful tips and a show of sympathy – you run the risk of doing like me and losing some walking hours because you'll want to stay there chatting with her! ?
MAKE YOUR RESERVATION OR LEARN MORE ABOUT THE HOTEL HERE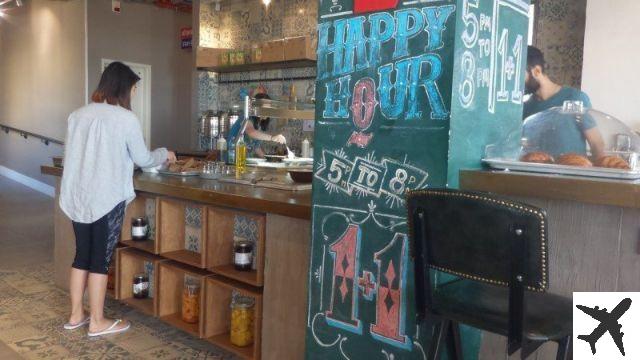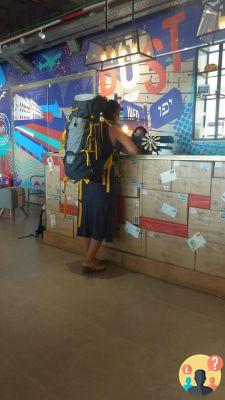 Find more Promotional Hotels in Jerusalem
Tel Aviv: Beachfront Hotel
Despite being called a hotel, the Beachfront it's more like a hostel with several options for shared or single rooms. It's quite simple but still cozy and the big difference is what the name of the hotel says: it faces the beautiful beach of Tel Aviv, just wake up, cross the street and that's it, you're on your feet in the sand.
O Beachfront Hotel does not serve breakfast, but offers several discount coupons for nearby establishments, including a breakfast coupon at the restaurant next door, which looks more like dinner, as it is extremely well served and delicious. The name of the restaurant is in Hebrew so I'll owe this one, hehe, but it's right next to the hotel and the cost benefit is excellent – ​​it's worth buying just one dish and sharing it between two people.
MAKE YOUR RESERVATION OR LEARN MORE ABOUT THE HOTEL HERE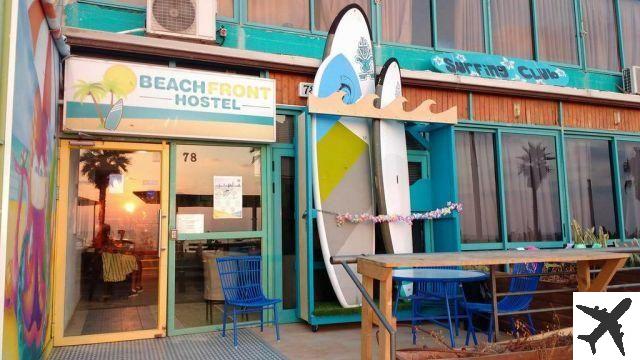 Tel Aviv: Overstay Hostel
I was twice in Tel Aviv during my trip and on the second one I stayed in Overstay Hostel, which was a completely different experience from where I stayed the first time. In addition to the location that is very close to Java, the most charming area of ​​Tel Aviv, Overstay is a very rustic hostel with a very predominant hippie style where a lot of people stay there just to enjoy the atmosphere.
The hostel has a very large and sunny terrace with daily events and a curious decoration with dinosaurs, extraterrestrials and the like. It is very important to take into account the style of the hostel because this is not the type of place that everyone likes, but if you like this more "hipponga" vibe, you will have fun there for sure. A simple breakfast is served in the communal kitchen.
MAKE YOUR RESERVATION OR LEARN MORE ABOUT THE HOTEL HERE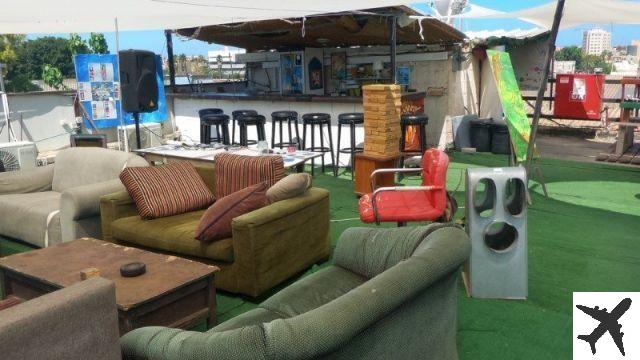 Find more Hotels on Sale in Tel Aviv
Mitzpe Ramon (Negev Desert): The Green Backpackers
This is one of those hotels where you feel at home as soon as you enter and it makes it even more difficult to say goodbye to this incredible place that is Mizpe Ramon. The Green Backpackers is ideal for those who (like me) value places with environmental responsibility and like to feel the real environment where they are.
In addition, the couple that owns the hostel is simply charming and with a lot of experience in long trekking in the desert region, always ready to give all kinds of assistance and recommendations – you can be sure that this is essential there!
Another incredible detail that enchanted me right away is that every Friday night, when the Shabbat, all guests are invited to participate in a collective dinner of Shabbat where each one cooks their specialty and the owners start the dinner with some Jewish traditions of this very special night for them. It is worth trying to schedule your stay for these days to experience this cultural experience more!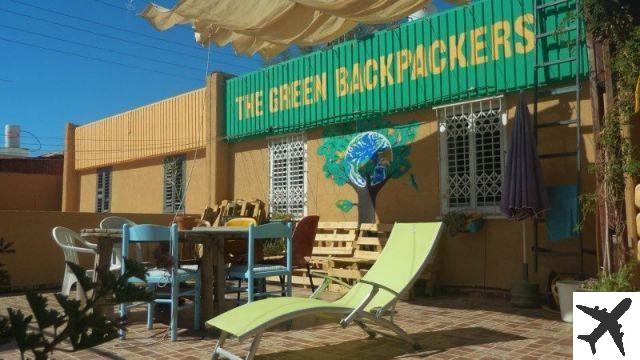 Find more Promotional Hotels in Mitzpe Ramon
Ufa! Quite a lot, right?! And that's just what you need to know before the trip, to enjoy what comes after even more… Israel It is one of the most exciting countries I have ever visited and I can only end this post with a question:
What are you waiting for to book your trip? ?
Patricia traveled at the invitation of the Tourist Israel travel agency.
Israel travel insurance
Buying travel insurance for Israel is an excellent way to ensure a smooth trip and avoid worries. Having the assistance of insurance gives you the peace you need to enjoy your destination and know that you have support if you need it. Also enjoy our Insurance Promo discount coupon. - SEE PRICES
Read more:
What to do in Israel – 8 Day Itinerary
How to Visit Petra, Jordan – Complete Guide
Travel to Iran – Everything You Need to Know
10 Reasons to Travel to Iran
What to Do in Iran – Must-See Tips
Itinerary Oman – What to do in the Middle East
International Travel Insurance – Step-by-Step How to Hire
Plan your trip:
Get started now by booking your hotel in Israel on Booking.com
Save time and money searching for the best Travel Insurance with the Seguros Promo comparator! Extra 5% off with coupon: FORTRAVELOVERS
Compare the best prices to rent a car from over 100 rental companies with Rentcars! (Pay in up to 12X! Pay in reais, without IOF)
Leave España with Unlimited 4G Internet!