On your trip to Portugal, you can't miss the Portuguese Venice, the beautiful city of Aveiro. We will give you all the tips on how to enjoy this beautiful little place!
If you are going from Lisbon to Porto, be sure to visit the city of Aveiro. With beautiful canals running through the city centre, delicious regional sweets and traditions that have already gained international fame, such as the Vista Alegre porcelain factory, this is an unmissable port in its Portugal itinerary.
Charming, the city is a place of discontinuous territory, located at the mouth of the Vouga River. Formed by a group of river islands called Ria de Aveiro, the Venice of Portugal is full of pleasant surprises for travelers. Aveiro can even be a great option for those who want to live in Portugal.
The city is coastal and has a relatively lower cost of living than others, such as Coimbra and Porto. With different attractions for all tastes, the place is very diverse and combines tranquility with the facilities of a developed city. Check out in this guide everything you need to know about this little corner of Portugal!
>> Also read the post Cities in Portugal that you need to visit or live in one day
Travel insurance is mandatory in Portugal!
Won't forget to hire yours, huh? use the coupon FORTRAVELOVERS and get 5% off.
Click here and buy it now!
Distance from Lisbon
Indispensable city tips
Things to Do
Where to eat
Where to stay – Indication of hotels
What you NEED to know BEFORE going to Portugal
The charming Historic Center of Aveiros Portugal, with its canals. This city is worth visiting!
Aveiro – Distance from Lisbon
If you are driving, the city of Aveiro is two and a half hours north of Lisbon and forty-five minutes from Porto. It is a great stop on the Lisbon-Porto route, for those who want to discover less obvious cities on their trip to Portugal. Another nearby city is Coimbra (about 60 km away).
It is also possible to visit Aveiro by train, which leaves from Estação do Oriente and also takes two and a half hours from Lisbon. This is a super practical option and an excellent opportunity to visit the Aveiro train station, which we will talk about later.
>> Read our post Coimbra Portugal: 10 unmissable tips on what to do there
Aveiro – Indispensable Tips
One of the things you cannot miss in Aveiro is to taste the delicious typical and traditional sweet of the region: the ovo moles. The recipe for this specialty uses egg yolks and sugar, and was invented by the nuns of the Convento de Jesus de Aveiro before the XNUMXth century.
An interesting curiosity is the reason why most convent sweets have gems. The truth is that the nuns used egg whites to pass on their habits and ended up using the yolk in the kitchen, hence the prominence of this ingredient.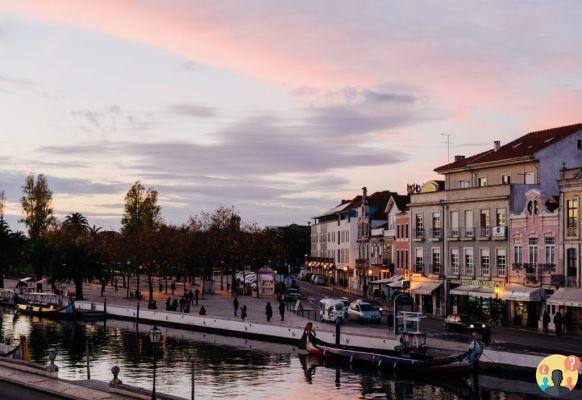 Another essential tip for anyone visiting Aveiro is not to miss the Moliceiro boat tour. These boats have been traveling along the city's canals since the time when the mud from the estuary, also known as moliço – an aquatic plant – was used in agriculture in the region. Nowadays, colorful boats are used in sightseeing tours through the coolest spots in the city.
>> Read more about Travel to Portugal – The complete guide for Brazilians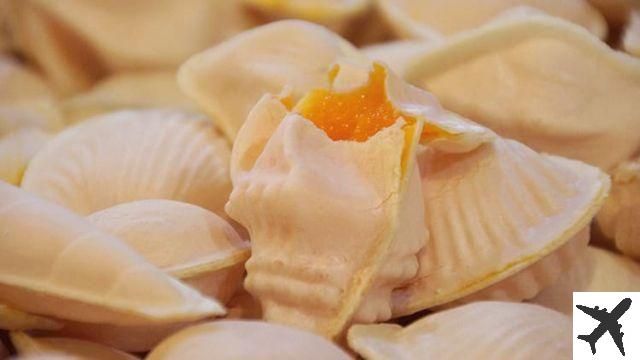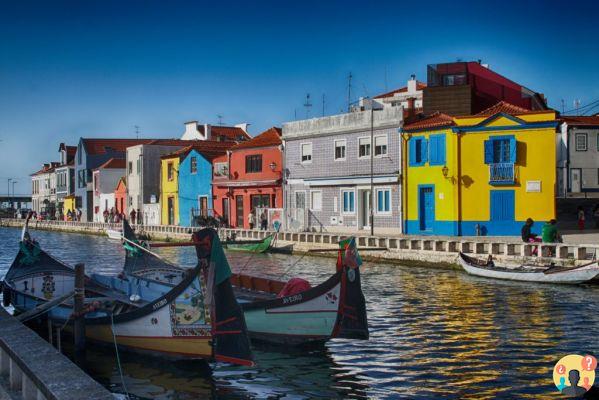 Things to do in Aveiro
Ria de Aveiro
Known as the Portuguese Venice, Aveiro is a city bathed by a network of canals that can be navigated by typical Aveirense boats, the moliceiros.
This is a really cool tour that goes through all the sights you can't miss. From the marinas and the salt haystacks, to the fish warehouses and the historic buildings in the Art Nouveau style. You will get to know everything from a different perspective.
Aveiro Museum
Don't forget to visit Aveiro Museum, where Saint Joana Princess is buried, in a spectacular tomb, all worked. The place is in the center of Aveiro, in the old Convent of Jesus where the princess, daughter of King D. Afonso V, dedicated her life to religious worship.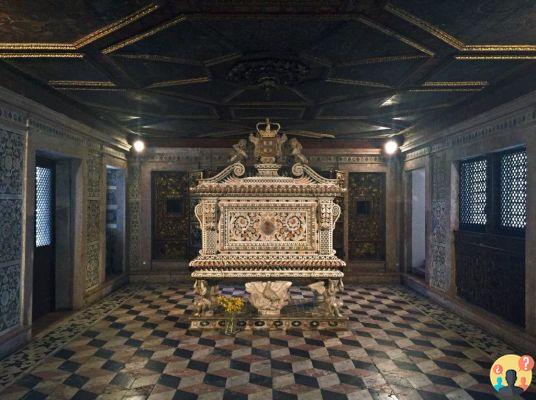 Museum of Art Nouveau
Aveiro is known for having wonderful examples of architecture from New art, known as Art Nouveau in España, which you cannot miss.
Thinking about it, the Museum of Art Nouveau invites you to discover the history behind this tradition and to start a tour of the city there, passing by the most emblematic historic buildings of the style.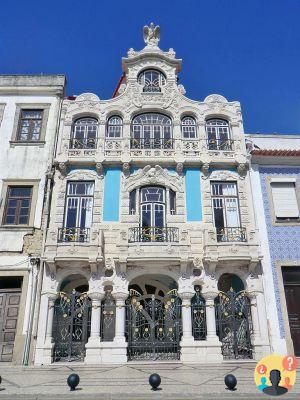 Aveiro station
Aveiro's old train station is worth a visit. With the façade lined with tile panels, it invites you to discover the history, landscapes and traditions of the region represented in them. It's worth stopping by to take some pictures before visiting other sights in the city.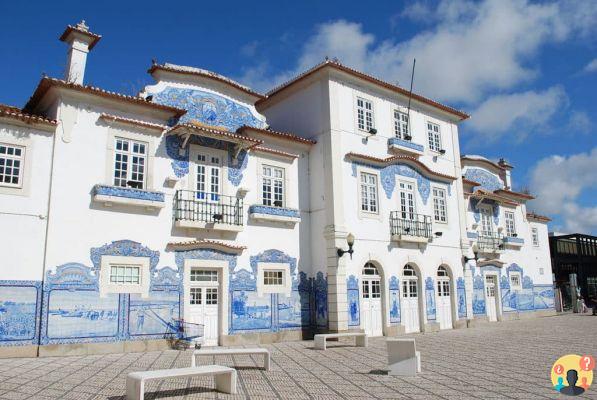 Ílhavo
One of the mandatory stops for anyone visiting the district of Aveiro is the sub Ílhavo region. This area is already on the edge of the Atlantic Ocean and is therefore known for Praia da Barra and Costa Nova. This is where you will be able to photograph the striped houses that were once made of wood. A grace!
In addition, Ílhavo is where the porcelain tradition began Vista Alegre, in the XNUMXth century. This is still a little-known tourist spot, but it is worth visiting the oldest porcelain factory in the Iberian peninsula.
Until 1800, Portugal was the main importer of Chinese porcelain from the Western world. Until the founding family of Vista Alegre started to produce locally, developing a characteristic trait for Portuguese tableware.
To this day, Vista Alegre is one of the most respected brands in the country and has fans all over the world. Our tip is to buy your souvenirs from Portugal here, to take advantage of the prices of unique factory pieces.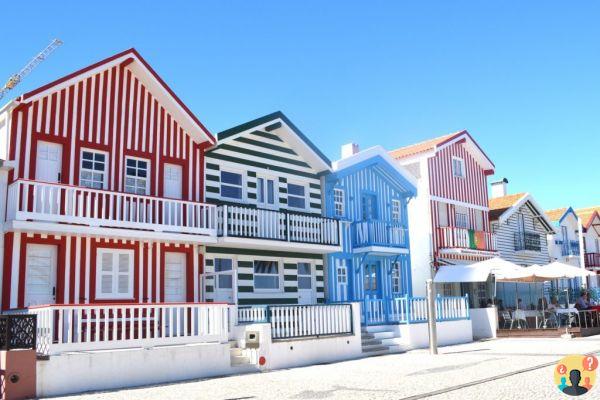 Don't forget the Mandatory Travel Insurance! Compare prices at Seguros Promo and buy your Travel Insurance Europe now!
Where to eat in Aveiro
And as tradition dictates, your gastronomic experience in Aveiro will not be far behind the rest of Portugal. Fresh fish, açorda, octopus and soft eggs to finish, are the delights that arrive at the Aveirense table.
See our best here tips on where to eat in Aveiro:
SalPoente
One of the most prestigious restaurants in Aveiro is SalPoente, located in two old warehouses where the salt just removed from the salt pans was kept. The atmosphere here is a delight, with various pieces of art on the walls and modern decor.
The place is great for a dinner with friends or family, but the menu is the real star. Among the fish, the highlight goes to the cod dishes, such as contemporary cod, which you cannot miss trying.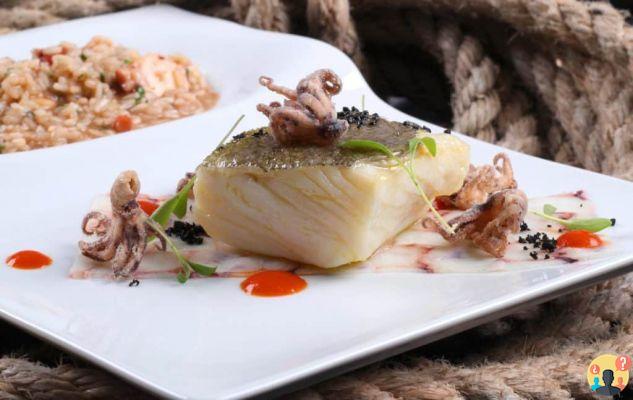 High tide
Another place with very fresh fish is the restaurant High tide, as it belongs to an old fishmonger in town. It is known for serving a wonderful eel stew, but you can also enjoy Portuguese seafood, another of the house specialties.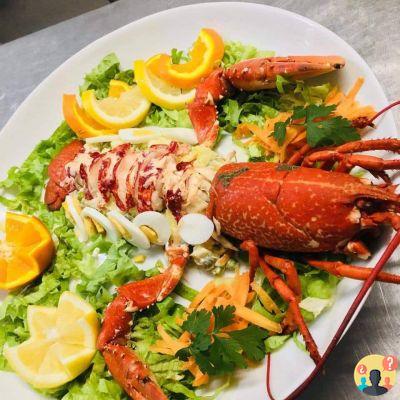 Customs Warehouse
For a simple lunch, but with traditional flavors of the region, try the Customs Warehouse. It is right in the city center, close to many tourist attractions. Therefore, it is a great stopping point during the day.
In addition to the menu, they have a choice of meat, fish and vegetarian dishes all day, with a fixed price that includes drinks and coffee. Super into account!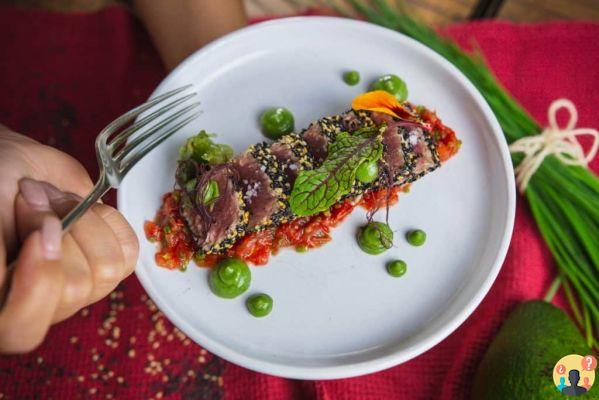 Hotels in Aveiro Portugal
If you are looking for accommodation, an ideal place to find a good one is the historic center of Aveiro. In addition to being where most of the attractions are located, it is also where there are several restaurants and shops.
We've compiled a list of our favorite hotels in the city to help you choose the right place.
Find all the deals on the best hotels to stay in Aveiro here on Booking.com. Best prices ever!
Meliá Ria Hotel and Spa
Or worth it: View of the restaurant "O Lago"
One of the most modern accommodation options in Aveiro, the Melia Ria Hotel & Spa It is a four-star hotel located right on the edge of the estuary and less than a ten-minute walk from the Aveiro Museum.
It has spacious rooms overlooking the city, with a varied breakfast included in the rate. Take some time to book a wonderful massage at the Spa.
Click Here and book your stay at the Meliá Ria de Aveiro now, enjoy the restaurant overlooking the lake!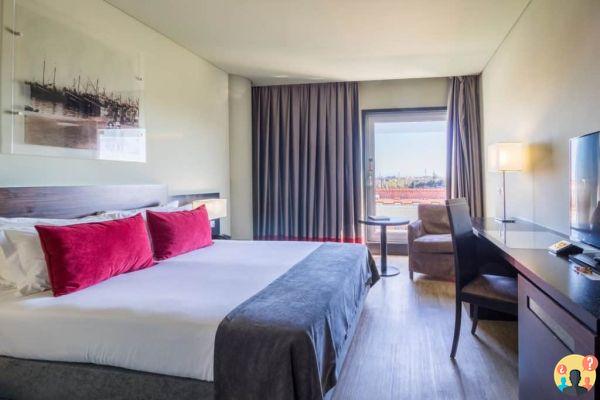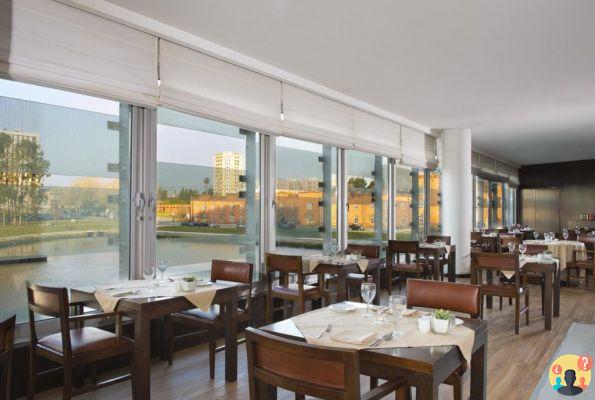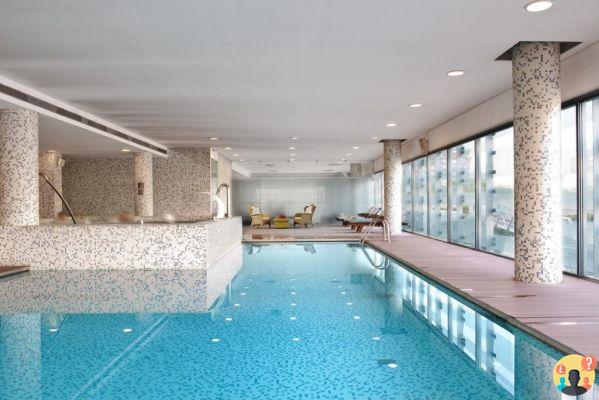 Salinas Hotel
What's worth: It's located in the region that visitors like the most
O Salinas Hotel It is an option with an excellent cost-benefit, in addition to being super well located. It offers carefully decorated rooms and studios equipped with a kitchen for the more independent travellers.
Click Here and book your room at Hotel das Salinas, stay in the best region of Aveiro!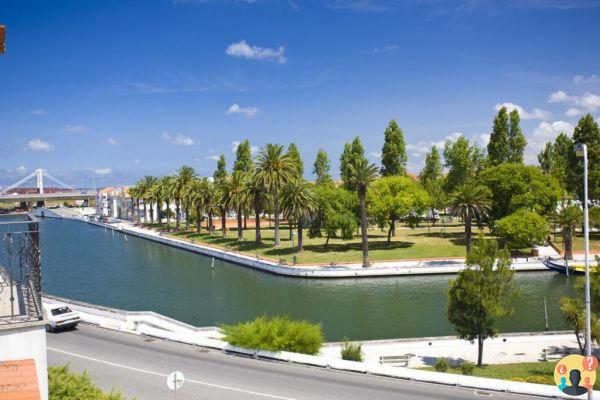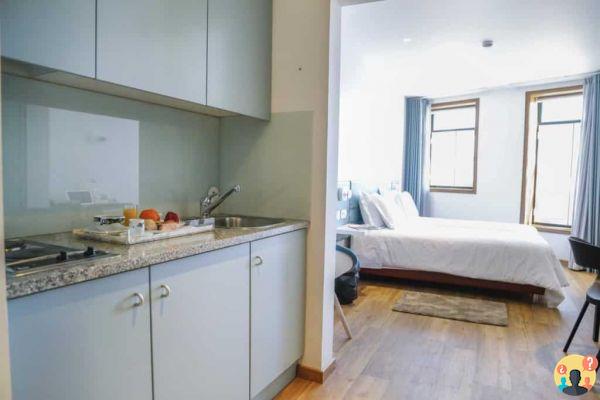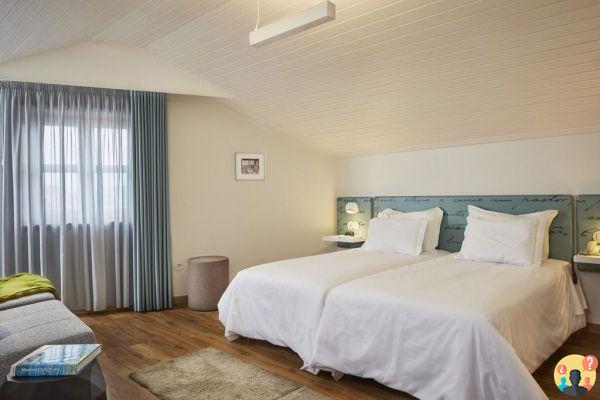 OC Salon Charm Hostel e Suites
What's worth: Charming Art Nouveau building and decorated rooms
If you want an option that doesn't weigh on your pocket, take a look at OC Salon Charm Hostel & Suites. The rooms cater to different types of travelers, as they range from dormitories to double and family rooms.
The house where this hostel is located is charming, in the Art Nouveau style, and with a very cozy atmosphere both inside and outside, in the surrounding gardens.
Click Here and make your reservation in the most charming accommodation building in Aveiro Portugal!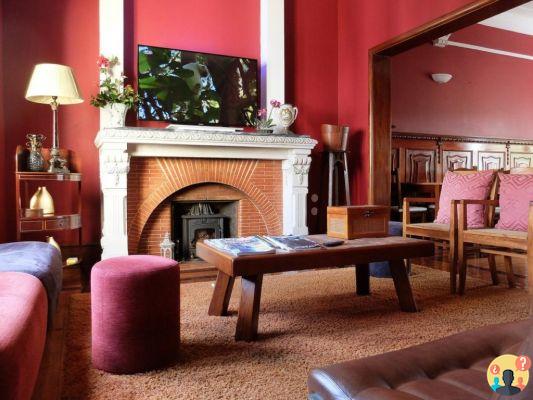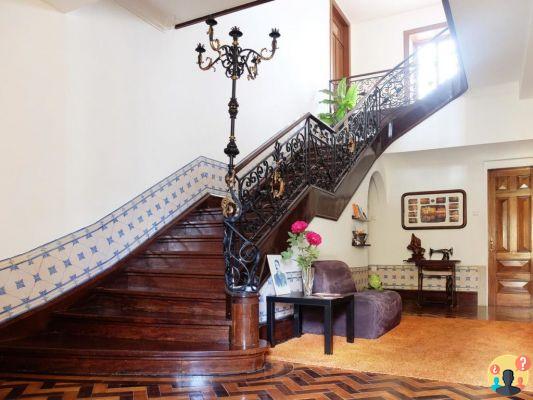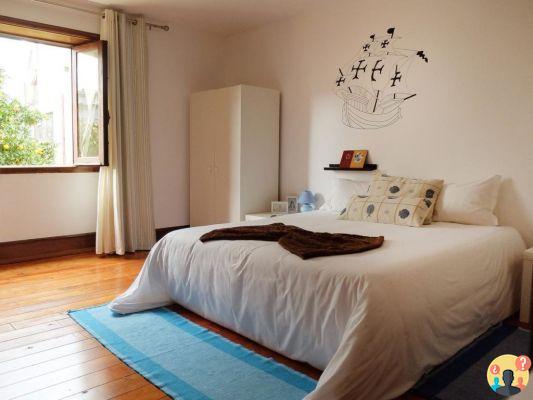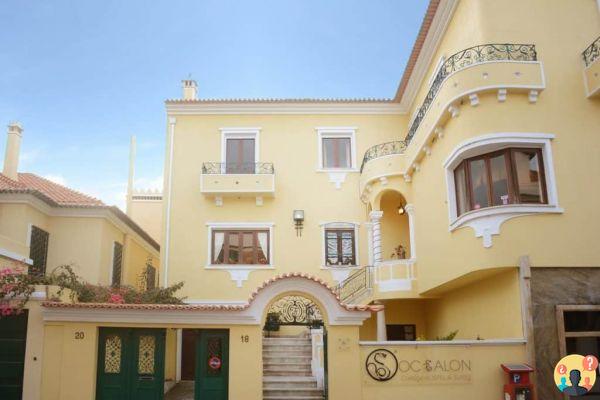 Aveiro quick tips
Where is Aveiro?
Aveiro is on the west coast of Portugal. It is 70 km south of the city of Porto and 250 km north of Lisbon keep reading…
Where to stay in Aveiro?
Melia Ria Hotel & Spa, Salinas Hotel e OC Salon Charm Hostel & Suites. See more hotel tips in the post by clicking here.
How far is it from Lisbon to Aveiro?
Lisbon and Aveiro are 250 km away from each other. Continue reading...
How to get to Aveiro from Lisbon?
It is possible to travel from Aveiro to Lisbon or vice versa by train (Linha da Azambuja), bus (Vieira do Minho) or car (car hire at RentCars). Continue reading
How to get to Aveiro from Porto?
It is possible to travel from Aveiro to Porto or vice versa by train (AP 34 Lisbon – Santa Apolonia), bus or car (car hire at RentCars).
How is the weather in Aveiro?
From October to March the minimums are below 10ºC and maximums are around 18ºC to 20ºC. From April to September, the temperature rises and the minimum exceeds 10ºC and the maximum ranges from 23ºC to 24ºC.
What to do in Aveiro?
Taste the soft eggs, take a boat trip on the moliceiro, Ria de Aveiro, Museum of Aveiro, Museum of Art Nouveau, Aveiro Station, Ílhavo. Continue reading...
Where to have lunch in Aveiro?
For a simple lunch, but with traditional flavors of the region, try the Customs Warehouse. Continue reading...
Where to dine in Aveiro?
SalPoente, Maré Cheia. Continue reading...
What you NEED to know BEFORE going to Portugal
Are you full of things to think about and still have to plan your entire trip?
Or you've seen it all, but you're feeling that familiar "Have I forgotten something?"
So calm down, we'll help you with some items you can't forget before boarding. Come on!
1) Travel Insurance for Europe is MANDATORY:
Where to Buy: Promo Insurance
Under the Schengen Treaty, travel insurance is mandatory for tourists visiting the 26 participating countries. Among them, Portugal. To find good travel insurance, compare prices and coverage on Promo insurance.
#StayHip: Save 10% on your travel insurance. use the coupon FORTRAVELOVERS to get 5% off and pay with boleto to guarantee an additional 5% OFF.
2) How to have unlimited internet while traveling
Where to Buy: AMERICA CHIP
Did you know that it's getting easier – and cheaper – to have unlimited internet throughout your trip?
Just ask for an international cell phone chip through AMERICA CHIP. We always use and love it! They send a SIM card to your address in España, you insert it in your cell phone when you arrive at your destination and you have unlimited internet throughout the trip.
#StayHip: Save on car GPS rental and use GoogleMaps and Waze with your unlimited internet ;).
3) Have you booked your hosting?
Where to Buy: Booking.com
If you haven't booked your stay, the tip is to compare hotels, hostels and inns through Booking.com. This is the largest hotel booking platform in the world, ensuring a safe experience and great accommodation deals.
#StayHip: Keep an eye out for 'Smart Deals', which only last for one day. Some amazing hotels offer great discounts using this badge on the platform. If you find a good deal, is it worth closing?
4) Rent cars at the best prices
Where to Buy: Rent Cars
We really like Rent Cars to find the cars we use on our travels. It is the only one in Spain that compares the best rental companies in the world, but lets you pay in reais, without IOF. In addition, it is also the only one that lets you pay in 12 interest-free installments. It is worth it!
#Here's a tip: Try to find cars with full car and third party insurance coverage. Thus, you avoid inopportune surprises when picking up the car.
Also, be very smart when closing with other car rental comparisons. That's because prices are usually charged in dollars and close with your card. If the dollar goes up, the price of your car rental goes up too.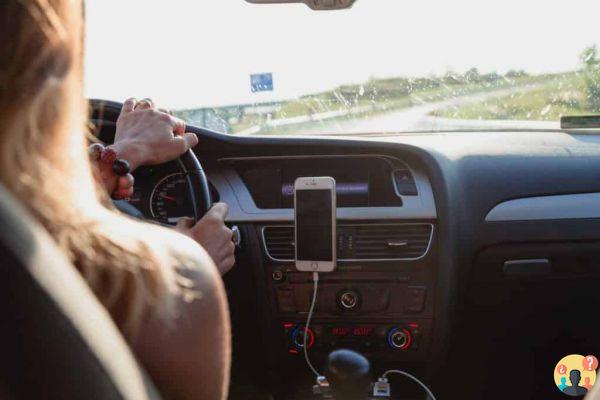 Note: We highly value the credibility of our information. All the sites we recommend above are sites we already use, we have good experiences and feedback from readers!
In addition, it is worth checking out other useful information for your trip to Portugal:
Items you can't forget in your suitcase
Europe Travel Insurance: What you NEED to know before hiring
How Much Does Travel Insurance for Europe Cost?
Travel Health Insurance – 5 tips to find a cheaper one
Is Promo Insurance Reliable? It's good? How it works
Did you like our tips for Aveiro Portugal? Comment here!
Read more about Portugal
Travel to Portugal – COMPLETE Guide for Brazilians
Cities in Portugal that you need to know or live in – one day
Cell Phone Chip in Portugal – Where to Buy?
Portugal Tour – 13 Places You Need to Know
The 20 main tourist attractions in Portugal to put on your itinerary
What to do in Portugal – Itinerary from 7 to 20 days
Best time to go to Portugal – Travel tips for each season
Braga Portugal – Curiosities, what to do, where to stay, and much more!
What to do in Lisbon – Itinerary from 1 to 5 days
Where to stay in Lisbon – Best neighborhoods in the city
Cascais Portugal – What to do, essential tips for Brazilians
Sintra Portugal – What to do, Where to eat, hotels and much more!