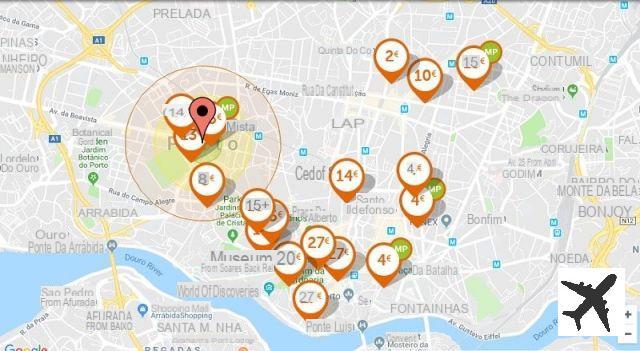 Are you planning to come to Oporto? You're quite right. And to avoid parking anxieties, here is our complete guide to cheap car parks and Porto's traffic rules.
Plane tickets, accommodation, visits... you've finally booked your stay in Porto and you've done very well: the undefeated city has a thousand and one assets to seduce you. But you're probably wondering how you're going to be able to park in a city known for its difficult parking.
If you plan to stay more than three days in Porto, renting a car or simply taking your car with you may be a good solution to enjoy the beauties of the city and its surroundings. But when it comes to cars, parking is often a headache, especially in Portugal's second largest conurbation. Don't panic, here are our tips to help you park in cheap car parks in Porto!
Also read :
The 14 must-do things to do in Porto
Find out in which district to stay in Porto
Car hire in Porto: advice, rates, itineraries
Parking in Porto: free parking in the street
Parking for free in Porto is a real challenge, if not an impossible mission. If some streets in the city centre are free, you have to get there early to hope to find a space: you have to come very early in the morning, before the Portuguese office hours, between 9 and 10 am. And since you're here for the holidays, getting up at dawn to find a place with no guarantee is not necessarily the right plan of the century.
The right solution to save money? Park in a slightly more remote but often free area, close to public transport. For example, you can leave your car in Vila Nova de Gaia and go to the city centre via the Dom-Luis Bridge or park near the metro stations outside the city.
Parking in Oporto: paying to park on the street
There are a multitude of parking meters in the city of Porto, so if you are willing to pay to park in the city centre, you should easily find one that suits you. However, make sure you have the parking meters in sight, as they will give you all the information you need about parking times and rates, because the Portuguese don't mess around with fines.
Also be careful if you decide to park in a residential area: some streets are reserved for residents, and require a resident card - cartao de Residente - while other spaces are reserved for embassies, taxis or the police. So even if you don't speak a word of Portuguese, keep an eye on the signs.
Cheap parking in Oporto: paid car parks
There are a multitude of paid car parks in Porto, most of them covered. As far as rates are concerned, the price varies between 15 and 30€ for the day, with some of them offering the possibility of staying overnight, such as the Irmaos Rocha car park (11.70€ per night).
The cheapest car parks in Porto are the Palacio de Cristal, at 12€ per day, the Cristal Park at 15€ per day or the Lapa, which offers the advantageous rate of 3€ for 7 hours of parking. A great way to save money!
The other trick is to reserve your car park in Porto beforehand. The advantage is that by booking online, you can always cancel without charge, you are flexible in terms of arrivals, you have a guaranteed place in a covered and secure car park and above all, you no longer have to worry about the availability of a space. What's more, booking in advance allows you to save money.
Cheap parking in Porto: free car parks
Another good surprise: there are free and covered car parks in Porto. Although they are a little out of the city centre, they are nevertheless an economical alternative for parking in Oporto.
Among them are the Arrabida Shopping, near a shopping centre, and the Edificio América. And for motorhome owners, there is also the Aparcamiento Autocaravanas.