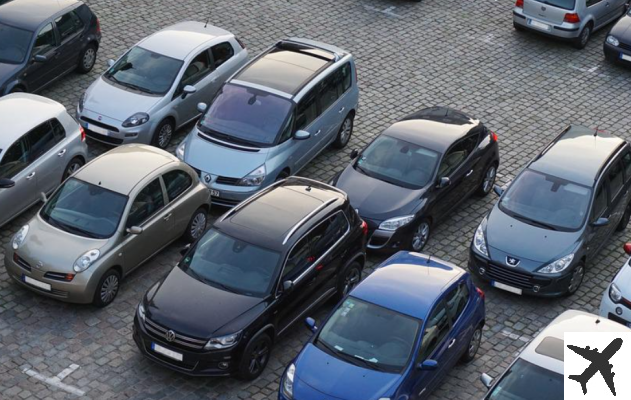 Planning to visit Faro by car? Whether you rent a car or not, having a car will make your life easier. If you plan to stay more than 3 days in Faro and want to get to some of the sights, it's almost certain that using public transport may limit your possibilities. At For Travel Lovers we tell you where to park in Faro during your stay in the city - take the car and travel at your leisure! ;)

Discover cheap parking in Faro
Vale do Lobo beach is nearby, but without a vehicle, you will not be able to discover its charms. Also, owning a vehicle will allow you to visit the beautiful Algarve region in the south of Portugal, and maybe push the adventure towards Lagos or Sagres.

If you come by car, the question of parking will come up at some point - where to park in Faro? More importantly, where can you find cheap parking in Faro? To help you plan your trip, we've created a guide to the best parking in the city.
Parking in Faro: on-street parking for a fee.
If you want to park in Faro on the street and pay for it, note that it is possible. However, it is not the best solution. In the city center, parking spaces are reserved for residents and bans are for visitors. You will also be able to find spaces outside the center, but often limited to hours or days. In addition, there is no guarantee that your vehicle will not be damaged.
On-street, the best cheap parking spots in Faro are:
The station parking lot.
The open pay parking lot
Outside the summer season is when more places become available to be used, these types of spaces are easier to find outside the period between July and August.

Cheap parking in Faro: free parking on the street.
If you want to save money and do not want to pay for parking, an alternative is to take your car outside the parking areas. However, free spaces are extremely rare in the center, especially during the summer season. Free on-street parking spaces are often well known and popular with locals, who occupy them in the morning. Free spots can also be found on the outskirts of the city.
If you come for the day and decide to park, you should know that free parking is available near Faro Cathedral. Here is its address: Largo de São Francisco 26, Faro, Portugal (GPS coordinates: 37.01208,-7.931982). Even during the summer period it is possible to find a place. However, beware of scams: ushers will not hesitate to direct you to your parking space and then demand payment. You can politely decline and look for a space at the back of the parking lot to avoid inconvenience.
If you plan to park for a long time in Faro or are looking for a safer option, there are excellent options to choose from. You will be able to make use of public or private pay parking at your convenience.
Parking in Faro in a secure pay parking garage
To park in Faro as close as possible to the center, without risking even a scratch on the bodywork or theft, the best solution is obviously to choose a paid parking lot.
In general, parking prices in Faro in a paid parking lot are reasonable. In the city center, we recommend the covered parking lot at Parque Saba da Pontinha. This is the safest parking in Faro and the closest to the tourist attractions. The minimum charge is 10 euros per day. Attractive rates for advance booking can be found on the Parclick website.
There is also other cheap parking in and around Faro:
Faro vehicle storage.
Park & Fly - Faro Airport
Faro vehicle storage - Aeroporto de Faro - shuttle
Faro Parkering (sometimes open for free)