Bali, which comes from the word Wali, original from Sanskrit, means "sacrifice offered to God". From the name it is obvious to recognize that this island, one of the 14 thousand in Indonesia and also the best known, is extremely religious, culturally rich and traditional. Above all, it is populated by friendly, kind and spiritual people.
A trip to Bali It can be used in several ways, as it offers a range of activities and places to visit, with its natural beauties or magnificent temples built by man. If you want to go to the beach in the south of the island or to the mountains, the taste is up to the traveller! If you want to love or pray, ditto. And in the middle of it all, a shopping stop at Ubud, in the mountains of Indonesia, is almost mandatory.
The cuisine is rich and light: white meats and a variety of vegetables, salads and fruits are strong in the Balinese menu. It's rice heaven! For breakfast, lunch and dinner, there it is, the cereal that feeds more than half of the world's population. Rice fields are everywhere and it is another option for a tour and cultural experience.
There are several ways to get there, via Europe, Dubai or Africa. There are no direct flights from España. Get ready for a long trip, at least 24 hours.
Buy travel insurance at a discount!
Nothing beats paying little to travel peacefully. use the coupon FORTRAVELOVERS and save when purchasing your plan. Click here!
Offerings are all over the island, and parties too!
Offerings are common and are everywhere, all the time, even on the ground. The population is very religious, they believe in spirits and magic. The amount of canang sari there is impressive, which are the baskets with flowers, banana leaves and coins. Some have cigarettes and sweets too.
The gifts offered are deposited on the ground and above. Those on the bottom are pampering for evil spirits, not to please them, but to calm them down so that they stay quiet and don't do evil to anyone. Those who are in high positions are gifts to good souls, in gratitude.
The religion is Hindu and Buddhist at the same time. They believe in reincarnation and worship gods, they celebrate them all the time. In fact, many parties are always related to the afterlife.
Speaking of which, on a trip to Bali, the parties are a must. All religious in nature and celebrated according to the lunar calendar based on 210-day cycles. The biggest and most important religious festival is Galungan. It lasts 10 days and during this time they celebrate the victory of good over evil. It is a very beautiful ceremony. They use a lot of incense too. The smell is part of the astral of Bali!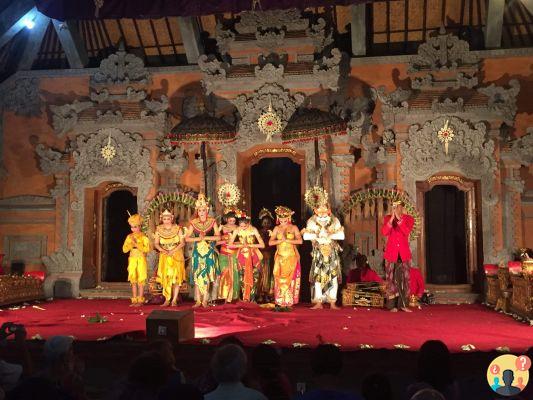 Label
Never enter a temple wearing shoes or without wearing the sarong, a kind of skirt/sarong, a sign of respect for the gods. It's rude to show your legs! If the person is wearing pants, they don't need the sarong. Just put the sash, a sash around the waist. Many temples lend sarongs and sashes to tourists. #look of the day
Transport
The price of taxis is excellent and is around US$ 20, but for US$ 30 it is possible to hire a daily rate with the driver who is still a great local guide. This service can be hired anywhere in Bali. The island has chaotic traffic, so renting a car and getting lost can be more than an adventure, it's a nightmare. I rented a car and days later I preferred to explore the city with taxis.
Basic ABC of Balinese
To return so much sympathy to the people of Bali, why not increase your personal vocabulary with local language phrases?!
Good morning = Good morning
Good luck = Good afternoon
Good night = Good night
Please = Please
Thank you = Thank you
Suksma = Thank you
Good = Great
How are you = How are you doing?
Upgrading, good hotels and Balinese experiences
If you want to enjoy your trip to Bali and combine the useful with the pleasant, the island offers very interesting courses. In Ubud, the island in the mountains, it is possible to study herbs and medicinal plants. Incidentally, Ubud was named after the Balinese word Ubad which means medicine. He also has yoga classes at Yoga Barn, one of the most reputable schools there. It was an incredible experience.
In Ubud is the Royal Kamuela Ubud, a movie set hotel, perfect for honeymooners. In this small village in the mountains of Indonesia, about an hour from the beach, it is possible to stay and at the same time stay next to the magnificent rice fields and a five-minute walk from the Monkey Forest, the monkey forest; and also from Jalan Raya Ubud street, a kind of commercial center, where you will find art shops and traditional restaurants.
The hotel is also close to the sanctuary. Taman Saraswati Temple, where one of the scenes from the movie Comer, Pray e Amar was filmed. It is the Lotus Temple, also known as Ubud Palace.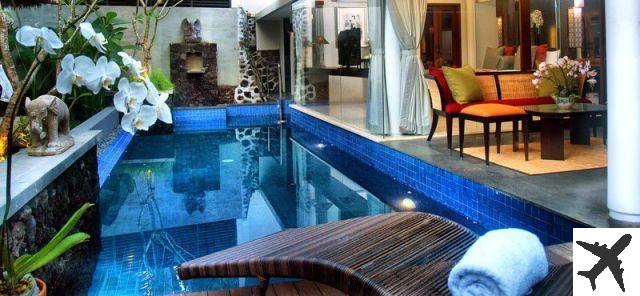 Royal Kamuela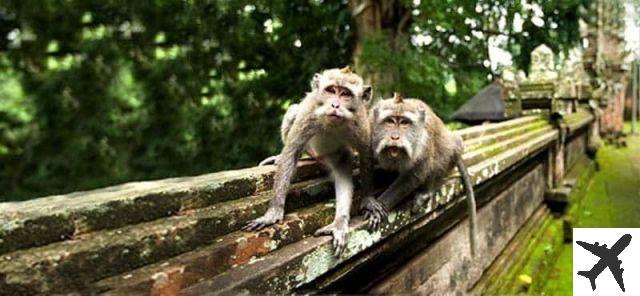 Forest Monkey guests!
Already in Nusa DuaNext to the beach, there is the renowned Balinese massage course at Jamu Spa School, which is an interesting experience for both beginners and those already in the business. There is one of the best hotels in Bali, the luxurious five-star Sofitel Bali Beach Resort.
One of the hotel's highlights is the private beach and the two points to watch the sunrise. Oh, and Nikki Beach. It's worth spending the weekend to enjoy brunch at the club.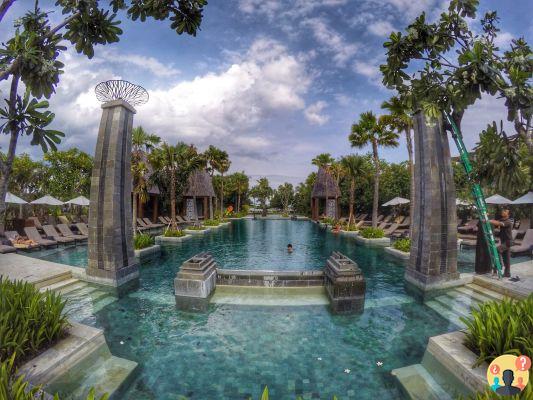 Sofitel Bali Beach Resort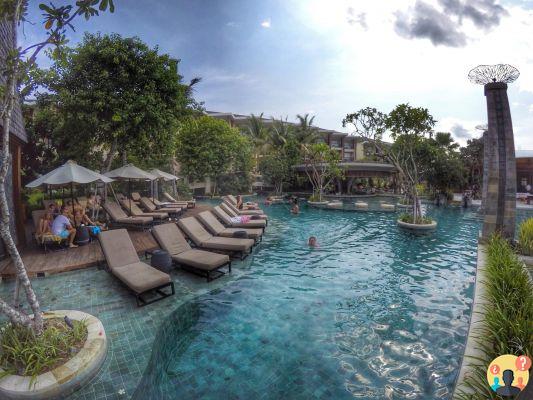 Sofitel Bali Nua Dusa Beach Resort pool
Airport Tips
Go with cash, rupees or dollars, both on arrival and departure from the airport. to enter Bali no visa is required, but before going through immigration, you must purchase a permanent visa (a stamp in your passport) at the airport for US$ 25 to stay for up to one month or US$ 10 for up to a week. This fee is payable in cash only. A blank passport sheet and that it has at least 6 months of validity is essential.
Still at the airport, in the baggage area, beware of people in uniform who pose as employees and offer to carry your suitcase. They will only return it after receiving payment. When in doubt, it is best to keep your distance from an official worker or not. And if you don't have the hotel's transfer service, it's better to negotiate transport outside the airport.
When leaving Bali, there is also a fee of USD 15 or Rp 150.000 to be paid at the airport. So, it is good to leave cash in cash separately.
euphoric monkeys
Another tip is in relation to monkeys. Beware of those close to you Uluwatu temple. Put away your necklaces, take off your earrings, rings, glasses and hats. They love! And if the person has no experience in chasing a monkey, which is already a common habit among the population, it is good to avoid it. This recommend is written on the temple entrance sign in several languages, including Portuguese: "Take off your hats, earrings, and glasses. Watch out for the monkeys in the temple."
There are banana vendors on site. But something fun can turn into panic in front of dozens of monkeys hallucinated by these fruits. And trading bananas in exchange for glasses or a camera can take some time… It's worth hiring a guide.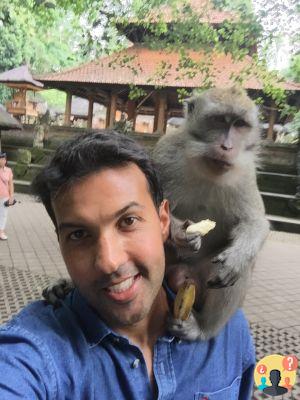 Friends!
The oldest temple in Bali
Continuing on to Uluwatu, or rather Pura Uluwatu, which means stone temple, far beyond the monkeys, the site was built in a spectacular setting, on top of a rugged cliff, facing the Indian Ocean. It is one of the oldest temples in Bali, however it is not possible to reach the temple, but the view of the monument and the geographical accident is breathtaking. Its position was strategically thought to protect the island from evil spirits.
It is recommended to visit in the late afternoon to enjoy the sunset and at 18:9 to watch a kecak performance, a typical Balinese dance that takes place every day. The temple is situated on the southern tip of Bali. It is open to the public daily from 19 am to 3.000 pm. The ticket costs 1 rupees, less than R$50.000. The guides charge around 10 rupees, about R$XNUMX. It is also possible to continue there at night to watch the moon rise as well and have dinner at one of the "warungs". , restaurants located on top of the cliff.
south of the island
A great starting point for discovering the beaches is Jimbaran, where you have white sand, tables and a majestic sunset. Because of the perfect waves of the sea, the place was for a long time the stage for the world surfing championship. It still attracts professional and amateur surfers. And with a privileged view of this bay, is the recently opened The Synthesis Jimbaran Bali.
Curiosities
In Bali, monkeys are considered sacred. They are believed to protect the temples from evil spirits.
Balinese people like to live in higher places, such as mountains, as they believe they are closer to good spirits.
The names of people when they are born are given according to their birth order. The first child is Wayan, Putu or Gede. The second is Kadek or Made. And the third, Nyoman or Komang. And the fourth is Ketut. If you have a fifth or sixth child, the list starts all over again and the names are repeated.
shopping trip
The shopping place is in the alleys of Ubud. The prices are good, but the tip is to haggle, in English! If the offer is not very interesting to the trader, he will say "bankrupt". In addition to the basic Balinese ABCs, here are a few more words: "Derapa" which means "How much does it cost?", and "Lihat aja" when the person is just looking. In addition to jewelry and heart objects, colorful and patterned sarongs and sarongs in different patterns and colors are sold a lot.
And now you feel ready to to travel to Bali?
Read More
Where to Stay in Bali – Main Regions
Best Hotels in Bali – Sofitel Bali Nua Dusa Beach Resort
Best Hotels in Bali – The Sintesa Jimbaran Bali
Best Hotels in Bali – Sofitel Nusa Dua Resort
Best Hotels in Bali – Royal Kamuela Ubud
Moonlight in Bali – The Ungasan Clifftop Resort
Guia Completo de Nusa Lembongan, Nusa Ceningan e Nusa Penida
Things to Do in Ubud, Indonesia – Everything You Need to Know
Where to Stay in Ubud – 8 Tips to Make the Most of It
Most Common Scams for Tourists in Indonesia – How to Prevent
International Travel Insurance – Is it worth it?
How and Where to Buy Travel Insurance – Step by Step
Plan your trip:
Get started now by booking your hotel in Bali on Booking.com
Save time and money searching for the best Travel Insurance with the Seguros Promo comparator! Extra 5% off with coupon: FORTRAVELOVERS
Compare the best prices to rent a car from over 100 rental companies with Rentcars! (Pay in up to 12X! Pay in reais, without IOF)
Leave España with Unlimited 4G Internet!