Setting up an itinerary for Indonesia is not an easy task. The country is made up of more than 17 paradise islands in the middle of the Indian Ocean. Bali is the most famous of them and the one that has the most structure for tourism.
The warm waters, tropical climate and low prices attract visitors from all over the world to the Island of the Gods. Not to mention the joy of the people that contagious and enchants – and reminds a little of the good Brazilian energy.
Last year, we spent a month discovering the entire island of Bali and the Gili Islands. But it's not easy to visit all of Indonesia in one go (especially if you want to spend a good part of the trip surfing, as was our case).
We fell in love with the country and taking advantage of our proximity to Indonesia (we are living in Australia) we decided to go back there to spend 5 days between the Nusas Islands: Nusa Lembongan, Nusa Penida and Nusa Cenigan.
After the visit, I realized that these islands needed a guide just for them – because they are indispensable for those who enjoy nature and beach trips.
Be prepared with travel insurance!
Having insurance at the time of the squeeze makes all the difference.
Click here and get yours (use the coupon FORTRAVELOVERS for 5% off)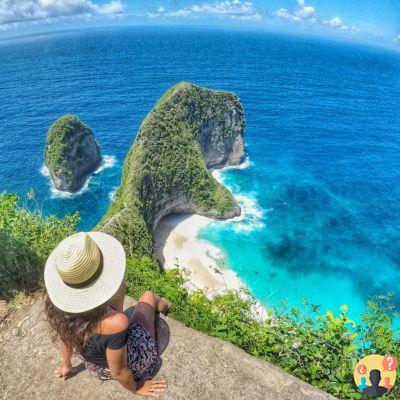 As Nusas
The three islands are close to Bali, about 45 minutes by Ferry, and are next to each other. Nusa Lembongan and Nusa Ceningan are linked by a bridge. Already Nusa penida It is 15 minutes by boat from them.
Nusas still retains a lot of untouched nature, paradisiacal cliffs, crystalline turquoise blue lagoons and excellent diving and surfing spots. The Hindu religion, with Buddhist influence, is predominant. The energy of incense, of offerings, of the humility and sympathy of the Balinese is very present in Nusas, in an even more rooted and profound way.
Commercial tourism and large hotel chains have not arrived in Nusa Penida. The result is still little infrastructure for travelers, potholed streets, few options for restaurants and hotels, but an even deeper experience in Balinese culture. Don't expect anyone speaking English there, get ready to mime and discover unexplored charms of the region, nature and cuisine. And yes, Penida is the most beautiful island among the three Nusas and a visit is essential.
Nusa Lembongan and Nusa Ceningan are more developed by tourism. Nature is still untouched, but not as lush as the great Penida. If you are not willing to live an adventure in Penida, one option is to stay based in Lembongan and close boat trips and day-trips in Penida (it loses a little the essence of the trip, but guarantees comfort).
When to go to Bali?
The best time to visit Bali is between April and November, dry season there. From December to March, the rainy season, the garbage from the other islands is dragged to the sea and everything is just a mess. It is very sad to see nature in this state, full of garbage. I was very frustrated and annoyed, and I really don't recommend visiting Bali at that time.
Bali Itinerary Tips:
If you want to do all the islands near Bali in one trip, I would recommend the following itinerary: at least 10 days in Bali (between Uluwatu, Semyniak, Ubud), 4 days in the Gili Islands and 4 days in Nusas. Hence, there is still a little time to enjoy other nearby islands such as Java, Lombok or even Komodo. Or even go to other Southeast Asian countries.
How to get from Bali to Nusas
The easiest way to get from Bali to Nusa Lembongan ou Nusa penida is to take a ferry that leaves from Sanur Bay, Bali. Sanur is about 20 minutes from Bali airport (the weather is traffic free – but it's always good to have him in Bali).
We closed the transport with Maruti Express and we recommend it! They responded to our emails quickly with the information we asked for, have WhatsApp support and are well organized (by Bali standards, lol!). They offered transfer from the airport or our hotel to Sanur, round trip by Ferry and then transfer to pick us up at our hotel in Nusas and drop us off at the airport or hotel in Bali. All this for 400.000 rupees per person (about 35 US dollars).
Here are the details of Maruti Express for you to contact (if they don't offer the same price, just negotiate and they should close!): Phone: +62 361 9381438, Email : [email protected]
We took the first ferry of the day, at 7:30 in the morning (but it left at 8:30 – so count on delays, lol!) Nusa penida and we arrived in 45 minutes. It turned out great!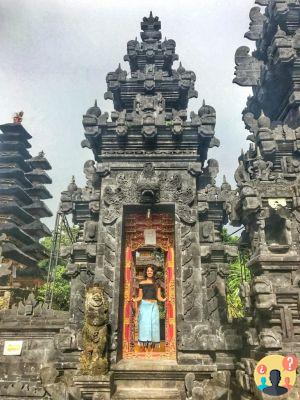 How to get around in Nusas
It's not easy to get around in the nude. Nusa Penida then, don't even talk! As the island is big, everything takes time (it takes more than 1 hour to cross it from north to south). Also, the streets are narrow and VERY, VERY bumpy. Mainly those that connect to beaches and main attractions.
We rented a motorbike for about 5 US dollars a day. I don't recommend the adventure for anyone who doesn't have years and years of practice and experience driving the scooters. Everyone ends up taking a tumble at one time or another. This was the case for us and for almost all the tourists we saw in the same situation as us. On the other hand, scooters give you more freedom when it comes to exploring, getting in touch with the locals and doing things on your own time.
Already in Nusa Lembongan and Nusa Ceningan the streets are a little better, but still far from good. So if you want more peace of mind, hire a driver to take you up and down. They charge super cheap prices. You can hire one for around 20 or 30 dollars to spend all day with your group, in small, air-conditioned vans.
All this is arranged there on time. You will arrive from the Ferry and there will already be people offering it. Or you can order at your hotel.
Things to do in Nusa Penida
Nusa penida it's one of the islands most fantastic places we visited near Bali. The landscapes are stunning, with towering cliffs and a crystal clear turquoise sea. The only problem on the island is the lack of structure and difficult access to the main points.
The hotels are located in the northeast of the island, in the city of Batoemoenggoel, while most attractions are to the west and southwest of the island. We decided to stay close to the city to be close to restaurants and shops. And from there, we made a plan to visit each region one day.
We spent a day getting to know the east side, like the Atuh beach and the Cave Temple. Another day exploring the south, like Klingking Beach, Pura Puncak Mundi temple, Angels Billboard and Broken Beach. On the last day, we did a snorkeling tour through 4 spots (including manta rays) that lasted all morning. Then we asked the snorkeling boat driver to drop us off at Nusa Lembongan at the end of the tour.
Klingking Beach
Nusa Penida's postcard is the Klingking Beach. Just by looking at the picture, you can understand a little why, right? The beach is somewhat reminiscent of Navagio Beach in Greece, only in a tropical climate. It is possible to go down to the beach by a trail with very little structure.
It was assembled with wooden branches and ropes by the locals, between rocks and earth. It's a little dangerous, yes, you need to take a lot of water to withstand the high temperatures and wearing flip-flops is not a good idea (own experience, lol!). As you can imagine, it's also a nice vertical descent. It took us about 40 minutes to go down and 40 minutes to go up afterwards. Downstairs, the beach is beautiful, but the sea is very rough and strong.
In the rainy season (November to March), the rubbish (which we mentioned above) ends up on the beach. It's very sad, so I don't recommend going at this time.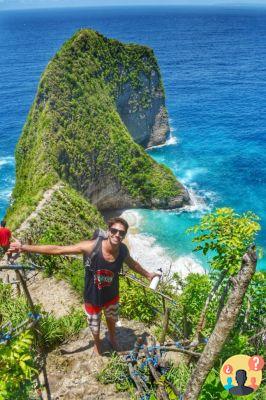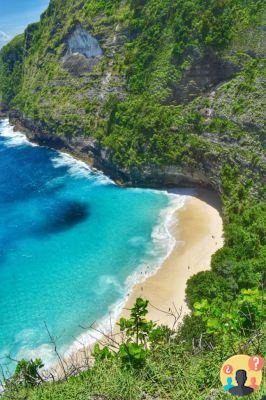 Angels Billboard
About 40 minutes by motorbike from KlingKing Beach is Angels Billboard. It is one of the essential stops on the island. The natural pool is beautiful, facing the sea, and you don't need any trail to get there.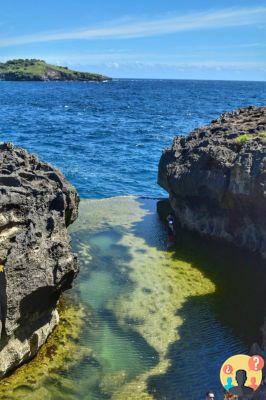 Broken Beach
Walking a little, about 3 minutes, further ahead of Angels Billboard, is Broken Beach. The beach is an impressive "hole". The crystalline blue enters under the natural bridge and forms a beautiful beach (but there is no access). Be sure to walk up to the natural bridge and see the Mantas rays that are swimming on the surface on the other side, in the open sea.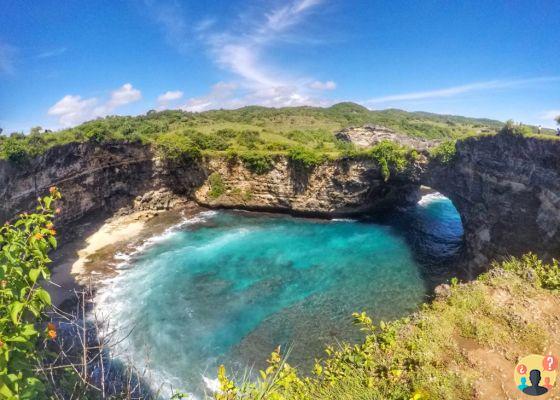 Atuh beach
A Atuh beach is on the east side of Nusa Penida Island. It's a little far from the other attractions, but it's very beautiful. I recommend meeting her on the first day on the island, and on the second going to Klingking. Atuh Beach is the best beach on the island to spend the day. Downstairs, there are small restaurants and bars to drink coconut water. In addition, the sea is very calm and pleasant for swimming.
Take a look at this video and tell the truth if this place is not WONDERFUL-SO
Cave Temple – Goa Giri Putri
O Goa Giri Putri it was one of the best surprises of our visit to Nusa Penida. It is a Hindu temple built inside a huge cave on the island. You enter the temple through a small crack in the rock and you will be surprised at the size of it all. It's beautiful, impressive and wonderful! It is close to the island's main town, Batoemoenggoel.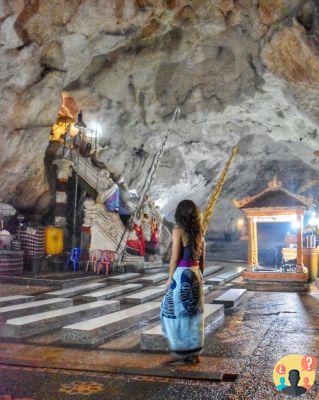 Pura Puncak Mundi Temple
This temple was also a really cool discovery! We hadn't seen it on any website, it was a suggestion of a location we found when we were in the middle of the island. He spoke in Indonesian to us, and I don't know how, we understood, lol! The temple is at the highest point of Nusa Penida, guaranteeing incredible views on the way to it. Arriving there, it is a small temple, but very beautiful. Be sure to see the dozens of monkeys that live in the surrounding trees.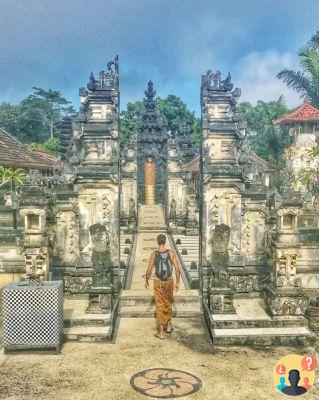 Snorkel Tour (including Mantas Rays)
Taking a snorkeling trip or diving in Nusa Penida is one of the most essential attractions there. Mainly diving with manta rays. They are beautiful, giant and super curious! They come close and are super docile. Of course, treat them with respect and don't keep trying to pass the hand. They are there to be appreciated from afar, with all the care in the world.
The snorkel tour includes another 3 points. The point with the statues at Ceningan Channe, Gamat Bay and Crystal Bay.
My frustration was once again the garbage, which we found because we traveled during the rainy season. Plastic has been causing immense, alarming and super harmful damage to oceans and marine life. However, I had never seen it so closely. I was only able to stay in the water for 5 minutes with them, because I was very uncomfortable with the situation I saw there. So I repeat, try to go to Bali only in the dry season. Who knows, with the drop in tourism in the rainy season, they might not try to take measures to be more careful with garbage and preserve the environment?!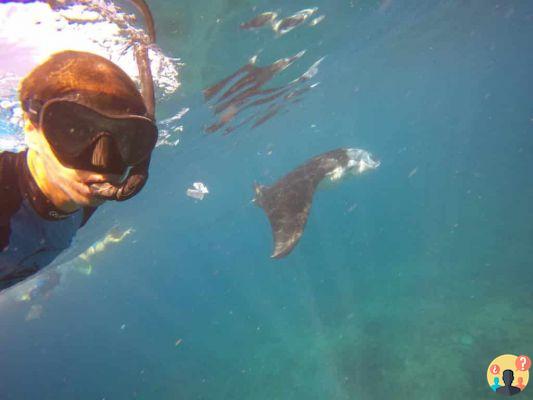 Map with diving spots and attraction of Nusa Penida
I love maps, especially the ones you only find when you travel. They give a lot of clarity on where the main attractions, dive spots and the city are. Therefore, I share with you one of the maps of our trip. What I've highlighted in blue are some of the places I mentioned above and others that I'll mention below.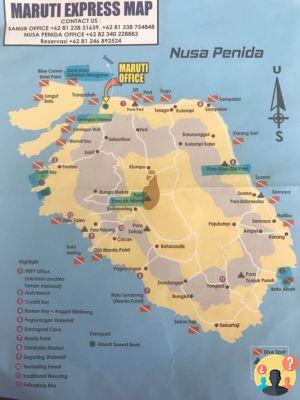 Where to stay in Nusa Penida
Song Cang Bungalows
we stayed in Song Cang Bungalows, in Nusa Penida, close to the city of Batoemoenggoel. The small hotel has 3 super charming bungalows facing the sea. The hotel's strong point is the sunrise, which rises from the sea, in front of the hotel room. Just open your eyes, still in your bed, and see the sun rising. I think this is one of the most amazing experiences! All this for about $35 a night (sounds like a joke, right?).
The people who work there are super kind and attentive, but they don't speak English well. The location is good (it is close to the cave temple and good restaurants).
The room is spacious, but everything is very simple. The shower is hot (a luxury on the island). Breakfast comes to your room and you have the option of an omelet or a banana pancake. Oh, just be careful with the water! Do not brush your teeth with the water in the sink, always use mineral water if you are not in a luxury hotel.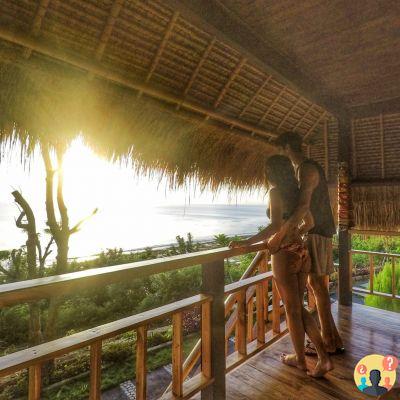 Song Cang Bungalow – Photo: publicity

Song Cang Bungalow – Photo: publicity

Song Cang Bungalow – Photo: publicity

Song Cang Bungalow – Photo: publicity

Song Cang Bungalow – Photo: publicity
MAKE YOUR RESERVATION OR LEARN MORE ABOUT THE HOTEL HERE
Other great accommodation options in Nusa Penida are hotels:
The Red Bungalows
La Roja Bungalows – Photo: publicity

La Roja Bungalows – Photo: publicity

La Roja Bungalows – Photo: publicity

La Roja Bungalows – Photo: publicity
Bataran Garden Cottage
Bataran Garden Cottage – Photo: publicity

Bataran Garden Cottage – Photo: publicity

Bataran Garden Cottage – Photo: publicity

Bataran Garden Cottage – Photo: publicity

Bataran Garden Cottage – Photo: publicity

Bataran Garden Cottage – Photo: publicity
Semabu Hills Hotel Nusa Penida
Semabu Hills Hotel Nusa Penida – Photo: publicity

Semabu Hills Hotel Nusa Penida – Photo: publicity

Semabu Hills Hotel Nusa Penida – Photo: publicity

Semabu Hills Hotel Nusa Penida – Photo: publicity

Semabu Hills Hotel Nusa Penida – Photo: publicity

Semabu Hills Hotel Nusa Penida – Photo: publicity

Semabu Hills Hotel Nusa Penida – Photo: publicity

Semabu Hills Hotel Nusa Penida – Photo: publicity
Discounted hotels in Nusa Penida, Indonesia
Things to do in Nusa Lembongan
Nusa Lembongan It is one of the most famous islands in the Bali region. It is even closer to Bali, about 30 minutes by ferry from Sanur. The island is very small, it is possible to go around it in less than 1 hour by motorbike. It is also connected by the Yellow Bridge with Nusa Ceningan. It is possible to see all their attractions in 1 or 2 days.
Nusa Lembongan it is the most structured island of the 3 islands. The hotels are great, the restaurants too and there are several beach clubs with happy hours. We ate some of the best Japanese of our lives there! In addition, the prices are still very affordable and the experience is worth it.
Surfing is one of the great attractions of Nusa Lembongan and Nusa Ceningan. So if you surf, you can book a trip there! There are several wave points, with perfect formations and for all levels. If you want to learn to surf, the playground spot is one of the best in the world for that!
We stayed in one of the best located and most complete hotels on the island. In front of Mushroom Bay (the most beautiful bay there and with the main restaurants), is the Coral reef. We talk more about the hotel below.
Mangrove Forest
Mangrove Forest is a quick walk, about 20 minutes, but very enjoyable. The silence of the trees, the peace of nature and the tranquility of a boat without a motor, in the mangrove, is a delight. It is possible to take the boat tour, with a local, for around 8 US dollars (100.000 rupees) or by kayak.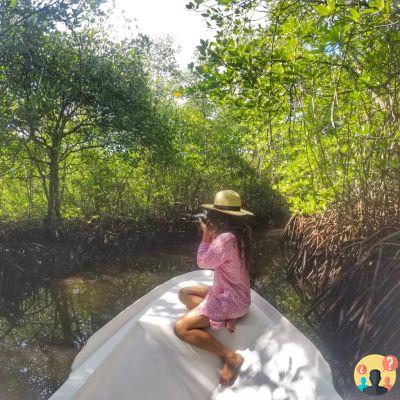 Dream Beach
A Dream Beach is one of the most famous beaches in Nusa Lembongan. No wonder, it is one of the most delicious to spend the day too. The sea is super calm and the beach has nice restaurants. It is about 15 minutes by motorbike from Mushroom Bay.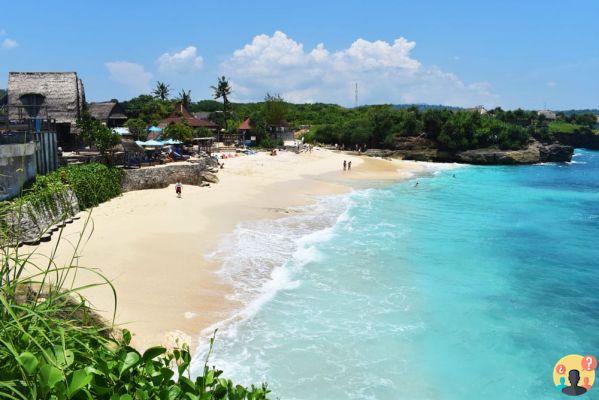 Devils Tears
Devils Tears is right next to Dream Beach, walkable. It is a cliff on which the sea hits hard and forms a large smoke of water. It's a very interesting stop!
Where to Eat in Nusa Lembongan
Oishii Bar & Grill
Don't be fooled by the super simple facade. O Oishii Bar & Grill It's one of the best Japanese food restaurants we've ever been to, at very, very affordable prices (as usual in Bali). The sushis are of high quality and the atmosphere inside the restaurant is delicious. All this without counting the service, which is done directly by the owners of the restaurant. Even without speaking good English, they are very attentive and friendly!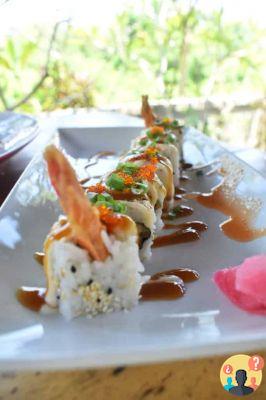 The Deck
O The Deck is one of the coolest bars in Nusa Lembongan. It is part of Batu Karang, and offers several delicious drinks and snacks to watch the sunset.
Ware Ware Rooftop Bar
O Ware Ware Rooftop Bar It is very close to Batu Karang, in front of Mushroom. It's also a super cool option to watch the sunset, enjoy the happy hour (buy one get one get one drinks with drinks) and dine under the stars.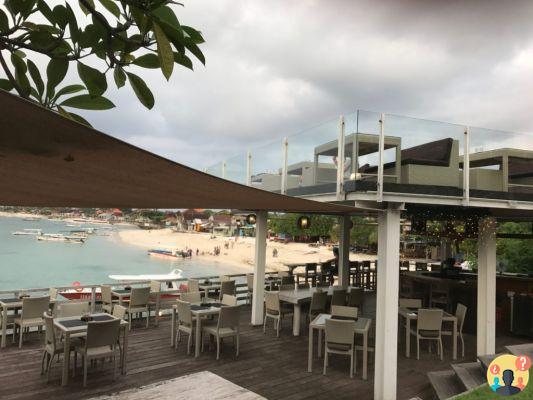 Where to stay in Nusa Lembongan
Hotel Rock
O Batu Karang Hotel & SPA it is one of the most amazing hotels we stayed at on our visit to Bali. Facing the incredible Mushroom Bay, the hotel maintains Australian standards of accommodation without losing the wonderful Balinese spirit. Batu Karang sits on a huge vertical site, with around 20 villages currently. The higher you go up the property, the more you marvel at the view.
Rooms are in private villas, accessible on foot or by golf cart. They are spacious and well lit. All have super clean Balinese decor and sea views. Some rooms, like ours (the master suite), even have a kitchen and living room.
The hotel has 3 swimming pools, one of which has a bar service. In addition to space for outdoor massages, a full SPA and a restaurant on the property. We love staying there and we highly recommend the accommodation, especially for honeymooners or those who value comfort. We made a little video of our stay there: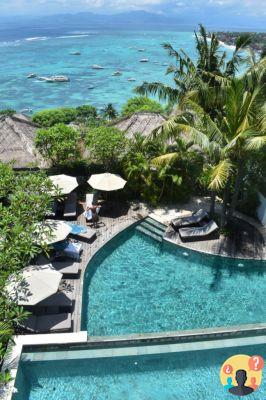 Other great lodging options in Nusa Lembongan:
Dinatah Lembongan Villas
Lembongan Cliff Villas
Discounted hotels in Nusa Lembongan, Indonesia
Things to do in Nusa Ceningan
Nusa Ceningan is the small island that lies between Nusa Penida and Nusa Lembongan. She is really small, but very pretty! You can access it via a bridge that connects it with Nusa Lembongan. The main attractions are Blue Lagoon and the snorkeling with the buddhas (but for that you have to arrive by boat).
Yellow Bridge
To enter Nusa Ceningan you will cross the Yellow Bridge, which is on top of the Ceningan Channel. The canal is already stunning, with crystal clear turquoise water. The bridge contrasts the colors of the canal with a vibrant yellow. It's pretty cool to go through it.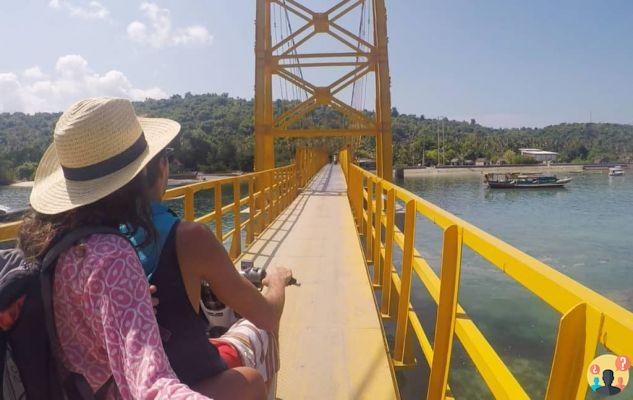 Blue Lagoon
A Blue Lagoon is the main point of Nusa Ceningan. But in fact, it is not a pond. It's a bay in Nusa Ceningan that doesn't give access to the beach. However, the color of the sea is impressive.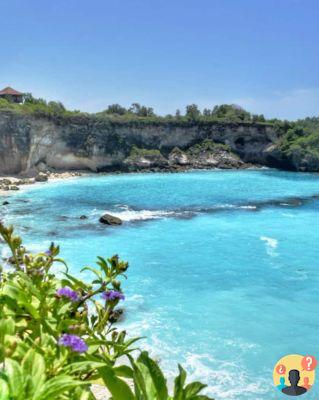 Snorkeling com o Buddha
This snorkeling is fun and can be done in the morning with the manta rays. Very fast too and without much backstory. According to locals, these statues were placed there to become a tourist spot. But everything is fine! Ensure good photos.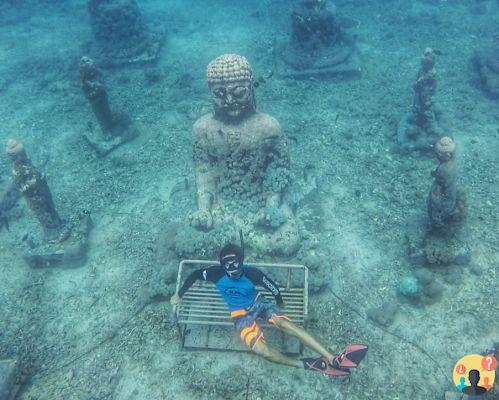 Cliff Jumping & Surfe – Mahana Point
A little further on from the Blue Lagoon is the Mahana Point. To get there, you have to go through a bar. The bar has this view over there, and it even has 2 places to cliff jump (but you have to pay about 2 dollars to jump). This is a good place to surf and have a beer with a good view.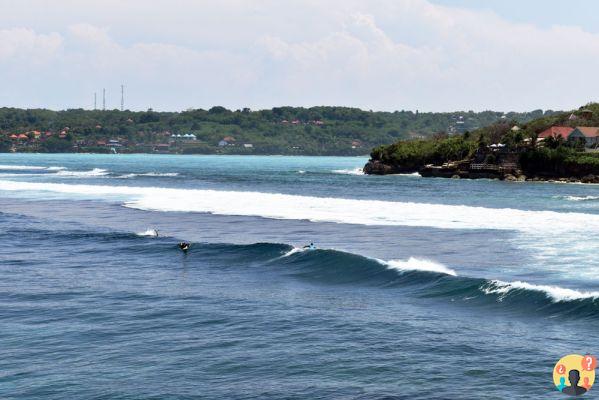 Is that you? Did you like our guide to Nusa Lembongan, Nusa Penida and Nusa Ceningan? Comment here!! If you have any questions, we will gladly answer you.
Why is it worth taking out travel insurance for Indonesia?
You don't want to risk any mishap that could spoil your entire trip planning! You can check out the stories of our columnists who tell why it is worth taking out travel insurance. In any case, the ideal in a Travel Insurance is REDUCING RISKS that can happen on a trip. The "extras" you can choose according to the insurance company's offer: which can cover even lost luggage, theft and theft and even the trip of a family in case of an emergency.
To find good travel insurance deals, we recommend the website Promo insurance. It compares the prices and coverage of the main insurance companies in the world, such as SulAmerica, Assist Card, GTA, Affinity, among others. There, you can check the policies that most have to do with your trip and hire the one you think is best.
As we really like this tool, we got a 5% discount on Seguros Promo for our readers! Just use the coupon FORTRAVELOVERS on the website by clicking here.
Read More
Everything You Need to Know Before Traveling to Bali
Where to Stay in Bali – Main Regions
Best Hotels in Bali – Sofitel Bali Nua Dusa Beach Resort
Best Hotels in Bali – The Sintesa Jimbaran Bali
Best Hotels in Bali – Sofitel Nusa Dua Resort
Best Hotels in Bali – Royal Kamuela Ubud
Moonlight in Bali – The Ungasan Clifftop Resort
Things to Do in Ubud, Indonesia – Everything You Need to Know
Where to Stay in Ubud – 8 Tips to Make the Most of It
Most Common Scams for Tourists in Indonesia – How to Prevent
International Travel Insurance – Is it worth it?
How and Where to Buy Travel Insurance – Step by Step
Plan your trip:
Get started now by booking your hotel in Indonesia on Booking.com
Save time and money searching for the best Travel Insurance with the Seguros Promo comparator! Extra 5% off with coupon: FORTRAVELOVERS
Compare the best prices to rent a car from over 100 rental companies with Rentcars! (Pay in up to 12X! Pay in reais, without IOF)
Leave España with Unlimited 4G Internet!