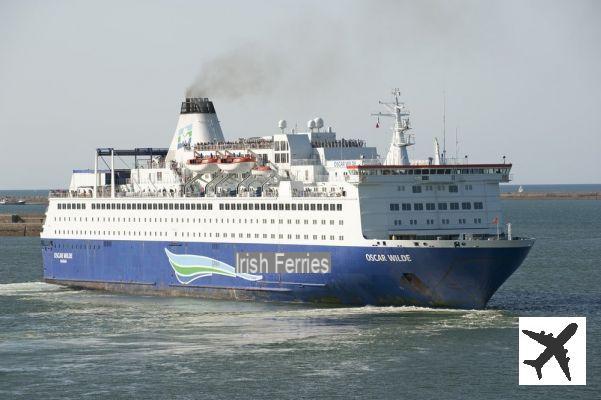 Summary
From which ports do ferries depart for Ireland?
- Ferry crossings from Cherbourg
- Ferry crossings from Roscoff
How's the recording going?
Boarding and disembarking
How do I book my ferry trip?
Do you want to go on holiday in Ireland? Here's our mini-guide with advice on how to get to Ireland from France by ferry!
A land of Celtic civilization and mythology, Ireland is a destination with a captivating heritage. Explore Dublin, its vibrant capital city, by treating yourself to a mug of sparkling beer in a traditional pub or by visiting its mythical university. For nature lovers, take a stroll along hiking trails winding along steep, rocky coastlines. The country is rich in wide open spaces revealing breathtaking views of the Atlantic Ocean. The small Irish villages, witnesses of the country's past and present folklore, will welcome you with open arms to share their cultural richness. You are convinced and wish to explore the one that is still sometimes called Erin in reference to its Celtic heritage? It's a good thing: it's very simple to leave France by ferry to Ireland. Open spaces, plains, lakes and mountains are yours!
Also read :
The 16 most beautiful places to visit in Ireland
The 30 most beautiful places to visit in France
How do I get to England from France by ferry?
From which ports do ferries depart for Ireland?
For a holiday in Ireland by ferry from France, the options are somewhat limited. You have the choice between departing from the port of Roscoff or the port of Cherbourg to go to Celtic land. There are three different ferry companies that share the ferry service to Ireland from France:
Irish Ferries
Brittany Ferries
Stena Line
Ferry crossings from Cherbourg
The port of Cherbourg is located in the department of Manche in Normandy. You will be able to get there by motorway but also by train, as it is directly connected to the railway facilities. There are two ferry routes operated from this one:
Cherbourg - Rosslare: it is operated by only one ferry company: Stena Line. It is a relatively frequent route as it is operated 3 times a week. To reach your destination 17h will be required. Stena Line puts the well-being of its passengers first: a warm welcome and films await you, not to mention your comfortable cabin.
Cherbourg - Dublin: the company operating from Cherbourg to Dublin is Irish Ferries. There too, 3 weekly trips are offered for a duration of about 18 hours. The cruise is fun, and it is the case to say it: your trip will be made on a cruise ferry equipped with Wi-Fi and housing several restaurants and lounge bar.
View ferries between Cherbourg and Rosslare
Ferry crossings from Roscoff
The Breton port of Roscoff is located in the Finistère department. It is accessible by express road from Morlaix, Brest and even Rennes. In addition, the Roscoff and Morlaix stations are regularly linked by a bus and TER service. From the port of Roscoff you can reach Cork, the second largest city in the country, as well as Rosslare, located halfway between Dublin and Cork. For locals, Cork is the big city that best embodies the soul of Ireland.
Roscoff - Cork : you will embark with Brittany Ferries. Count approximately 14h to arrive at port. They operate 2 crossings per week on cruise ferries with restaurants, shops and other services on board so you won't have time to get bored!
Roscoff - Rosslare: Brittany Ferries also operates the Roscoff - Rosslare routes, which take around 13 hours. Depending on the time of the year, she makes 2 to 3 crossings per week. Again, you will travel on a fully equipped cruise ferry.
View ferries between Roscoff and Cork
How's the recording going?
The terms and conditions of your ferry trip to Ireland from France are different depending on the company you are travelling with.
Irish Ferries: report to the door 1 hour before the boat sets sail if you are a pedestrian passenger. If you are travelling with a vehicle, please arrive 2 hours before boarding to obtain your ticket.
Britanny Ferries: the check-in procedure requires pedestrian passengers to be on site 45min before departure.
Stena Line: the company asks its passengers to check in at the boarding gate 45min before the time indicated on your itinerary. The check-in deadline is the same whether you are on foot or with your vehicle.
If you are accompanied by your four-legged friend, always plan to check in early.
Embarkation and disembarkation
If you are not used to taking the boat, please take the time to read the following before making the ferry crossing from France to Ireland. This paragraph is intended to help you avoid some of the surprises associated with the terms and conditions of a ferry trip. However, even if you have never taken a ferry before, don't panic: you will be guided from start to finish by the port staff and crew.
In any case, we advise you to have your confirmation e-mail printed out or on your smartphone beforehand to make your check-in easier.
Of course, take your identity papers with you. Here we are talking about your passport, as this is an international journey. Once you have checked in, you are ready for boarding.
If you are travelling by car, make sure you remember where your vehicle is in the hold before you leave the car park! You are now aware of all the information you need to make your journey run smoothly.
Before departure, don&#8217t forget to put a tube of sun cream in your bag if you are travelling in the summer: it may hit the deck!
How do I book my ferry trip?
An international trip, it's time to get ready! It is therefore preferable to book your ferry ticket to Ireland from France in advance. For this, the most complete solution is to use the Direct Ferries website. This is an international ferry comparison service.
Once you are on the Direct Ferries home page, enter your itinerary information in the box: ports of departure and destination, number of passengers, date and time of travel and any pets and vehicles to be loaded.
By validating the information, you will be taken to the results page. Find out the schedules and fares of ferries to Ireland from France and select the one that suits you best.
At this stage, all you need to do is choose your travel options: do you prefer a seat in a 2-seater cabin? 4 seats? It's up to you to choose the alternative you want before taking out your credit card to proceed with payment. Payment is of course secure.
Don't forget to keep an eye on your inbox, because a confirmation e-mail containing the information necessary for your registration will soon be in it.
View ferries between France and Ireland
Boarding, boy! Enjoy your stay in Ireland!