Manchester is one of the best cities I've ever visited in terms of public transport. The services are frequent, extensive, the cost is relatively low, since we are talking about a city in England. Furthermore, there are even two routes Returns by bus, which pass by most of the tourist attractions. With all these advantages, it's hard to find a reason not to visit this place. Check below for more details about each means of transport and the prices of tickets and passes.
Read also: Itinerary for 1 or 2 days in Manchester, England.
How to get around Manchester by train
Manchester has a great train system, with frequent departures and arrivals from several cities in England, including London and Liverpool. The three main stations in the city are:
Manchester Piccadilly;
Oxford Road e;
Manchester Victoria.
Traveling by train is the easiest way to travel within the UK, as most stations are located in central regions, unlike airports, especially in London, which are far from the center. In addition, it is not necessary to arrive early to go through immigration.
Manchester Public Transport: Tram (Tram)
The tram, known as tram in Europe, or tram if you are from Portugal, is one of the most agile means of transport in Manchester. Altogether there are seven lines, with frequent services. Tickets are sold at vending machines next to the stops. You can either buy individual tickets, which are valid for just one trip, or a pass for the whole day. Stay tuned and always keep the pass with you, as there are no turnstiles, inspectors can request the ticket and if you don't have it, the fine is £80. The service is provided by MetroLink.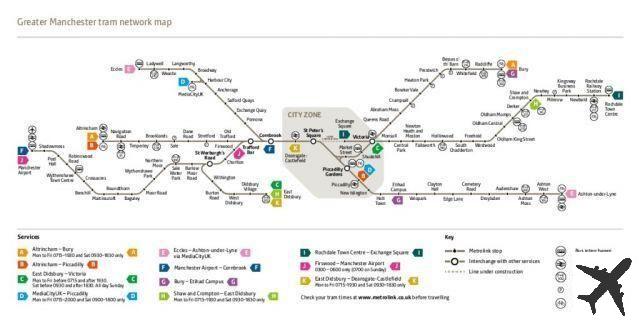 Manchester tram route. Source: MetroLink website
Manchester public transport: Bus
It's easy to get around Manchester by bus, local lines serve 26 routes, including Manchester Airport. The stops are close to each other and tickets can be purchased from the driver, no problem. Single tickets cost £1,40 per journey or £2,40 for the whole day (zone 1). At night, the service continues, with the "Night Bus Service", passing through the main regions.
Manchester free bus (Free Bus)
When I visited Manchester I didn't spend a penny on public transport, but calm down! I didn't go clandestinely without paying. Is that the city has three bus lines, which pass through the main tourist attractions of the city totally free! That's right, from graça. The service has recently undergone changes, with the switch to two routes and coverage times with a frequency of 10 minutes between buses. Check the map below and more information on the TFGM website.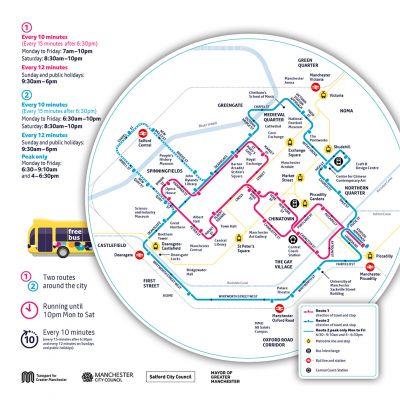 Manchester free bus routes. Source: TFGM website
Tip: Buying the pass TravelCard Unlimited travel throughout Greater Manchester is possible using any means of transport. Values ​​start from £5,80. On the System One Travel website you can simulate the value of the desired ticket.
For those who like bikes, it is still possible to use a shared bicycle system, Spinlister, which works similarly to Uber.