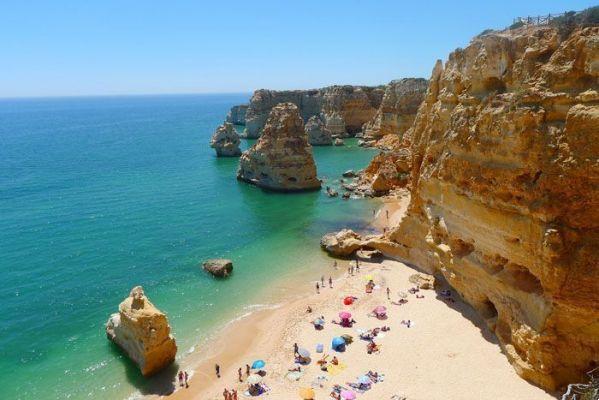 Welcome to ForTravelLovers.com, where you will find all the information you need to plan your trip to Portugal. In this article, we will present you the most essential places to visit in this beautiful country, from the most famous cities to the unknown corners that will surprise you. Get ready to discover the magic of Portugal!
Unmissable cities in Portugal
Portugal has cities full of history, culture and architectural beauty. Here we present some of the most notable ones:
Lisbon
The capital of Portugal is a place that you cannot miss. Stroll through the narrow streets of the Alfama neighborhood, admire the majesty of the Belém Tower and enjoy the panoramic views from the Castle of San Jorge. Don't forget to try the delicious pastels de nata, a typical sweet of the city.
Porto
Known for its Port wine and its iconic bridges, Porto is a city full of charm. Tour the Ribeira, the historic neighborhood next to the Douro River, and visit the wine cellars to taste this delicious drink. Don't miss the opportunity to cross the Don Luis I Bridge and enjoy the panoramic views of the city.
Coimbra
Coimbra is a university city with a vibrant atmosphere. Visit the University of Coimbra, one of the oldest in Europe, and explore its impressive baroque library. Stroll through the cobblestone streets of the old town and enjoy traditional Portuguese music, Fado, in one of the local restaurants.
Tourist places and things to do in Portugal
In addition to its cities, Portugal offers a wide variety of tourist places and activities to enjoy during your visit. Here we present some options:
The Algarve region
If you are looking for paradisiacal beaches, the Algarve is the perfect place. With its impressive cliffs, crystal clear waters and golden sands, this region is a paradise for sun and sea lovers. Don't miss Praia da Marinha, considered one of the most beautiful beaches in Europe.
Sintra
This charming town located near Lisbon is famous for its fairytale palaces. Visit the Pena National Palace, a colorful hilltop building, and explore the gardens of the Monserrate Palace. Sintra will transport you to a fantasy world.
Peneda-Gerês National Park
If you are a nature lover, you cannot miss visiting this national park. With its mountains, rivers and waterfalls, Peneda-Gerês is perfect for hiking and enjoying impressive landscapes. Don't forget to visit the Sanctuary of Nossa Senhora da Peneda, a place of great spiritual beauty.
Specific recommendations and beautiful and unknown places
If you are looking for specific recommendations and beautiful, unknown places to travel to Portugal, you are in the right place. Here we present some options that will surprise you:
Óbidos
This small medieval town is a hidden treasure. Its cobbled streets, white houses and castle will transport you to another time. Don't miss the opportunity to try the famous ginjinha, a traditional cherry drink, while strolling through its charming streets.
Aveiro
Known as the Venice of Portugal, Aveiro is a charming city with its canals and colorful moliceiro boats. Stroll through its streets and try the delicious ovos moles, typical sweets of the region. You can also visit the nearby beaches, such as Praia da Costa Nova, famous for its striped houses.
Tomar
Tomar is a city full of history and mystery. Visit the Convent of Christ, an impressive Templar castle, and explore its gardens and cloisters. You can also take a boat ride on the Nabão River and discover the natural beauty of the region.
Frequently Asked Questions (FAQs)
What is the best time to visit Portugal?
The best time to visit Portugal depends on your preferences. If you are looking for beaches and good weather, the summer months (June to September) are ideal. However, if you prefer to avoid crowds, spring and fall are good options. Winter can also be attractive to those who enjoy cooler weather and want to explore cities without the crowds.
Is it necessary to speak Portuguese to visit Portugal?
Although it is not necessary to speak Portuguese to visit Portugal, learning some basic phrases in the language can be useful and appreciated by locals. Most Portuguese people speak English, especially in tourist areas, but it is always good to try to communicate in the local language. Don't worry, the Portuguese are known for their friendliness and will be happy to help you!
Conclusion
Portugal is a country full of charm and beauty, with a wide variety of essential places to visit. From historic cities to unknown corners, this country will surprise you at every turn. We hope this article has provided you with the information you need to plan your trip to Portugal. Don't hesitate to explore and discover the magic of this wonderful destination!
Until next time,
The ForTravelLovers.com Team