Just look at the map of the Philippines and you will see that there are more than 7000 islands to choose from in one of the most beautiful countries on the Asian continent.
for those who want to do philippines tourism, this place is perfect for any lover of white sand beaches, crystal clear, warm waters that make your computer screen scream for a visit. I spent 45 days there and selected, in no order of preference, the best beaches and islands in the philippines for those who want to venture into Asia's newest sensation on their next vacation.
Be prepared with travel insurance!
Having insurance at the time of the squeeze makes all the difference.
Click here and get yours (use the coupon FORTRAVELOVERS for 5% off)
So let's go to the 16 tips for amazing places to enjoy a good tour in the Philippines:
1) White Beach e Diniwid Beach em Boracay
And on White Beach where everything happens in Boracay. If you're into relaxing on a beach during the day and dancing until dawn, this is your place. During the morning the beach is relatively quiet with a few families and survivors from the night before. You can enjoy the day with a sunbath, a shake of buko (coconut water) or eating at one of the great restaurants located on the beach.
The sunset, mainly watched aboard a paraw – typical Philippine boat – is an incredible experience. It is also the time when the tour boats arrive and therefore it is when the beach is really crowded with tourists, especially the Chinese, who do not want to sunbathe during the day.
And at night, White beach turns into a party! There are dozens of bars and clubs lined up. There's even a luau to the sound of drums and drums for those who don't want to dive headfirst into the party every night.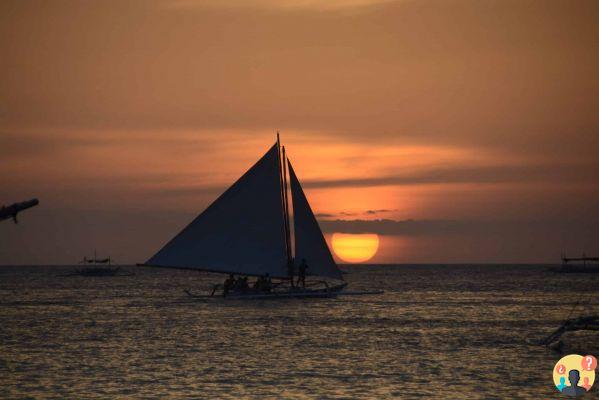 #Tip: the secret, especially at sunset, is to walk towards the Diniwid Beach, the neighboring beach and easy access. In addition to the walk being particularly pleasant, the sunset is much more special from there, without hundreds of people vying for the same square meter to take a selfie.
The alert is also registered here: if you don't like partying, Boracay maybe not your version of paradise. The beach is quite commercial and even has a Starbucks with its feet in the sand. Otherwise, stay at Mad Monkey. Make lots of new friends and head to the party, which starts right there, at the hostel's bar and pool. The night gets small after shots of local rum and a stop at the Exit Bar e Epic Club.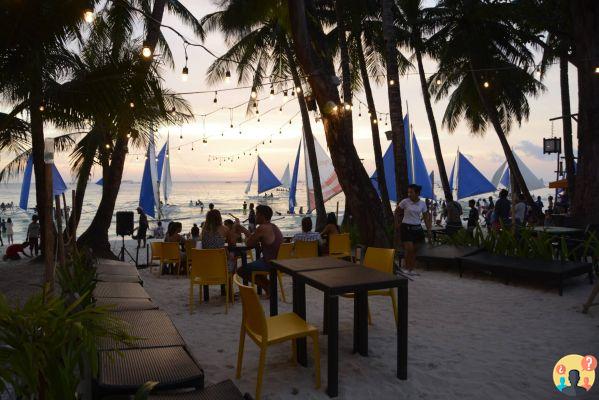 2) Salagdoong Beach em Siquijor
Siquijor is not exactly an island that stands out for its beaches, but the Salgdoong is a mandatory stop. It is famous because it is possible to jump from a 10 meter cliff directly into the sea and the view from there is one that will stay in memory.
And the best! You don't even have to worry about thermal shock. The water has a very pleasant temperature. Just be careful to climb right back up the stairs, which are slippery and were a little loose during my visit. Prefer to go back along the beach, which is not made of fine sand but of shells and stones.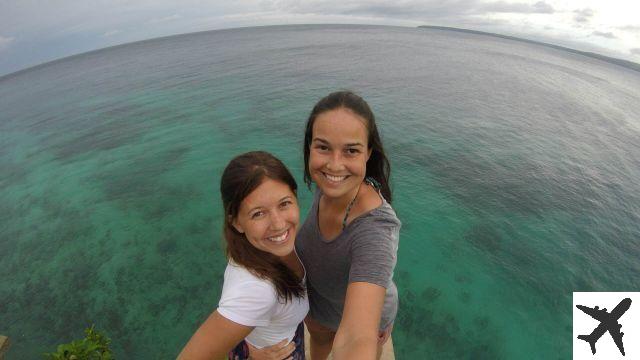 3) Balicasag in Bohol
Usually, the visit to this island is made from a snorkeling tour departing from Alona, ​​the main beach of Panglao, in Bohol. There is a small village full of chickens and pigs in the middle of the island and a barbeque tent being served on the beach. The island is tiny and will make you wonder how the Philippines It should have been decades ago.
Is the beach beautiful? Yes, but the main attraction here is inside the sea. The chances of not seeing at least one turtle swimming very close to you are minimal. Not to mention the coral cliff at a second snorkel spot on the opposite side of the island. Tours there start at around 15 dollars and include snorkeling equipment and visits to the two points of interest (lunch not included).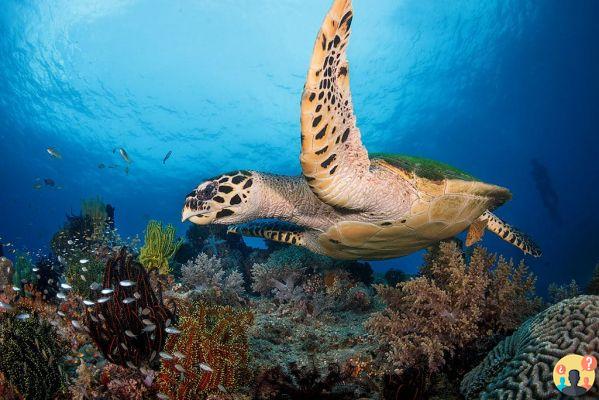 4) Nacpan Beach in El Nido
Nacpan Beach in El Nido is one of those that 20 years from now we will fondly remember the times when bamboo tents serving coconut water and local food were the closest thing we had to civilization.
From El Nido, if you're in a group, it's worth going to the Nacpan tricycle ride and split costs – negotiable for an average of $20 round trip. If you're alone, rent a motorbike to get there for $10 a day. The journey takes 40 minutes, including an unpaved and sandy part. Do not venture to Nacpan by motorcycle if you are a first-time driver, accidents are common.
You will have difficulty defining whether the color of the water is blue or green. Unforgettable and unique in the Philippines.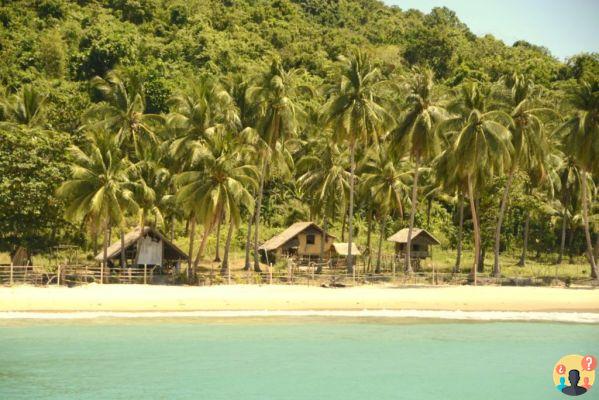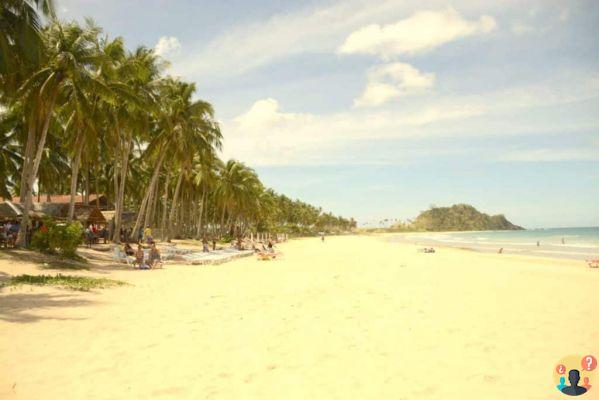 5) Las Cabanas (Maremegmeg Beach) in El Nido
the cabins it is a beach that attracts attention for a reason: it is the most beautiful by the sun of El Nido. Shortly after descending the flight of stairs to reach the beach, the Sun Bar, on the right, cheers up visitors in the late afternoon. But if you're looking for a more zen-like sunset, just keep walking to the left side of the beach and you'll have what you want.
Em the cabins There is also a zip line – which connects Maremegmeg beach to the island immediately ahead – for those who want to see a sunset with a taste of adventure.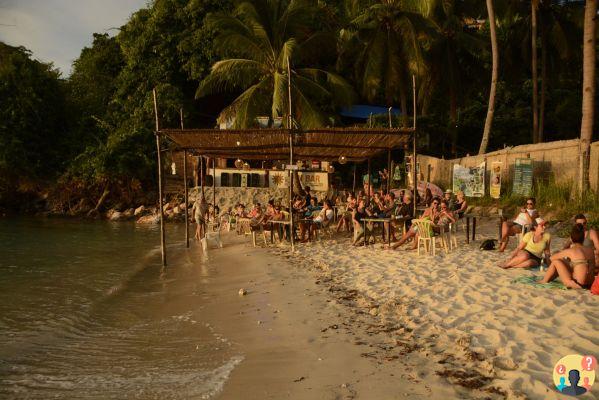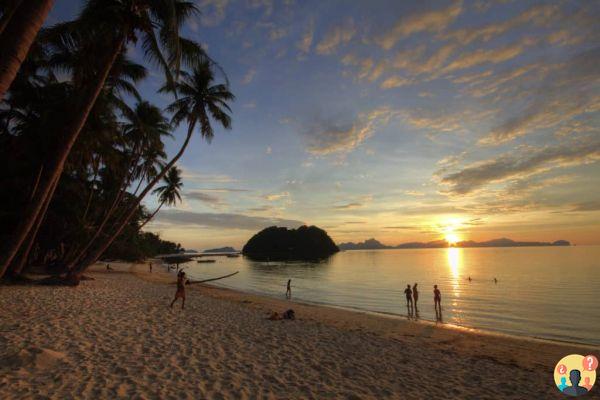 6) Tour A beaches in El Nido
After 5 seconds you reach El Nido, you will soon be flooded with information and learn that there are pre-booked tours (tour A, B, C and D) that are offered by any agency, accommodation and even restaurant in El Nido. You tours A e C are definitely the most sought after, but none of them need advance booking.
The result, of course, ends up being idyllic beaches packed with tourists. The secret is to be on the first or last boats that leave El Nido, or rent a private boat and choose a different route than the one offered by the tours.
Sometimes, boatmen even end up taking a route out of the normal order for passengers to have a better experience, so talk to your boat leader first. I booked my tours through Spin Hostel and on both days I was lucky enough to catch boatmen who took a different route than the usual route.
If you have water-appropriate shoes, take them to all El Nido tours! If not, a Havaianas flip-flop is sufficient. Another item for those who don't want to worry about equipment is to take a waterproof bag (available for purchase everywhere in the Philippines), as all landings are wet.
No tour A, are among the included stops: Secret Lagoon (Secret Lagoon), Shimizu Island, Small Lagoon (Small Lagoon), Grande Lagoon (Big Lagoon) and Seven Commandos Beach.
Secret Lagoon (Secret Lagoon)
A Secret Lagoon it may have been secret at one time, but nowadays it's always crowded. Its entrance is through a hole but unlike Praia Secreta, you don't need to dive under the rocks to gain access. Unless you are lucky enough to be there without the tour boats, choose to enjoy the beautiful beach that gives access to the lagoon instead of standing in line waiting for people to come and go to enter the hole.
Shimizu Island is where the boat stops for an unforgettable lunch (included in the price of the tour), washed down with seafood, fruit, chicken and salads.
Small Lagoon and Big Lagoon
The Little Lagoon and the Big Lagoon are definitely one of the highlights among the attractions of El Nido. Kayak rental is available as an option at both locations, but if you don't want to invest in kayaking twice, choose to explore only Lagoa Pequena by paddling. This was a unique experience I had on my entire trip to the Philippines.
Finally, the Seven Commandos Beach it was one of my favorites. There you have everything you need, without exaggeration. Stalls selling fruit shakes and coconut water, tranquility without isolation (left side of the beach), socializing (right side of the beach), coconut trees that make the landscape dramatic, white sand and a swing hanging from a tree. To enjoy the swing you have to climb about 2 meters from the tree and get the impulse from above. Go without fear and you won't regret saying goodbye to the day this way.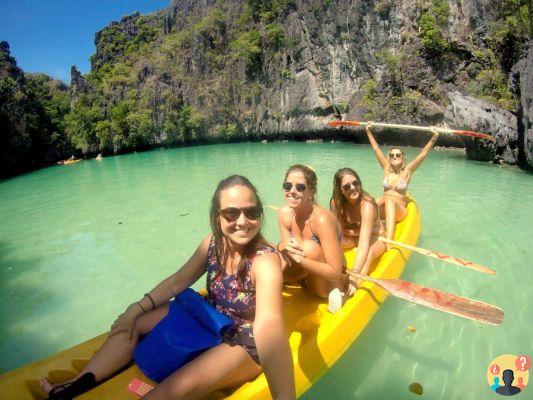 7) Beaches on Tour C, El Nido
No Tour C, the beaches and islands that are included in the package are: Helicopter Island, Matinloc Island, Talisay Beach, Secret Beach and Hidden Beach.
A Helicopter Island It is ideal for a dip in the sea and to enjoy the white sand of the island's still deserted coast.
A Ilha Matinloc it is surrounded by excellent snorkeling spots and tiny beaches formed just in front of hundreds of meters of chasms of gray rock, forming a startling contrast only seen in the Philippines.
A Praia Talisay is a great example of this type of landscape and is also where the tour stops for a very complete and delicious lunch.
A secret beach, like the Secret Lagoon, is not secret at all. Even with its difficult access – it is necessary to dive under a stone passage to reach the other side of the wall that closes the view from the beach to the sea. Secret Beach has suffered considerably due to its fame that emerged after it served as the inspiration for Alex Garland's book "The Beach". The book was later turned into a movie starring Leonardo DiCaprio and shot on the Phi Phi Islands in Thailand.
Finally, the Hidden Beach (Hidden Beach) it is accessed on foot, with the water up to the knee, because the boat cannot enter the hidden bay, as the name implies.
Be sure to read the tips on what to take on El Nido tours and how to go to these beaches when they are less crowded, which I mentioned in item 6, "Tour A beaches, above.
8) Cadlao Island in El Nido
This Cadlao Island is part of the Tower D and it is also the island of the entire archipelago that is closest to El Nido. So access is easy and it's a great option.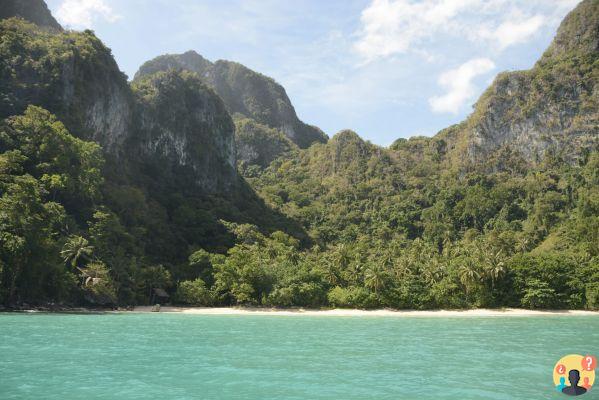 9) Snake Island in El Nido
A snake island is a sandbar that slides in a snake shape between two islands, in the middle of the sea. She is also the main attraction of the Tour B and a great opportunity for a drone flight. If you don't have a drone, you can hike up one of the hills and enjoy the view from above.
10) Hidden beach on Tapiutan Island in El Nido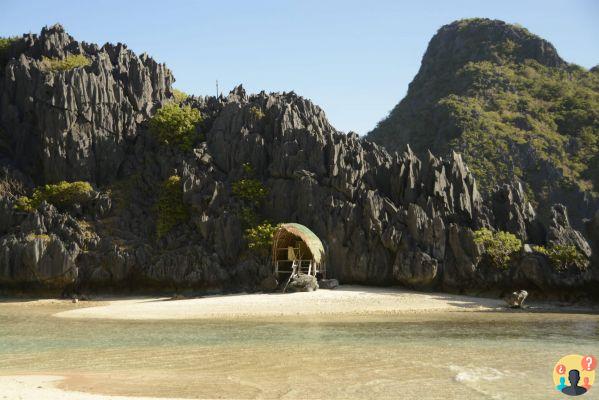 This one is hidden and secret. Even with all the boats in the tour A passing right beside her, no one sees her. It is just behind some rocks, forming a bay, close to the Matinloc Sanctuary and the beach used by Israel's "Survivor" program (the gringo version of "No Limite").
This beach is one of the campsites used by Tao Philippines expeditions and there is no other way to get there than by embarking on this expedition. Just to sleep there with the starry sky is worth any effort to get there!
11) Darocotan Island in El Nido
This one made my list of special places in the Philippines. It is also used as one of 16 Tao Philippines expedition camps. Just perfect, with a fishing village close by and a great spot to go snorkeling.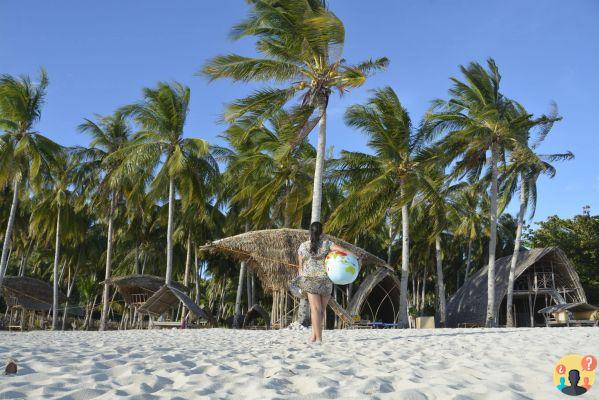 12) Bolina Island in Linapacan
This island, like all islands near Linapacan, is difficult to access. There are no ferries directly to this region, but if you take a tour that explores the archipelago between Coron e El Nido, Bolina Island will be on the route. And I tell you: you won't know if you are more amazed by so much beauty or how this place has not yet been discovered by mass tourism.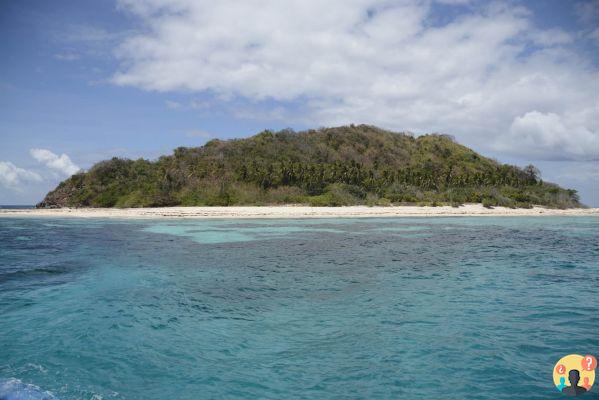 13) Ngey Ngey em Coron
On this island there was a newly built luxury resort, when a typhoon passed and destroyed everything, but the magic still continues there. Today it is possible to book 3-day packages through Tao Philippines, which set up a bamboo hut-style camp, as only they know how to do. They are also responsible – and impeccably executed – for the care of the island. Just ahead is, in my opinion, one of the best snorkeling spots I've visited in the Philippines.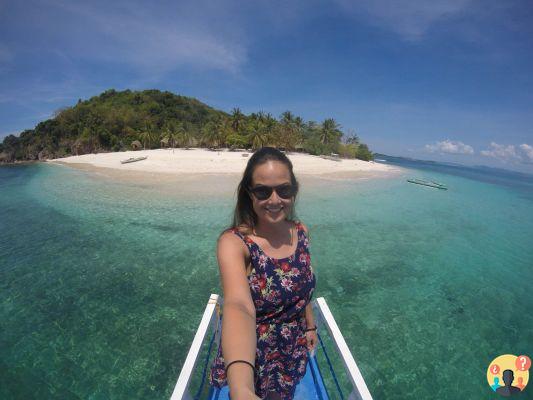 14) Tour beaches, islands and lagoons in Coron and Busuanga
Em Coron Town, I easily joined a group of 6 people and we closed a private boat to get to know the main points of the region. As there are fewer points, if we compare to El Nido, we managed to cover everything in one day and it was cheaper. Boat rental is around $45. This price does not include admission to the attractions – plus 20 dollars per person for all attractions.
A Lagoa Kayangan it is Coron's main attraction and was our first stop. Arrive early, if possible before 8:30am, to avoid the tour boats full of tourists. After a 15-minute climb, you'll have access to impressive panoramic views and below, you'll be able to take a dip in the lagoon, which is not entirely made up of salt water.
Other impressive attractions in island of coron are the Twin Lagoons (Twin Lagoons) and the Lago Barracuda. Both are unforgettable places surrounded by dramatic rock formations.
For lunch, the best option is Praia Twayan, where the traditional tour boats do not stop. They usually go to Praia Banol, which you can visit on a day other than by boat.
To end the day, we chose to stop at Seven sins, rightly considered the best place in Busuanga to snorkel.
15) White Beach in Puerto Galera
Puerto Galera is probably the region with the most beautiful beaches and easily accessible from Manila – the capital of the Philippines. You can take a bus from Manila that will take you to the port of Batangas. It's two hours and from there another 30 minutes by ferry to the Mindoro Island in Puerto Galera.
Choose to stay in White Beach, the most beautiful beach in the region and with great options for restaurants and water activities (jet-ski, banana boat, SUP, slides, buoys, among dozens of others).
16) Aninuan in Puerto Galera
If you are in Puerto Galera but are looking for peace, rent a motorbike and go to Aninuan. Still proof of the movement brought by the residents of Manila who flee to Puerto Galera on weekends.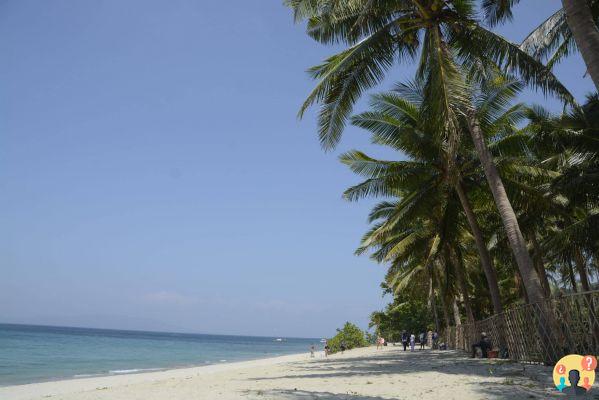 So you don't miss any paradise, see here our map with all the main islands and beaches in the Philippines.
Have you already chosen where you want to go in the Philippines? Tell us?
Now that you know all the tips for tourism in the Philippines, find hotels in the Philippines here.
Philippines travel insurance
Having travel insurance for the Philippines is a requirement to enter the country, which is part of the Schengen Treaty and requires medical-hospital coverage of at least €30 for travelers. In addition to being mandatory, insurance is a great way to ensure a smoother trip. Also enjoy our Insurance Promo discount coupon. - SEE PRICES
Read More
What to Do in the Philippines – 20 Tips for Setting Up Your Itinerary
Thailand Tour – 15 Indispensable Experiences
Elephant Ride in Thailand – How to Choose?
What to Do in Thailand – Cooking Class in Bangkok
Where to Stay in Bangkok – W Hotel
Where to Stay in Bangkok – Hotel COMO Metropolitan
Where to Stay on Koh Lanta – Pimalai Resort & Spa
Cultural Festival in Phuket – Festival of the 9 Emperor Gods
Where to stay in Hoi An, Vietnam – Palm Garden Resort
What to do in Myanmar – Tourism in the Curiosa Capital "Ghost"
Interchange Travel Insurance – How It Works and Which is Best
Plan your trip:
Get started now by booking your hotel in the Philippines on Booking.com
Save time and money searching for the best Travel Insurance with the Seguros Promo comparator! Extra 5% off with coupon: FORTRAVELOVERS
Compare the best prices to rent a car from over 100 rental companies with Rentcars! (Pay in up to 12X! Pay in reais, without IOF)
Leave España with Unlimited 4G Internet!