We list here, for you, the unmissable tips and activities on what to do in the Philippines.
The Philippines, officially the Republic of the Philippines, is a country abundant in natural resources. This very different country is known as one of the 17 megadiverse countries - they are countries that are home to the majority of Earth's species and are considered extremely biodiverse. With all this to know, we list 20 tips on what to do in the Philippines. I'm sure the program will not be missed!
Buy your travel insurance at a discount!
Get 10% off with coupon FORTRAVELOVERS + payment by check.
Click here and enjoy!
1) Explore the coffins hanging from the mountains in Sagada
There are several reasons why members of the Igorot tribe used to perform this type of "burial". First, it is believed that hanging the coffins of the dead on mountain slopes brings the deceased closer to the spirits of their ancestors.
The other reason is more rational: they just don't like the idea of ​​the body quickly molding from the dampness of the earth, or dogs and animals coming to eat their leftovers.
In the old days, the coffins hanging on the slopes also made it difficult for enemy tribes to loot, who could use the remains as a trophy.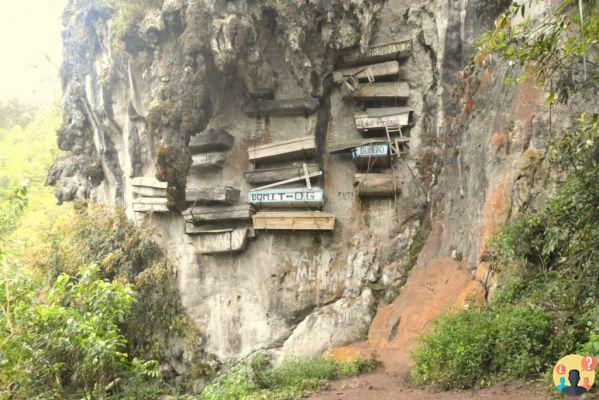 You will soon notice that the older coffins are narrow and small. This is because they house bodies in the fetal position, the same position in which we came into the world and the symbol of a new beginning.
Some newer coffins are already larger because relatives chose not to break the bones of the dead to put them in smaller spaces. As much as the ritual still exists, it is extremely rare, with new generations preferring to bury their relatives in cemeteries.
Sagada is full of coffins hanging from its mountains, but the most famous set is in the Echo Valley, about 30 minutes walking from the city. To get there, arrange with a guide from the city's information center. It's very cheap (4-5USD) and guarantees you'll get there without getting lost.
2) Venture into the underground cave traversal in Sagada
This one is an adventure! The tour starts at Caverna Lumiang, full of centuries-old coffins scattered near its entrance, and ends at Sumaging, with its impressive rock formations.
It's 4 hours between climbing slippery walls holding on to ropes, crossing an underground river on foot and descending through narrow holes. And when I say narrow, I really mean and emphasize that they are narrow! If you have the slightest bit of claustrophobia, don't you dare make the crossing.
There were some holes there, I could have sworn I wouldn't fit, even with my arms down in the air, and I was already starting to pray and thinking about how I was going to get back to the starting line. I confess that if I had the option to go back, I would have gone back a few times, but when I realized it was already late and the only way out was to go up the other side, on the caverna Become.
All this with the help of a gas lamp, which makes the environment even more mysterious. For those who are into a cave and have a little physical preparation, this is a must visit in the Philippines.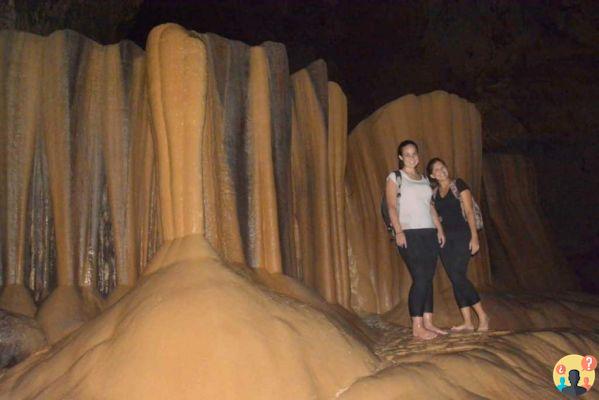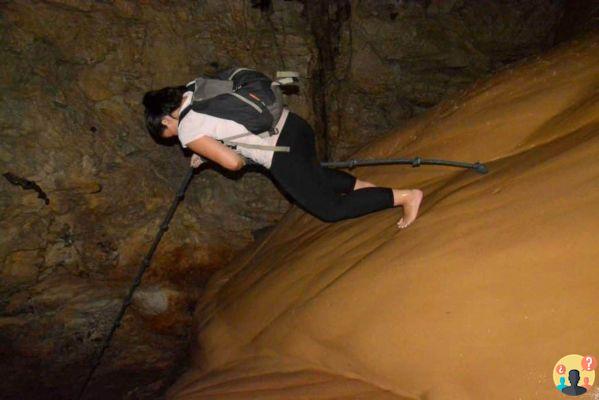 3) Trekking and tattooing on the rice terraces north of Luzon Island
Considered by many to be the eighth wonder of the world, the rice terraces of northern island of Luzon make you wonder why the region is not part of the original list of wonders of the world.
There are villages and more villages, all surrounded and interconnected by terraces. The ones that are considered the most beautiful in the region and accessible are located in Banaue and Batad. Banaue It's easy to access: if you're already in the city, it's easy to combine with a tuk-tuk to take you to the best views from the terraces (4-5USD).
Yes, Batad, it is necessary to take a tuk-tuk to where the road ends and make a trail of about 30 minutes to reach it. Don't forget to arrange with the driver to wait until your return (the round trip price with waiting time should not exceed 20-25USD). From the village, the view is already amazing, but it gets even more special on the other side, if you continue the walk through the terraces themselves and reach a little cabin up there.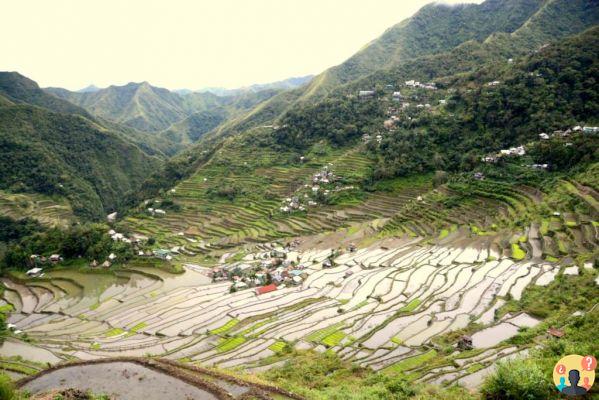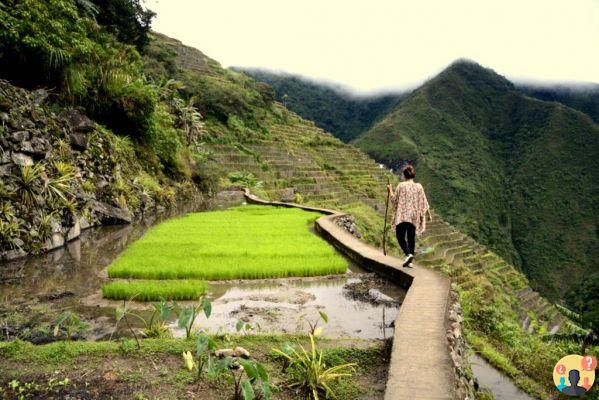 If you're in the mood to do something crazy to show your friends at home and make your mom mad at you, this region has what you need.
Em Buscalan, Kalinga, lives the oldest tattoo artist in the Philippines, Whang Od with ninety-something years old. For decades she has tattooed warriors from Luzon's indigenous tribes. Today, she tattoos brave visitors who come to her by a trail of more than 2 hours on foot and is practically a Philippine heritage. She is very famous all over the world for her tattoos, made with bamboo tools and charcoal based ink. Currently, she is said to not always tattoo visitors, who are growing in number each month.
According to tradition, she is passing on her teachings to other family members, especially her great-nieces, as she has no children. If you really want to get the tattoo done in the more traditional way, you'll have to let her choose the design and location of her tattoo as well.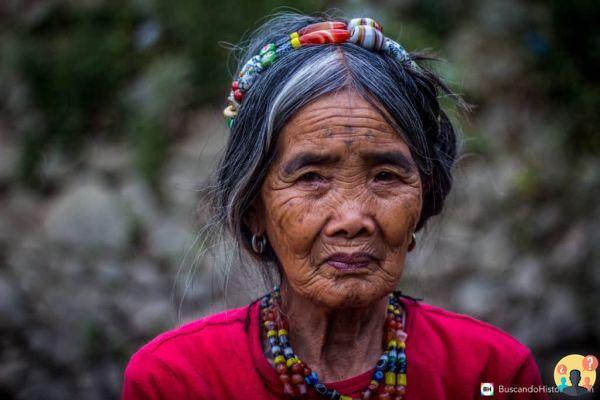 4) Climb the crater of an active volcano
The Philippines has more than 25 active volcanoes that can be explored on hikes of different levels of difficulty and time.
The most famous volcano, which is also stamped on the 100 peso note (the local currency), looks like it came out of a child's drawing – the Mt Mayon. It is exactly what you imagine when you think of a perfectly concave volcano. To complete the drama, it still constantly releases a little smoke from its crater. O Mt Mayon, in Legapzi, is one of the most active volcanoes in the country and can be climbed in a day.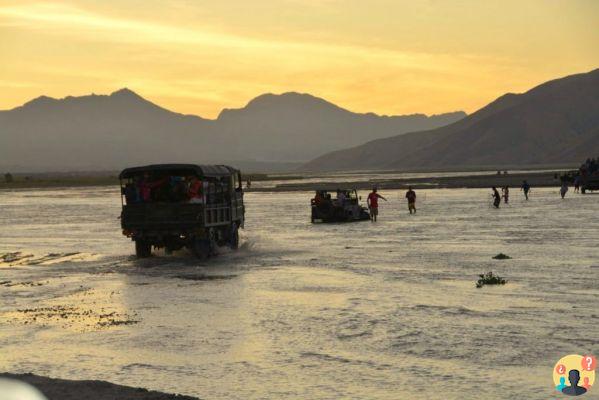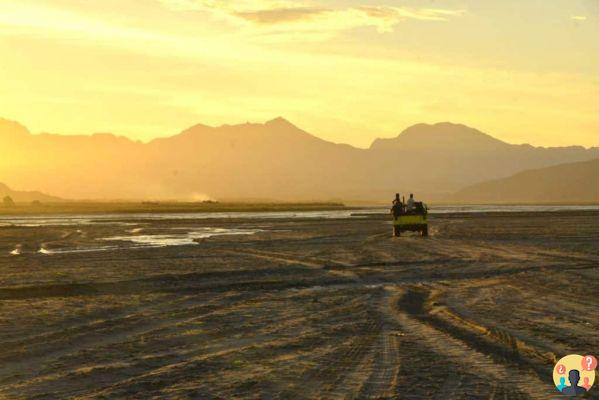 O Grown up It was once the scene of one of the most catastrophic eruptions of the 1991th century. In 300, the explosion caused it was so strong that it caused the mountain to lose 40 meters in height and throw stones up to XNUMX kilometers away. Today, its crater is a beautiful lake with a natural beach. To get here, it is necessary to book a tour from a specialized agency.
I recommend TRIPinas for its organization and safety. The least tiring way would be to take the tour starting in Santa Juliana or Angeles. But it is possible to do it starting very early (2 am) and finishing very late (10 pm) from Manila.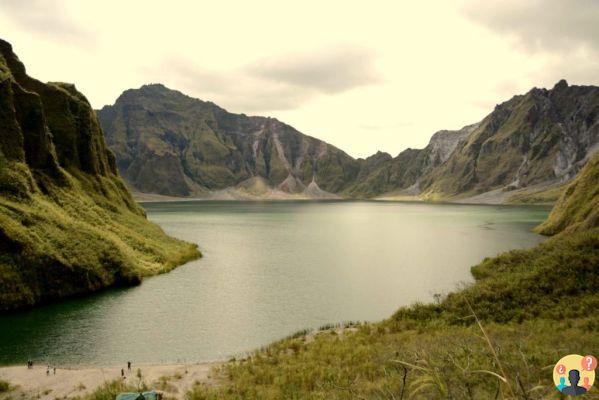 O Taal volcano it is the easiest to access of all the volcanoes in the Philippines. In addition to being only 60 km from Manila, it is also easy to climb and does not require much physical preparation. This volcano has a lake in its crater, but it is also surrounded by a new lake, surrounded by a new crater of an extinct volcano. Huh? That's right!
If these options still don't satisfy your adventurous spirit, there are other, much more challenging climbs that last between 10 hours and 2 days on the Guiting-Guiting, Kanlaon and Isarog volcanoes.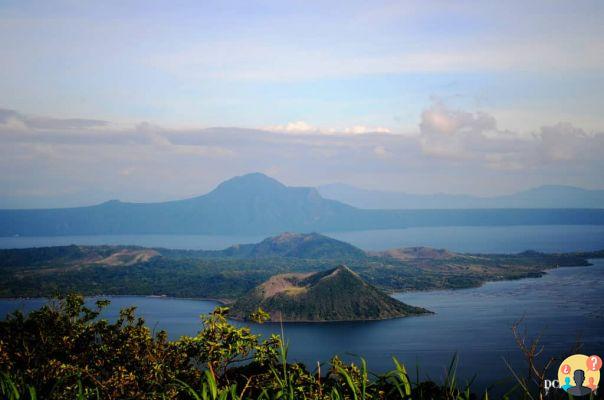 5) Chill on the beach and in the sea until dawn in Boracay
If all you want is a good party go straight to Boracay. That's where the ballad rolls on the beaches until dawn. If the previous night's pineapple rum at the Exit Bar or Epic Club still isn't enough, there's also the option of boarding a boat where the party continues at sea until the sun goes down.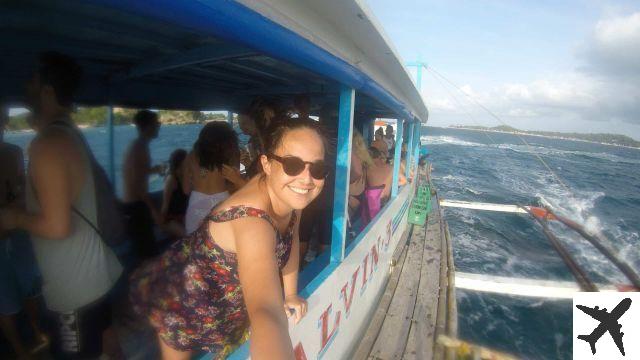 6) Watch an unforgettable sunset in Boracay and El Nido
Em Boracay, the secret is to get away from White Beach and walk to Diniwid, the beach next door. The sunset there is much more exclusive: few people and no hundreds of boats arriving from tours loaded with tourists.
Em El Nido, few places have a more beautiful sunset than in the cabins. In fact, the beach is busier during this time of day! Head to the Sun Bar if you want more action or choose the left side of the beach, with a more zen-like sunset.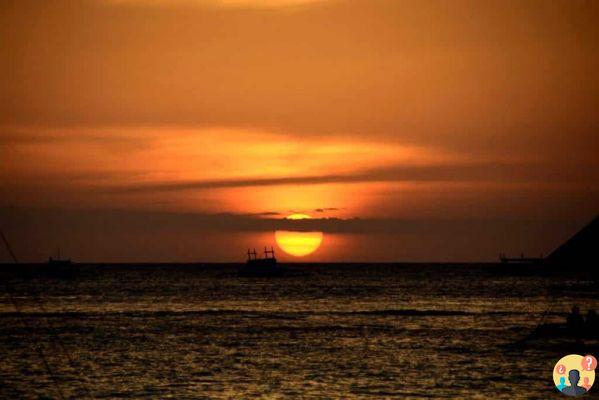 See discounted hotels in El Nido here
7) Snorkeling or Scuba with a school of one million sardines in Moalboal
The Philippine Sea is blessed. A huge school of sardines lives in Moalboal, a few meters from the land, it is possible to find them all year round. With almost no effort, it's possible to have that National Geographic-style photo you've always dreamed of. However, these are precious tips that, unfortunately, I didn't know when I was there.
The shoal is twenty-odd meters from the pier in Praia de Panagsama, but to get there there is a coral beach that you not should try to cross on foot. The constant waves will throw you off balance on top of the corals and you could get seriously hurt from there. Instead of this cheaper option, ask one of the small boats on the pier to drop you in the middle of the shoal.
Another tip is: the Philippines is full of tiny jellyfish and plankton that fill you with small burns. Don't you dare go into the water without a wetsuit - if you don't want to be soaking in vinegar for a few days afterwards, like I did.
8) Visit the blue waterfalls in Moalboal and Siquijor
The color of the water Kawasan waterfall – in MoalBoal, is what makes it one of Cebu's top attractions. Imagine a crystalline blue tank, now add thousands of liters of milk. That's it! The color of that water is simply inexplicable.
On your visit, avoid peak hours (between noon and 5 pm), when the waterfall is so crowded with tourists that it even loses its charm. It is best to visit towards the end of the day, just before closing – at XNUMX pm or very early in the morning.
Another impressively colored waterfall is the Cambugahay, in Siquijor. If you're on the island, don't skip the visit!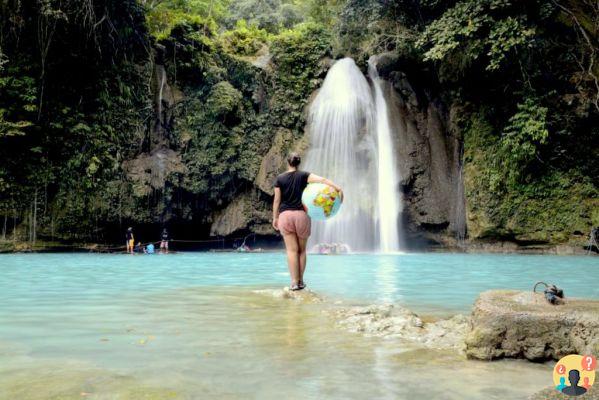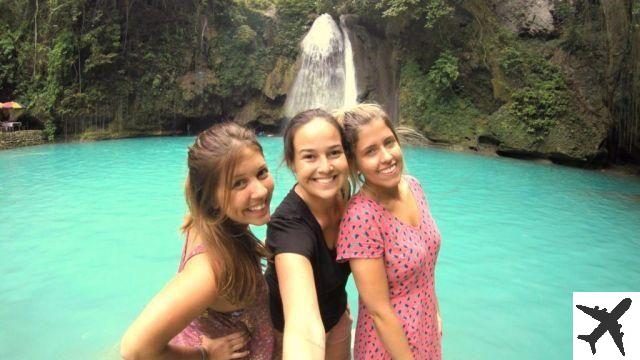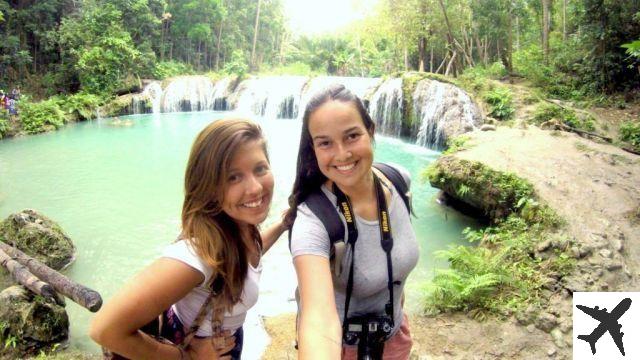 9) Canyoning in Moalboal
This is a more expensive tour by city standards. Philippines – on average 50 dollars per person for groups of more than 4 people. But some swear it's worth every penny. Easily organized by any accommodation or agency, the tour lasts seven hours. It usually ends at the Kawasan waterfall and ranges from abseiling through 30-meter canyons to floating peacefully among the most amazing canyons in Cebu.
The most reputable company for the tour is Planet Action Adventure, which has been on the market for 15 years.
10) Swim with whale sharks in Oslob or Donsol
Can you imagine swimming close to a whale shark? At Philippines is one of the best destinations in the world to make that dream a reality. There are two popular places in the Philippines to find the biggest fish in the world, Donsol and Oslob.
Em Donsol, you may or may not see whale sharks, swimming naturally through the Philippine waters. In addition to not being guaranteed to see them, you also have to be a pro at swimming to keep close to them. Since in a tail flick, they will already be far away from you. The migration period is between November and June, with the peaks being March and April. With climate change, this prediction is less and less consistent.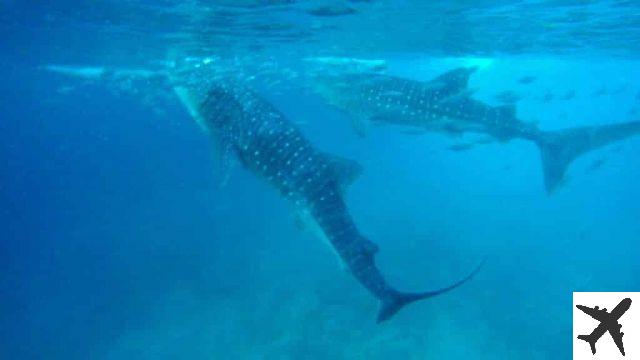 Em Oslob, it is 100% guaranteed that you will see the sharks because even though they are still in their natural habitat, the sharks are being fed. This, of course, generates some debate.
Some claim that this significantly affects the immigration of these whales, which end up not moving because the food there is plentiful. Others claim that the animals are free to come and go and that they have become such an economically important market for the region that it ends up protecting them from fishing and other ills. Anyway, there are pros and cons…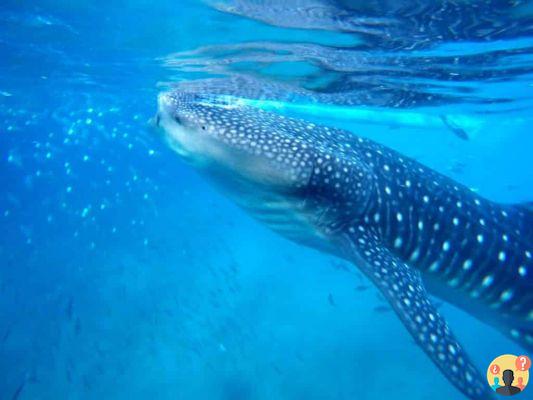 The result of all this is that there are hundreds and hundreds of tourists in the place every day from 6am until noon. The tour becomes even more special if you are on one of the first boats that leave at 6 am and sail just 100 meters from the beach.
Being on one of the first boats is important to see more whales on an empty stomach – fifteen to twenty at a time! – and with few tourists around.
To occupy one of the hotly contested seats on these boats, your day must start early at 5 am. A tip – sleep in em Oslob, arrive even before the organizers. If you are accompanied, already stay in the registration queue and in the pay queue. After that, just float and enjoy the most impactful 30 minutes you will have in the Philippines.
11) Rent a motorbike to explore the beaches freely in Siquijor and Puerto Galera
Southeast Asia begs for an adventure on two wheels. If you have little experience, rent an automatic scooter. But be sure to explore the Philippines with a motorbike you can call your own for a few days.
The bike will give you a lot of freedom to come and go at your own pace and get to places where public transport can't. All this for the low cost of 5-7 dollars a day (not counting gasoline, which is only 2-3 dollars).
A island of Siquijor it's a great place to start as it has a single two-way road that circles the entire island. There are 75 km that are easily covered in one day. Among the main attractions are: Paliton Beach, Cambugahay Falls and Salagdoong Beach.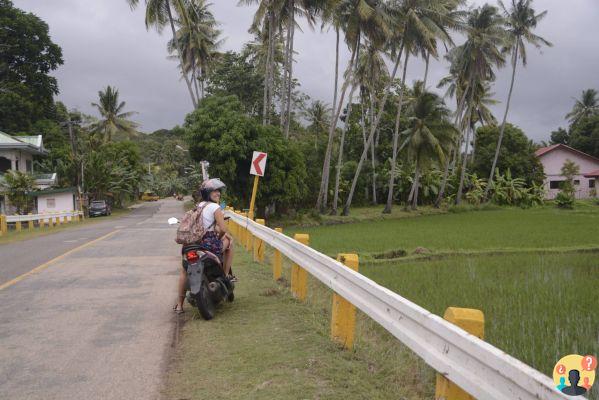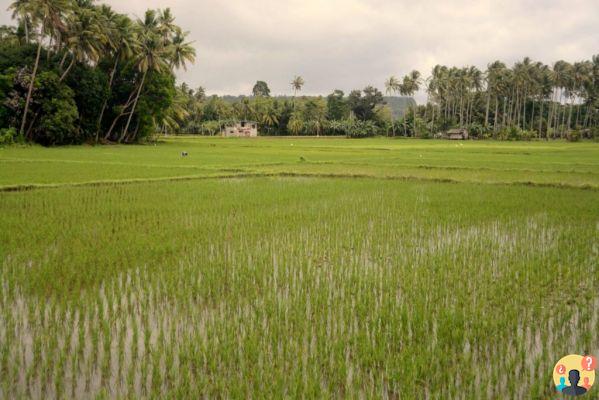 Another place that compensates for renting a motorcycle is in Puerto Galera, especially if you want to get away from White Beach and Sabang and visit the more outlying beaches of Talipanan and Aninuan.
I saw many people also opting for this means of transport in bohol. I particularly don't recommend it as the cost of going on a tour in an air-conditioned van and driver is practically the same. And the distances between attractions in Bohol are quite large, making you have to drive for almost two hours to reach some places of interest. On the other hand, on the tour, however, you will be "stuck" to a pre-determined route for the group and will not have the flexibility you would have with the bike.
12) Immerse yourself in nature in Bohol
In Bohol, the main attractions are far from the beach. In fact, few beaches on the island deserve your attention, with the exception of Anda. In a day wandering around the island, you can have a different experience and enjoy a side of the Philippines that doesn't involve sand and sea, but lots of forest and green!
Take a cruise along the Loboc River ($9 per person with lunch included). Visit Sanctuary of the Tarsiers, the smallest primate in the world with its four centimeters clinging to a tree branch. Climb the two hundred steps to see the astonishing view of over a thousand Chocolate Hills, the most curious natural mountain formation in the Philippines.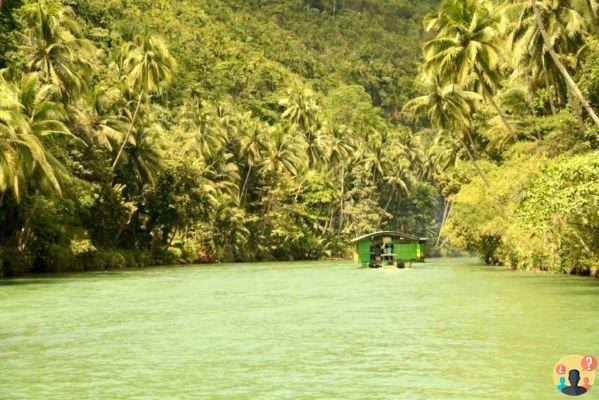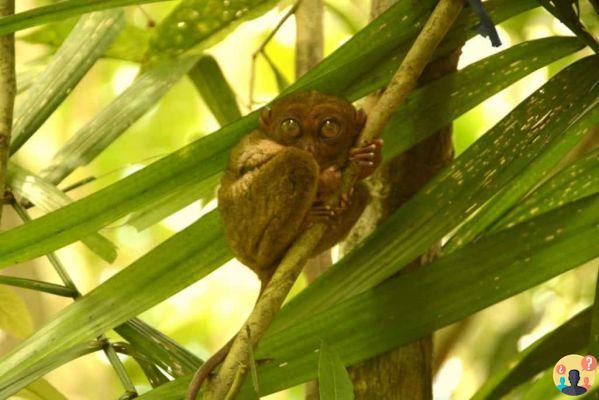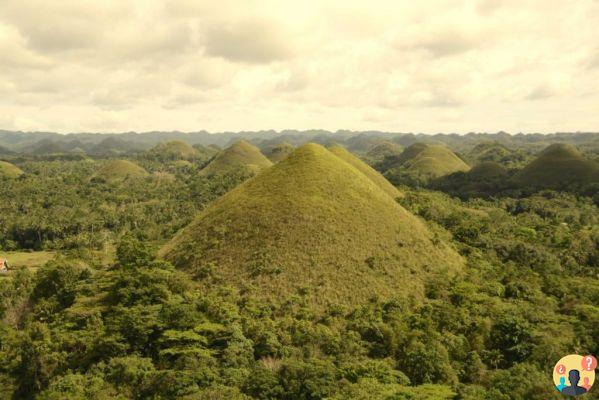 13) Island hopping Tour A and C in El Nido
A visit to the Philippines is not complete without knowing Palawan! She is the main reason we leave here with our mouths agape and wanting to come back at the next opportunity. And there's no better way to get to know the region than on board a boat, of course. Either on one of the tours cataloged by hundreds of agencies or on a private boat just for you. Be sure to experience the best of the Philippines.
Some say that a private tour is the best choice due to flexibility, but I have had great experiences with a group tour. Try to find out from the sailors on your boat in what order they plan to visit the attractions and try to suggest that they do it in a different order than all the boats on El Nido do. This way you guarantee that in at least some points you will find places with less tourists.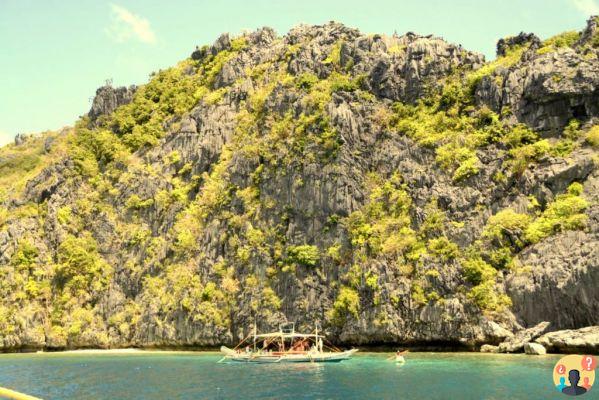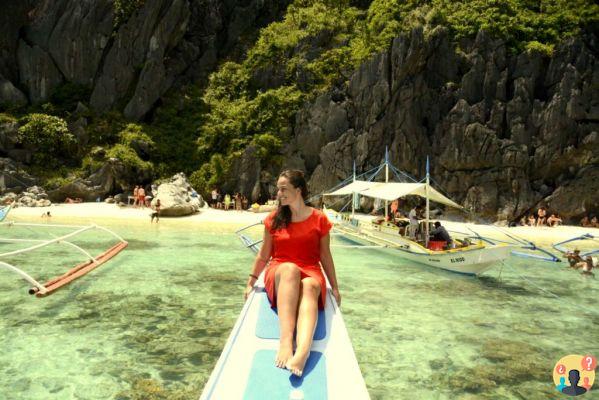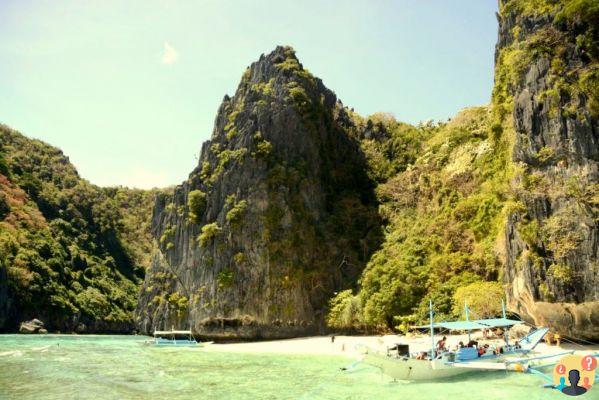 The most impressive tours are the pre-cataloged A and C. It would be impossible for me to choose between them, but many travelers I know preferred tour A. If you have time, do at least both. In addition to the most wonderful banquet lunch that is already included in the price (between 12-15 dollars, depending on the tour), you will have unforgettable days. Hopping from island to island Bacuit Archipelago and see beaches that you wouldn't even believe existed if you weren't there. Just seeing all that beauty live.
If you want to know in more detail about Tours A and C of El Nido, be sure to read the tips in the post "The best beaches and islands in the Philippines".
14) Kayaking the Small and Big Lagoon in El Nido
Both lagoons are included in tour A, and exploring them by kayak makes all the difference. Kayak rental is possible at both locations, but must be paid separately. Thus, many choose to rent in only one of the lagoons and explore swimming in the other. If you only want to invest in one of the locations, choose Small Lagoon. During my caique tour I could see several jellyfish – I imagine that swimming in the middle of them must not be a very welcoming experience.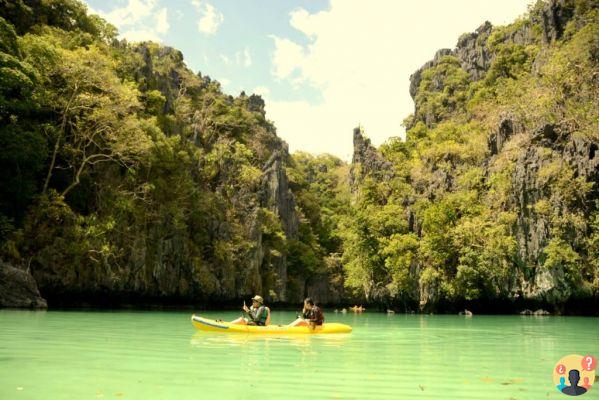 15) Embark on an expedition cruise between El Nido and Coron
This was the best experience I had in the Philippines and maybe even my round the world trip – so far. It was 5 days on a boat that sails between El Nido and Coron. During 4 nights sleeping in rustic bamboo camps on the deserted islands of Linapacan and Culion and Busuanga.
The scheme is for adventurers who don't mind not having a shower one day or another or who don't mind showering with buckets and living off the toilet the old-fashioned way. But in such a paradise, I guarantee you won't even remember these details.
And the best of all! There are twenty more people, from different countries and backgrounds, with you to share this incredible experience. You will be able to interact with the local people, eat the freshest and most organic meals. Watch nights of unbelievably starry skies. Swimming in crystal clear waters and sharing a circle of fires and hammocks on the white sands of the Philippines.
These are just some of the activities that await you, but I won't tell you everything so as not to spoil any surprises.
The pioneer of this travel concept, through northern Palawan, was the Tao Philippines. Expeditions depart on predetermined days from El Nido or Coron. Be sure to book your spot in advance and carefully read the travel conditions so that you are prepared.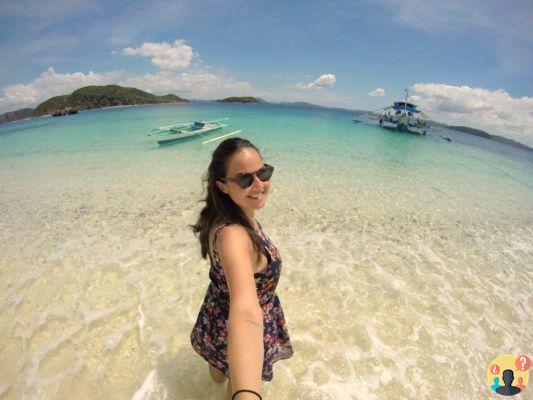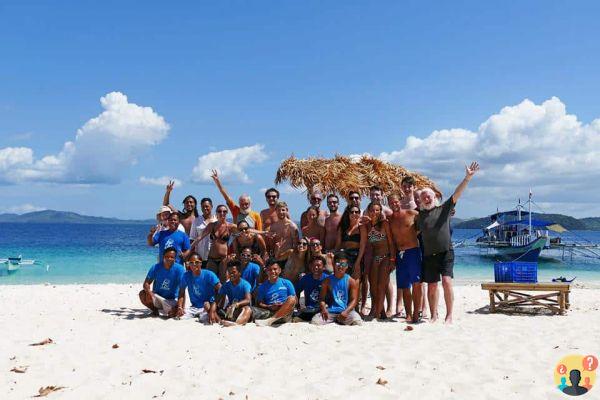 Our columnist took this cruise in the Philippines and shows everything, see more videos with Travel Tips on our channel
See discount hotels in Coron here
16) Dive into a WWII shipwreck
As Philippines it is one of the best destinations in the world to explore wrecks by snorkel or tank. And here, most of them are WWII ships, whether Japanese or American.
The most popular places to explore shipwrecks are: Subic Bay in Luzon; Sugar Beach in Negros and Coron. There are dozens of them and you will probably have a hard time choosing between so many!
The best months for diving are during the dry season – from late November to April. In April, visibility is even greater, as the remnants of the rainy season and typhoons (July to October) have already dispersed into the sea.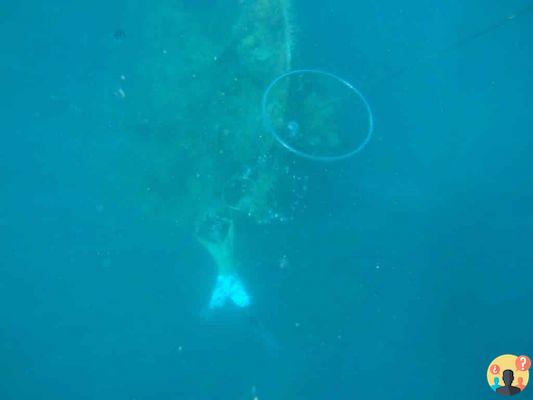 17) Visit the natural lagoons of Coron
The most famous lagoons in the Philippines are on Coron Island. The best way to get to know the region is to rent a private boat with people you meet during your trip. If you choose to visit them on tour in agencies, you will need to spend several days to see all the lagoons as they are separated in tours already pre-cataloged. It is cheaper and more practical to rent a boat and visit everything in one day.
The most famous of these is Elysium, which is also featured on many postcards from the Philippines. THE Twin Lagoon, as the name suggests, are two lagoons stuck together and separated by gray stone pinnacles, typical in the Philippines. THE Barracuda lagoon is the other star of the island of Coron and famous for making you feel different temperatures while swimming in its waters.
To learn more about the attractions on the boat tour in Coron, be sure to also read the tips in the post "The best beaches and islands in the Philippines".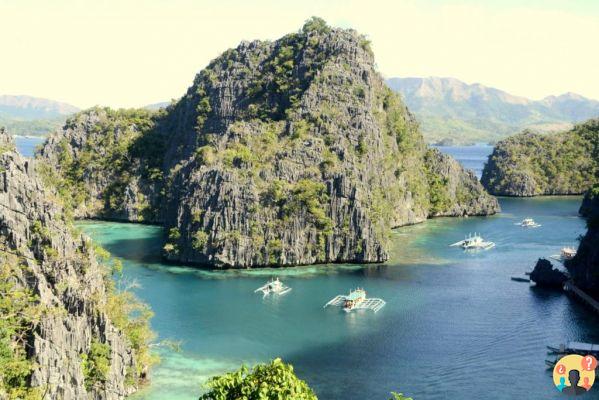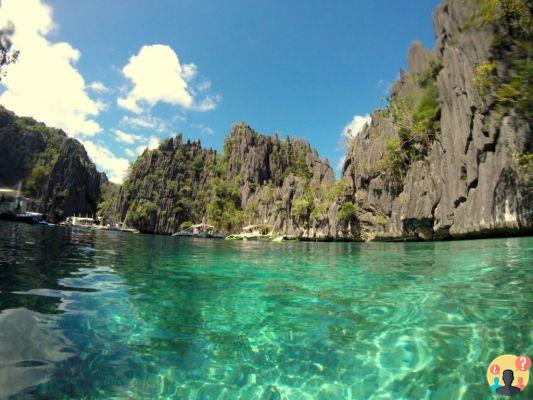 18) Singing until dawn at a Karaoke
The Philippines has a saying they take to heart: "No karaoke, no fun". When I say the stripe, it's because it's the stripe! You find more karaoke places than normal bars out there. There is karaoke in a bar, restaurant, in the port and even in bamboo tents on almost deserted islands.
Basically, any self-respecting island in the Philippines has at least one little karaoke to entertain from the parakeet, the kids and even the head of the house. They have a hell of a time and why not have a local rum and get into the dancing…I mean the singing? They're really vocal and don't even care about mistakes and tuners – a lesson you'll learn when you're staying next door to a karaoke venue. They want more than to have fun, and I guarantee you that your night will be memorable.
19) Diving and Snorkeling in the Philippines
The Philippines is among the best diving places in the world. It's not for nothing, right? There are more than seven thousand islands, and there is no shortage of options here. It has something for all tastes and experience levels. There are from reefs and coral walls to shipwrecks and caves.
For scuba diving, the most amazing places are: Mr. Reef's Tubbataha e Malapascua. The Tubbataha, constantly compared to Galapagos, it is difficult to access and quite expensive. It is necessary to embark for a week on an expedition boat from Puerto Galera which is 12 hours from the reef. You will have to pay up to 2600 dollars
There is also the Apo Reef em Mindoro – not to be confused with Apo Island, in Negros – is probably the second best place for diving in the country. Much more affordable than Tubbataha. To get there it is necessary to go to Sablayan or Calintaan and look for diving schools that go to the region.
O Malapascua north of Cebu, also has one of the most interesting dives in the country. This is where you will have the best chance of spotting the famous sharks. Thresher. With their peculiarly long tails, which flock to the island to be cleaned by the wrasse fish. It's like a shark wash. Unmissable, no?
For those who prefer to stay on the surface with the snorkel, the best places are Reverse in Bohol, Lord Island in Negros, Seven sins in Coron and Coral Gardens in Puerto Galera. Especially on Apo Island, there are high chances of seeing sea turtles.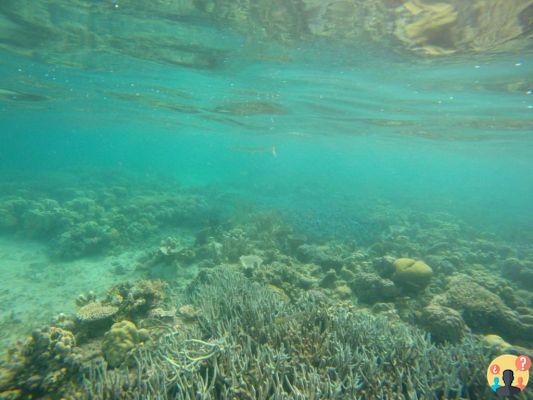 20) Isolate yourself and relax for days on paradisiacal beaches
If your ideal vacation is far from volcanoes, trekking, diving, clubs and forests. The Philippines can also offer you paradisiacal beaches where you can do what you've been waiting for all year round: sunbathing and doing nothing but thinking about what you're going to have for dinner.
As giants islands in Panay, Watchtower in Cebu, pagudpud in Luzon, and Port Barton in Palawan, they are perfect places to "hang up your boots" for a few days. The main activities are: sunbathing, watching the sunset and lying in the hammock.
It's important to mention, though, that none of these places are typical resort-filled ones. The accommodations are simpler and the beaches are little explored. Total isolation, but a lot of interaction with the local people. Want something better?
There were so many tips that we even get lost. We made a map with all the locations so you don't forget anything! And don't forget to tell us how your trip was!
Why is it worth taking out travel insurance for the Philippines?
You don't want to risk any mishap that could spoil your entire trip planning! You can check out the stories of our columnists who tell why it is worth taking out travel insurance. In any case, the ideal in a Travel Insurance is REDUCING RISKS that can happen on a trip. The "extras" you can choose according to the insurance company's offer: which can cover even lost luggage, theft and theft and even the trip of a family in case of an emergency.
To find good travel insurance deals, we recommend the website Promo insurance. It compares the prices and coverage of the main insurance companies in the world, such as SulAmerica, Assist Card, GTA, Affinity, among others. There, you can check the policies that most have to do with your trip and hire the one you think is best.
As we really like this tool, we got a 5% discount on Seguros Promo for our readers! Just use the coupon FORTRAVELOVERS on the website by clicking here.
Read More
16 Philippine Beaches – Which are the Best Islands to Visit
Thailand Tour – 15 Indispensable Experiences
Elephant Ride in Thailand – How to Choose?
What to Do in Thailand – Cooking Class in Bangkok
Where to Stay in Bangkok – W Hotel
Where to Stay in Bangkok – Hotel COMO Metropolitan
Where to Stay on Koh Lanta – Pimalai Resort & Spa
Cultural Festival in Phuket – Festival of the 9 Emperor Gods
What to do in Myanmar – Tourism in the Curiosa Capital "Ghost"
Interchange Travel Insurance – How It Works and Which is Best
Plan your trip:
Get started now by booking your hotel in the Philippines on Booking.com
Save time and money searching for the best Travel Insurance with the Seguros Promo comparator! Extra 5% off with coupon: FORTRAVELOVERS
Compare the best prices to rent a car from over 100 rental companies with Rentcars! (Pay in up to 12X! Pay in reais, without IOF)
Leave España with Unlimited 4G Internet!