Salar de Uyuni is one of the main tourist destinations in Bolivia that attracts admirers from all over the world. Including Brazilians. Every day more and more adventurers allow themselves to go through this experience and encourage others to do so too.
If you are one of these adventurers, you've come to the right place! In this guide we tell you about the backpacking experience of one of our writers in 2016 and more tips on how to avoid going through some of the troubles described in her report!
Did you like the idea? Then just scroll the screen:
In this post you will read:
Report as a Backpacker

What to do in Salar de Uyuni
1st Day of the Trip
2st Day of the Trip
3st Day of the Trip

Say Extra
Where to stay in Salar de Uyuni
Internet chip not Salar de Uyuni
Bolivia travel insurance
Flights to Bolivia
Report as a Backpacker
When I thought of taking the famous tour of the Salar de Uyuni, a salt desert covering more than ten thousand square kilometers in Bolivia, one word automatically came to my mind: perrengue. And that's it, folks!
It is necessary to say goodbye to freshness (also known as personal hygiene) and face absolutely dirty paid toilets with strong filling and no flushing (haja baldinho). In addition to going a day without a shower – that's right, long live the baby wipes and the desire to explore this natural paradise!
I know it doesn't look like the best of advertisements, but I can say with absolute certainty that it's worth every moment! And if you want to face this adventure more, then come with me to discover the best tips for your trip to be as unforgettable as mine:
The first thing to do is choose an agency to do the tour. I left España with some recommended agency names, but I preferred to wait and only decided when I arrived in San Pedro de Atacama.
Finally, don't forget to travel well prepared for the climatic conditions of the Bolivian desert. There you will enjoy cold temperatures that give way to heat in a few minutes – in addition to having to walk a lot and avoid the sunlight, which is super strong in the place. Therefore, comfortable hiking shoes and clothing with sun protection are essential.
What to do in Salar de Uyuni
I chose a four-day, three-night tour with Estrella del Sur. The closed price, discounted after some crying, was $105 Chilean pesos, approximately R$600,00 at the exchange rate at the time. Then negotiate, because the "original" price was 120 Chilean pesos! ?
The package included the round trip minibus to the border between Chile and Bolivia, three nights of accommodation in shared rooms, meals and drinks, in addition to the oxygen cylinder for those who felt ill due to altitude – which exceeds 5 meters in some places. !
What was not included and we had to pay separately: water, entrance fees to the Reserva Nacional Park and Isla Incahuasi National Park, in addition to the border fee when leaving Bolivia. Some people say they paid twice the border fee. But don't worry: you only need to pay it once and that's when you leave. If someone says otherwise, insist! # stayadica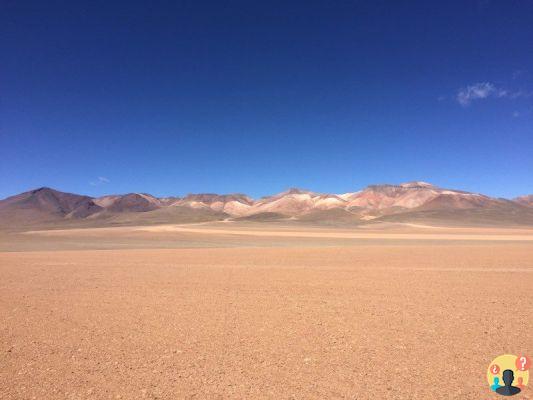 1st Day of the Trip
You take a minibus with a capacity of about 20 people to the border, go through immigration and head to the Bolivian side. There, you stand in line to pay the fee and then wait for them to put you in your SUV/Jeep with your group – up to 6 passengers.
My boyfriend and I stayed in a jeep with two other French young men and two Icelandic girls. All very friendly. And well, it's good that you really like the people in your car, since, depending on the package purchased, you'll have to sleep with them in the same room.
Among the tourist stops along the way to the accommodation, the Lagunas Blanca, Verde and Colorada, the Dalí Desert and the Thermal Springs stand out. I didn't have the courage to enter the hot springs because it was too cold! But my boyfriend came in and said it was really warm.
The accommodation was only with shared rooms. No shower, the bathroom didn't flush and the odor was strong – even outside, where there was a cesspool with waste etc and such. Despite that, the food was surprisingly good. All very simple, but in abundance.
Think of the classic sausage noodles, soup, wine, bananas and we even had a "5 o'clock tea" with cookies. Everything was delicious and unexpected! The lodge faces Laguna Colorada, where you can see several flamingos. Very nice place, although precarious.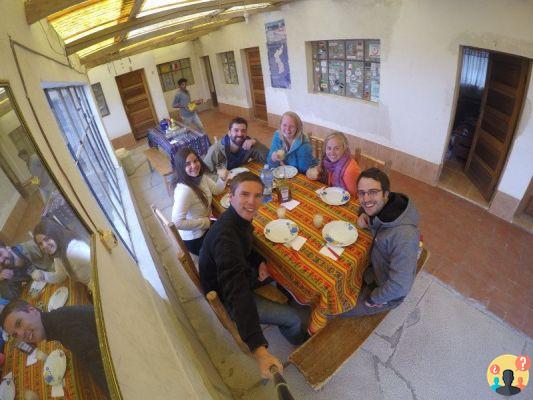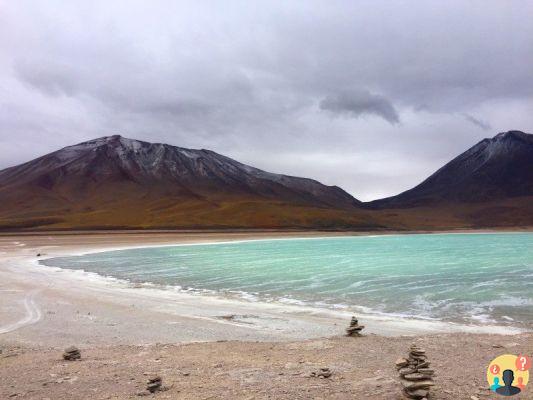 2st Day of the Trip
We leave around 7:30 am to visit the Stone Tree, the Altiplanic Lagoons, Honda, Hedionda, Cañapa, Chiarcota, see the Tomasamil Volcano, the Ollague Volcano viewpoint, the Salar de Chinguana and other attractions.
This day was, without a doubt, my favorite, as I am in love with the landscape of the lagoons and flamingos – which you see a thousand times more flamingos in Bolivia than in Atacama.
We ended the day arriving at Hostal de Sal Tambo Loma, an inn made entirely of salt. (My boyfriend licked the wall to prove it hahahah) This was the best accommodation of the whole trip!
Tambo Loma, despite being simple, has electricity (limited) and is very well maintained. The double rooms with bathroom are super comfortable and the food also lived up to expectations. I really liked. As there is literally nothing nearby to do at night: the good thing is to enjoy the incredibly starry sky. Amazing!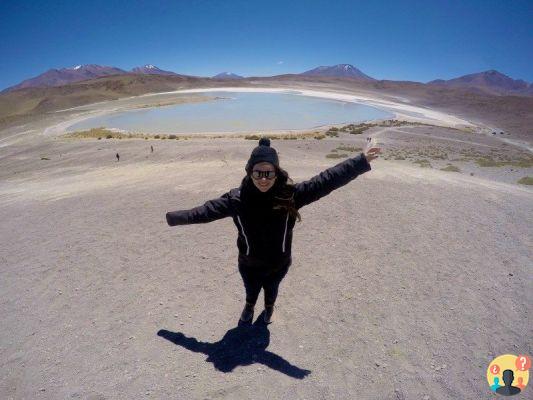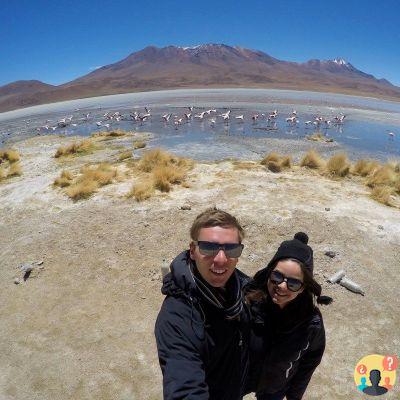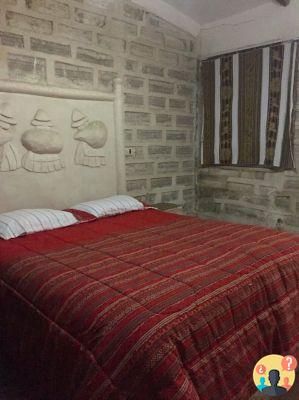 3st Day of the Trip
We wake up early and leave before five to see the sunrise at Salar de Uyuni and from there we visit Isla Incahuasi, in the middle of the salt flat, where there is a kind of "plantation" of cactus and an unbeatable view of the horizon.
We also visited the speaking museum (no big deal), a "train cemetery" and a village to buy handicrafts – in that "stop for gringo" style – where everything was much cheaper than in Chile.
After that we went to another accommodation, simple and more comfortable than the one on the first day. Our group was very lucky: as it was "full", we were allocated double rooms with a private bathroom. The only thing missing was the shower, but in life and on certain trips you can't have everything, right?
And despite all the difficulties, the trip to Salar de Uyuni was well worth it! We made good friends, had really nice guides and visited breathtaking places. If I can give you any advice, dear reader, it is: make this trip as soon as possible, preferably before the age of 30. After that my friend, have the courage to face hours of driving and all these limitations, see!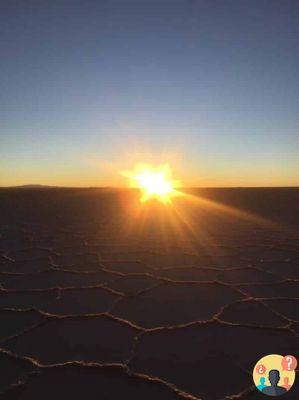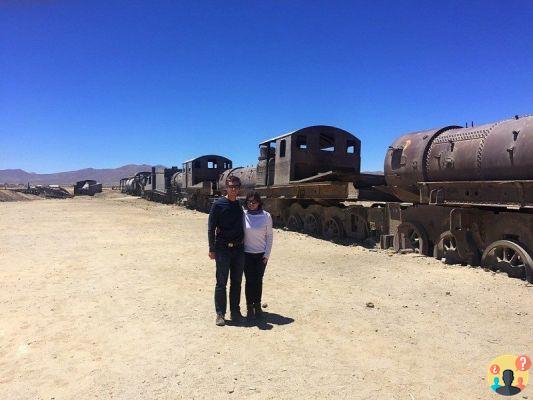 Say Extra
If you are not willing to give up your personal hygiene or a certain comfort, we recommend that you make your travel itinerary in advance and book your tours online. It is completely safe and makes the trip even more pleasant, without worrying about having to buy at the last minute or being extorted for not knowing the right price. ?
Below are some of the top tours in the region that you can purchase online:
Main Attractions in Salar de Uyuni
Book in advance all Salar de Uyuni tickets and tours and skip the lines with GetYourGuide
Where to stay in Salar de Uyuni
The Salar de Uyuni region, nowadays, has a vast hotel network, from the most luxurious hotels to appropriate and well-structured hostels – including functional bathrooms with showers! ?
Our recommendation is that you book your accommodation online so that you can make the most of your trip knowing that at the end of the day there will be a good hotel waiting for you to get the well-deserved rest.
See the best accommodations according to each traveler below:
Best Hotels and Hostels in Salar de Uyuni
Find the best accommodation in Salar de Uyuni on Booking.com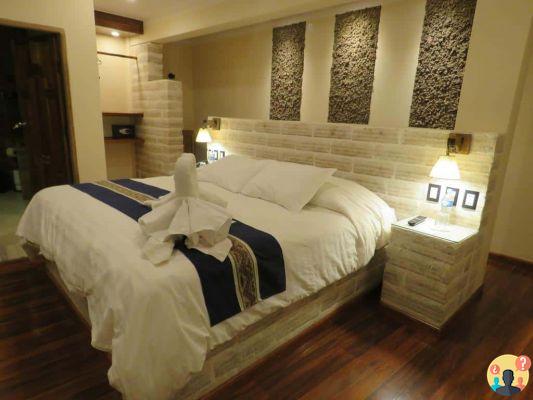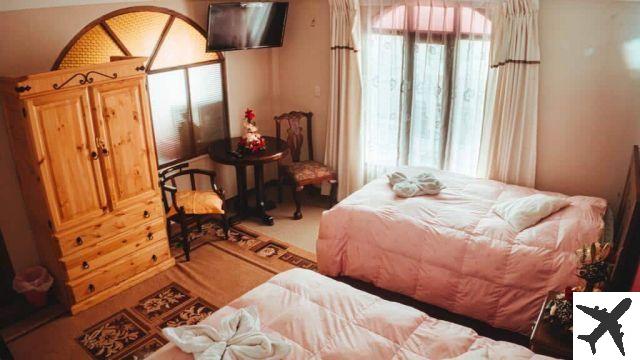 Internet chip not Salar de Uyuni
It's getting easier and cheaper to have unlimited internet throughout your trip on the Salar de Uyuni. Nowadays you can buy an international cell phone chip online while you're still here in España. We always use and love it!
You receive the sim card at your address and then just insert it into your cell phone to reach your destination with unlimited 4G internet working.
Also read more chip tips:
International Cell Phone Chip – Which is the Best and How Much Does It Cost?
America Chip Discount Coupon – 10% OFF on Travel Chip
Want to have unlimited internet throughout your trip?
Compare prices and buy your international travel chip in advance at America Chip.
Bolivia travel insurance
Buying travel insurance for Bolivia is an excellent way to ensure a smooth trip and avoid worries. Having the assistance of insurance gives you the peace you need to enjoy your destination and know that you have support if you need it. Also enjoy our Insurance Promo discount coupon. - SEE PRICES
Read all about travel insurance:
What is the Cheapest Travel Insurance – Tips on How to Save
How to Get Travel Insurance – 5 Easy Steps [DISCOUNT]
Which Travel Insurance to Choose – 3 Infallible Tips to Help
International Travel Insurance – Step-by-step How to Hire
Flights to Bolivia
Looking for a good deal and flight prices? When buying tickets to Bolivia, it is worth taking a look at the website Promo Tickets.
It is quite common to find cheaper and better flight options than on other sites. We always use and is it worth it?