Cádiz is the next stop on your trip to Andalusia and you will be there by car? This raises a crucial question: where can you find cheap parking in Cadiz?
Cádiz and its must-sees is a mythical stop on a road-trip in Andalusia. Situated near Seville and Malaga, this seaside city has a special shape and is known to tourists for its beautiful cathedral, carnival and waterfront. Although much of the city can be visited on foot, you will probably need a car during your stay to reach other nearby cities such as Gibraltar.
So, you're probably wondering where to park in Cadiz? It is important to know that this city has a small historic centre and therefore parking spaces are limited. To make life easier, here are all our tips on how to find cheap parking in Cádiz.
Parking in Cadiz: covered car parks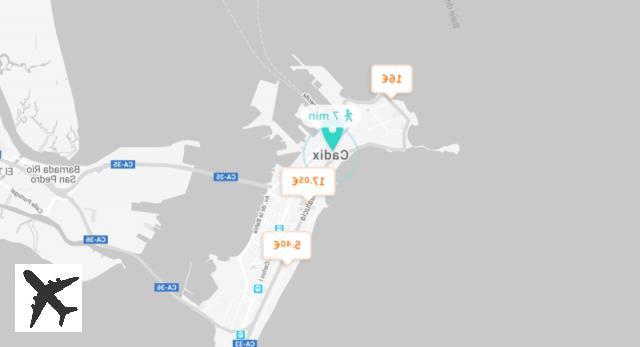 Map of cheap car parks in Cádiz
There are many covered car parks in Cádiz. They are generally paying, although cheaper than in France. However, you can also book your car park in Cadiz online via booking sites. They offer interesting rates, often cheaper (from 1€ to 1.5€ per hour for some, compared to 2€ on the spot). There is also the possibility to park there for a day (from 14 to 20 €).
Here are some covered car parks in Cadiz :
Aparcamiento Varela
Parking San Jose
Parking Puerta del Mar
San Antonio Square
Interparking Canalejas
Uncovered parking lots are usually cheaper. Here are some of them in Cadiz:
Santa Catalina car park
Parking Las Calesas
Parking Muelle Reina Sofia
Find a parking lot in Cadiz
Find a hotel with parking in Cadiz
For many travellers, car parks in Andalusia quickly become a problem. In the cities, there are few free spaces available and cars rarely move. That said, we now offer three solutions to find cheap parking in Cadiz.
Sometimes it is a little more expensive to book a hotel or apartment where you can stay with free parking, but it is a very good idea if you are going to Cádiz. Indeed, you will certainly need a bigger budget if you have to put your car in a covered car park for an entire night, several days in a row. Besides, finding accommodation with parking is also peace of mind. You'll know you don't have to look for a place to leave your car at the end of your busy days.
Find a hotel with parking in Cadiz
Parking in the surroundings of Cádiz
Downtown Cádiz is very lively. It concentrates tourist points of interest, some beaches, shops and a good part of the economic activity of the city. For this reason, it is often difficult to find a place to stay, especially during the week. You can try your luck of course, but the outskirts of the city will often save you a lot of time.
For example, you can park your car for free in San Fernando in the following streets:
Calle Matrona Ana Mariscal
Avenida Almirante León Herrero
Calle Dr. Revuelta Soba
From here, it takes 15 minutes to reach the centre of Cádiz by the urban train network (Cercanias Renfe).
Parking on the street in Cadiz
In Cádiz it is possible to park on the street. Although the number of spaces in the city centre is quite low, there are less busy streets that offer plenty of free parking spaces in Cádiz. These are the streets where you can try your luck at parking in Cádiz:
Avenida Juan Carlos I
Calle Emiliio Castelar
Avenida de la Illustración (terrace in front of the Mercadona)
Some streets near the waterfront have parking spaces on either side of the road. However, parking time is often limited during the week (1 to 2 hours). They are therefore preferable during the weekend to visit in peace and quiet. This can be a good alternative if you absolutely want to find a car park in Cádiz in the heart of the city.
Find a parking lot in Cadiz