We have separated all the tips for you to get to know the most famous avenue in Barcelona, ​​Las Ramblas. Check it all out here!
Las Ramblas, in Barcelona, ​​is one of the main tourist attractions in the city. Located at the beginning of the Gothic quarter and in the heart of the old city, this region is one of the most crowded with tourists, shopping and gastronomy. It is worth exploring this place calmly and taking advantage of every opportunity.
Here you will find people from all over the world, flower stalls, the wool market, street performers, bars, restaurants, museums, works of art, theaters and much more.
>> Read more tips Things to do in Barcelona for those who will stay from 1 to 5 days in the city.
Check out our guide with everything you need to know to get the most out of Las Ramblas Barcelona.
Haven't taken out your travel insurance yet?
How about buying at a discount? use the coupon FORTRAVELOVERS and get 5% off.
Click here and check it out!
Map
What does Ramblas mean?
how is the avenue
Directions
Tips for what to do and where to eat
Indication of hotels in the region
What you need to know before you go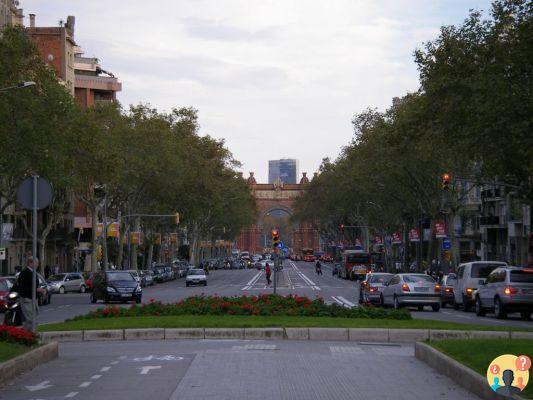 Map The Ramblas Barcelona
Las Ramblas Barcelona is located in the Gothic Quarter. It is a junction of several streets, with a wide pedestrian sidewalk in the middle, which extends for more than 1 km. It connects Plaza Catalunya to the sea at the Mirador de Colón.
The only streets that make up Las Ramblas are, successively: Rambla de Canaletes, Rambla dels Estudis, Rambla de Sant Josep, Rambla dels Caputxins and Rambla de Santa Mònica.
Below we have drawn up a map with the main points to visit on Avenida Las Ramblas Barcelona:
Or what does Las Ramblas mean?
Ramblas means "dry riverbed" or wide avenue with a lot of pedestrian traffic on a wide central sidewalk. Both translations do justice to the Ramblas.
In the 19th century, the Malla River occupied the site before being diverted, due to the construction of the Raval wall. Today, the central part of the Rambla is exclusively dedicated to pedestrians, shops and performances.
#ToDon'tForget: Travel insurance is mandatory in Spain.
Immigration does not release visitors who arrive in Barcelona without travel insurance. Use coupon FORTRAVELOVERS for 5% OFF, compare prices and coverage at InsurancePromo.
How is the avenue Las Ramblas Barcelona
Las Ramblas is a set of 1200 meters long streets that connect Plaça Catalunya to the Mirador de Colom. The latter is a historic point at which Columbus supposedly pointed towards the Americas for the first time.
In the past, this place was the bed of a river. It is now one of the main tourist centers, ideal for shopping and enjoying the city's gastronomy. La Rambla, or Las Ramblas, also divides the old city between El Raval to the southwest and the continuation of the Gothic quarter to the northeast.
As a tourist spot, Las Ramblas has nearby subways, fast foods, terraces, cafes, flower shops, bars and all kinds of artistic performances such as mimes, actors, musicians, etc.
During the day, the movement is possible to observe visitors from all over the world walking here. However, be aware, as this is one of the most common points of theft in the city.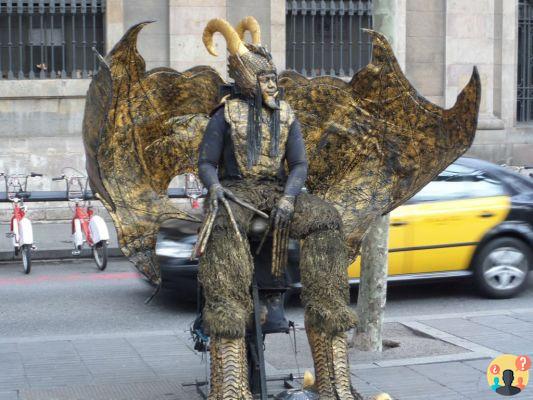 How to get to Las Ramblas?
Barcelona is a modern city and has ample transport options to all its points.
Write down the instructions on how to get to Las Ramblas Barcelona:
Buses:
During the day – Lines 14, 59 and 91
During the night lines – N9, N12 and N15.
Subway:
Catalunya Station at the beginning of the Ramblas with access to lines 1 and 3
Liceu station in the middle of the Ramblas with access to line 3
Drassanes station at the end of the Ramblas with access to line 3
Train
Catalunya station at the beginning of the Ramblas with access to lines R1, RG1, R3 and R4
Las Ramblas – What to do and Where to eat
Are you looking for authentic Mediterranean food? Go to La Boqueria. Do you want to eat traditional tapas? Las Ramblas offers many places to choose from.
Are you in a hurry and want to eat something quick to waste as little time as possible stopped? Las Ramblas is also full of traditional fast foods from cosmopolitan cities. As well as Arabic and Asian options that are increasingly popular in Europe, such as kebaberias and Wok to Walk.
For shopping in this region you will find everything. Stores like Zara, Mango, Nike, Barcelona Store, Real Madrid Store. There are even countless souvenir shops and miscellaneous products to take home.
There is a lot to do on the 1,2 km of the Ramblas. During your tour of Las Ramblas you will pass by some very interesting points.
Fountain of Canaletes
Verge de Betlem Parish
Source of the Portaferrissa
Palace of the Viceroy
Erotic Museum of Barcelona
Miró mosaic
Garden of the Ignácio de Puig House
Gran Teatre del Liceu
Plaça Reial
Colom viewpoint
La Boqueria
and other points for those who like history and architecture
Below we have selected the main points that I recommend to be part of your Ramblas itinerary: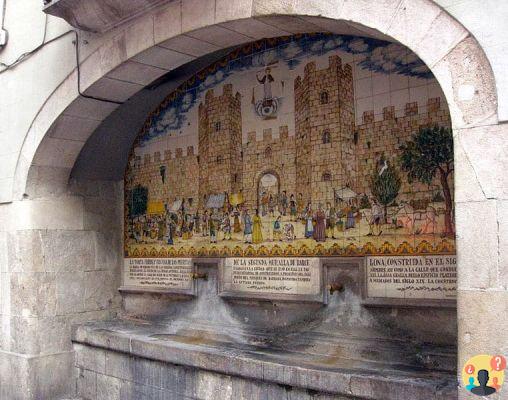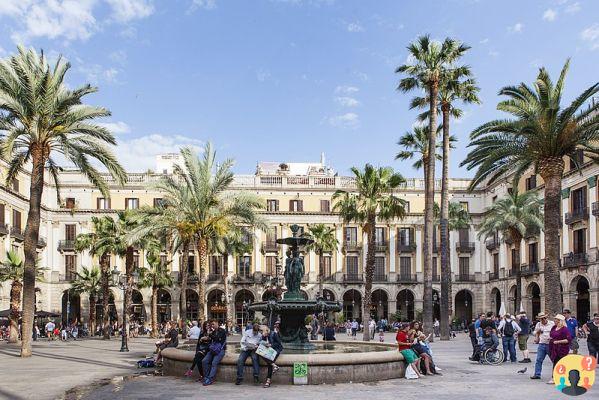 La Boqueria - Las Ramblas Market
In 1835, there was a fire in the Convent of São José caused by popular revolt. In its place, the city of Barcelona built a square and the market opened there.
Formerly known as Mercat de Sant Josep, La Boqueria it is the most famous and oldest of Barcelona's Municipal markets. The Mercat de La Boqueria is one of the city's must-see spots.
With more than 250 stands arranged in a labyrinthine fashion, La Boqueria is a perfect place to buy seafood, fruits, vegetables, cheeses and wine, as well as to snack on local delicacies.
In addition to the shops, there are also jamóns, artisanal salami and various types of food. This market is a perfect place to grab a bite.
Take advantage of local stores to get excellent wines on sale. Enjoy the indoor bars and enjoy a glass of wine or beers to match the snacks offered.
>> Read more tips in our post La Boqueria Barcelona – Guide to the City's Most Famous Market.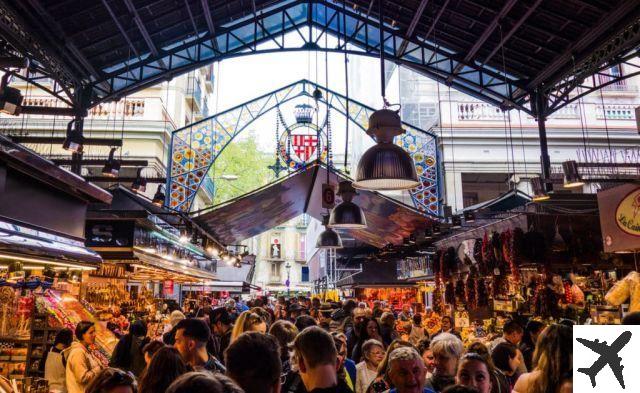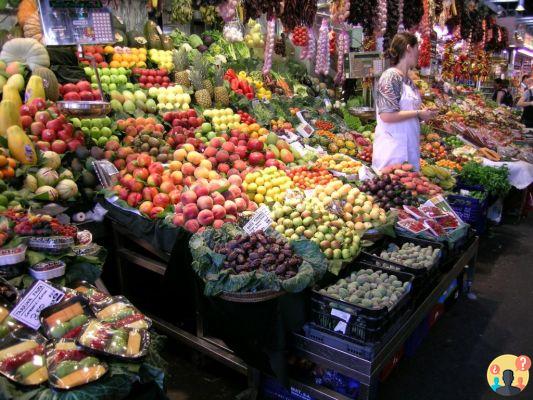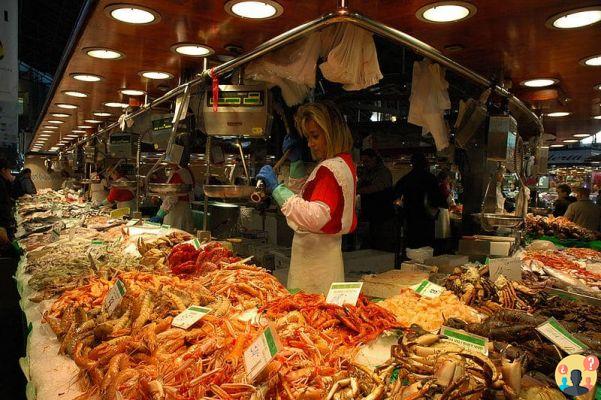 Verge de Betlem Parish
One of the historic points of the Ramblas, in the heart of Barcelona, ​​this parish in Baroque style built in 1555. It was the first house of the Jesuits in Catalunya and the headquarters of the University College.
Although it has suffered some serious fires in its history, it has been restored and houses 10 side chapels. On the main facade, you can observe the birth of Christ. On the sides, the baroque style is distinguished by the image of Saint Francis Xavier.
Inside, some spots are memorable. Among them the pottery of the canopy made by Manel Padrós and the tabernacle with the chapel of the Blessed Sacrament. The oils in the Chapel of the Virgin of the Abandoned and the door of the baby Jesus that inspired the article "O Jesus da Rambla" by Cinto Verdaguer, are also worth mentioning.
House Bruno Pictures
Las Ramblas is a very special piece of the world. In addition to showing the past, it also exposes how modern times have contributed to further increase the grandeur of this city.
Casa Bruno Cuadros, a true allegory of Orientalism, was once an umbrella shop. The style close to modernism, with the color and delicacy of its decorations, make this building a mandatory stop.
Combining pre-modernist elements with other cultures, the building is super eclectic. The balconies and the gallery on the top floor have Egyptian references. The facade with sgraffito and stained glass reminds us of cast iron umbrellas and fans.
In the shop, orientalism also permeates the exterior. Characterized by carpentry work, painted glass and paintings with characters drawn from Japanese dishes.
The most striking element is, however, the great Chinese wrought iron dragon. He protrudes from the facade, holding an umbrella as a pretext for the store.
After the completion of the 1980's renovations, the iconic location of the famous umbrella shop was converted into a bank branch.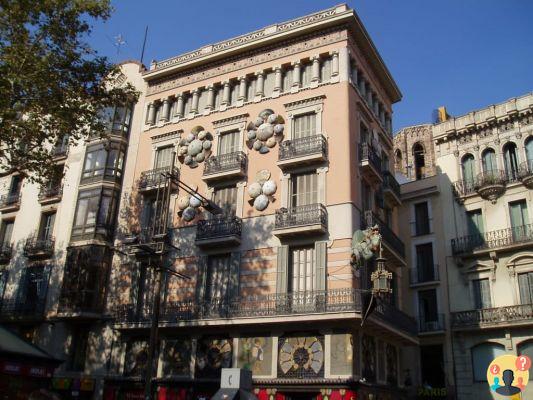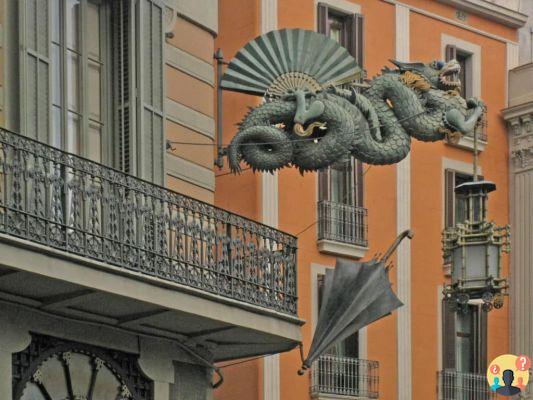 Gran Teatre del Liceu
The Gran Teatre del Liceu is the home of the Opera in Barcelona. Place of numerous lyrical shows and ballet performances since 1847.
With refined environments decorated in the Florentine style, the architectural splendor is, since its beginning, complemented by the presentation of music icons such as Wagner, Puccini, Mussorgsky, Tchaikovsky, Stauss, Stravinsky, Mozart.
Currently, the greatest composers and conductors of today perform here. Even the biggest dance companies, such as Diaghilev's Ballet Russe, performed here.
It is the perfect place for those looking for history, as well as for those looking for an unforgettable performance.
With capacity for more than two thousand people, it is one of the largest opera houses in Europe.
When visiting, don't miss the hall of mirrors, with its majestic ceiling paintings and texts on art and music inscribed on the walls. Also admire the statue of the Muse of Music created by Venanci Vallmitjana.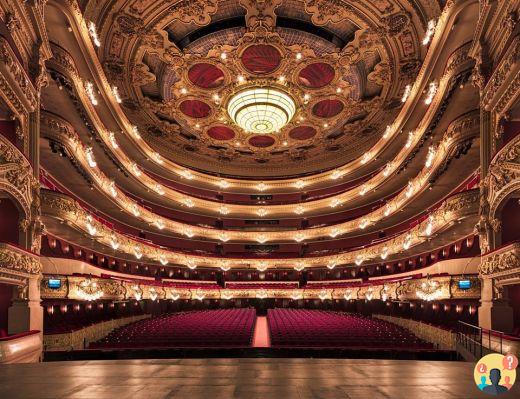 Colom viewpoint
The Mirador del Colom is considered to be the place where Columbus first pointed towards the Americas. However, for the trained eye, the direction pointed is not towards the Americas, but towards Africa.
It is interpreted, then, that the navigator pointed to the sea that would lead to the necessary path to reach the Americas and not to the destination itself.
You can visit the Mirador located at the feet of the Columbus statue. This is a famous photo spot. No wonder, it offers quite a panoramic view.
To the north, the Gothic quarter, Cathedral and the Ramblas. If you look east you will see the sea, the Olympic marina and the modern forum. Further south, the Montjuic hill and west the Collserola park.
Tickets cost from 6 euros. Open from 8:30 am to 20:30 pm (last access at 19:30 pm)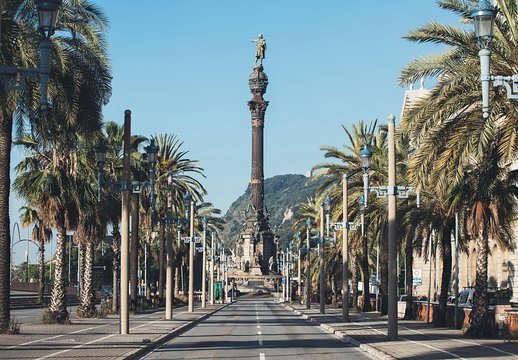 hotels in Barcelona
As Las Ramblas is a very touristy area, staying in this area can be very busy and noisy throughout the year. A convenience is that the region has a great structure of subways, trains and buses.
Walking in the area at night is safe, just watch out for some "pickpockets". They steal away distracted visitors, who stop to watch street performers perform.
>> Also read our post with more tips Where to stay in Barcelona – The Best Regions and Hotels.
Below we have selected some hotels that are sure to please all tastes, pockets and styles of travelers.
*Changes may occur in daily rates depending on the time of year and availability. Always check the website Booking.com to check updated prices.
Bagués Museum Hotel ($$$)
What it's worth: A luxurious, refined and sophisticated option on the Ramblas
O Bagués Museum Hotel it has an in-house museum and is ideal for guests looking for unique and personalized service.
Highlights are the spa and the Jewelry Museum, which boasts pieces from the collection, the terrace with swimming pool, solarium and the restaurant La Terraza de Bagués.
Rooms are spacious, soundproofed, decorated in the hotel's theme. It offers a Nespresso machine, air conditioning and TV and up to two people can enjoy the room.
Rates from 190 euros*, breakfast not included.
Check prices and availability and make your reservation by clicking here!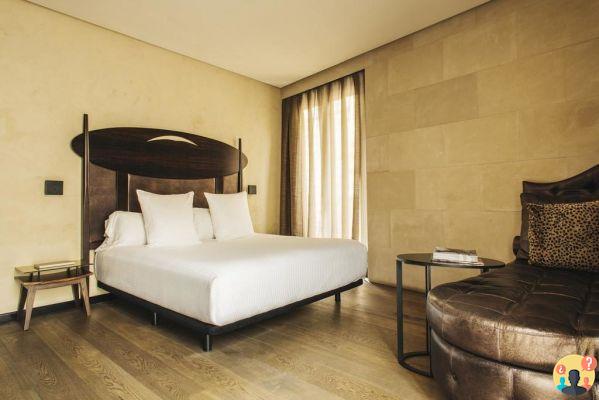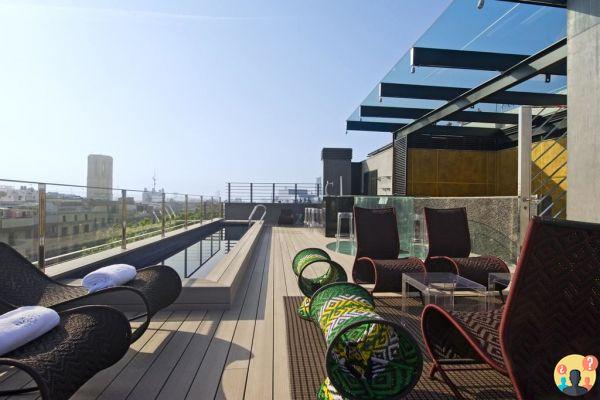 Hotel Petit Palace Boqueria Garden ($$)
What's worth: close to La Boqueria Market, this charming hotel is a true Oasis of peace and tranquility amidst the bustling Ramblas.
One of the most beautiful hotels in the city, the Petit Palace Boqueria Garden unites modernity with refinement and style. It has a garden with centenary trees, a restaurant-bar on the terrace and there is also an indoor restaurant for breakfast and snacks.
Perfect for couples looking for a romantic retreat and also for the family, as some rooms fit up to six people. Amenities are iPad in the room, air conditioning, TV, Wi-Fi, bicycle rental and some rooms with a balcony.
Rates from 110* euros with breakfast included.
Check prices and availability and make your reservation by clicking here!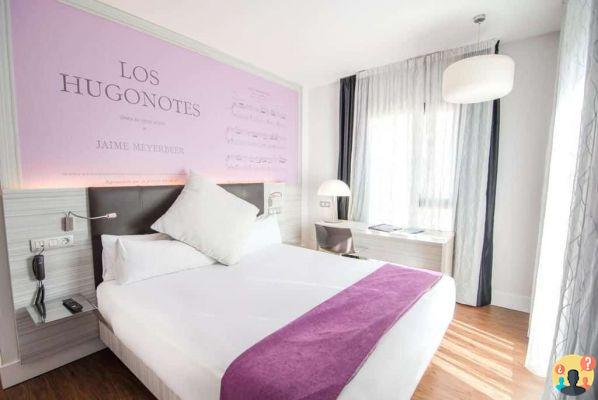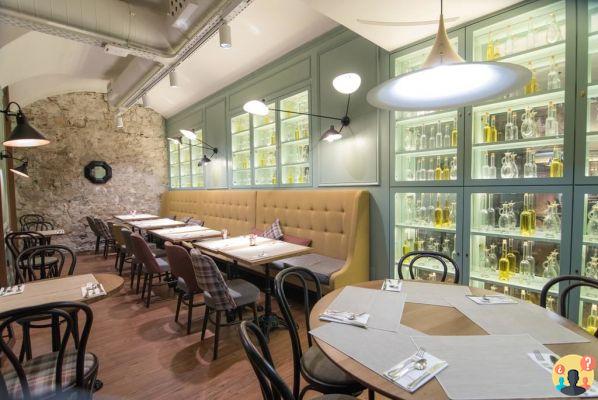 East Shoot Hotel ($)
What's worth: Located next to Teatro Liceu, good value for money and quality of service.
One of the interesting points of East Shoot is the glass-roofed breakfast room. The buffet varies depending on the day, but it never leaves anything to be desired if you are looking for a Catalan-Iberian style breakfast.
Rooms sleep up to 4 people and have free Wi-Fi, air conditioning, TV and breakfast included.
Rates from 58 euros*, breakfast not included.
Check prices and availability and make your reservation by clicking here!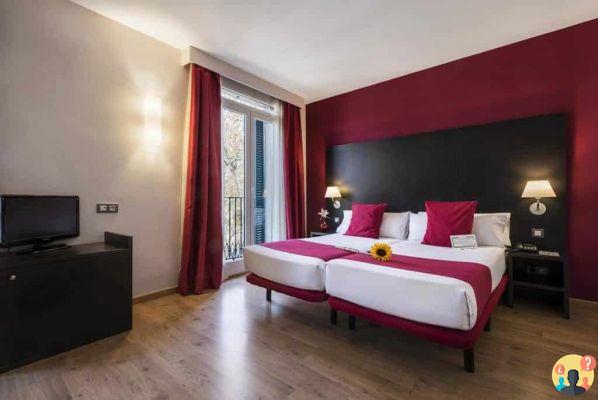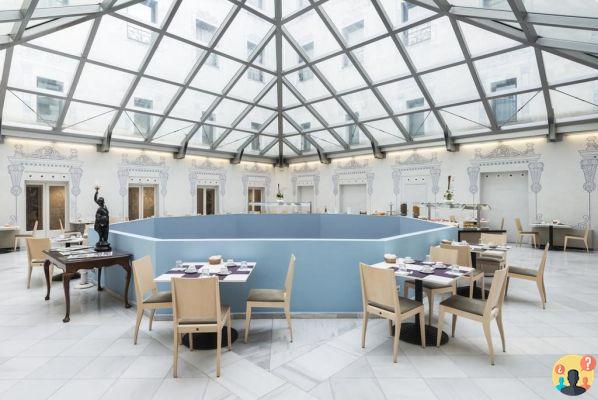 Kabul Party Hostel ($)
What's worth: if you like daily parties, great value for money, enviable location and lively people this is your hostel.
O Kabul Party Hostel It is located in Plaça Reial and is great for those who like to party. Perfect for those who have enough energy to combine daily parties with sightseeing and want to save a little by taking advantage of breakfast and dinner already included in the package, in addition to free Wi-Fi.
The rooms are large and have many options. From private suites for two people to mixed rooms for 3 to 24 people and also rooms exclusively for women. You'll also find a security locker and space to charge electronics.
It's a bit noisy hostel, if you want quiet nights, see other options where to stay cheap in the post where to stay in barcelona.
Rates from 15 euros* with breakfast and dinner included.
Check prices and availability and make your reservation by clicking here!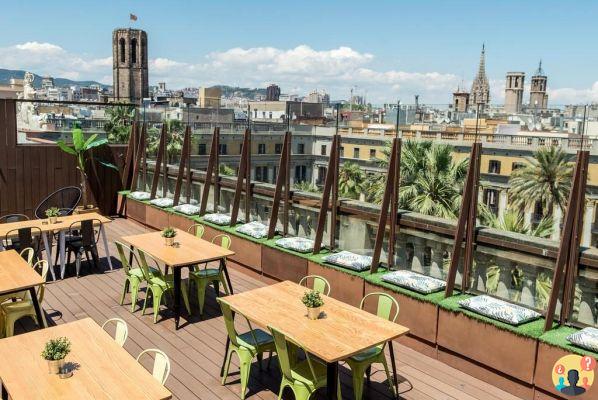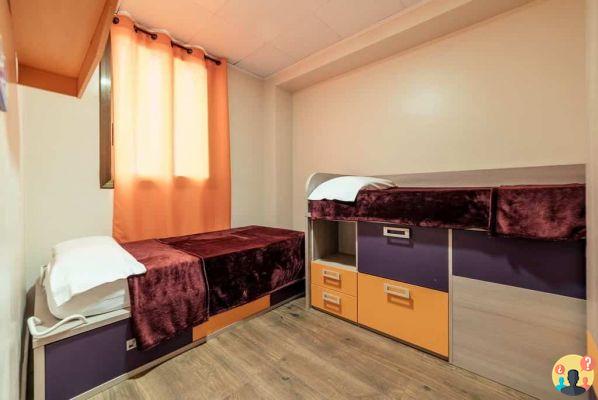 #StayTip: Keep an eye out for 'Smart Deals', which only last for one day. Some amazing hotels offer great discounts using this badge on the platform. If you find a good deal, it's worth closing. ?
What you need to know before going to Barcelona
Are you full of things to think about and still have to plan your entire trip? Or you've seen it all, but you're feeling that familiar "maybe I've forgotten something?"
So calm down, we'll help you with some items you can't forget before boarding. Come on?
1) Have you already purchased your airline ticket?
Where to buy: PROMO TICKETS
Looking for a good deal and flight prices? When buying tickets to Barcelona, ​​it is worth taking a look at the website Promo Tickets. It is quite common to find cheaper and better flight options than on other sites. We always use and is it worth it?
2) Travel insurance for Barcelona
Having travel insurance for Barcelona is a requirement to enter the country, which is part of the Schengen Treaty and requires medical and hospital coverage of at least €30 for travelers. In addition to being mandatory, insurance is a great way to ensure a smoother trip. Also enjoy our Insurance Promo discount coupon. - SEE PRICES
3) How to have unlimited internet while traveling
Where to Buy: AMERICA CHIP
Did you know that it's getting easier – and cheaper – to have unlimited internet throughout your trip?
Just ask for an international cell phone chip at AmericaChip. We always use and love it! They send a SIM card to your address in España, you insert it in your cell phone when you arrive at your destination and you have unlimited internet throughout the trip.
#StayHip: Save on car GPS rental and use GoogleMaps and Waze with your unlimited internet?
4) Rent cars at the best prices
Where to rent: RENTCARS
We really like RentCars to find the cars we use on our travels. It is the only one in Spain that compares the best rental companies in the world, but lets you pay in reais, without IOF. In addition, it is also the only one that lets you pay in 12 interest-free installments. It is worth it!
#Here's a tip: Try to find cars with full car and third party insurance coverage. Thus, you avoid inopportune surprises when picking up the car.
Did you like our Las Ramblas Barcelona tips? Leave your comments or questions here and we'll always help you...
Read more
What to do in Barcelona – Itinerary from 1 to 5 days
Where to Stay in Barcelona – Best Regions and Hotels
Where to Eat in Barcelona – Best Restaurants
La Boqueria Barcelona – Guide to Barcelona's Most Famous Market
Travel Insurance Spain – Know What are the Requirements
Best Parties in Ibiza in Summer – Know Where to Go
When to go to Ibiza – What is the Ideal Season?
What to do in Ibiza – 10 Tips for your Travel Itinerary
Chip Cell Phone Spain – Which is the Best?
Internet Chip in Europe – Which is the Best International Chip?
America Chip – Learn How It Works
7 Must-See Nightclubs in Ibiza – Best Parties in the City
5 Tips for Spanish Restaurants – Where to Eat in Ibiza
Where to Stay in Ibiza – 5 Party Accommodations
Things to do in Formentera – Discover the Ibiza Refuge
10 Best Beaches in Ibiza – Complete Guide to Where to Go
What to Do in Summer in Ibiza – Complete Guide