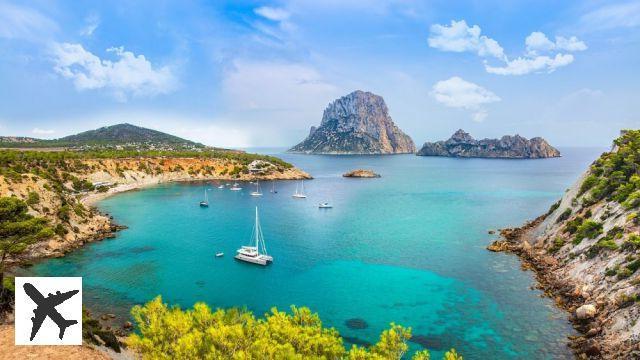 Would you like to treat yourself to a stay in Ibiza for your next holidays? Here is our guide to go to Ibiza from Valencia by ferry.
Ibiza, the largest of the Pityuses (or Islands of the Pines, name given by the Greeks to Ibiza and Formentera) has many assets. This island, with a surface area of 572 square kilometres, is made up of many small coves with clear waters. This haven of peace, which was discovered by the hippies in the 1960s, is now a huge success. Very popular with stars, but also with partygoers and lovers of beautiful landscapes, Ibiza is a flagship destination in the Balearic Islands. This popularity has led to the development of hotel infrastructures and various activities of all kinds. Capital of festivities, Ibiza is also a great place to find unspoilt nature and heavenly places. Not to mention its highly developed cultural aspect with its numerous museums and monuments classified as UNESCO World Heritage Sites.
To go to Ibiza, several solutions are available to you. The airplane is of course the fastest means of transport, the ferry also has its advantages. Going to Ibiza from Valencia by ferry is a very practical solution to discover the island. Indeed, by choosing to travel by ferry, you also opt for freedom by taking your vehicle with you! Having your car on the spot offers many advantages. First of all from an economic point of view, it will avoid you to pay a possible parking at the airport of departure as well as to rent a car on the spot. And don't forget, taking your car also means having the possibility to take a lot more luggage with you. And not to deprive yourself once you get there!
Also read :
Top 10 things to do in Ibiza
How do I get around the Balearic Islands by ferry?
How do I get to Palma de Mallorca from Valencia by ferry?
Ferry companies connecting Ibiza to Valencia
To go to Ibiza from Valencia by ferry, you have two main companies at your disposal. First there is Balearia. This company offers you seven crossings per week for an average duration of 5h10. The crossing is often made at night. The advantage here is that you have the possibility to take your vehicle with you! Much more practical once arrived on the island, no need for any rental. You are free! You also have the company Trasmediterranea. The crossing also takes place at night for an average duration of about 6h45.
Alittle advice: if you book a little in advance, this company sometimes offers very competitive rates such as a crossing at 80€ instead of 140€.
View ferries between Valencia and Ibiza
Planning your ferry trip to Ibiza
To plan your ferry trip to Ibiza from Valencia, use the Direct Ferries price comparison website and book online. As with all other classic price comparators, e.g. for hotels, all you have to do is enter your departure point, in this case you will enter Valencia. Then your arrival in Ibiza, your desired dates and times. The search engine works for you and will give you all the necessary information about your future crossing, at the best price!
Once you have done your search, check that all your parameters are correct. Also remember to take a good look at the departure times for your crossing. As indicated above, the journey is at night. So the ferry leaves in the evening, around 9.45 pm for the Balearia company, arriving in Ibiza at 4 am. For the company Trasmediterranea, the departures are around 22:30 and the arrival will be at 5:15 in the morning.
How to book a ferry to Ibiza from Valencia?
When you go on holiday, it is always best to book your journey in advance to make sure you will find what you need, and for your peace of mind. If you know your dates, it is advisable to book several weeks in advance. As mentioned above, you might even be able to get a special rate! All you have to do is go to the Direct Ferries website and fill in the information requested (dates, departure and destination, number of passengers etc...). If you wish to pick up your vehicle, you will also be asked for the type of vehicle, make etc... Start your search and now it's up to you! Compare the rates among the offers that best suit your needs.
At the time of writing, the price of the crossing is 119€ at Balearia and 140€ at Trasmediterranea. In other words, there is another crossing in this company at 80€. You will also be able to choose your options such as seat, cabin and meal. These options will be in addition to the advertised price.
Nota Bene: it is often preferable to take out cancellation insurance at no extra cost, for €9.75 per passenger. The decision is of course up to you, but if you wish to cancel or modify your reservation without having taken out this insurance you will have to pay the sum of 35€.
View ferries between Valencia and Ibiza