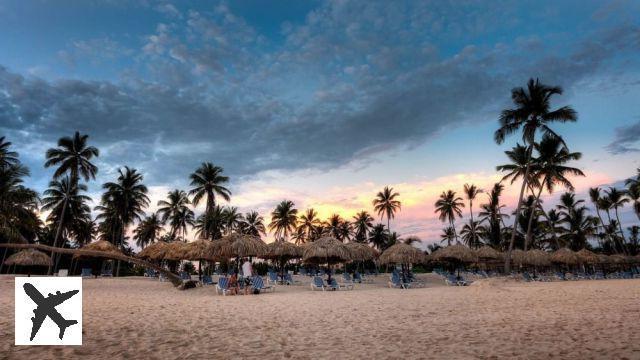 Summary
Cabeza de Toro
Bavaro
Cape Cana
Friusa
Close to major attractions
Direction the Dominican Republic and the unavoidable Punta Cana! Discover the best areas to stay in this foretaste of Paradise!
Punta Cana is one of the most beautiful holiday destinations, with its magnificent beaches and numerous activities. Discovered by Christopher Columbus and inhabited by Ponce de León, the Dominican Republic is an ideal destination for those who want to discover expanses of white sand and bathe in warm waters with intense colors. Its most paradisiacal beaches are concentrated in Punta Cana: Macao Beach, Bavaro Beach, Juanillo Beach, Arena Gorda, Arena Bianca or Cabeza de Toro offer an exceptional and preserved setting with numerous animations and catering services.
On the accommodation side, there are many places to stay in Punta Cana. Luxury hotels, straw huts, houses, hotels or apartments... Whatever your choice, one thing is sure: the landscape alone is enough to give you a real treat!
Also to be read: The 6 must-do things to do in Punta Cana
Cabeza de Toro
Cabeza is a small fishing village located south of Punta Cana, not far from the airport and Cape Cana. Under the bright Caribbean sun, you will have the happiness to wake up in front of a magnificent blue expanse. In Cabezo you will find very nice colorful boats and fishermen's huts where the fish is dried. The place is ideal to breathe the fresh sea air and enjoy a more authentic setting than Bavaro, with far fewer tourists.
Bavaro
Punta Cana has about forty kilometres of beach. The best known and longest is Bavaro, where you will find the main hotels, apartments and rooms for rent in the city. Alone, as a couple or with your family, renting a furnished apartment near the sea in Bavaro is an excellent choice to enjoy the beach at different times of the day. It is here, in particular, that you can enjoy an immersive experience with dolphins!
Bavaro is also the place to be to party in Punta Cana and you will appreciate the numerous restaurants, trendy bars and discos. It's an area that never sleeps, especially during the summer season or the winter holidays when tourists flee from the European greyness.
Cape Cana
Located east of Punta Cana, Cap Cana is a 25 km² area that includes only luxury hotels such as the Marina Sands Luxury Resort, the Eden Roc near Playa Caleton, and the Golden Bear Lodge Spa. Easily accessible by air, land or sea, it is a real small town with its restaurants, bars, golf courses (notably Punta Espada designed by Jack Nicklaus), and above all its famous marina where you can admire the yachts. Juanillo beach is one of the most beautiful in the country: with your feet in the sand or on board a catamaran, enjoy the show!
Friusa
If you want to get away from the luxury and the party and discover the Dominican culture, we advise you to stay on the side of Friusa. There you will find reasonably priced hotels as well as restaurants with local cuisine and bars.
Close to major attractions
If the city of Punta Cana is famous for its dream beaches, it also has other curiosities to be discovered. If you prefer activities to the long hours spent sunbathing on the beach, you can stay close to Manati Park, an exceptional water park in which you will have an incredible experience: swimming with dolphins, a unique adventure that will leave you with unforgettable memories.
You can also choose to stay near the Marinarium, a protected area that offers the unique opportunity to discover the wealth of underwater fauna and flora. In this 40,000 m² natural aquarium, you will be able to indulge in numerous activities such as snorkeling, also known as aquatic trekking, which is practiced with fins, mask and snorkel, or diving with nurse sharks.
We also recommend accommodation near the park of the Punta Cana indigenous reserve. You will be able to discover the Dominican nature and its history, visit a zoo sheltering all the animals of the island and admire 12 fresh water lagoons, 5 of which are open to swimming.