The San Blas Archipelago is a Panamanian paradise that attracts more and more visitors. The beaches with the clear waters of the Caribbean Sea and white sand provide landscapes of a still rustic paradise. Getting there can be a challenge, but I guarantee it's worth it.
San Blas is an indigenous region of Kuna Yala – or Guna Yala. Visiting the islands means getting to know a little about the culture of the Kunas Indians. As it is an indigenous reserve, they are the only ones who can invest and profit from the region (transportation and accommodation).
There are more than 365 islands in the San Blas archipelago in the Caribbean Sea – but not all of them are inhabited, much less visited by tourists.
Today they are more organized, speak Spanish and there are structures that are a little better than in the past. But even so, keep in mind that you are entering indigenous territory and things are still quite rustic. Go with an open mind and heart to spend days in one of the most beautiful beach destinations around.
In this post you will read:
Where is the San Blas Archipelago
How to get to San Blas
When to go to San Blas
How many days to stay in San Blas
Things to do in San Blas
Where to stay in San Blas
Gastronomy in San Blas
Tips to write down before visiting San Blas
Internet Chip in San Blas
Travel insurance for San Blas
Car hire in San Blas
Flights to San Blas
Where is the San Blas Archipelago
San Blás is located in the Kuna Yala province of Panama, on the eastern side of the Panama Canal. There are more than 365 islands inhabited by the Kuna Indians and the capital El Porvenir.
The region is very touristy, with its blue waters and white sand, but everything is very rustic and simple.
How to get to San Blas
Here I will tell you a little about my experience and also give you some tips on other ways to access the islands of San Blas.
To enter the Kuna Yala indigenous region, it is necessary to present a passport and pay a fee of 20 dollars per person.
>> See also How to visit San Blas in Panama
Sailboat crossing
For my trip I contracted with Blue Sailing, a crossing from Cartagena in Colombia, to Panama City, passing through the San Blas Islands. It was a five-day trip on a sailboat, two of them in the open sea and another three through several islands of San Blas.
The first two days were more tense, seasickness and rough seas. But after the nausea phase passed, it was just a case of enjoying it. It was one of the most beautiful trips I have ever taken.
The value of the sailing trip is around 550 dollars. Including the sailboat (transport and accommodation), food (breakfast, lunch, dinner and non-alcoholic drinks), snorkel equipment and tour of some of the islands. This price varies between 500 to 700 dollars, as each captain charges differently.
In addition to this amount, I still paid around 70 dollars for the final part of the crossing – taxi boat and car to Panama City.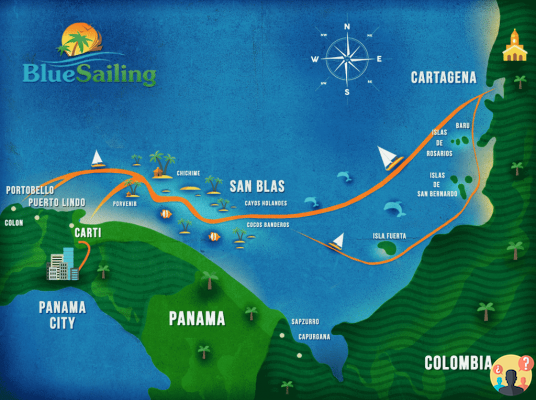 By car + boat
You have to fly to Panama City, from there drive to one of the ports and then take a boat to the islands. The drive from the Panamanian capital to the port takes just over 2 hours.
It is possible to rent a 4×4 car and go on your own, but I suggest hiring the round trip service with an agency or local driver.
#A hint: even if you're not the road-sick type, bring some medicine. The last kilometers of road are difficult and many get sick. Don't risk getting seasick and getting in the way of your first day in paradise.
The route from Puerto de Carti to the islands is made by the Kunas, in their own boats. They are organized by island (each with its name). So stay tuned, and keep in mind the name of the boat/island you should take (see more information about the islands below).
Sometimes you have to wait a bit, just be patient and everyone will board.
The tour between the islands is done by boat by the Kunas themselves, and varies from 10 to 20 dollars each way. As I was already on my own boat (sailboat), I didn't have to pay this fee, and some accommodations are already included in this amount.
When to go to San Blas
San Blas is one of those destinations that you can visit all year round. Heat and high temperatures are some of the characteristics of the region. To get an idea, the minimum is rarely below 20ºC, and the maximum reaches around 30ºC.
Rain can interfere a little with your ride. They start in May and can last until mid-November. At this time, the sea is rougher and makes access to some islands difficult. In addition to being less crystalline, which hinders visibility.
The best time to visit San Blas is between December and April. If you can't go in these months, I suggest staying a few nights in the region, don't risk a day trip in the rainy months.
It is worth noting that San Blas is outside the path of hurricanes and is hardly hit by the strong and devastating Caribbean storms.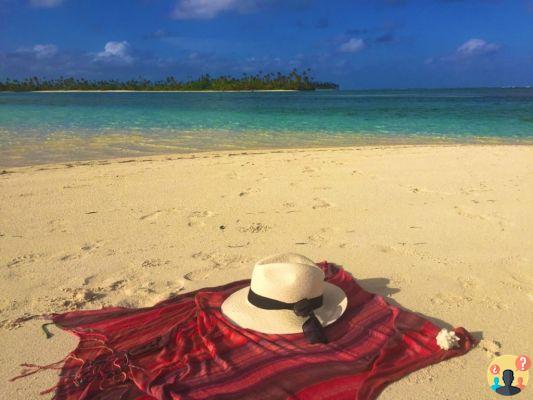 How many days to stay in San Blas
How many days to stay in San Blas depends on how much time you want to relax and enjoy. I suggest having at least 2 full days on the islands. In San Blas there is not much entertainment, apart from the islands themselves, boat trips and maybe even a snorkeling trip.
But definitely a round trip is not worth it, you will spend more time on the journey than actually enjoying the destination.
Things to do in San Blas
How about having an entire island just for you?! With so many islands in San Blas this is possible. There are more than 365 islands in the archipelago, and choosing between them is no easy task. So, we help you with this list of islands that are worth including in your itinerary.
Before talking a little about some islands, it is worth explaining that transport between the islands (tours) is done by boat. If you're traveling by sailboat, as I did, you don't have to worry, as your captain will take you to discover the islands.
If you are traveling on your own, remember that you will need to hire the transfers with the local boatmen or directly with your accommodation and you will have to pay an extra fee, between 10 to 20 dollars each way.
Book all San Blas tickets and tours in advance and skip the lines with GetYourGuide
Dog Island
Also known as Achudub or Perro Chico. This island is one of the most visited and, consequently, is almost always one of the busiest – especially on weekends.
There is a basic structure for visitors. In addition to a large sunken boat, great place for snorkeling.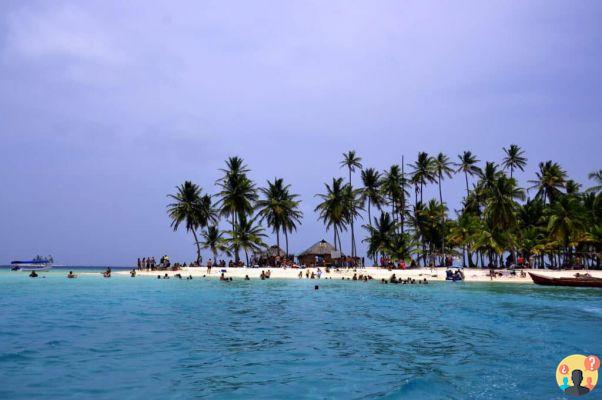 Aguja Island
Another island well sought after by visitors is also one of the closest to the mainland.
On Isla Aguja, the structure for visitors is good – local shops, restaurant, cabins and camping area, in addition to bathrooms. They have beautiful beaches. It is very busy, especially in high season and on weekends.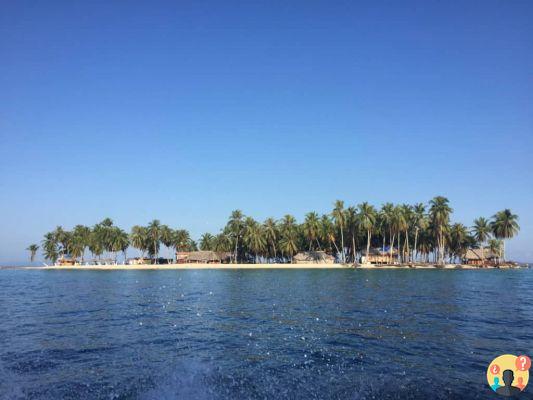 Pelican Island
Small, with many coconut trees and blue sea. There is no accommodation or local commerce here. Arrange with your boatman the time to pick you up, and enjoy a few hours of your day in paradise here.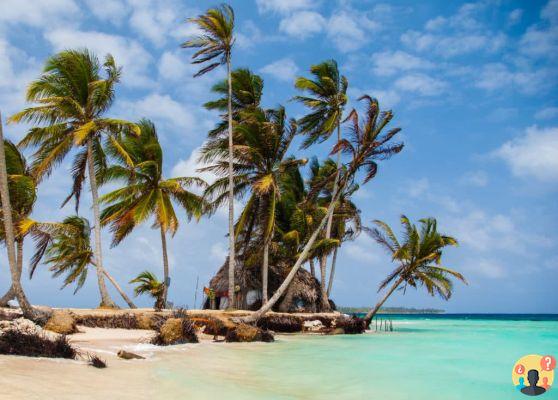 Star Pool
A large sandbar in the middle of the Caribbean that forms a natural pool of crystal clear waters. Usually boats just pass through here for visitors to enjoy a little. And of course, don't take the stars out of the water just to secure a photo.
White Coconut Island
The island is exclusively for hotel guests, meaning it is a great option for where to stay in San Blas. So you can enjoy "your island" and even meet others in the region. From here, daily tour boats depart.
Where to stay in San Blas
Besides White Coconut Island, there are other islands that are worth the stay. Among them: Diablo Island, Tubisenika Island, Perro Grande and Chichimè islands are also good options to visit and also where to stay.
See more tips at:
Where to Stay in San Blas – How to Choose and the Best Directions
Hotels and B&Bs in San Blas
Find the best accommodation in San Blas on Booking.com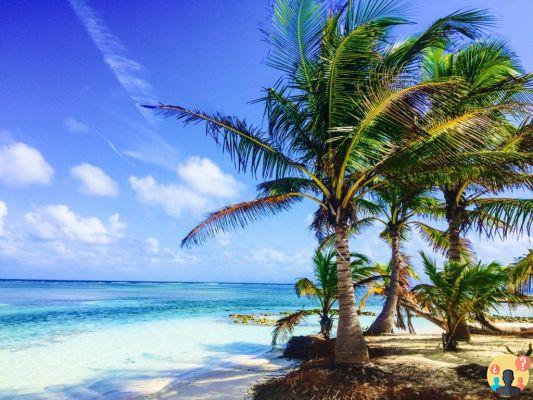 Gastronomy in San Blas
Trying the local food is part of the experience, isn't it? Some of the islands of San Blas, such as Perro Chico and Isla Aguja, offer restaurant and snack bars. The dishes are simple and prepared by the residents themselves, the Kunas Indians.
Some accommodations in the archipelago also offer the all-inclusive package, with breakfast, lunch and dinner. Which can be a good tip when booking a place.
Even going with food guaranteed by your accommodation, take extra snacks. Remembering that you will visit islands and beaches without much or zero local commerce.
Tips to write down before visiting San Blas
Here are some final tips to help you on your trip:
Don't forget your passport. You don't need a visa to enter San Blas, but your document will be collected, checked and stamped.
Take change (in dollars). Small bills make it easy to pay for entry, boats and food around the islands.
Bring fresh clothes, don't forget your beach items – plus sunglasses, sunscreen and a hat/hat that you'll wear every day. If you have your own snorkel gear it can be very useful.
If your island accommodation doesn't provide food, pack some snacks and drinks just in case.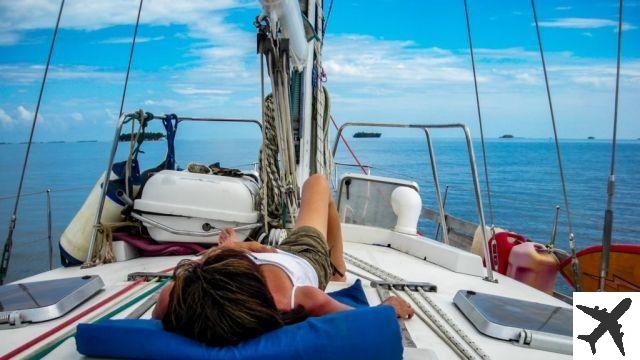 Internet Chip in San Blas
It's getting easier and cheaper to have unlimited internet throughout your trip in San Blas. Nowadays you can buy an international cell phone chip online while you're still here in España. We always use and love it!
You receive the sim card at your address and then just insert it into your cell phone to reach your destination with unlimited 4G internet working. In addition, you will be in a secluded place, so we recommend that you have an internet at hand that works whenever you need it.
Also read more chip tips:
International Cell Phone Chip – Which is the Best and How Much Does It Cost?
America Chip Discount Coupon – 10% OFF on Travel Chip
Want to have unlimited internet throughout your trip?
Compare prices and buy your international travel chip in advance at America Chip.
Travel insurance for San Blas
hire a Panama travel insurance it's a great way to ensure a smooth trip and avoid worries. Having the assistance of insurance gives you the peace you need to enjoy your destination and know that you have support if you need it. Also enjoy our Insurance Promo discount coupon. - SEE PRICES
Read all about travel insurance:
San Blas travel insurance – Discover how to travel more peacefully
What is the Cheapest Travel Insurance – Tips on How to Save
How to Get Travel Insurance – 5 Easy Steps [DISCOUNT]
International Travel Insurance – Step-by-step How to Hire
Maritime Travel Insurance – Complete National and International Guide
Make your travel insurance quote at Seguros Promo and guarantee 5% off with our coupon FORTRAVELOVERS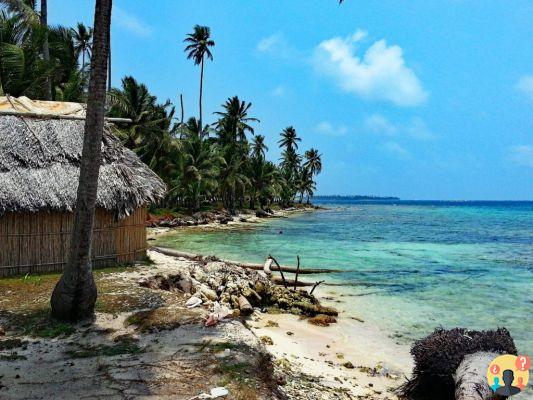 Car hire in San Blas
Renting a car in San Blas is a great idea. But if you're renting your own car, don't rent a small car. Give preference to taller cars, if you can a 4×4. And even so, I suggest quoting in advance how much the direct service with an agency would cost. Often the savings are not worth it.
We really like Rent Cars to find the cars we use on our travels. It is the only one in Spain that compares the best rental companies in the world, but lets you pay in reais, without IOF. In addition, it is also the only one that lets you pay in 12 interest-free installments. It is worth it!
Haven't rented a car for your trip yet?
Guarantee the best price, without IOF, and pay in up to 12 interest-free installments at RentCars.
Flights to San Blas
Looking for a good deal and flight prices? When buying tickets to San Blas, it is worth taking a look at the website Promo Tickets.
It is quite common to find cheaper and better flight options than on other sites. We always use and is it worth it?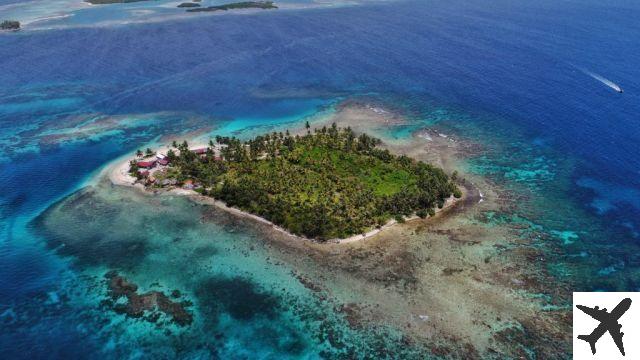 Read all our Panama tips and posts
What is it like to visit San Blas, Panama
San Blas – Complete Guide to the Islands
Where to stay in San Blas – Our recommendations and how to choose the best accommodation
San Blas Travel Insurance – Find out how to travel more peacefully
What to do in a day in Panama City
Panama – Complete Country Guide
Panama Travel Insurance – See prices and how to find the best