Not sure where to stay in San Blas? The rustic island has options from cabins, hotels and even sailboats in the balance of the Caribbean sea. Check out the options that best suit your profile here.
Finding where to stay in San Blas can seem quite complicated, as the place has a large number of islands and has a very rustic look. That's why we've created this guide to simplify this choice for you and also give you some suggestions for worthwhile locations.
The San Blas Archipelago is a destination for those who want to enjoy immersion in nature, beaches and local culture. It's a unique experience – and it's not a destination for everyone. But how so? Calm down, we'll explain.
San Blas is a group of islands that retain their original characteristics, and are cared for by the Kuna Yala Indians. Therefore, we have already said that it is not a good place for those who prioritize the services of five-star hotels, rooms with whirlpool baths and certain pampering — or even less.
The islands of the San Blas archipelago are REALLY rustic! There you will find a perfect retreat from the urban world, and an incredible opportunity to experience nature intensely. Be open-minded and open-hearted to discover and be enchanted by one of the most beautiful beach destinations in the world. Want to know more?
Be prepared with travel insurance!
Having insurance at the time of the squeeze makes all the difference.
Click here and get yours (use the coupon FORTRAVELOVERS for 5% off)
How to choose where to stay
Accommodation in cabins
Indication of Hotels and Lodges
Boat Accommodation Option
Honeymoon in San Blas
Dicas of San Blas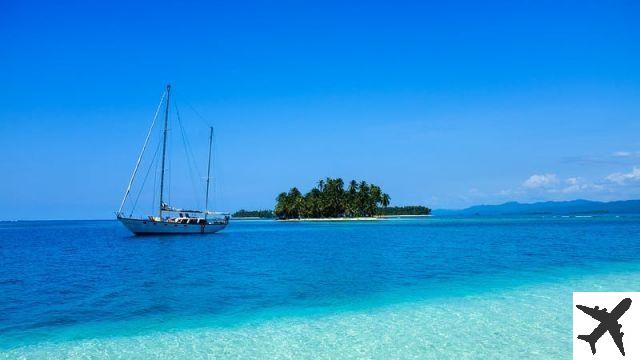 How to choose where to stay in San Blas
With over 365 islands, knowing where to stay in San Blas can be a daunting task. There are few islands actually inhabited by the Kunas Indians, and even fewer offering accommodation services.
The archipelago is an indigenous region of the Kuna Yala — or Guna Yala. They are the only ones who can invest and profit from the region, whether with transport or accommodation for visitors. Therefore, there are no large resort chains or hotels installed there.
Among the many island options, some stand out as suggestions for where to stay in San Blas – each with its differences:
Dog Island
Chichimè (or Weindup)
Aguja Island
Guanidup (Kuanidup)
Devil Island
Iguana (Aridup)
Isla Franklin
White Coconut and
Star Island
The most common lodging for those going to San Blas are the cabins. Hotels and lodges are also available and may provide more comfort, but they are in smaller numbers. Another option is to sleep on boats or sailboats, or even take your own camping gear.
#Tip: Before closing your reservation, take into account some important points such as the proximity to the mainland or other islands, if "your island" has beautiful beaches, or if you will have to take boats every day to enjoy the best of San Blas.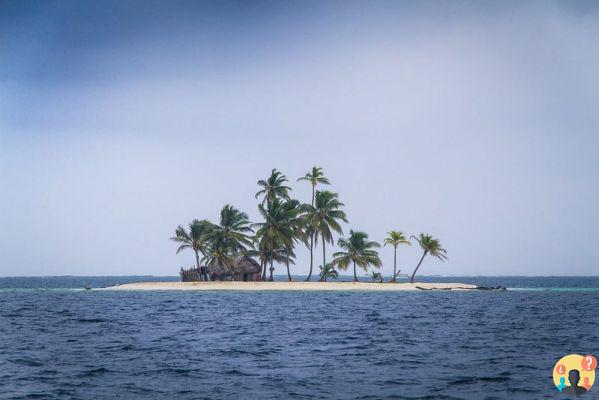 Travel insurance is super important to help you in emergency situations. hire your fur Promo insurance with the best prices!
TIP: Use the coupon FORTRAVELOVERS + payment in boleto to get 10% off ?
The islands in San Blas
Each island in the San Blas archipelago has its particularities. To know which one best fits the type of trip you are expecting, it is good to pay attention to the characteristics of each one.
There are those more rustic, where the native experience is very strong, and others with a little more structure, which are already used to receiving tourists – but still, nothing luxurious.
For those looking for something a little more tidy, Aguja Island is a good option, being one of the favorites even of Panamanians (and therefore the most crowded).
Other good choices are: White Coconut, Franklin Island, Devil Island (Niadub), Chichimè (or Weindup), Iguana (Aridup) e Guanidup (Kuanidup), all with amazing beaches and cabin options.
A Small Dog Island is one of the most beautiful, and also has cabins. She has a sister, Big Dog Island (or Perro II), which is bigger and just as beautiful, but without cabins. To stay there, just camping, as with the Star Island. These two are suitable for those who are really roots.
>> Read more tips on how to get to know San Blas in Panama.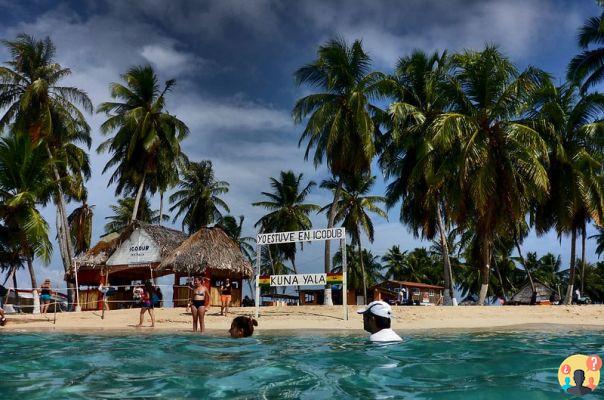 Cabins where to stay in San Blas
Most lodgings follow the same pattern of housing as the Kuna Yala Indians, in thatched huts. Staying like this is actually experiencing the simplicity of life for these people. Many of them sleep in hammocks but rest assured, visitors have beds and mattresses to spend the night.
Currently, San Blas has invested in infrastructure, and it is possible to find wooden huts in some of them. Isla Diablo, for example, is one of the most organized, with accommodation in bungalows.
There, it is not necessary to make a reservation in advance (you can leave it for the month of your trip). If you can't contain your anxiety and want to keep everything organized, that's okay. Just contact your accommodation a few days before departure, and make sure everything is confirmed.
We have some tips on where to stay in San Blas in the cabins, write them down:
Tripsyala Guanidup Cabins
As cabanas do Tripsyala stay in island of Guanidup (or Kuanidup), one of the most paradisiacal of San Blas. But remember, don't expect too much luxury.
Accommodation is simple, with two or three beds and a shared bathroom and shower. Daily rates with breakfast start at R$1.900 for families of up to five people.
See prices and availability and make your reservation by clicking here.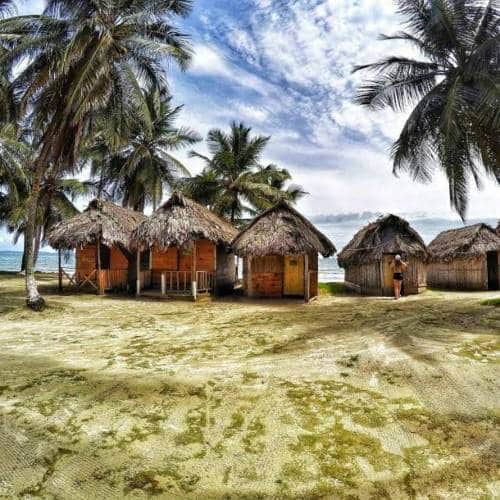 Enjoy San Blas
O Enjoy San Blas is on Isla Diablo, one of the most structured options in the archipelago.
The cabins are made of wood with simple beds and the bathroom is shared. All inclusive rates (breakfast, lunch and dinner) from R$306 per person.
See prices and availability and make your reservation by clicking here.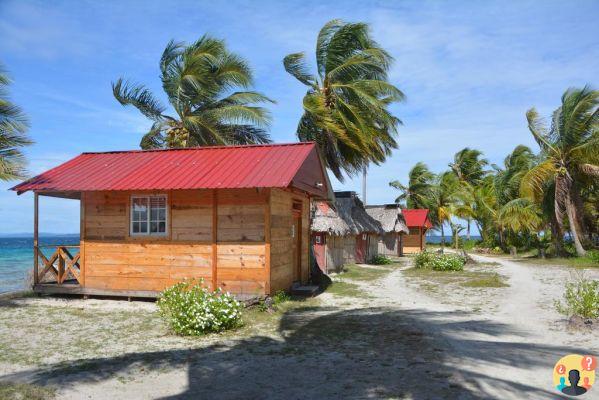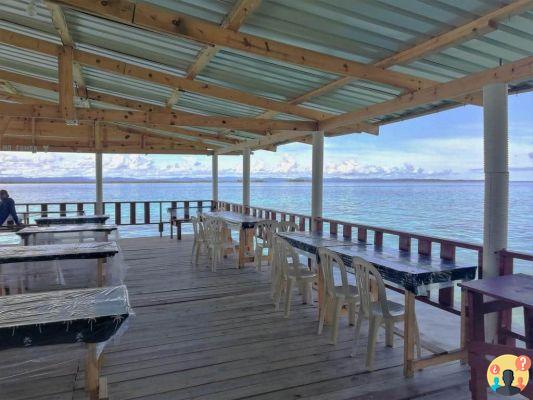 Other cabin accommodation options:
Discover Guna Yala – Located in Waisalatupo, rates from R$ 311 with breakfast paid separately
Arridup Island – Located in Mamartupo, daily rates from R$ 414 with all meals included
Private Cabin in San Blas Islands – Located in Waisalatupo, rates from R$ 414 with all meals included
Hotels and Lodges in San Blas
Generally, hotels and logdes in San Blas offer a more personalized service to guests, such as tours and meals included in the price. Comfort could be a little better but nothing much more than simplicity.
Some are located away from the most famous beaches of San Blas. Pay attention to this detail, as it can make a lot of difference in your trip. You will certainly have more privacy, but you will depend on daily walks to really get to know the archipelago.
Access to some islands that have options for hotels and logdes is often done by plane, from Panama City.
We separate some indications:
Yandup Island Lodge
O Yandup Island Lodge offers options for cabins in the sea, on islands and also on the island itself facing the sea. In addition, it has a bathroom, double and single beds, fans and electricity 24 hours a day.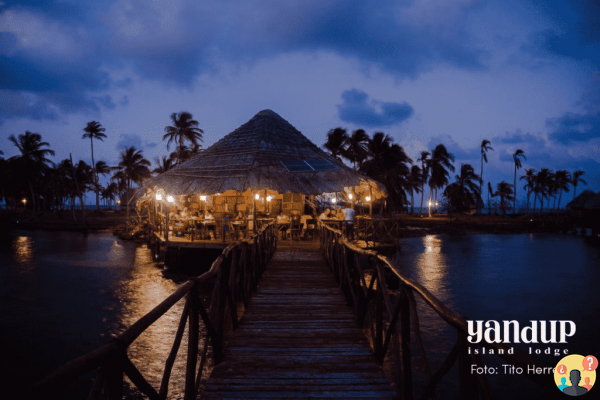 Hotel El Porvenir
the rooms of Hotel El Porvernir are masonry, private bathroom and overlooking the sea at Playón Chico. The hotel also offers a restaurant and breakfast is included in the rate.
Rates from R$ 310 with all meals included.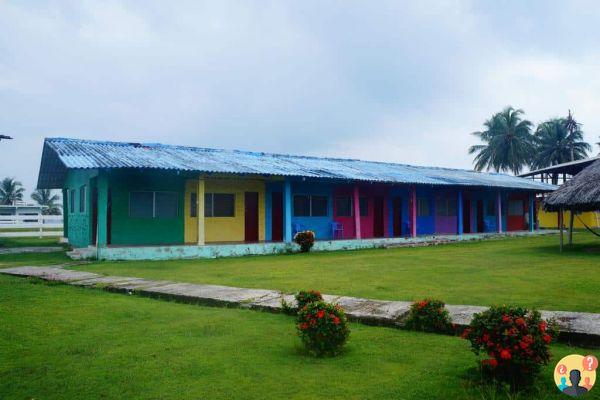 See other options for your stay in paradise in San Blas:
Accommodation options in San Blas by boat
If you are looking for a unique option in your search for where to stay in San Blas, it is worth taking note of this suggestion: book your stay on a sailing boat.
There are options included in the crossing price between Cartagena and Panama City (like the one I did), which is an amazing experience.
For those who will opt for boats, a tip is to take few things, such as a small backpack just to spend the days at the beach and sea. In any case, on the islands of San Blas you don't need much – take the opportunity to let go of material items and travel light.
Saving on fresh water there is vital too. It is normal to bathe in the sea (using eco-friendly soap, of course) and just rinse the body salt off in the bathroom. If you need a morning shower to wake up, just go to bed prepared for a swim first thing in the morning. This is one of the best ways to start your day in San Blas.
An advantage of staying on boats is that the captain is in charge of taking you to the tours and islands, which does not usually have an extra cost. It's also worth checking with your captain to see if tours and snorkeling gear are included.
The boat Good luck, in El Porvenir, is one of those offering the opportunity to live this experience in the Caribbean Sea (but without crossing from Cartagena). Daily rates start from R$ 1.600 for the couple with breakfast.
Other options is The Sailing Experience in San Blas with daily rates from R$ 704. SailingFerm with daily rates from R$ 900 per person.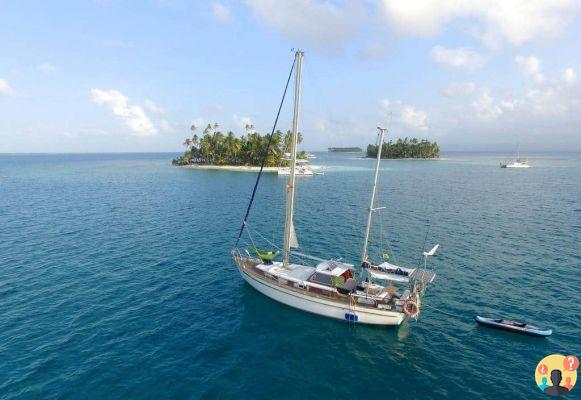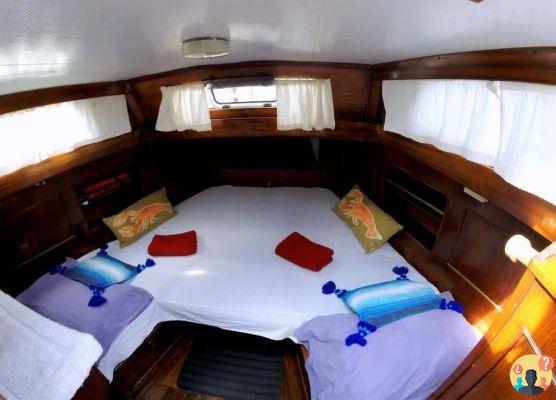 Floor of mail in San Blas
For those looking for San Blas as a honeymoon destination, it's good to keep the following facts in mind:
SUPER simple and rustic accommodation. Even being surrounded by the sea, a freshwater bath can be rare and should be short. Shower water is not always hot and bathrooms are usually shared.
The cabins are very simple accommodations, made of straw or wood, and there are private options, the beds are not the most comfortable. Oh, not to mention that it is not in any accommodation that you will find electricity 24 hours a day.
A good choice for those going on a more romantic trip is to choose the boats, these are exclusive and offer extra comfort.
Some other accommodation options on boats are:
The Sailing Experience in San Blas – R$ 1500 for two people, with breakfast
Play to live – R$ 1700 for two people, with breakfast
Myblue4you – R$ 3 thousand for two people, with breakfast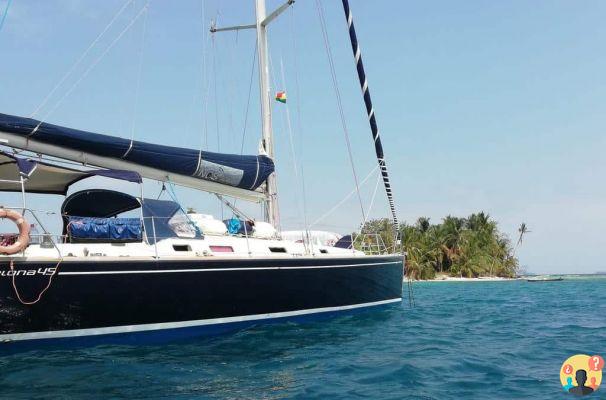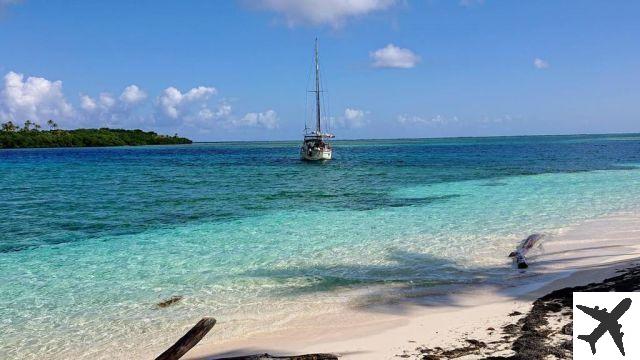 Dicas of San Blas
Don't forget your passport. It never hurts to remember about this. Spaniards do not need a visa, but your document will be collected, checked and stamped by the Kuna
In addition to beach items, bring a bath towel. It is also interesting to bring your own bedding if you are going to stay in the cabins – the ones there don't look the best, lol
Bring extra batteries and/or laptops for your electronics. Many islands do not have 24/XNUMX power, and outlets can be difficult to find.
Books, balls and games are welcome to spend the day on the beaches. It helps to spend time
Waterproof bags and padlocks can come in handy while traveling
The diet is very restricted, always based on fish and seafood. If you have any restrictions with these foods, bring some snacks or sandwiches. It is not always possible to change the menu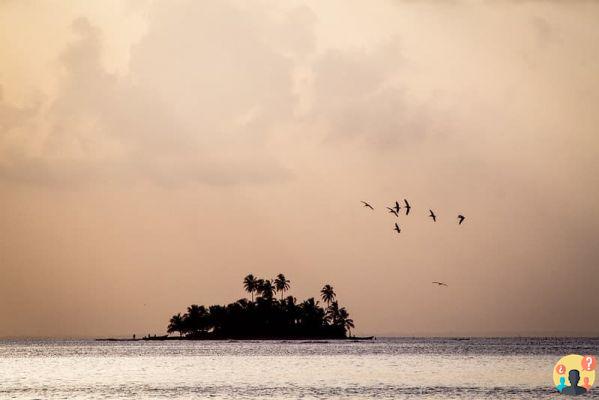 Did you like the tips on where to stay in San Blas? Want to know more about the destination?
Travel insurance for San Blas
hire a travel insurance for San Blas it's a great way to ensure a smooth trip and avoid worries. Having the assistance of insurance gives you the peace you need to enjoy your destination and know that you have support if you need it. Also enjoy our Insurance Promo discount coupon. - SEE PRICES
Read more:
San Blas, Panama – How to Visit
San Blas Complete Guide – Everything for You to Plan Your Trip
San Blas travel insurance – Discover how to travel more peacefully
What to do in Panama City – 1 Day Itinerary
Things to do in Costa Rica – 3 Amazing Beaches
Complete Guide to Guatemala – Everything to Plan your Trip
What to do in Pavones – Complete City Guide
Guatemala Tour – What You Need to Know
Where to Ficar in Guatemala – Las Lagunas Boutique Hotel
What to do in Cerro Negro, Nicaragua – Skibunda on the Volcano
Where to Stay at Lake Atitlán – Hotel Casa Palopó
Things to do in Belize – Caye Caulker Guide
International Travel Insurance – Is it worth it?
How and Where to Buy Travel Insurance – Step by Step
Plan your trip:
Get started now by booking your hotel on Booking.com
Save time and money searching for the best Travel Insurance with the Seguros Promo comparator! Extra 5% off with coupon: FORTRAVELOVERS
Want to find cheap tickets? Find flights with discounts of up to 35% every day at Passages Promo!
Rent your car at Rentcars! Installment up to 12X, paying in reais and without IOF!
Leave España with unlimited 4G Internet!
Skip the lines for attractions, buy your tickets in advance here!