Old abandoned cars in a Belgian forest near Châtillon
These apocalyptic and ghostly images are not part of a scene from the series The Walking Dead, they were taken in one of thelargest car cemeteries in the world, in Châtillon, in the South-East of Belgium.
According to an urban legend, these cars were abandoned by American soldiers in the Second World War, who could not ship them to the United States, so they decided to hide them in a forest until they could return to retrieve them. Locals disagree with this version of the story and say that it is simply an old junkyard of cars made after the Second World War.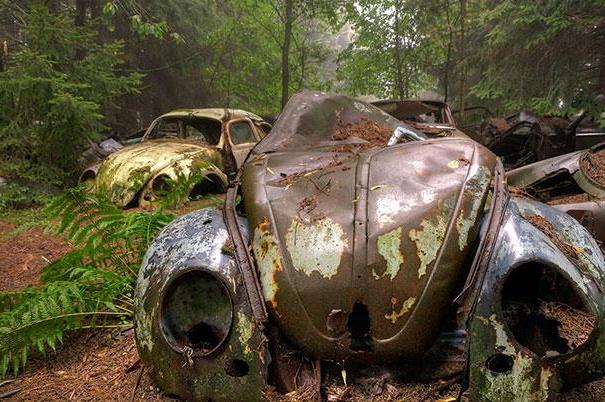 At one time, there were four car cemeteries in Châtillon with no less than 500 retro vehicles. Unfortunately, most of the cars were stolen or abducted by the inhabitants. Because of environmental problems, all the cemeteries were cleaned up in 2010. Today, only one remains.
The layout of these cars gives us the impression that a traffic jam occurred here, never leaving the vehicles to leave. Over time, corrosion and decay have decayed the cars and the little that was left has been recovered by locals and collectors.
This cemetery of car carcasses has been photographed from every angle. Here are some of them: