The largest city in southwest England is a hub of creativity and culture, full of little surprises and lots of art.
What to do in Bristol, England in a few days? When we started planning our trip to one of the most important cities in the country, we were surprised by the amount of things to do. The largest city in southwest England is a hub of creativity and culture, full of little surprises and lots of art. So you don't miss anything important and make the most of your time there, we've selected the best places to visit and all the tips to help you on your trip here.
From Clifton's iconic suspension bridge to the revolutionary steamship, the SS Great Britain, Bristol is a city steeped in history. If you like art, culture, history or even more alternative activities, the city is your place. There, you'll find a variety of art galleries, community-run cafes and live music venues that bring joy to the city. This is all without counting the murals left by the famous street artist, local of Bristol, Banksy, among many other artists who go to Bristol for their fame with street arts.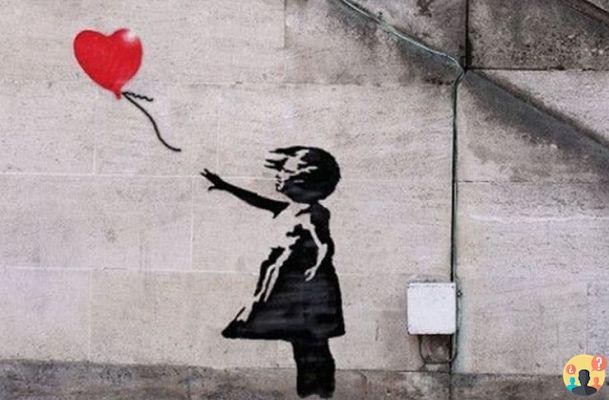 Take the opportunity to discover the renovated port area. In addition to history museums such as the M Shed, art tours around the city to discover the arts of Banky, also enjoy the delights found in St. Nicholas Market. It's no wonder that Bristol has been named Britain's most livable city.
How to get to Bristol from London:
The fastest way to get to Bristol from London is by train. The journey takes around 1h40, while by car it takes 2h20. We did the train ride, which was great, with GWR.
Things to do in Bristol:
The main attractions of the city are located in the center. Amazingly, you can visit history museums, port areas, or even get to know the city on a balloon flight. It is possible to visit the main attractions of the city in two full days and one night there.
Check out what to do in Bristol in this full post:
1. Clifton Suspension Bridge
The world-famous Clifton Suspension Bridge was designed by the great Victorian engineer Isambard Kingdom Brunel, although he never lived to see its creation completed in 1864.
The bridge's spectacular setting, on the cliffs of the Avon Gorge, has become one of the great symbols of Bristol and attracts thousands of visitors each year. So, write it down for your list of things to do in Bristol.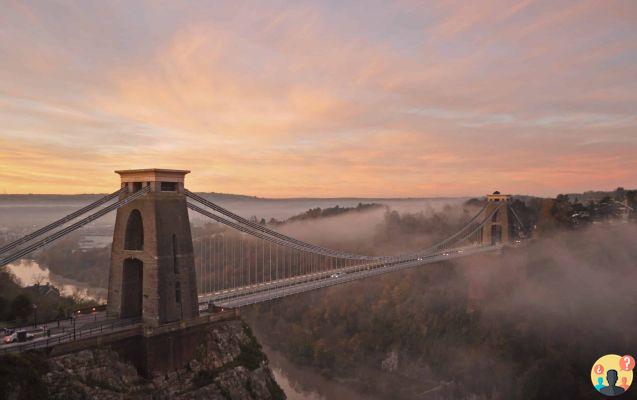 You can see a spectacular view of the bridge at Observatory Hill in Clifton. In addition, situated next to the bridge is the Clifton Village. The charming village mixes eclectic shops, cafes, dining experiences, quaint houses, architecture, gardens, walks and secret hideaways.
2. St. Nicholas Market
For lunch in Bristol, don't miss the St. Nicholas Market. Present in the city since 1743, it is the oldest market in Bristol and one of the best in the UK. In the market there are several food options, in a super casual atmosphere. The most traditional food there is Pieminister pie. Plus, it's a great place to shop and needs to be on your Bristol list of things to do.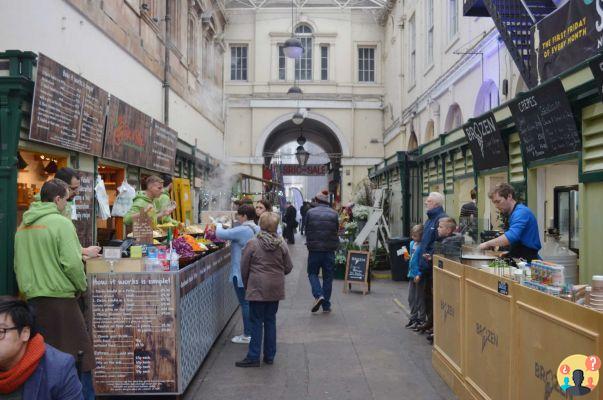 3. Bristol Street Art Tour
One of Bristol's strengths is its famous art scene. Just walk a little through the city streets to come across several panels and walls with graffiti and mind-blowing art. If you want an essential tour of the city, write it down: Bristol Street Art Tour – Where The Wall.
The tour lasts an average of two hours, in a delicious walk with a lot of chat about art and culture with the guide – who is an artist. The tour starts at College Green (next to Bristol Cathedral) and ends at Stokes Croft. You will see many works by Banky on the way. The coolest thing is: these street art are constantly changing, as they can be erased and redone by other artists. So every time you go, there will be news. Not to mention that the Tour is one of the most "Instagrammable" possible, full of scenarios for good photos. It's worth putting on the itinerary of what to do in Bristol.
4. UpFestival
After spending two hours looking at art, I still want more! We took an Uber and went to see the UpFestival works in another region of the city. Among all the works, there is a wonderful mural of John Lennon made by the Brazilian artist Kobra (the one in the photo below).
Address: Upfest Gallery, 198 north street BS3 1LF.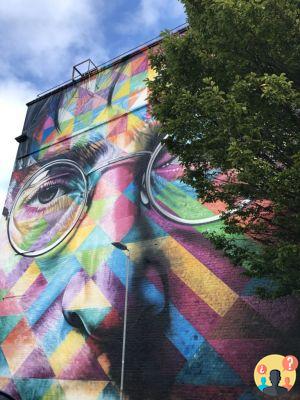 5. Bristol Science Centre: We The Curious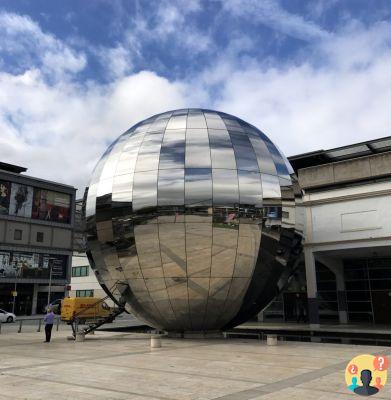 One of the top attractions for those looking for things to do in Bristol, the Bristol Science Center has recently changed its name to We The Curious. It is a science space for all cities, full of curious interactive exhibits, shows and workshops. In addition, the museum houses the UK's first 3D planetarium. It's worth putting on the itinerary of what to do in Bristol.
Hours: Monday to Friday from 10 am to 17 pm / Saturday and Sunday from 10 am to 18 pm
Admission: from £15.30 adults / £9.90 children aged 3 to 15
Address: Anchor Rd, Harborside, Bristol BS1 5DB
6. Bristol Ferry Boats
Bristol's canals carry a lot of history. For those who want to know the city in a different way, it is worth boarding the Bristol Ferry Boats. In addition to knowing the channels that connect the city, the Ferry has stops at the main points of the city. It's taking public transport in a creative way.
7. SS Great Britain
The first steam iron ship to cross the Atlantic, the SS Great Britain has a long and remarkable history that you will be able to discover as you climb aboard the completely restored ocean liner. One of the great highlights of the visit is the different view you have of the ship's hull, under a "sea of ​​glass". Visiting the museum and ship is an immersion in history. It is a super interesting program for adults and children. In addition, it enters as one of the musts in the list of things to do in Bristol.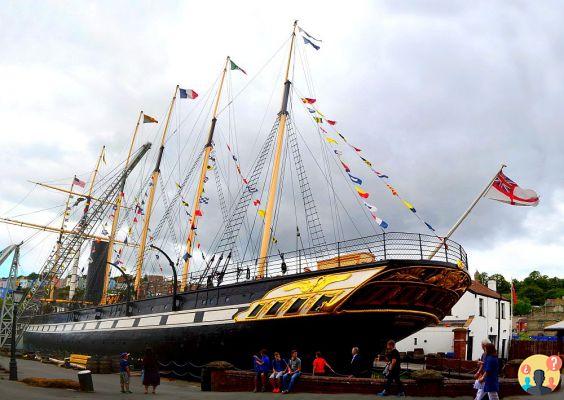 8. Play Me I'm Yours
When walking around the city, pay attention to the city's public pianos. You are sure to notice them, as they are also painted in full color. The pianos are public and a lot of people sit and play there. You can view Bristol's public pianos route on the Play Me I'm Yours website.
9. Bristol Balloons
Ballooning a scenic flight over the city of Bristol is quite an experience. It is one of the favorite activities among those looking for things to do in Bristol. In fact, the biggest ballooning event in Europe, the Bristol Baloon Fiesta, takes place in the city (see this year's dates here). The balloon ride for city visitors takes place throughout the year. It costs around £100, and can be booked with Bailey Baloons.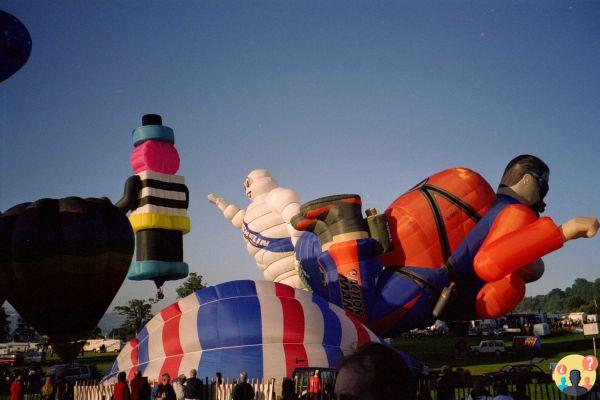 10. Downs Festival
Every year, the Downs Festival arrives in Bristol bringing established artists and musicians to perform outdoors. It's worth seeing if the festival will take place when you're in town. We went last year and were impressed with the organization and tranquility – even though it was a music event. Families take chairs and sit on the lawn, and nothing gets too crowded. It is a program for the whole city.
11. Museu M Shed
Situated on historic Harbourside, the M Shed is Bristol's history museum that tells the story of the city. The museum explores the city's history from prehistoric times to the XNUMXst century. It's one of the newest museums in the city and the experience there is pretty cool, and admission is free!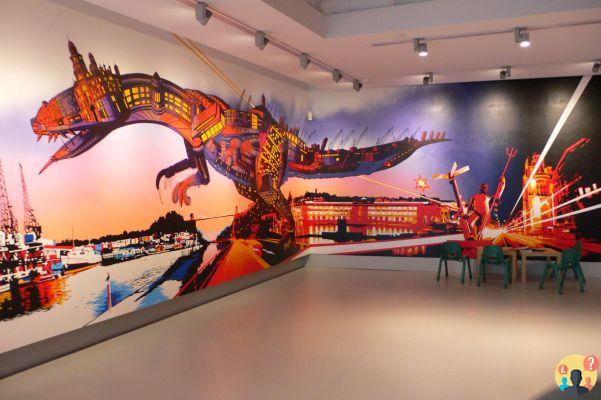 12. St Mary's Church of Redcliffe
The Church St. Mary Redcliffe is a masterpiece of Gothic architecture, which is over 800 years old. The church was originally the center of shipping and industry in the city. Bristol harbor merchants began and ended their voyages at the sanctuary. It is worth stopping by to see it during your itinerary of what to do in Bristol.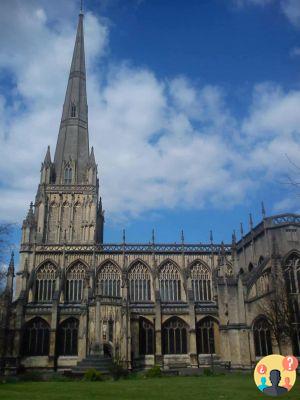 13. Queen Square
Queen Square is the city's main square and has quite a history. When Bristol was swept by violent riots on 30 October 1831 (when the Chamber blocked popular electoral reform), nearly 100 of the buildings around the square, including the Mansion House, Bishops' Palace and Customs House, were burned to the ground. ground and its cellars looted. Hundreds of protesters died in the riots, nearly 90 were sent to prison and four were hanged. The nation was scandalized at the time. Today, Queen Square is a haven for workers and city visitors who want to relax on its beautiful lawns.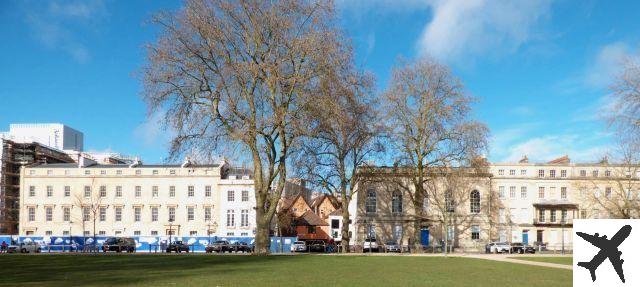 14. Arnolfini
Arnolfini is a contemporary arts center located in the harbor area of ​​Bristol, the heart of the city. Founded in 1961, the organization is dedicated to the production and presentation of visual arts, performance, dance, film, music and events. The museum is undergoing a restructuring, but the contemporary installations are quite interesting.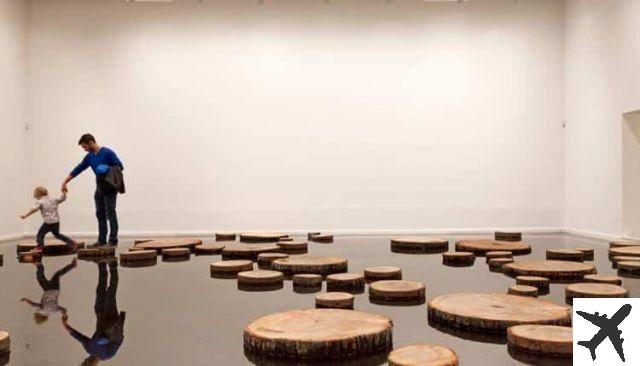 15. Christmas Steps
One of the most charming areas of the city, Christmas Steps dates back to the 1600s. The area is full of craft shops, unique shops, art galleries, potteries, dress makers, shoes, musical instruments, furniture and much more. Amidst the picturesque backdrop of medieval houses are the seven streets of the Art Quarter of the Christmas Steps. It's worth putting on the itinerary of what to do in Bristol.
16. Cabot Tower e Brandon Hill Natural Park
Brandon Hill is the oldest park in Bristol, where you can enjoy great views of the city and harbor area. In addition to beautiful paths and lots of nature, the park has one of Bristol's icons, the Cabot Tower. The tower was built in 1897 to commemorate John Cabot's voyage from Bristol to the North American mainland. It is free to climb the steep and winding steps of the tower, which is open daily.
18. Blaise Hamlet
A 20-minute drive from Bristol is Blaise Hamlet. The program is cool for anyone interested in architecture. The site is a delightful village of nine quaint houses set around a lovely garden. The hamlet, which is 6,5 miles north of the city centre, was built in 1811 to accommodate retired employees of the Blaise Castle estate in Henbury. Designed by John Nash each home is unique. The village was one of the first examples of a planned community. Currently, there are people living in the houses. So the village is for outside contemplation only and entry is free.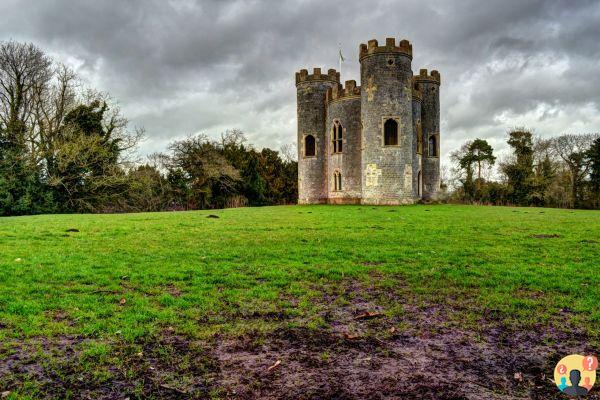 Where to eat in Bristol
Casual lunches and dinners:
The Wild Beer Co (casual and budget dinners)
Birch (jantar casual)
Souk Kitchen (good for going with kids, casual and budget-friendly)
Box-E
Flow (good to go with kids, casual and budget)
Pasta Loco (cheap and casual)
Bravas (casual and budget dinners)
Special occasions:
For "Foodies" and eaters:
Hart's Bakery (great bakery)
St. Nicholas Market
Bristol Sweetmart (international delicacies market)
Swoon Gelato (Needless to say, right? Gelato!)
Where to shop in Bristol
For those who want to shop in Bristol, the good news is that there are stores of all types, tastes and pockets. The biggest mall in the city is the Bristol Shopping Quarter. For shopping full of charm, design and art, the best place is Christmas Steps. It is also worth visiting Cabot Circus and Bristol Old City, the medieval and historical part of the city.
Where to stay in Bristol England
Mercure Bristol Grand Hotel
The four-star Mercure Bristol Grand Hotel has 150 years of history. Recently, it underwent a huge restoration and left the traditional Victorian decor, for a modern, clean and contemporary design. The hotel is beautiful, historic and with large rooms. In addition, the highlight is the location - next to St. Nicholas Market and downtown. You can do everything on foot from there.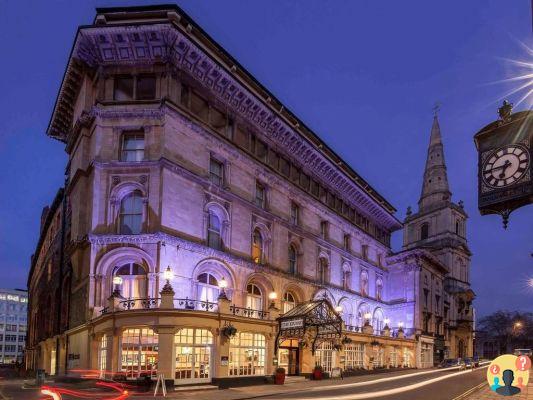 MAKE YOUR RESERVATION AND LEARN MORE ABOUT THE HOTEL HERE.
Is that you? Already know what to do in Bristol, England? Tell us how your trip was!
How to get the best prices on hotels in Bristol?
Do you also think that finding the perfect hotel in Bristol at a great price can be a matter of luck? We thought so too, but once we found a way to search for the best hotel deals at any time of year, our traveler lives just got a whole lot easier! The good news is that it's not about luck, it's about learn HOW to find the best deals.
First Tip: book your hotel in advance. The sooner, the better (and why not, right now? lol). This will make your range of options much wider than in a few days.
Second Tip: Focus on the best location in Bristol. Look for accommodations that are close to the points you want to visit. This will save you not only on transportation, but also more time for you to enjoy your trip.
Last and most important tip: Find the best prices. To find amazing prices on hotels in the city, use this Europe hotel search site. You might be wondering, why not other hotel searchers? We've already tested several other sites and we've come to the conclusion that the best deals are on Booking.com, which is the largest hotel reservation site in the world. The logic is simple and proven: If all the best hotels are there and they decide to lower their prices, they will go down where there are more bookings and searches.
Click here to guarantee the best deal of the day on your accommodation in Bristol
We only use Booking.com and we always get great deals. A tip worth noting: look for accommodations with the "smart offer" of the day. Another good idea is to filter options by the neighborhoods you want to stay in and by Reviews from other guests of " Very good" up. Best of all, most hotels offer free cancellation! That is, if you book now (put a call to action) and change your mind later, you can cancel without losing money.
In addition, Booking is super reliable and safe (no one wants to have a problem with accommodation on vacation, after several perrengues – now we know better!). Recently, Booking even includes options for rental of apartments and houses. This is great news for those traveling with family and groups of friends, which gives even more options to get good prices for trips with a lot of people. We always recommend Booking because for sure you won't have any problems and you'll still get the best deals there. Then tell us how it went!
Cheap hotels in Bristol, England

Why is it worth taking out travel insurance for England?
Taking out travel insurance for England is an excellent way to ensure a smooth trip and avoid worries. Having the assistance of insurance gives you the peace you need to enjoy your destination and know that you have support if you need it. Also enjoy our Insurance Promo discount coupon. - SEE PRICES
Receive a SIM card at your home in España and use unlimited Internet in Bristol and across England
Are you also tired of only being able to use your cell phone at points that you find Wi-Fi free during the trip? And having to pay per day to be able to use a GPS in the rental car on the trip?
We couldn't take it anymore, especially because we wanted to post real-time photos of our trip on social media. In addition, Google is a great ally to find what we need while on vacation, such as information and places, and you can't just use it where you have Wi-Fi.
So we discovered one of the best solutions to end this problem, that you will no longer have to spend hours of travel in phone stores in the country, speaking an unknown language to get a SIM card. This is one of the tips we love to give our readers: a America Chip.
Write it down: The company sends an international Chip to your home in Spain. When you're on the plane, just change your Brazilian SIM card for this international one. You will arrive in Bristol with unlimited internet, using your cell phone at will, as you use in España.
Arriving in Bristol, you can use it all day, anywhere in Europe. You'll save on GPS rentals, on Skype credits, on so much! And you will still be able to use social networks, Google, or search for anything on the internet all day. Even this one here about what to do in Bristol. In addition, you can still call your home to send travel news as many times as you want via WhatsApp or Facetime.
Here are other tips on what to do in other cities in the UK:
Brighton England – The Complete Guide for Travelers
What to do in London in 3 days
What to do in London – Itinerary from 1 to 7 days in the city
Where to stay in Belfast, Northern Ireland
Europe Travel Insurance: What you NEED to know before hiring
Plan your trip:
Get started now by booking your hotel in Bristol, England on Booking.com
Save time and money searching for the best Travel Insurance with the Seguros Promo comparator! Extra 5% off with coupon: FORTRAVELOVERS
Compare the best prices to rent a car from over 100 rental companies with Rentcars! (Pay in up to 12X! Pay in reais, without IOF)
Leave España with Unlimited 4G Internet!