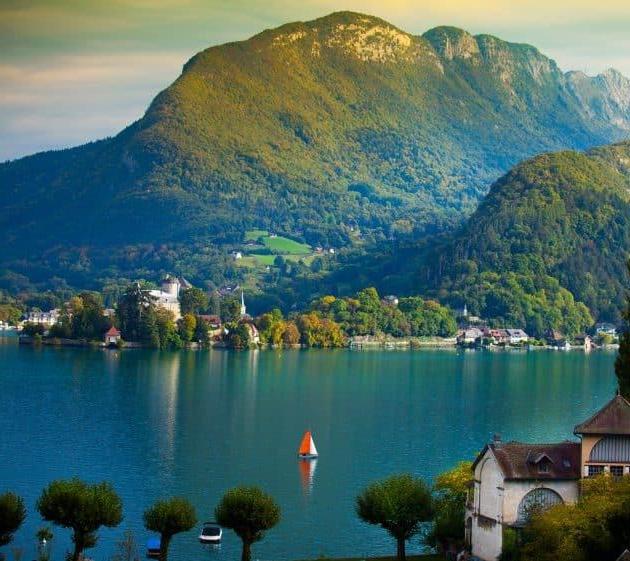 Summary
What kind of boat to rent in Annecy ?
How much does it cost to rent a boat in Annecy ?
How to rent a boat in Annecy ?
Do I need a licence to sail in Annecy?
Our tips for boating in Annecy
When is the best time to sail in Annecy?
Ideas for boat itineraries from Annecy
- The Doussard Reserve
- The Rock of Dear
Between mountains and crystal clear waters, renting a boat in Annecy will allow you to discover the treasures of the city in a unique way.
Capital of Haute-Savoie, Annecy is home to a local natural jewel: Lake Annecy. Nestling between the mountains, it is full of points of interest to discover. Boat hire in Annecy allows you to explore the riches of the lake and its shores during an enchanting interlude.
For Travel Lovers guides you to know what to do, where to rent your boat in Annecy, and what precautions to take for a serene navigation.
Also read :
Jet ski hire in Annecy: how and where?
Visiting Lake Annecy : full guide
The 12 must-do things to do in Annecy
What kind of boat to rent in Annecy ?
Annecy is a very popular place for yachting. Indeed, many boats are sailing on the lake. In fact, this gives you access to a wide variety of models for rent.
Thrill seekers will find what they are looking for among powerful motor boats such as zodiacs, speedboats or open boats, but also boats specifically dedicated to wakeboarding and wakesurfing.
Neophytes have access to a few models of boats without a licence, allowing them to learn about boating in complete safety.
More peaceful, it is also possible to rent a sailing boat in Annecy. Sailing enthusiasts can rent a catamaran or dinghy and take advantage of the light breeze that crosses the lake to discover the surroundings.
How much does it cost to rent a boat in Annecy ?
The prices of boat rentals in Annecy have a particularity: they are calculated by the hour, with a maximum of half a day (4 hours). Beyond this duration, the price is subject to an hourly supplement indicated on request. Apart from this local specificity, the range of rates also varies according to the size of the boat, its motorization, and the season.
Thus, boats without a licence can be rented between 110€ and 150€ in the summer period.
Renting a boat in Annecy with a motorization between 70 HP and 450 HP will cost you between 290€ and 700€ for half a day. If you don't have a boat licence or if you wish to relieve yourself of this responsibility, you can take a skipper on board for an additional 100€.
It is possible to rent a sailing boat in Annecy from 100€ for 3 hours, whether it is a dinghy or a 1-seater catamaran.
Good to know: the prices indicated do not take into account the price of fuel which will be charged on your return according to the actual consumption.
Rent a boat to explore Annecy
How to rent a boat in Annecy?
There are many boat hire companies in Annecy around the lake. Depending on your desires and your budget, they will be able to advise you in choosing the right model. In all cases, it is always preferable to have a skipper on board, as the skipper is familiar with both his boat and the local waters.
But it is also possible to book your boat hire in Annecy from the comfort of your sofa!
Private hire platforms such as Click&Boat list in real time the boats for hire in Annecy. In just a few clicks, you indicate the place and date you want to rent, and the site displays all the boats available, their price and the options present such as the captain's presence.
All you have to do is compare prices and select your boat hire in Annecy.
Extend the pleasure of a sea excursion by completing your boat hire in Annecy with diving, fishing or gliding equipment such as windboards, wakeboards or water skis. Most service providers, both professionals and private individuals, offer to hire this equipment for a few extra euros.
Do I need a permit to sail in Annecy?
It is possible to sail with a sea or river licence in Annecy. However, you can also sail without a licence for a boat with a low engine. However, it is still preferable to hire a skipper to accompany you.
Our tips for sailing in Annecy
Annecy has a marina located in the old town and bordered by a cycle path and a footpath. It has 200 berths for river boats. It has also recently acquired several recharging stations that can accommodate up to 8 electric boats.
The mooring prices depend on the category of the boat, but also on its motorization. For example, motorboats are charged from 28€ per day for those under 6 meters, and 40€ for those over 6 meters.
Sailing boats can also be moored on a daily or weekly basis for around 10 euros per day. Electric boats will cost around 15 euros.
Rent a boat to explore Annecy
When is the best time to sail in Annecy?
The period from May to October is the most pleasant time to sail in Annecy. Indeed, these are the months which benefit from the best weather conditions.
Ideas for boat itineraries from Annecy
Running out of inspiration for your boat trip? Here are two ideas for itineraries from Annecy.
The Doussard reserve
Head to the end of Lake Annecy to reach the aptly named "Réserve du bout du lac", or Doussard reserve. This marshy area is crossed by the Ire and the Morte, the two rivers that feed the lake.
This site of major interest is home to a very dense local fauna and flora. You can discover it along an educational trail, ideal for a family walk. The route to the reserve allows you to make a complete tour of the lake, sometimes from the east and sometimes from the west.
The Rock of Dear
Discover the unique cliff of Lake Annecy and its nature reserve: the Roc de Chère. Situated on the border of the large lake and the small lake in the bay of Talloire, it benefits from a microclimate allowing Mediterranean and alpine plants to live together. You can also stop in the reserve for a short hike, accompanied by the cries of the birds living in these preserved places.
From Annecy, you sail through a landscape worthy of a postcard, with the Château de Duingt opposite the Roc de Chère, and the peaks that surround you.
Rent a boat to explore Annecy