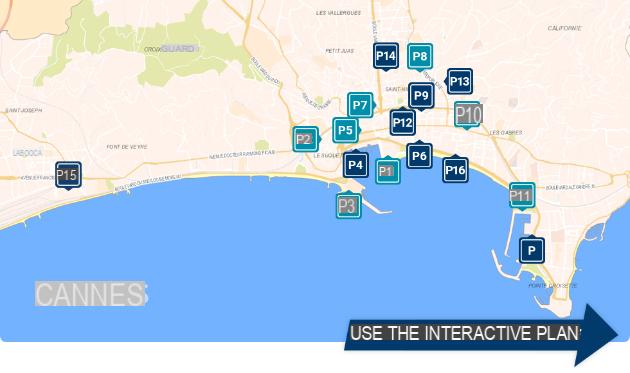 Cheap parking in Cannes: where to park in Cannes and at what price? Discover all this information below!
Spotlight on the Cité du Festival. Here are the best options for finding cheap parking in Cannes, which combines glitter and authenticity. This star of the French Riviera stretches between the red rocks of the Esterel massif and the picturesque villages of Provence.
In front of her, the splendid islands of Lérins which fill the lungs with iodine. Cannes can thus be discovered from its city centre to its enchanting and resourcing surroundings. Renting or owning a vehicle in order to move freely towards the tourist spots is an undeniable asset. However, where to park in Cannes, without making your wallet go up in flames and above all in complete safety?
Find your cheap car park in Cannes and discover all the parking offers of this icon of the Croisette.
Also read :
The 13 must-do things to do in Cannes
In which district to stay in Cannes?
Parking in Cannes: parking in the street with payment
Cannes plays the game and reinforces the attractiveness of its city centre. The city of cinema therefore has nearly 2,200 parking spaces on the road. The map of the paying streets is divided into two zones. Paid parking is available from Monday to Saturday from 8am to 12pm and 2pm to 7pm. However, parking is free on Sundays and public holidays.
Here are the two zones and their particularities:
Green zone known as shopping and tourist zone: parking spaces are located in the city centre and the first half hour is free. Then, count 3€ for two hours. If you own or have rented a "clean" vehicle, holder of a green disc, two hours are offered to you. The maximum parking time is 5h30.
Yellow zone known as the Eco Park: in this zone more adjacent to the historic centre, the first hour of parking is free. Then, the rate is 3€ for two hours. Again, two hours are free if you have a "clean" vehicle. The maximum parking time here is 6 hours.
When you want to park in Cannes, in streets equipped with parking meters, you just have to enter your license plate number on the touch screen keyboard. Then take your ticket. You can also pay via a mobile application. Download "Whoosh" and reserve or extend the validity of your parking ticket remotely. Valid in both green and yellow zones.
Book a car park in Cannes
Cheap parking in Cannes: park on the street for free
Parking in Cannes without paying anything? It's possible! Better than a cheap car park in Cannes, there are 16,000 free spaces throughout the city. Of course, these spaces are popular with locals and well-informed tourists. To give it a try, go to the following areas :
Le Suquet : a few minutes away from the essential districts, the port and the Palais des Festivals ;
République district: ten minutes walk from the city centre and the train station, some avenues are free;
Broussailles district : in front of the hospital of Cannes, there are several non paying streets;
Palm Beach : at the Pointe de la Croisette, near the beach and the Casino, the car park offers two hundred free spaces;
Pont des Gabres district: the Vautrin car park and the rue Lacour are free and ideally located for a shopping or beach trip;
Close to Boulevard Carnot: here, there are a hundred free spaces, just a stone's throw from the historic centre.
To park in Cannes in a secure paying car park
In order to park in Cannes, paid and guarded car parks remain the best option. Accessible 7 days a week, 24 hours a day, they are the best solution if you plan to spend several days in town.
Eighteen car parks and thousands of spaces are available for you to park your car in Cannes with complete peace of mind. At weekends, you benefit from three hours free parking. During the week, two hours free. There is also a "night package" with a ceiling of 3 hours from Saturday 7 pm to Sunday 9 am.
Nevertheless, parking rates are rather high, and this is not surprising for the starlet of the French Riviera. Therefore, expect an average of 30€ per day to park in the following car parks:
Parking Palais : 1 boulevard de la Croisette ;
Suquet Forville : 7 rue Louis Pastour ;
Laubeuf : Boulevard Jean Hibert ;
Parking Ferrage Meynadier : Boulevard de la Ferrage ;
Parking Vauban : 3 rue Raphaël ;
Republic : 30 rue Docteur Calmette ;
Parking Lamy : 121 rue d'Antibes ;
Parking Roseraie : Boulevard de la Croisette (Port Canto) ;
Parking Verrerie : Via Marco del Ponte ;
Pierre Canto : Port Pierre Canto ;
Parking Pantierro : La Pantiero ;
SNCF train station : 8 place de la Gare ;
Cannes train station : 1 rue Jean Jaurès ;
Parking Saint-Nicolas : 1 rue de Mimont ;
Parking Cannes Maria : 6 avenue de Vallauris ;
Mozart Novotel Suite: Rue Mozart ;
Parking Gray d'Albion : Rue des Serbes ;
Parking Palais Stéphanie: 50 boulevard de la Croisette.
Please note that you can reserve your space in advance in some of the above-mentioned car parks. In particular at our partner Onepark. This will make your arrival easier.
Book a car park in Cannes
You are now ready to find a cheap parking lot in Cannes! Have a nice trip and be careful!