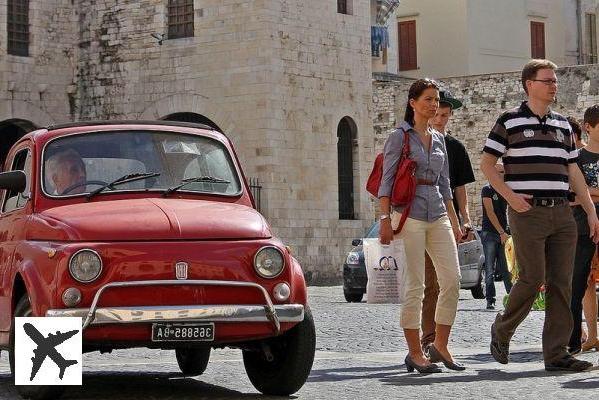 Want to discover Bari by car without the stress of knowing where to park? Here are all our tips for finding a parking space in Bari easily and cheaply.
With its feet in the Adriatic Sea, Bari is a port and tourist city full of charms. However, it is often seen as a simple springboard city to take a ferry to Greece, Albania or Croatia. But with its large St. Nicholas Basilica, its medieval quarter, its Italian way of life and its tasty local specialities, Bari is worth a visit.
However, one question remains: how to enjoy the delicacies of southern Italy without having to worry about parking and car parks? To help you enjoy your holiday, here are our tips for parking in Bari and finding a cheap car park that won't ruin your entire holiday budget.
Parking in Bari: the parking rules
As everywhere in Italy, Bari is no exception to the rule and street parking is defined by a colour code. If you come across a square with white stripes, park immediately as these spaces are free and all the more rare in Bari. However, if the road markings are blue, there is a charge for parking from 8.30 a.m. to 1.30 p.m. and from 4.30 p.m. to 8.30 p.m., with a rate corresponding to the zone: 1€/hour in Liberta Quarter, Madonnella and the old town and 2h/€ in Murat. Places marked in yellow are exclusively reserved for residents.
Another not insignificant detail: in Bari, as in many Italian cities, there is a ZTL, an area with limited traffic. This restriction makes it possible to regulate car traffic in the city centre and thus limit pollution in order to preserve the streets of the old city. This ZTL is active from midday to midnight. And don't tempt the devil by trying to sneak into the streets with your car at these times to park: the whole area is controlled by surveillance cameras and you will soon be fined when you return.
Cheap parking in Bari: Bari's good deals
Unlike other large Italian cities, you can easily find several cheap car parks in Bari.
The Saba Bari Guadagni car park is Bari's real good and cheap parking plan: located 6 minutes from the Bari-Centrale railway station, this car park is the ideal starting point to discover the main attractions of the city such as the Bari Corrado Giaquinto County Pinacoteca, Umberto I square or the Petruzelli Theatre. The price is 12€ per day, 19€ for two days and 49€ per week if booked in advance.
Another good cheap parking plan: park just a stone's throw from Bari airport. With the Quick Aeropuerto di Bari, count 5€ per day and 10€ both days and at the airport and Passport Park it's 7€ per day and 14€ both days. Affordable rates that will allow you to reach the city centre quickly.
Parking in Bari: covered car parks
Wherever you drive in the city, you will find a multitude of car parks in Bari, whose rate is 2€ per hour. Quite convenient for those who need to park in a specific area of the city without having to search for hours for a vacant space. Among these car parks you will find Saba Bari Porto just a few steps from the port (3.90€ per day), the Gestipark Battisti near the university or the Dante di Ceglie Giuseppe garage.
Last but not least, there is a good parking plan in Bari: in addition to offering advantageous rates - €8 per day, €8 for two days and €28 per week - the La Perla del Sur car park located at 91 Strada Provinciale offers a free shuttle service to take you into the city centre. In 20 minutes you can stroll along the small harbour and enjoy a delicious gelato. Isn't la dolce vita beautiful?