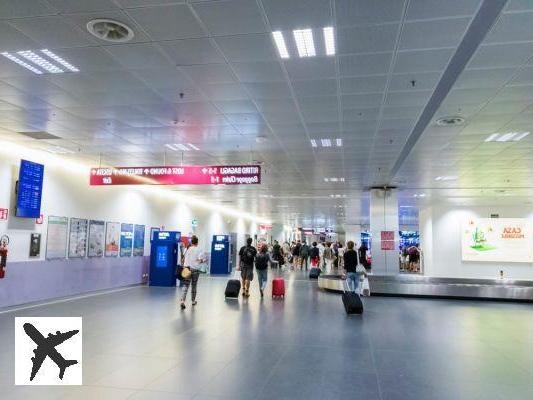 Summary
Is Bergamo airport open at night?
Hotels where to sleep near Bergamo airport
- NH Orio Al Serio
- Winter Garden Hotel
- 57 RestHotel Orio
- StarHotels Cristallo Palace
In which city to stay near Bergamo airport?
- Bergamo
- Grassobbio
- Scanzorosciate
Where to park at Bergamo airport?
Do you have a transit or a planned trip to Bergamo? Here are our tips on where to sleep at Bergamo airport!
Is your landing at Bergamo airport too late to reach the city five kilometres away? Or Milan forty-five kilometres away? Or your take-off is early in the morning? Do you want to be as close as possible to the airport so that you don't have to take public transport? Are you passing through and your journey will require an overnight stopover? A cancellation or a delay in your flight? There are various reasons why you may want to sleep near Bergamo airport.
Bergamo airport is mainly used by many low-cost airlines to replace Milan airport. With 12.9 million travellers in 2018, this makes it the third most important airport in Italy. You can reach Bergamo by bus, taxi, or by renting a car on arrival. In addition, the bus line serves the Bergamo train station if you need to reach the center of Milan. Would you like to know more about the hotels nearby? Then here's a mini-guide to show you the options available to you.
Also read :
Cheap parking near Milan airport: prices, booking
Luggage locker in Milan: where to leave your bags and suitcases?
Is Bergamo airport open at night?
With a cafeteria open 24 hours a day, Bergamo airport is open at any time. So you can have a meal or stroll through the shops in the duty free area. It even has a concierge service for 5€ per day per piece of luggage. Impeccable, will you tell me? Not necessarily. Although you'll find unlimited and free Wi-Fi, you'll still have to pay to use the phone's charging sockets. In fact, it will cost you €1.5 per 15 minutes. In addition, to rest, there are few seats, and they are also metal and with armrests. If you decide to lie down on the ground, the airport security guards will wake you up. It is not possible to sleep on the ground either. What about taking a shower? Impossible, there is none.
If you're lucky, you can still sleep in one of the nine sleeping cabins. These are soundproofed and equipped with a flight control screen and electrical outlets. Access and payment, from €9 per hour to €58 per night, is via the touch screen.
Hotels where to sleep near Bergamo airport
You will have understood this, rather than staying at Bergamo airport on cold and hard ground. The best option for a quality rest will be to find a hotel room. If there is no hotel within the airport area, you will have a lot of choice in the outskirts. Don't hesitate to use a reservation site, as prices fluctuate according to the periods and the number of people.
NH Orio Al Serio
The NH Orio Al Serio is located opposite the airport, in one of the largest shopping centres in Europe. Therefore, you can reach the hotel via an underpass connected to the airport. It is a 15-minute walk from the hotel, or take the shuttle service available from 4:00 to 9:00. However, this will cost you €5 per person. Outside these hours, the shuttle must be ordered and the rate will be doubled.
Winter Garden Hotel
The Winter Garden is a six-minute drive away and is a prestigious hotel. It can accommodate business meetings and showrooms of more than 300 m². You can also enjoy the spa, gym, sauna and Turkish bath. In addition, a shuttle bus with only eight seats runs from 4:45 to 9:45 am. However, a reservation is required.
57 RestHotel Orio
Located on the same commune as the airport, the 57 RestHotel Orio offers a shuttle service for €10. This is on request and at any time. Its exterior and interior architecture is modern. In addition, some rooms have a Jacuzzi in the same room.
StarHotels Cristallo Palace
"Inspired by the past, looking to the future" is the motto of this hotel. It is located halfway between the airport and the Città Alta (High City) of Bergamo. A local and international gastronomic restaurant and a glamorous bar will provide you with the opportunity to enjoy your meal. In addition, this cosy hotel also offers a shuttle service for a fee.
In which city to stay near Bergamo airport?
Situated not far from the Alps, the surroundings of Bergamo offer a splendid panorama. Therefore, you may want to rest further away from the airport tarmac. Here are a few cities that will allow you to sleep near Bergamo airport.
Bergamo
It is difficult not to include Bergamo itself in this list. It has an important fortification on the heights (the Città Alta). But over time, it has spread down below (Città Bassa) to form a city that combines modernity and history.
If you wish to stay in Città Alta, there are many small hotels or Airbnb waiting for you. This way, you will be close to the most interesting places to visit, almost all located around the Contarini Fountain. However, do not hesitate to get lost in the surrounding alleys, you will always find something to satisfy your curiosity. In the evening you can go down to the Borgo Santa Caterina district to have a drink and enjoy the nightlife. Here too, you will have no trouble finding accommodation.
Grassobbio
A small town of 6,000 inhabitants, Grassobbio is located very close to the airport and will allow you to find hotels or private accommodation. The town is also home to a beautiful park, the Parco del Serio.
Scanzorosciate
Scanzorosciate is located in the urban area of Bergamo, where the first slopes of the Alps begin. You will have the opportunity to visit the largest vineyard in Lombardy. Of course, you will be able to taste various wines, but also olive oil produced on the spot. Therefore, it is the ideal place for a long relaxing stopover.

Find an Airbnb at Scanzorosciate
Where to park at Bergamo airport?
Are you coming to Bergamo airport with your own vehicle? Then you will have the choice between six paying car parks, half of which are covered. It is possible to reserve your space in advance via the ParkVia website. You will be able to compare which one suits you best. In addition, there is a free shuttle bus to the two most remote car parks.