Fancy a sunny trip through the streets of beautiful Florence? Then by car, Génération Voyage presents you all its tricks to find a car park in Florence.
Cradle of the Italian Renaissance, Florence is undoubtedly one of the most beautiful cities in Italy and for good reason: it alone represents nearly 25% of the works of Italian historical heritage! The capital of Tuscany is a museum city but also a festive city, and has many assets to offer: among its monuments, testimony to the power of the Medici, its sublime galleries and museums, its delicious ice creams and its ambient leather perfume, Florence has everything to seduce you.
Find a parking lot in Florence
But if you decide to visit Florence by car, you'll probably run into a few obstacles. Indeed, traffic is forbidden to vehicles in the city centre, which makes it very complicated to park in the city. Fortunately, Generation Travel is here to help you find cheap parking in Florence.
Parking in Florence: the limited traffic zone
As in many cities in Italy, there is a ZTL - a limited traffic zone - which applies to Florence. Since the streets date back to the 19th century and are recognized as UNESCO World Heritage Sites, the Italian government has decided to preserve them by restricting travel in the city. Only residents are allowed to park in Florence, so you will be obliged to park either in a private car park or outside the ZTL.
Concerning the opening hours, the ZTL applies from Monday to Friday from 7:30 a.m. to 8:00 p.m. and on Saturday from 7:30 a.m. to 4:00 p.m. There is also a night ZTL, from April 7 to October 2, which extends the night hours on Thursdays, Fridays and Saturdays from 11pm to 3am. Advantage: it does not apply on Sundays.
Here is the map of the ZTL zones and the different car parks in Florence that you can find there :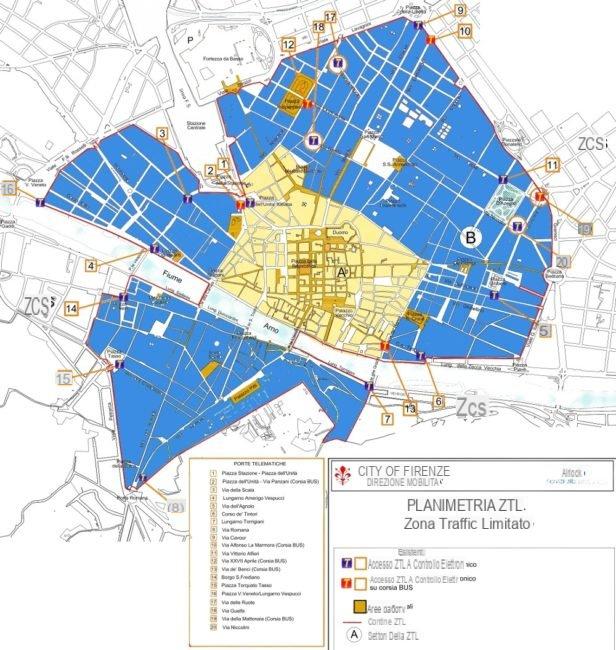 Parking in Florence: finding a place in the street
To park in Florence without spending your entire holiday budget, you will have to park outside the ZTL zone and therefore park in another zone called ZCS, - controlled parking zone. You can park if you manage to find a space, but beware of the coloured markings: the blue lines are chargeable - count 2€ for 1 hour and 3€ for 2 hours in zone 1 and 1€ for 1 hour and 2€ for 2 hours in zones 2,3,4 and 5 - and the white lines are exclusively reserved for Florentines.
But there is a good plan for a cheap car park in Florence, ideally located and offering spectacular views of the Tuscan capital: the Piazzale Michelangelo car park. In the past it was free, but today it is very affordable: count 1€ for the first hour and 2€ for the others, all the more so because at this price you will enjoy a splendid view of the heights of Florence.
Another good way to park in Florence is to find a parking space outside the city, close to public transport. Just a few steps from Villa Costanza, you will find a cheap parking lot: 0.50€ for the first hour, 2€ for 4 hours, 5€ for 10 hours and 7€ for the day. All you have to do is take the tram to get to the centre and that's it.
Parking in Florence: private and covered garages
If you absolutely want to park in the centre of Florence, there is a solution: private garages. Although more expensive, they will have the advantage of transmitting your license plate to the authorities electronically. You will then receive a permit, valid for 2 hours while you unload your luggage and only on the day of your arrival and departure. You will have to count on average between 20 and 35€ per day.
Located right in the city centre, the Garage San Gallo is an ideal car park for those who want to be close to Piazza San Marco or the Academy Gallery. The rates are 25€ per day, 50€ for two days and 60€ for a Weekend Pass with unlimited entry and exit.
Another well-placed car park in Florence is the garage in Palazzo Vecchio, a stone's throw from the famous palace of the same name. The prices are 24€ for one day, 48€ for two days and 65€ for a Weekend Pass with unlimited entry and exit.
Cheap parking in Florence: off-centre car parks
There are other types of car parks in Florence, more out of the city centre but less expensive.
Located just in front of the Firenze Porta al Prato train station, the car park of the same name is the perfect place to stay if you want to treat yourself to a trip to another Italian city from Florence. The rates are 1,60€ for 1 hour, 8€ for 5 hours and 20€ for the day.
Another good and cheap parking plan is the Firparparking Aeroporto car park at Florence airport. For 1 day the price is 10€, 20€ for two days, 30€ for three days and so on. Even further away, the Parcheggio Aeroporto Firenze is 5€ for one day, 10€ for two days and 15€ for three days.