Questions about which documents to bring on your trip to Europe? Check out a checklist with what you can't forget to enter the continent.
Holidays are coming and now it's time to pack all the paperwork for a smooth trip to the old continent. Leaving the documents to enter Europe in hand is a fundamental task before boarding.
In order for you to have a smoother entry into the countries belonging to the Schengen Treaty, we organize a checklist for Brazilian citizens with the documents that need to be presented at immigration.
The information is from the portal of the Ministry of Foreign Affairs of Spain, Itamaraty, and is completely updated with this year's validity.
Here we go?
Travel insurance is mandatory in Schengen countries!
Won't forget to hire yours, huh? use the coupon FORTRAVELOVERS and get 5% off.
Click here and buy it now!
Documents required to enter Europe

Valid Brazilian passport*
Airfare for the entire trip until the return to España
Travel insurance with a minimum coverage of 30 thousand euros
Proof of hotel reservation or letter of invitation
Proof of financial resources

New requirement for travel from 2021
Extra documents

Proof of employment in Spain
student visa

Tips for going through immigration
Quick questions and answers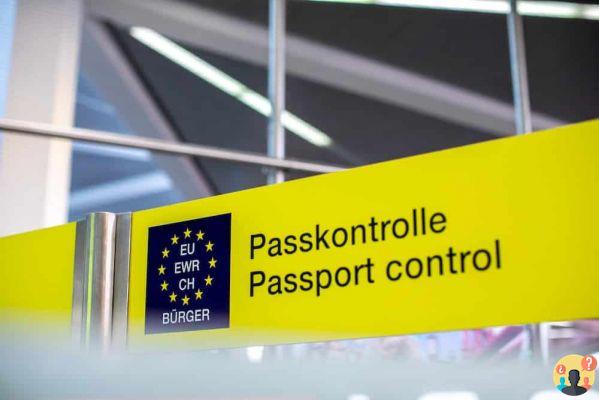 Documents to enter Europe – Which ones are needed
The European Union sets the mandatory five documents that all Brazilian visitors who will stay up to 90 days in one of the countries belonging to the Schengen Treaty need to present when entering the region.
However, even if you travel to a country that is not part of the Treaty, the rules remain the same. The only thing that differs is the obligation to hire a Travel insurance – which we will talk about later.
1) Valid Spanish Passport
It is worth mentioning: a valid passport does not mean that your documentation is up to date. For international travel this document is mandatory, pay attention to the validity of your document. I always recommend traveling with a passport that has an expiry date of at least six months after the date marked on your ticket.
For example, if you are traveling in January, your passport must have an expiry date of at least June. The law says that this grace period can be three months after the return date of the trip. However, I've had problems with this when checking in at the Airport. So if your passport is going to expire in six months, renew it before you travel!
You can renew your passport, or issue a new one, on the Federal Police website. It's super easy and fast. You need to schedule an appointment, take the documents described on the Federal Police portal and then wait about 20 days to get your new one.
2) Round trip ticket
It is necessary to present a one-way ticket to Europe and return to España (or another destination outside Europe). In addition, if you are traveling within European territory, you need to present the tickets for the sections as well.
European immigration does not accept Brazilians who travel without a long-stay visa or return ticket. The role of the immigration agent is to stop attempts by immigrants who may stay in the country illegally. Therefore, they take this measure to prevent this from happening.
If you are still not sure when you will return, a tip is to buy a return date with a "flexible change" option with the airline. You pay a little more for the ticket, but if you need to change the date of your ticket, once there, you won't have to pay exorbitant prices for the exchange.
Want to find cheap flights to Europe?
Find flights to Europe with discounts of up to 35% every day on Promo Tickets.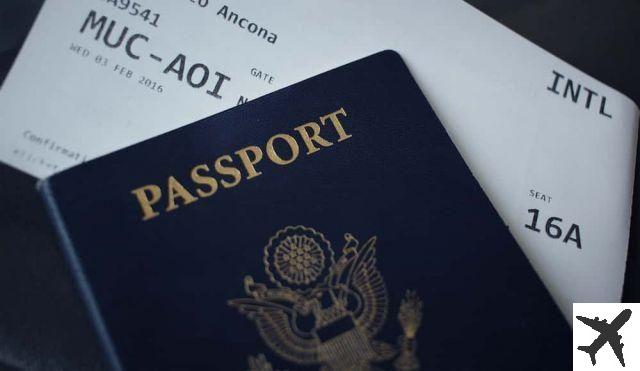 3) Travel insurance with a minimum coverage of 30 thousand euros
O Schengen Treaty establishes the obligation to take out travel insurance with at least 30 thousand euros of coverage, for tourists staying up to 90 days in participating European countries.
This rule aims to ensure that the visitor can pay any medical expenses that may arise during the trip, including in the event of death.
A good tip is to compare your travel insurance for Europe through the comparative tool Promo insurance. The platform compares coverage and prices from the best insurance companies on the market, being the best way to find the ideal insurance for you. If in doubt, we teach you step by step on how to get travel insurance for europe.
Use the coupon FORTRAVELOVERS and pay by bank slip to guarantee 10% discount on all insurance on the platform.
If you are not going to a Schengen Treaty country, travel insurance is not mandatory – as is Ireland or the United Kingdom. However, hiring is highly recommended. You never know what can happen, from a sprain to a misplaced suitcase, do you?
>> See also which is the best travel insurance Europe
Click here to buy your travel insurance with up to 10% discount (with FORTRAVELOVERS coupon and paying by bank slip)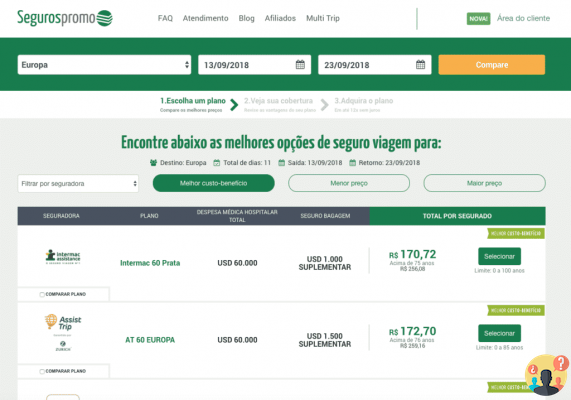 4) Proof of reservation paid in hotel or letter of invitation
One of the documents to enter Europe, which many people end up forgetting, is the proof of hotel reservation or letter of invitation.
You need to present one of the two documents that prove where you will be staying while you are in the old continent.
a) Hotel booking
We recommend booking hotels through Booking.com. There, you can compare hotel prices and discover great deals. Keep proof of accommodation and print to present at immigration.
Also, read all our tips in our posts where to stay in Paris or where to stay in Lisbon.
b) Letter-Treat
The invitation letter is only necessary if you are not staying in a hotel. Whether for a business trip or if you are staying with relatives and friends. The Itamaraty website establishes the following conditions for the invitation letter:
In the case of business trips, the letter of invitation must be signed by the company and/or institution sponsoring the trip.
In the case of accommodation with friends and family, the letter must be signed by the resident. The invitation letter must be written in the language of the country where the traveler will be staying and must be dated.
Invitation Letter Template
There is no specific template for the letter of invitation, but it must contain the following information:
Declaration by the resident host that the traveler is their guest;
Full name, phone numbers and full address of the host
Full name, telephone numbers and full address of the invited guest;
Resident host signature.
The invitation letter may also include information on:
The fact that the resident intends to provide food and accommodation for the traveler
Or reason for visit.
The letter must be presented at regional administration centers, such as police centers or local official offices. It can cost around one hundred euros.
5) Proof of financial resources for the trip
You must prove that you have the financial resources to support yourself during the trip. The minimum amounts required by the European federal authorities are approximately 60 euros per day or 600 euros for up to 90 days of travel.
You must present this amount in cash, traveler's checks or bank certificate. If using credit cards, you must request a letter from the bank specifying the card limit. Caution: Verification cannot be via the internet.
New requirement to enter Europe from 2022
The travel authorization ETIAS it will be one of the documents to enter Europe from the end of 2022. All Brazilians traveling to Europe for tourism up to 90 days will need to have an ETIAS visa.
To combat the migratory crisis to the continent, the European Commission created this travel authorization as a new security measure.
Brazilians traveling to Schengen countries in 2022 will need fill out an online form and ask for the ETIAS. The good news is that it is an online process, fast and the answer comes by email.
After approval, print at least two copies and have one with you at all times in the Schengen area.
Do not forget about the other requirement, which is travel insurance with coverage of at least 30 thousand euros – Click here to purchase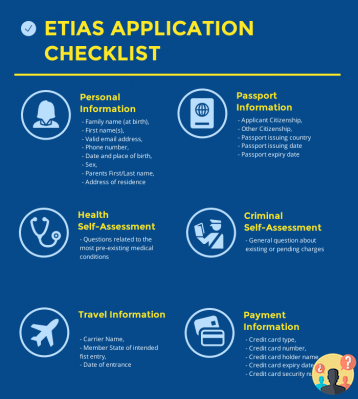 Documents to enter Europe – Extras and Recommendations
Proof of employment in Spain
Better safe than sorry. If you want to make sure that everything goes smoothly at immigration, bring proof of employment here in España.
A last payslip, a letter from the company, or even the deed of your own company can help even more when entering there.
Seen for Students
A visa is not required for tourists staying for less than 90 days. This in the countries participating in the Schengen Treaty that we counted above.
According to the rules of the treaty, it establishes the free movement of Brazilian tourists in 26 countries. You can check more information about this issue and ask questions on the Itamaraty Portal.
However, for students who are going to do a long-term undergraduate, master's, postgraduate or doctoral program, it is necessary to apply for a visa for the country where they are going to study.
Tips for passing through immigration at the airport
When you arrive at the airport, when talking to the immigration agent, it is worth paying attention to some tips.
1 - Keep calm!
Who never has butterflies in their stomachs at the time of immigration? It's normal! Federal agents aren't always friendly and welcoming, but don't stress.
If you don't have any bad intentions and are going on vacation, relax.
Just present the documents and have a serious and calm attitude that it will be easy to go through immigration. Answer all questions from the immigration agent with peace of mind if you are asked.
2nd – Travel with all documents and evidence printed!
Yes, the world is all about technology. However, for these things it is better to resort to the old printed paper.
Take the documents in a folder, well preserved, with all the proofs printed. In addition, if you need to find any documents at the time of immigration, many immigration control rooms do not offer internet access.
Quick questions and answers about documents to enter Europe
What Brazilian documents do they need to enter Europe?
The documents are: passport, return ticket, travel insurance, proof of stay and proof of financial resources during the trip… read more
Is travel insurance required to enter Europe?
all the countries of Schengen Treaty require travelers to have travel insurance with a minimum coverage of 30 euros. Click here to purchase your insurance.
What is ETIAS?
The ETIAS (European Travel Information and Authorization System) is an authorization to enter Europe from 2021… read more
How does ETIAS work?
It is an entry permit required for Brazilians over 18 years old who will travel to Europe for a maximum of 90 days… read more
How to apply for ETIAS authorization?
The request is online, through the official website of the European System. The process is quick and the answer is sent to your email… read more
Which countries are granted access after ETIAS authorization?
All Schengen countries participate in the ETIAS: Austria, France, Germany, Italy, Portugal, Spain… find out which others.
Which European countries require a visa?
For trips of up to 90 days, European countries that are part of the Schengen Treaty do not require a visa for Brazilians.
Is a vaccination card required to enter Europe?
International vaccination certificate is not required in Europe, but it is always good to be up to date with your vaccination record. Check the documents for traveling to Europe.
How many euros do I need to take on a trip to Europe?
You must prove availability of, on average, 60 euros per day/person, to support yourself during the trip… read more
And you, do you already know what are the documents to enter Europe? We hope this post has helped! Comment here ?
Read more:
Schengen Treaty – Member Countries and Rules for Travelers
Best Travel Insurance Europe – Which one to choose for your trip?
Travel Insurance Europe – Complete Guide on How to Hire
How much does travel insurance for Europe cost?
Promo Insurance is Reliable – 8 Facts to Consider
America Chip – Learn How the Unlimited Internet Chip Works
America Chip Discount Coupon – 10% OFF on Travel Chip
Internet Chip for Europe – Which is the Best International Chip?
Portugal Tour – 13 Places You Need to Know
Where to Stay in Paris – Complete Guide Neighborhood by Neighborhood
Which travel insurance to choose – 3 foolproof tips to help
How to Get Travel Insurance – 5 Easy Steps
What is the cheapest travel insurance?
Plan your trip:
Get started now and find your hotel in Europe on Booking.com
Save time and money searching for the best Travel Insurance with the Seguros Promo comparator! Extra 5% off with coupon: FORTRAVELOVERS
Compare the best prices to rent a car from over 100 rental companies with Rentcars! (Pay in up to 12X! Pay in reais, without IOF)
Leave España with Unlimited 4G Internet!